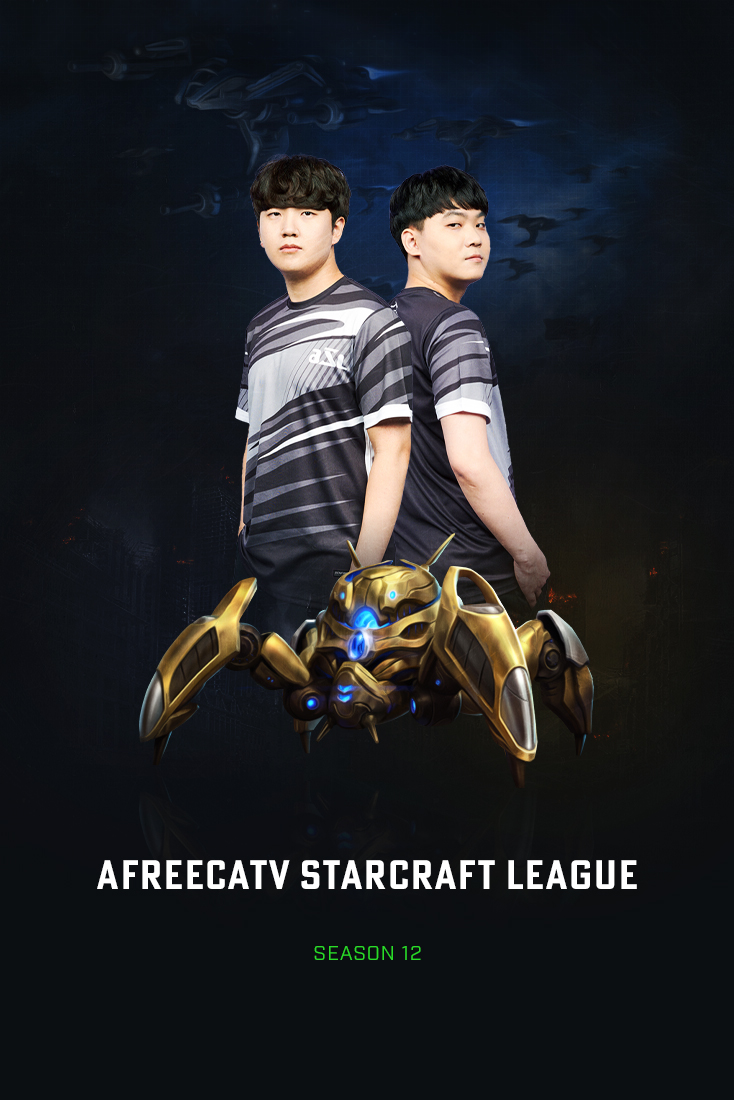 Mini has been the last bastion of hope for protoss since the bracket stage has started, he's not only proved himself these last few seasons, hes gotten the results to prove that he's the best protoss player in the world, but to truly say it himself he needs to become a champion, on the other end, Rush has broken through his own barrier, for many seasons he's styled himself as the champion of the ASL even going as far as using it as his handle during official ASL matches.

Will Mini fulfill the Legend of the Fall like many legendary protoss players before him or will Rush become his own legend and fill the gap that the terran race has.



Legend Of The Fall
ASL By the Numbers:
10-12:
Mini
has played in the last 10 ASLs after not qualifying for the first two.
3-4:
Mini
has been seeded into round of 16 four times. He made it to the Grand Finals in 3 of his 4 seeded tournaments.
6:
Losing in this finals would mean he has been eliminated by the Terran matchup 6 times.
5-0:
Sorry is the only player that
Mini
has a perfect record against, losing his last 5 games against
Mini
3484:
Mini
's first starleague appearance was 3,484 days ago (roughly 9.5 years).
12:
The least played matchup this season was Protoss versus Terran with only 12 games played. Protoss players came out ahead with a record of 7-5
Sponbbang By the Numbers:
264-222:
Mini
has won 54% of his PvT spon matches this year. He went 75-69 against
Rush
, but lost 68% of his games to Light.
47:
Mini
has only won 47% of his game against
Rush
since August.
Rush
and Light are the only two Terrans he has a losing record against.
Sponbbang Maps by the numbers: (since start of ASL 12)

Lemon
: 67%, 3-2
Rush

Largo
: 73%, 11-4, 3-0
Rush

Eclipse
: 75%, 15-5, 3-0
Rush

Good Night
: 69%, 9-4, 1-0
Rush

Ascension
: 47%, 9-10, 3-5
Rush

Polypoid
: 46%, 19-22, 8-8
Rush

Revolver
: 35%, 7-13, 0-6
Rush
"I belong here."
Mini
defeated Zero for his second season in a row in route to his second consecutive finals appearance. During his post-game interview,
Mini
was asked if he believes he can break the Kong curse. If he loses to
Rush
this would be his fourth silver between ASLs and KSLs.
Mini
said he not only "plans to break the 2nd place jinx", but also told the audience, "He belongs here".
Even with a sliver of confidence,
Mini
is faced with doubt from the Starcraft community and even from within.
Mini
stated clearly, he was concerned about having to face
Rush
. While he believes his online performance has been outstanding, he does not trust his offline play in the Protoss versus Terran matchup. There's plenty of warranted skepticism about his online performance too. He failed to defeat
Rush
in KCM Race Survival matches and has a losing record to him in Spon matches. Furthermore, the Teamliquid Community does not believe in him either. In all appearances in the seminfinals and finals of the Afreeca Starleague,
Mini
has never had a majority liquibet vote.
Mini
does have an opportunity to join an exclusive list of legends that includes
GARIMTO
,
Reach
,
Anytime
,
Stork
, and
JangBi
. This list is known as the "Legend of the Fall".
Mini
has made several finals appearances that occurred in the spring or the summer. This will be his first opportunity to compete for the "Fall" title. This legend, dating back to 2001, comes from the belief that a Protoss player will win a Starleague during the season of Autumn. The legend is more complete when that victory is over a Terran player.
If
Mini
wins the championship, he would be the third Protoss to do so. He would join the company of Shuttle (ASL1) and Rain (ASL5).
Mini
holds exceptional winrates on 4 of the 7 maps that may be played in the finals.
Match 1:
Lemon
The first four maps in this series are the same 4 maps that
Mini
holds winrates on. Furthermore,
Mini
is the only player who actively seeks out Lemon as a map to play on. It's small main forces the Terran to spread their simcity over a wide area between the main and natural. Such a simple change in map design forces Terran players to think and play differently in the matchup. It also opens more opportunities for a player like
Mini
to exploit the early to mid-game with shuttles and the late game with arbiters or carriers.
Mini
is not as strong as other Protoss players in long standard macro games versus Terran. Lemon provides a great opportunity for him to play aggressively from start to finish on his way to a win in map 1.
Match 2:
Largo
Largo has proven to be a fair map for all match ups, but where your eyes capture its weakness in the matchup you realize how good this map is for a player like
Mini
. Instead of a small main, the natural is extremely small and accessible from two directions by land. The highland charge by the Protoss army is only strengthened by the high ground advantage as they march into mine and tank lines. This design puts a ton of focus on defending with a long tank line bolstering as much of the front of Terran's natural as possible. With the ground attack as a strong option,
Mini
has another opportunity to exploit
Rush
's weaknesses with shuttle play at the back of
Rush
's main base. The back of the main attack forces Terran to unsiege and send units into the main leaving themselves open to counterattack on the front line. Protoss players have been perfecting this move a lot over the past 6 months and it's likely we see
Mini
execute it perfectly in the finals.
Match 3:
Eclipse
This map is easily the most balanced tournament map in PvT.
Mini
is not only thriving off the balance of the map, but he's sustaining victories against
Rush
in offline matches. He has his best win percentage across all maps on Eclipse and it's very possible that
Mini
already has a 2-0 lead at this point. A 2-0 can really rattle a player who has never reached the main stage before. Between
Mini
's record and Eclipse being the third map, it's looking like a 3-0 score.
Match 4:
Goodnight
Somehow,
Mini
was able to rig the tournament to give him the best possible starting 4 maps he could ask for. This is the last map that
Mini
has a positive win rate on in offline matches and the win rate isn't just barely above 50%.
Mini
is winning 69% of his games on Goodnight.
Mini
also won 70% of his PvTs last month and has only dropped two maps against Terran players offline in the past 20 months.
Mini
is destined to take another win on "Goodnight".
Final Prediction:
There are tons of people touting
Rush
as the "ASL12Champ" and the "incumbent Flash".
Mini
will make everyone feel foolish for jumping hard on the bandwagon.
Mini
will extend his undefeated win streak against Terran from 5-0 to 9-0 .
Mini
will defeat
Rush
.
Mini
will be crowned champion of ASL12.

Big Time Rush
Time to believe in the hype train again, GOGO ASL12CHAMPRUSH
I remember
Rush
being one of the up and coming players on CJ who just didn't have time to fully reach his potential as proleague ended, he had a few spots on TV but nothing particularly spectacular, he filled a spot on the A team a couple of times.
Fast Forward to the fall of 2015 when
Rush
started streaming BW again on afreeca and prech telling the rest of us on staff that Rush is going to do big things based on how he was playing, and he was, he had the best macro among terrans at the time and was kicking ass online vs zerg and protoss, Mind was waning since his

SSL11
and

Kongdooz Starz League
run, Last had not yet become the unstoppable monster that he would become in a few months. We all thought Rush was the chosen one.
And then for years, nothing really happened, middling runs in tournaments both online and offline, good showings in KCM race wars and ultimate battle but he was nothing more than a solid terran with an above average win rate but had gaps in his decision making that kept him from taking games, especially in group stages where there is less room for errors.
But where Rush does tend to do better is in a series, for both ASL seasons this year Rush has managed to skip the qualifiers and the Ro24 by winning the Wildcard match for seeded spots left behind by Flash(for ASL11) and Larva(for this season, ASL12) all matches were a Best of series that Rush outperformed players like BeSt and Snow to get in.
He's got a slow start feel to him, a trait that is quite the opposite of someone like
Mini
who starts at a 100, but a Bo7 is a marathon and not a sprint and when you see the map order you'll start to feel confident about Rush's chances.
Their sponbbang head to head from September is 16 Games 8-8 (50%),
Rush
is also at a 52% winrate against Protoss compared to
Mini
's 55% against Terran, Mini does have the slight edge in the numbers.
Lets look at the maps then.
Match 1: Lemon
Everyone hates this map, but its also fairly predictable what Mini would try to do, its not like he hasn't tried to do it before either, proxy 2 gate in the middle, I'll be more surprised if Rush doesn't attempt to scout it even if Mini doesn't try it, but he should know his opponent likes to play this way, especially on a map like this, if this game goes wrong its because both players failed their initial strats.
Match 2: Largo
Largo is a battle of who can take hold of the high ground that runs across the map, much harder for Terran to be the first person to do that in the but its very likely that Rush might try to play the forward rax and get a quick bunker contain, however conceding the highground in the early game is also worth it if Rush wants to play that quicker 2/1 timing push because it performs really well on a map like this especially with certain tank spots zoning out entire sets of bases without moving much.
Match 3: Eclipse
Coming to a more familiar map, Rush can take his own time on the map the advantage of a 2 player map is that terran is the one that benefits the most from a split map situation, the longer the game goes, the better his chance becomes, this is also the kind of map where you'll see the more modern(free style) TvP where its not about the protoss sitting there trying to delay the Terran 2/1 but more about that midgame push with speed shuttle drops rather than the protoss rushing for arbiters, if Rush can hold those off he'll be able to take the game.
Match 4: GOOD NIGHT
The biggest advantage that Terran has on this map is that it doesn't need that third gas as early as the protoss player does because that 3rd gas base is pretty far away on this map and the road to get there isn't particularly safe since its on a double high ground and if terran camps the middle ground its not going to be easy for protoss to break upwards and in most cases foolish too, Deny that 3rd gas and Rush has this game in the bag.
Match 5: Ascension
By this point if Rush has managed to make it this far, we're on his turf because even the winrates on the maps coming forward are on his side, staring with Ascension, another map where the ability to hold a third is a lot harder for the protoss the added bonus is that on ascension blocking a third also blocks 2 bases with 1 choke point thats on a high ground and not easy for protoss to break, as long as Rush doesn't play too greedy like JyJ did in the Ro16 he should be able to take the win.
Match 6: Polypoid
Polypoid may be the Fighting spirit of this decade but like Fighting Spirit its not balanced for all races, in fact its fairly skewed towards terran over protoss, as long as Rush has good positioning for his fights he should win.
Match 7: Revolver
If we've made it here, Rush has it in the bag, Revolver is one of the hardest PvT maps in the pool right now, multiple entrances into the natural and 3rds, very easy for protoss to lose more than one base in a single push pattern and fast too, this map was made for the 2/1 mech timing.
Final Prediction:
The longer the series goes the better chances
Rush
has going by the maps and their winrates,
Rush
needs to prepare for
Mini
rather than protoss in general, his TvP in holds up quite well anyway as long his economy is not disrupted he should hold his own in longer games,
Mini
is crafty, he is very good at preparing for a player, if
Rush
can do the same to him and expects those aggressive strats or off timings then
Rush
is set, but if Rush is winning its at least going to a game 6 if not all the way to 7.
---
Writers: BisuDagger, BLinD-RawR
Graphics: v1
Editors: BLinD-RawR