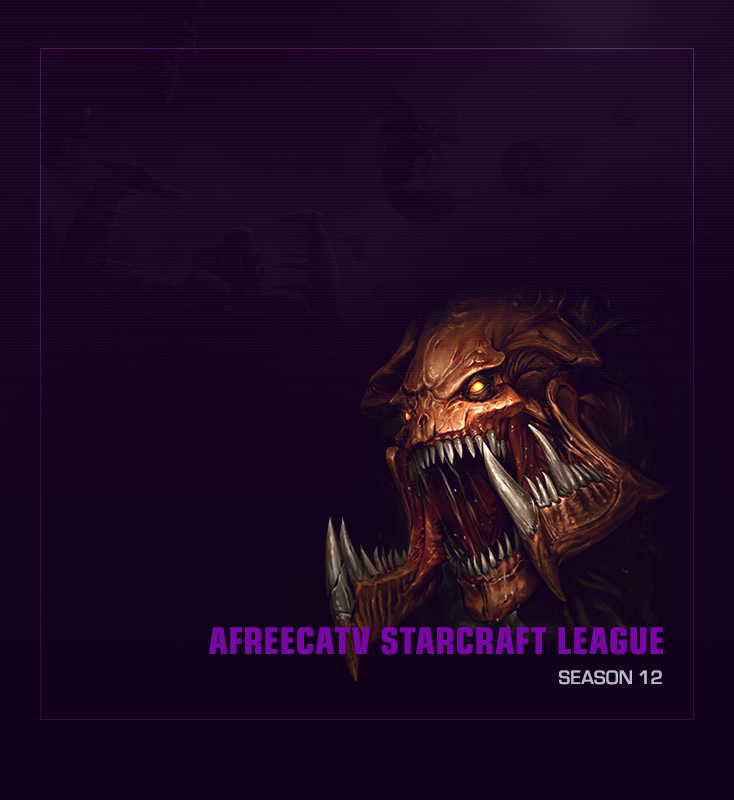 A new season of ASL is upon us and the only thing we can say for certain is that these are uncertain times, there are no clear favorites this season, while some may say its not the most star studded season, we could also argue that this is the time for someone new to shine and make a name for themselves and that journey starts right here in the Ro24 the AfreecaTV Starcraft League Season 12



As the years roll by it was probably inevitable that some of the biggest names the StarCraft scene has ever had would retire (or, more pragmatically, go on indefinite hiatus – one does not simply quit playing the game). For the past few seasons there was an influx of newer blood to the premier scene – namely, the ASL – spearheaded by the enormous success of Soma, but with each consecutive season it feels more like pickings being slimmer rather than talent making its way to the top. Still, there is plenty of talent to watch out for and enough of the old guard is still very much alive and kicking, so the competition is still stiff.
This season kicks off with the already familiar formula of two upper-tier players in
Soulkey
and
Sharp
and two up-and-comers,
Ss1nz
and
nOOB
.
Group A feels like something of a no-brainer – the kind that makes "safe" predictions actually scary, because you'd feel like an idiot if the big boys lose. Soulkey is a KSL champion and ASL elimination stage regular, with some of the best non-mirror matchups the scene has to offer, but as any Soulkey fan will tell you, cheering for him is a singularly frustrating occupation (remember when he lost 0-3 to Mind in the KSL season he subsequently won?). Sharp, for his part, is a KSL runner-up and was slightly below Light in the Terran food chain, but has since suffered a decline in form. Neither nOOB nor ss1nz have a fraction of the reputation these two have built up over the years, and yet there is a tiny voice in the back of my brain telling me I might screw up predicting Sharp's group again.
Speaking of Sharp, there was a trend for the past year and a half or so in his online stats. He'd have more than respectable win rates across the board and upon closer scrutiny you'd realise half of his games in every matchup were against lower-tier players that normally don't even make it to the ASL. He also was notorious for his sloppy TvZ, praised for his stellar TvT and was a dangerous opponent in TvP. Now things are a bit different: his highest winrate is against Zerg (around 58% at the time of this writing) and one third of those games are against hero; he barely keeps his head above the water against Protoss, but he played – and lost - a bunch of sponmatches with Snow and Best. So, I'd say his online stats represent his actual form more closely than previous seasons. He's played a single game against nOOB since July, which he won, and I expect him to do so again in the opening match. The Protoss player's stats are pretty dismal in the matchup (31.5%) and even though playing on stage is not that new to him, Sharp has a definite edge experience-wise.
Soulkey is another matter. He is by far the group's most distinguished player and having to play him undoubtedly fills most Protoss and quite a few Terran with a sense of dread. He's #1 on the sponbbang chart, his non-mirror stats are insane (68.7% vT, 71% vP), he's been a champion at both SCII and SC:R and, well, he's Soulkey. Ss1nz qualified for the second season in a row and last season won the hearts of many, myself included, with his artistic flair after going for a slow reaver push across Eclipse against Effort. But he lost, and I expect him to lose again, and much for the same reasons – Soulkey is just too good.
That would pit Sharp against Soulkey in the winners' match. I'd favor Soulkey over Sharp in such a match even though the latter's TvZ seems to have improved substantially simply because Soulkey has long had a reputation for being ZvT monster and appears to be in insane shape right now. The two have played a total of 5 matches between them since July with a 3-2 score for the Zerg player. I simply cannot reasonably expect Sharp to beat Soulkey with his historically lackluster TvZ, recent online stats or no, and if it happens, it would be quite the upset even in a bo1 in the Ro24. Disclaimer: this is Soulkey, he can lose against anyone on a bad day and beat everyone on a good one.
The losers' match would have nOOB and ss1nz fight for survival. I can't say much about either player in a Protoss mirror – both players play comparatively few sponmatches in general and mirrors are much rarer in those even for the big-audience streamers, so stats won't be of much use here. I'd favor nOOB somewhat; ss1nz appears to have slightly better micro, but nOOB's awareness and army movement seem sharper. On the less technical side, nOOB is the more seasoned player, but ss1nz feels hungrier. In a bo1 Protoss mirror even a build order loss is possible, what with a flat map like Ascension in the pool, but I stand by my choice and send nOOB to the final match.
A rematch between Sharp and nOOB feels even more lopsided than the opener, considering the map pool. All three maps – Polypoid, Lemon and Revolver – appear to favor Terran slightly. Lemon can give us a crazy game, being the most unorthodox map in the pool, but all in all, everything stated above readily applies here. The Protoss player can definitely cause damage, but all in all, the odds are against him and if he eliminates Sharp, it would be an upset.
Final Prediction:
Sharp
>
nOOB
Soulkey
>
Ss1nz
Soulkey
>
Sharp
nOOB
>
Ss1nz
Sharp
>
nOOB
Soulkey and
Sharp qualify for the Ro16!

Group B features (ranked by sponbbang.com ) players #3
BeSt
, #15
sSak
, #44
815
, and
free[gm]
. This is absolutely a 'no sweat' round for BeSt. BeSt hasn't failed to advance past the round of 24 group stage in four years (ASL 4). His solid mechanics will easily be enough for him to advance past his groupmates. The second player to advance will fall to the other 3 players.
Match 1 features
BeSt
vs
815
. 815 is a former
KT
Zerg player who performed well against Protoss and Zerg opponents back in 2007. He hits the sponbbang charts at rank 44. Most notably, over the last two months he has a 65% winrate versus Protoss. The best of 1 format truly gives 815 the greatest chance to advance here, so those 815 fans lurking out there have some hope to cling to.
Match 2 pits
sSak
against
free[gm]
. sSak has truly suffered in the ASL since Light and Flash stole the spotlight as top Terrans. sSak lost to
Shuttle
twice in ASL 11 round of 24, despite Shuttle only just returning from the army. That said, no one has struggled more than free. Outside of results, free has had to deal with constant wrist injuries that have sent him into recovery stasis large chunks at a time. At times you see the PvT monster he once was, but long micro intense game truly highlight the difficulties he has as a player. SSak was once indomitable because of his uncanny ability to micro vultures and destroy worker lines. Free really doesn't have a chance is sSak has a chance to show his TvP harassment style.
Winners match points to a battle between
sSak
and
BeSt
. Over the past three months these two have a 3-3 record against each other. Both players also have a 60%+ winrate in the PvT/TvP matchup. sSak easily poses the biggest threat to BeSt in this group. Best of 1 format hurts sSak here, because it will be much harder for a Terran player to trick or cheese BeSt. In a straight up match all the arrows point to BeSt advancing here.
Losers match strikes
815
against
free[gm]
. As far as lesser-known players go, 815 poses one of the biggest threats to free. During his kespa peak, free had a 75% winrate versus Zerg. Since the fall of Kespa, his PvZ across tournaments sank to an all-time low of 41%. On the ropes, 815 has the best opportunity possible to advance to the losers final.
Loser's final will feature
815
versus
sSak
thus completing all available unique player matchups in this group. From the eye test, BeSt and sSak were the easiest liquibet picks from this group, but the past 3 months have been grim for sSak in TvZ. SSak has a record of 59-64 (48%). Zergs are solving the matchup at lightning speed, making it harder for a top 6 Terran to even have a positive win record. By.Hero (actually known for ZvP) is responsible for 19 of sSaks losses. Now comes in 815, who is 0-1 against sSak in the same time frame and has a 21% winrate, which is by far the worst winning record amongst his Zerg peers who played 20 or more games. 815's chances of advancing from this group would only occur if he beat BeSt and then played Free in the Winner's final. That path is just about statistically impossible. SSak is assured a victory in this match.
sSak and
BeSt qualify for the Ro16!
---
Writers: BisuDagger, TaardadAiel
Graphics: v1
Editors: BLinD-RawR