The card game Android: Netrunner has just been rebooted a couple of days ago. I made a thread for it actually:
https://tl.net/forum/games/571252-android-netrunner-reboot
Its a good game, originally designed by the same guy who made Magic: The Gathering. Its an asymmetric 1v1 with hidden information like StarCraft.
As you might expect, quite a few StarCraft players also like Netrunner as a result.

Well, the organisation behind this reboot, NISEI.net knows there are cross over players and liked the teamliquid discussion enough to create a tailor-made card pack for us.
They have gone and replaced all the art to be StarCraft specific. The cards function exactly the same, they just have some in jokes and nods towards our community.

For example, a classic Netrunner card is "Diesel":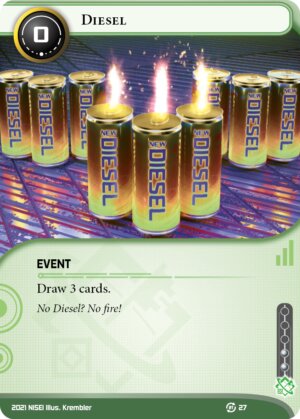 This has ofcourse been updated with...can you guess? Yes thats right it is obviously...

+ Show Spoiler +


Pretty cool. I really like the artwork on this one, (compositionally).
Netrunner is all about hacking into computer servers. It can be a dangerous endeavour, you might stumble into electronic countermeasures that fry your brain cells over the net.
One such Netrunner card is the infamous "Project Junebug".




This card is a very dangerous trap that will deal heavy damage if it connects, which can be quite a shock.

+ Show Spoiler +


Heres where things get really exciting though.
Its not only the artists who possess extraordinary skill.
They also have exceptional game designers.
Teamliquid is receiving 3 EXCLUSIVE new cards!

These new cards are only available to people with teamliquid accounts that have 50 posts or more.
And the best part is, they are standard format legal. This means you can play the cards in tournaments.

There are 3 runner factions in Netrunner: Anarch, Criminal and Shaper.
This perfectly lines up with Zerg, Protoss and Terran, 1 new card for each race.

So, without further ado...

+ Show Spoiler +

Actually nah, scratch that, lets have some ado.

Wait a sec, oh, I dont have any ado.

Ladies and Gentlemen without further ado...



The Zerg Anarch card is a Virus Program:

+ Show Spoiler +


A virus card for the Zerg race seems fitting. Watch as the red virus counters multiply and take over the table.
These game designers really know how to capture the power of a playgu.

Next up is the Protoss Criminal card. Criminals in Android: Netrunner often use Event cards to keep the pressure high.
The new card is called "Skill Attack". Make sure you have saved up enough credits (and practiced enough) to play this card.

+ Show Spoiler +


This tournament legal card is powerful, I predict its going to cause some upsets.

+ Show Spoiler +


Lets take a look at the new Terran Shaper card. In Netrunner you get 4 actions per turn. You can use 1 action to do 1 thing such as Draw a card, or Play a card etc. (The clock symbol represents spending 1 action).

+ Show Spoiler +


Sometimes in Netrunner you have the option to trash your own card which means you remove it from play but you get to perform a useful action in return. Sometimes you dont.

+ Show Spoiler +
BONUS CARD
+ Show Spoiler +
https://tl.net/forum/games/571252-android-netrunner-reboot