Android: Netrunner
The game is now community controlled and free.
You can buy the cards, or you can download the cards and print them yourself for free.
You can also play online for free on a community run server.
All the old artwork has been replaced to avoid copyright.

What is Netrunner?
Its a card game. Its asymmetric and 1v1, with hidden information.




One player is a hacker who is trying to acquire data from a megacorporation.
The other player is the Corp and plays cards face down. The hacker (or runner) then tries to break into these servers while avoiding traps.

Original Netrunner released in 1996 and was designed by Richard Garfield who made Magic: The Gathering.
It then got repackaged as Android: Netunner in 2012 with more personality and lore.

The game went out of print in 2018. However, an organised group of hardcore fans have taken over stewardship of the game.
They have now finished replacing all the artwork, and are releasing their full starter pack which forms a core set of cards.
Its called "System Gateway" and its perfect for new players.
You can also get an expansion pack called "System Update 2021" which has been playtested to work together with System Gateway.

If you are curious about this game, now is the time to get into it with the release of this new starter pack.
https://nisei.net/products/
------------------------------------------------
------------------------------------------------
Factions
There are 3 Runner factions:

Anarch
These hackers are trolls and blackhats who are adept at creating chaos. Their methods are unsubtle. They will steal data from the megacorporations even at the expense of their own health. If you like to cause destruction, disruption and mayhem this is your faction.

Loup



Day Job



Criminal
If you are going to do something, do it properly make loads of money doing it. Criminal runners are likely to be executing lots of sneaky little hacks against the corp player, and will be scraping cash each time they do. They are in it for the money.

Zahya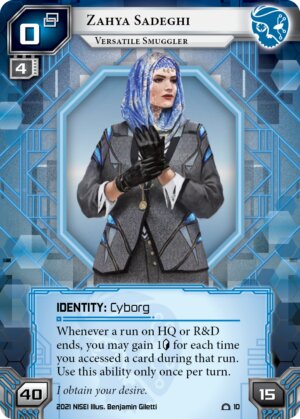 Steve Cambridge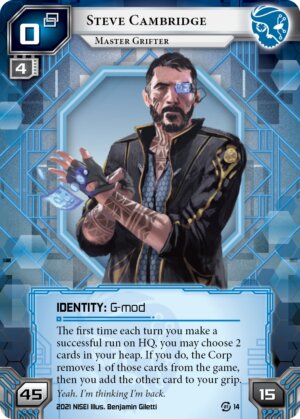 Shaper
Exploring cyberspace and discovering how the code works is rewarding for the inquisitive. Shapers enjoy developing elegant systems to access the hidden areas of the net. One of the classic Shaper playstyles is to build up a powerful hacking rig with lots of kit that works cohesively together. Once ready, you will have a tool for any situation.

Tao



Chaos Theory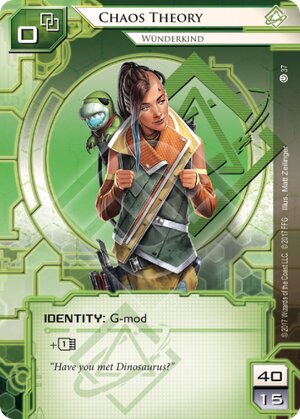 ------------------------------------------------
------------------------------------------------
Basic Objective
The corp player has a number of agenda cards in their deck and is trying to score them. To do that they have to place an agenda card face down and then spend actions (clicks) and money (credits) to advance it. Once it has been advanced enough times it is scored.
Meanwhile the runner is trying to find these agenda cards and steal them. The runner can access cards that are on the table and also in the Corp players hand, deck and discard pile.
The corp player can place defensive Ice cards to protect their servers.
------------------------------------------------
------------------------------------------------
My Opinion
The game references lots of geek and sci fi culture. Its also very aware of real life issues such as online privacy and stuff like that. And its very progressive when it comes to things like for example gender equality etc. But thats just icing on the cake. The most important thing is...

The gameplay is excellent. You have clever synergies and player interactions and decision making and customisation through deckbuilding, and all the good stuff.
When the corp player places their cards face down, the runner has to try and work out what it could be and scout it carefully without setting off traps.
There are game mechanics that reduce luck so you are able to execute your strategy.
There is a money based economy. Cards cost money to play them. You have to balance playing cards that bolster your income or cards that attack the enemy servers etc.
Asymmetric, 1v1, imperfect knowledge, these are characteristics it shares with StarCraft.

Netrunner also captures its theme well, and therefore your imagination. When you play it you really feel like a clever hacker and it can genuinely inspire you to want to start learning how to code.
Its the kind of game that you would be very happy for your niece and nephews to play.
------------------------------------------------
------------------------------------------------
The Megacorporations

As the Corp player, you choose to play as 1 of 4 giant faceless corporate entities:
-Weyland, an industrial powerhouse operating in mining and construction businesses. Weyland also dominates the financial market sector.
-Jinteki, a company that specialises in clones and biotechnologies.
-Haas-Bioroid, leaders in the fields of robotics and artificial intelligence.
-NBN, a news corp that uses their media stranglehold to manipulate the flow of information.

In System Gateway, NBN has got some very good new cards. When the Runner tries to break into your servers you get to place Tags on them and as the number of Tags builds up you get to track their every move and cripple them. You're basically a 'futuristic' facebook.
------------------------------------------------
------------------------------------------------
Basic Mechanics

When the corp player starts their turn, they have to draw 1 card.
Then they get 3 clicks (actions).
You can spend a click to:
-Draw 1 card
-Gain 1 credit
-Play 1 card
etc




You are free to spend your clicks repeating the same thing or do any combination of moves.

Once the corp has finished making their moves, its the runners turn.
The runner gets 4 clicks (actions) per turn.




The runner plays cards face up and has to pay the credit cost printed on the card (most cards cost some money to play them).
The corp plays cards face down. They pay the credit cost later when they choose to rez (activate) the card and flip it face up.
------------------------------------------------
------------------------------------------------
Economy Cards
Lets take a look at some example cards that help boost the runners economy.

To play a card uses up 1 action. Additionally there is a credit cost to play a card, its the number in the top left corner of the card (yellow circle).

Sure Gamble costs 5 credits to play.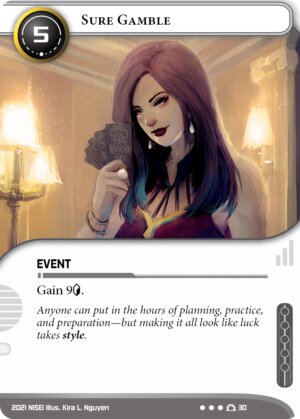 Gain 9 credits. So you instantly get your money back plus extra.

Telework Contract costs 1 credit to install.



When you play it, you place 9 credits on top of the card. You can then choose to spend 1 click (use 1 action) to take 3 credits from this pool of cash.
(the little clock is the click symbol. Here it means "You may spend 1 click to do the following")

Smartware Distributor costs 0 credits to install.



Once this card is installed you may then spend 1 click (use 1 action) to place 3 credits on the card. Those credits will then slowly drip into your funds, 1 per turn.

Pennyshaver costs 3 credits to install.



Whenever you make a successful run, place 1 credit on this card. (So a pot of money slowly builds up).
You then have to decide when you are going to bank all of that money. Spend 1 click to add 1 credit then collect all the money from it.
The longer you wait the more money you will get (in a more efficient manner), but you will also be skint for longer in the meantime.
------------------------------------------------
------------------------------------------------
Icebreakers
Having made some money, its time to attack.

The corp player will be playing cards facedown. Some of these are defensive cards called Ice. Ice protects a server from attacks.
Your deck is one server. Your discard pile is another server. Your hand is another server etc.
The corp places Ice cards infront of these servers to block the runner.

Ice comes in a variety of flavours that a runner has to overcome:
-Barriers
-Code Gates
-Sentries

The runner needs to install Icebreaker programs to beat these defences.
You need to have the correct Icebreaker to defeat the type of Ice that you are encountering. eg Decoders break Code Gates.

Heres a couple of new Anarch Icebreaker cards:

Buzzsaw



The runner can spend 3 credits to boost the strength of Buzzsaw. This is needed when fighting against strong Ice. Once you have boosted the strength up enough...
The runner can spend 1 credit to break 2 Code Gate subroutines.

Cleaver



Spend 2 credits to boost the strength of Cleaver. Again, once you have boosted the strength up to the required amount to beat the Ice you are encountering...
Spend 1 credit to break 2 Barrier subroutines.

Wait sorry, why are we using digital Meat Cleavers and Buzzsaws to hack into a computer server? Well I did try to tell you Anarchs arent subtle.
------------------------------------------------
------------------------------------------------
Artwork
Oh yeah did I forget to mention the artwork! Lets take a moment to enjoy some of the new art.
Raise your hands, who wants a new computer virus? You sir at the back? Yes, ok. Here you are. Brand new cards:

Leech



Fermenter



Botulus



Cookbook



Tranquilizer



Conduit



T400 Memory Diamond


------------------------------------------------
------------------------------------------------
Im a l33t hax0r and Im backtracing you
One of the weaknesses of the game, there is jargon. They like to give everything a name that relates to computer programming. For example the corp players discard pile is called "Archives". This is great thematically though, and it labels everything clearly. So while useful in the long run, it does take a moment to wrap your head around all the terms. Dont be discouraged. The game requires a bit of effort to learn but the reward is worth it. There is a huge amount of depth to the gameplay.

My advice for your next step is to watch a video tutorial and see if you like it.
------------------------------------------------
------------------------------------------------
Android Netrunner - How To Play Tutorial
Here is the official overview guide video but its very fast, dry, and quite overwhelming. I still recommend watching a little bit of it though just to get an introductory feel for the game. Just stop watching when your eyes glaze over and go find a tutorial video made by real players. There are lots, one of which can be found in the original teamliquid thread here:
https://tl.net/forum/games/409008-android-netrunner


------------------------------------------------
------------------------------------------------
Give me some links please:
Nisei (prounounced nee-say) is the fan made continuation project. They are behind designing and playtesting the new cards. They also curate the tournament rules etc.
https://nisei.net/products/

Play online at:
https://www.jinteki.net/

Database of cards:
https://netrunnerdb.com/

Reddit:
https://www.reddit.com/r/Netrunner/

Discord:
Green Level Clearance (GLC) Discord server, you can find players there who will be happy to show you the ropes.
https://discord.com/invite/t2nd4SbRnm

Facebook:
Netrunner Dorks facebook page is another resource to find players and tournaments.

Netrunner Beginner stream:
https://www.twitch.tv/cook_ed

Métropole Grid, a skilled and entertaining player and explainer named Andrej:
https://www.youtube.com/c/MetropoleGrid
https://www.twitch.tv/metropolegrid

https://cryoffrustration.wordpress.com/2017/07/09/netrunner-newbie-mistakes/

Find a list of podcasts and streams in the next link.
A promotional campaign of teasers and reveals where podcasts and players were each given a handful of new cards to showcase, is summarised here:
https://nisei.net/blog/susg-community-recap/
+ Show Spoiler +

Pictures of the full set of cards in System Gateway:
https://nisei.net/blog/system-gateway-full-spoiler/

Some player aids:
+ Show Spoiler +

------------------------------------------------
------------------------------------------------
Buyers Guide
System Gateway can actually be purchased in 2 parts or as a bundle. System Gateway is made up of "starter pack" plus "deckbuilding pack". You can purchase both of those together and its named "System Gateway: Complete Bundle". You want to get the complete bundle I recommend.
Why do they sell these separately? Its for experienced players who want their own full copy to incorporate into their existing card collection, and can buy a spare, cheaper, basic copy for teaching new players.

And so you have System Gateway: Complete Bundle. Thats it, thats all you need.
If you want to you can also get System Update 2021. Particularly good for new players who dont have any cards already, this is a large expansion pack. Its a greatest hits of Android: Netrunner cards from over the years, with new artwork.

If you want to splash out you could grab an ArkHive 400 box to hold all your cards in.
https://ultimateguard.com/en/arkhive/arkhive-400-xenoskin

Card sleeves protect your cards from wear and tear. Get 2 different colours, 1 for each player.

Gear
(card storage, card sleeves, playing tokens)
https://www.reddit.com/r/Netrunner/comments/meb4in/faq_what_else_do_i_need_other_than_cards/
https://nisei.net/blog/sleeves/

You can use poker chips or coins as playing tokens.

Nisei will be releasing more expansions in the future, this is what card games do. You dont have to get them though. You will have years of fun with just System Gateway, or System Gateway plus System Update 2021.

https://nisei.net/products/
------------------------------------------------
------------------------------------------------