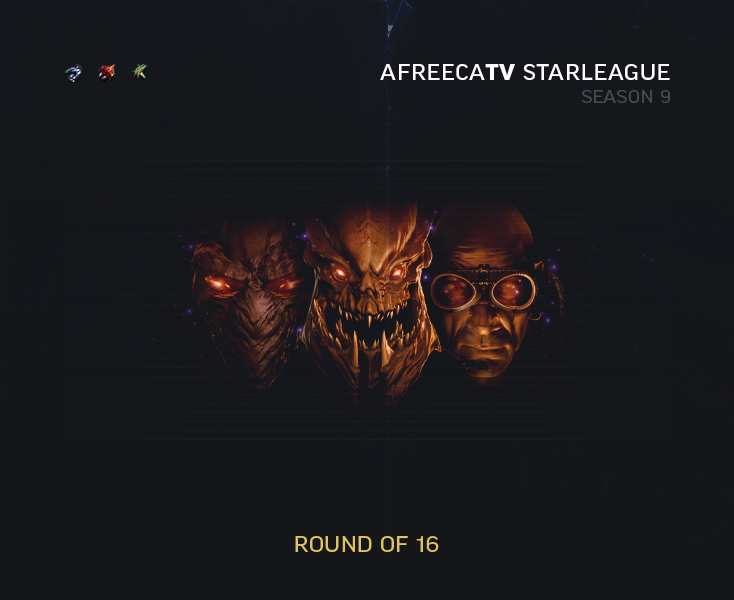 In our continuing attempt to predict what has so far eluded us (Soulkey excluded), we're back again for another week of ASL! As we move from the Ro24 to the Ro16, we're moving into slightly different territory. The biggest, and perhaps most important difference is that Inner Coven is behind us. As we noted in our previous article, the new map, while giving us some really new and entertaining mechanics, proved to be a huge barrier for players who normally might have breezed through the Ro24 (or at least put up a fight), especially for Terran players. So with that out of the picture, maybe things will stabilize some?

It's difficult to tell. The other major difference in the Ro16 will be the introduction of Bo3s for the winners, losers, and final matches. This is a relatively new format that debuted last season with some good results. Moving away from potential one-off wins is a way to allow players who excel in the long game of rock-paper-scissors a chance to read their opponent and adjust accordingly.

The question on my mind, and perhaps many viewers' minds is probably this: Did the Ro24 rules and maps create upsets, or was that the result of preparation and player skill? We'll be watching surprise players like Horang2, Brain, and Soma closely to see if they can replicate their success in this later round of the tournament.

[Editor's note: We are also a bit curious to see the turnout and production considering the outbreak of COVID-19. We hope that the games don't get cancelled, but ultimately, it is important that the public takes safety concerns seriously by avoiding close interaction with others and practicing basic hygiene. Seriously guys, WASH YOUR HANDS.]



Table of contents

Back In A Flash
So Flash did it. We ended up with four Terran players in one group, so we're looking at a 8-11 TvTs in one day. Yay or nay? I like to treat myself to a good TvT marathon every now and then. Besides, we have two defending starleague champions in Flash and Light, the ever-present BJ star Mong, and returning prodigal son BarrackS. I'd say this is reason enough for moderate hype even among naysayers. Plus, with enough food and water supplies, a group with four Terran players is easily survivable.
Flash usually needs no introduction, but this time around he's making headlines by deciding to participate in the ASL at all. Last season he announced that he wouldn't compete in premier tournaments for the foreseeable future because of wrist issues, but apparently he's in better shape than expected. His total win rate and game volume are not what they used to be, however. But he's played a grand total of six games against Terran this year and won all of them. Regardless of his current shape, Flash is a monster in TvT, so the group he constructed for himself suits him like a glove. Anything but a first-place finish would be a big upset.
His opponent in the first match is Mong. So far Mong has been the ASL regular who never advances too far. Quite frankly, there is little reason to expect much more this time around. His TvT win rate in the new year hovers around 50%, and at the time of writing, he's played 23 games in the last two days with a score of 13-10. He's had trouble in mirrors historically with a few upward surges here and there, but prospects are not looking too good for him—not against this kind of competition.
Light is the other big favorite in the group. There are few, if any, indications that he's lost the mental drive that propelled him at long last to the top of the scene. Last season he had to face Flash in the Ro8 and everyone thought he would get slaughtered. Though he lost 1-3, he took a game off Flash and gave him a real run for his money. His online TvT win rate in 2020 is a quite intimidating 70%, but at the same time, he lost 0-2 to Sharp in the wildcard qualifier for the ASL. All in all, Light can be reasonably expected to win over most opponents, provided his famous tendency to choke has not returned.
And his first opponent is BarrackS, a former KT Rolster player with little to no big stage experience. He handled himself perfectly and topped his group in the Ro24, though, and punished Mini's sloppy execution and Rush's overextensions. The latter is particularly interesting not only because he has to play Terrans now, but because of the way he skillfully navigated the game from a strategic perspective and never let Rush recover from his mistakes. He showed elimination-stage material, but I somehow doubt that would be enough against a foe like Light. Numbers are against him too with a meager 38% win rate in the new year. He did score a win against Sharp in the CMSL2 and then narrowly lost 2-3 to PianO, so he might be a case of a big game performer, but even then, I'd bet on Light.
Flash vs Light in the winners match is the main thriller in the group, and it's a Bo3 to boot. Light has shown some pretty crafty strategic play in his TvTs lately. He can possibly produce an upset. But there's no Terran I would bet on against Flash. Light comes closest, though, and I anticipate an action-packed series.
Mong vs BarrackS also has thrill potential. Mong has been practicing the matchup really hard recently, considering that mirrors comprise a relatively small part of sponsored matches. In fact, in two days he's played almost half of his total TvT games since January. He's an ASL veteran (unlike his opponent, who has barely played any offline televised matches in his career). In his post-match interview, he said he was not nervous at all during the game with Rush, but what we saw on his face camera during the game was nowhere near calmness. I hope it was eagerness and intensity. It would be a shame if he crumbles under psychological pressure. This could go either way, but I'd go with the underdog here since I really liked what I saw against Rush.
A BarrackS vs Light rematch is considerably more lopsided. Going up in a decider Bo3 series against a current starleague champion that has already beaten you once (assuming this prediction is at all correct) is a considerable mental strain for a newcomer to the league. Again, my hopes are that BarrackS does not fall apart and puts up a good fight. Light should win the rematch anyway, unless he's suddenly lost momentum or falls victim to hubris.
Flash
>
Mong
Light
>

BarrackS
Flash
>
Light

BarrackS >
Mong
Light
>

BarrackS
Flash and Light to advance to the Ro8!

Anything Could Happen
In what has already been an incredibly eventful and unpredictable season, this group is perhaps the most difficult to predict yet. The quality of the players here varies, but the overall skill level and the set of matchups lend themselves to a fairly equal skill level across the board. And, of course, the upset factor is still something I'm constantly wary of now.
The way I see it, this could go one of three ways.
The first scenario is that Larva completely trashes the group and makes the Protosses fight for second. While Larva has been mostly absent from the top ranks for the last two years, his Ro24 performance showed us that he's still a good player, and if he's allowed to get into his element of slow, choking macro play, he can be unbeatable. On top of that, ZvP is his best matchup by far, with an impressive record of 7-2 in offline matches (with both losses all the way back in ASL2 before Larva really hit his stride). So...there's definitely a scenario where he tackles Horang2 without a problem and then goes on to dismantle Snow or Stork with ease.
The second scenario is that Stork and Snow, the best players in the group on paper, make it out to the Ro8. If you look at just the general level of play, Snow has been at the top of the scene for a while now, and Stork is finally reviving his play to god-like level. Added on top of that, they're both pretty handy with a shuttle/reaver combo, which makes them fine candidates for progressing out of the group with ease. In the past, this would have been my first instinct, but with what's happened recently, it's difficult to just go with the "tier" model of predictions.
Which leads us to the third scenario: upsets. So far I haven't really mentioned Horang2, but looking at his Ro24 performance and the fact that he was the classic PvP sniper, his chances in this group look actually very good. It's difficult for me to believe in the Tigertoss with any certainty, but I definitely think that if he comes well prepared like he did in the Ro24, he could do very well here, maybe even top the group! We may also find that the hype for Stork and Snow is overblown as they get neatly swept under the rug by Larva.
Whichever scenario happens, it will be exciting. This season of ASL has challenged everything I believe in, and 2020 in general is full of surprises, so I'm just gonna let whatever happens happen. But you know me...I have to root for Stork.
Stork
>
Snow
Larva
>
Horang2
Stork
>
Larva
Snow
>
Horang2
Larva
>
Snow
Stork and Larva advance to the Ro8!
---