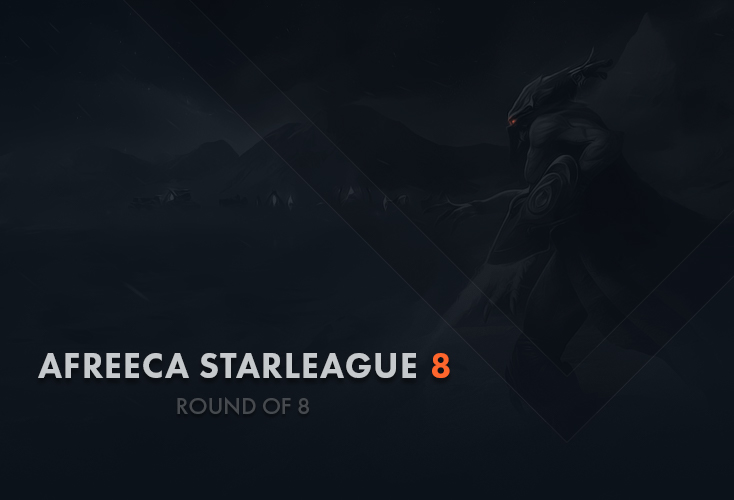 Time to wrap up the Ro8 and see who's truly worth their salt in this tournament. ASL8 has thrown us so many surprises with players like Sacsri, Action, and Light wowing us while great players like Jaedong and Mini simultaneously disappointing us. To put it simply: no one could have predicted the tournament we have now. As things are getting hot and we reach the boiling point, the question lingers: does experience trump all, or is it time for someone new to bring the heat?

Let's get to the predictions!



Table of contents


In The Way of Glory
With
Flash
himself confirming ASL8 might be his last tournament due to injuries accrued over his 13-year-long tenure in professional StarCraft, fans are sure to rally to the studio in droves to support the greatest gamer of all time in his (possibly) last competitive foray. With three OSL, three MSL, and three ASL titles under his belt, will the scene get to see God Young Ho reign supreme one last time? Standing in his way in the Ro8 is TvZ prodigy Light, who (quite frankly) has seen better days. Having attempted a switch to Protoss not long ago, the 29 year old Terran barely squeaked through to the quarterfinals of ASL8 by not throwing as hard as his opponents.
If
Light
were to face off against a Zerg of high regard, I'm sure there'd be a clear argument to make for Light's chances, but lady the luck seems to have grimaced in disdain rather than smile, for Light's opponent is the most decorated player in the entire history of Brood War. Light has only played two TvTs in the entire history of the ASL: a 1-0 over JyJ in ASL8 and a quick 0-1 loss to Flash in ASL6. While his 60-37 record in sponsored TvT matches in 2019 isn't shabby by any means (a respectable 61.9% win rate), it doesn't even come close to how well Flash does in this matchup, which is 57-15 in 2019. That's a whopping 79.2% win ratio. That's 11.1% better than the second best TvTer in sponmatches in 2019, Shinee. Flash also happens to have the highest winrate in TvT in the ASL: 73.9% with a 17-6 mapscore. Suffice it to say the stats aren't exactly in Light's favor.
There's nothing less enticing than the prospect of having to try and build a case for an underdog in as predictable a matchup as the TvT mirror. What exactly does Light have going for him? Quite frankly, I can't find anything. There are a number of external factors that could come into play though. Flash has been putting off his mandatory military service for quite some time, he's apparently getting serious with his bird, and his shoulder and wrist-related injuries are proving too severe for him to continue practicing at the current rate. What if Effort's victory over the Ultimate Weapon in the grand final of ASL6 was the tipping point, the end of an unmatched reign of dominance in professional StarCraft?
Whatever the outcome, I'm confident Flash's statements regarding his future in esports were not just a clever ploy or some publicity stunt aimed at boosting viewership. I got into StarCraft with the release of SC2 in the summer of 2010. The likes of BoxeR, iloveoov, TheMarine, or ElkY were legends of yore, still present, but not quite so. Flash had already asserted himself as the best of the best. And I'm sure I wasn't alone in thinking that things are going to be different this time and that Flash isn't going to fade into obscurity. Nothing lasts forever, though, and the heroes of my teens are now paving the way for a new wave of pros that obviously won't have the same effect on my perception of StarCraft as the people I grew up watching did. They'll be someone else's heroes.
But there will be time for similar musings once we've actually waved goodbye to the reign of Flash. For now...yeah, this quarterfinal is going to be a bludgeoning.
Flash wins 3-0 and advances to the Ro4!

Rubicon
After ending up—to his delight, no doubt—with three other Protoss players in the Ro16,
Rain
now has to make history and defeat a Zerg in the Ro8 of the ASL. While his opponent on Tuesday made headlines just by virtue of qualifying and is nowhere as intimidating as Larva or Effort, Rain would do well to prepare for this match.
PvZ is historically Rain's weakest matchup, which clearly shows in ASL Seasons 4 and 6. Online, he's lost 8 of his 12 games versus Zerg in August (most of them to ZerO) and barely managed to break even in 68 games since July. However, Rain is still a formidable adversary in an offline best-of setting. He likes to mix gateway and forge openings, he has the sneakiest of Dark Templar. and he is wary enough to survive trickery and roll the opponent with formidable macro. Most importantly, he has immense big stage experience, probably forgot what it's like to have to play qualifiers, and is one of two players to be crowned both ASL and KSL champion...which leads us to the next problem: the disparity in experience might lead to underestimation and recklessness. We've seen Rain overextend and take unfavorable exchanges time and again versus Zerg, and as it turns out, Rain's greatest enemy on Tuesday may be himself.
Sacsri
advanced to the Ro16 last season just to be defeated by Rain in a really peculiar game on Whiteout, so history could be considered against him. His online record against Rain is also negative (2-3), and his total record vs Protoss is sitting at 45.5% since July. But the quality of his games so far in the tournament belies his mediocre online statistics.
Sacsri is undoubtedly the dark horse of this tournament by surprising everybody defeating Flash in the Ro24 and topping his group. He then capitalized on his considerable ZvZ prowess and advanced to his first elimination match after beating Soulkey. Altogether, he calmly defended a 2-gate against GuemChi, brilliantly denied Flash's scout and then defeated him with great tactical usage of burrow, ruthlessly punished an unorthodox Reaver/Dragoon build from Horang2, and impressed us with his micro against Soulkey. All those games provided glimpses of a solid tournament player that could stand up to the best. But are glimpses of good early defense and brilliant tactics enough to overcome the difference in experience? We don't know if Sacsri has the mechanics to try and contest Rain's formidable macro late game, and in a Bo5 series, pulling off a good hydra bust or ling all-in once won't be enough.
Rain chose to veto Multiverse from the mappool, whereas Sacsri banned Block Chain. This leaves us with Overwatch, Neo Ground Zero, Neo Sylphid, Tripod and Neo Blood Ridge to be played in that particular order. Overwatch can be considered a Protoss-friendly map through both geography and statistics (54.5%) and suits Rain's macro forte. On Neo Ground Zero, the balance is statistically skewed towards Zerg at 56.3% with its flanking potential and dubious third gas prospects for Protoss. Neo Sylphid is the most balanced map in the pool across all matchups and Protoss versus Zerg is no exception.
Tripod's circular nature and backdoor mechanics make it a tough map for Protoss versus Zerg, and so far no obvious solution has been found for the problems these features present, as both Mini and Horang2 lost to Zerg early- and mid-game aggression. Last comes Neo Bloody Ridge, a map with pretty much balanced stats in the matchup and features that allow for a variety of strategies and maybe slightly favor Hive-tech Zerg. Rain, however, presents us with a statistical anomaly on that map and has lost all five sponsored games he's played in the matchup.
With all that being said, the pressure is still very much on Sacsri to perform. Taking out a top player like Flash with a specialized, well-executed build in a Bo1 is no small feat, but a Bo5 series with arguably the best player in the world right now is an entirely different beast. Without disregarding the considerable improvement Sacsri's demonstrated, I am highly skeptical that he can pull off a win against Rain in the stressful environment that is a televised offline best-of series in the elimination stage of a premier tournament. Should Rain not fail to scout, lose a series of mind games or grossly underestimate his opponent, he's the strong favorite here, and a clean sweep is not at all unlikely. I expect him to come prepared and not fall victim to hubris.
Rain wins 3-0 and advances to the Ro4!
---