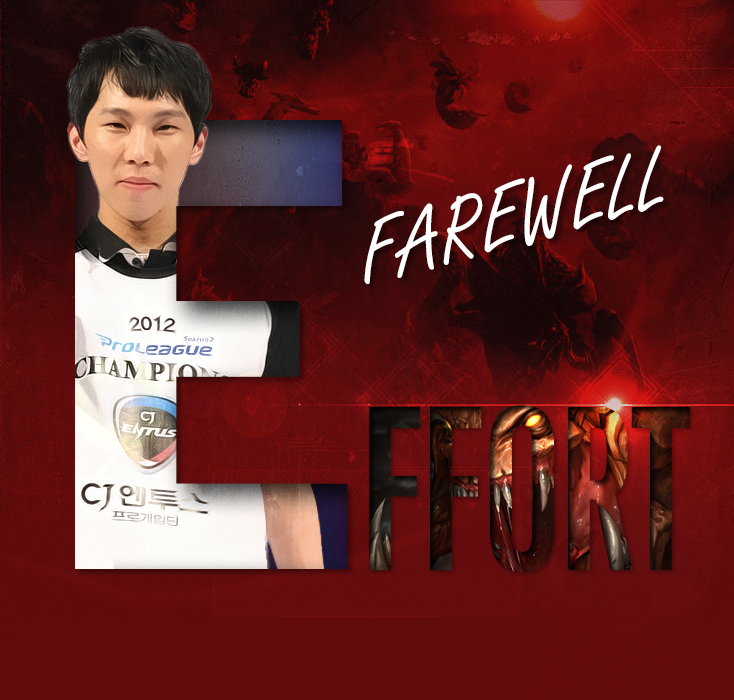 12/11/2014
The day that EffOrt made his first known appearance on Afreeca playing ZvT on fish on Mong's stream. A former S-class player who had an OSL under his belt, and was away playing the sequel of the greatest game of all time, there was a lot of excitement about what this meant for the scene and his fans. Was this a one-time thing? Is he coming home? As time passed, much to our joy, he started up his own stream and became a consistent streamer, showcasing his unique playstyle as he slowly regained his skills with each passing day. It's been about 4.5 years since he returned and much like other BW players, he left recently to do his military service.
However, EffOrt's accomplishments in the post-KeSPA era are matched by few, if any Zergs, and in order to truly comprehend them, a walk down memory lane is needed. Without further ado, here's EffOrt's story.
---
EffOrt arrived months before SSL11, the biggest offline BW tournament at the time, was set to start in 2015. Receiving an invitation as a legacy player alongside Bisu and ZerO, he became a poster child for a tournament that was brimming with both old and new participants, and brought forth a lot of hype with his appearance. After all, this was a great opportunity for the fans to watch his offline performance since the KeSPA era:
For his part, EffOrt played well in his first tournament back, topping his group in the Ro32. Alas, he quit in the Ro16 in a fit of rage after losing to Mind on Neo Jade citing launcher problems, favoritism and personal issues. This elicited a negative reaction from the community, and Kongdoo, his agency, ended up releasing an apology for his behaviour. Even though this blew our expectations in a different way, many were still excited to see what EffOrt could accomplish with his next target being the VANT36.5 National Starleague at the end of 2015!
Carrying the fans' expectations, EffOrt did not disappoint showing why he was considered one of the best Zergs around. He made it past the Ro32 and Ro16 finishing in second place by beating Pure, ZeLoT, July and Rush before he defeated GuemChi and ZerO to make the finals. There he beat Bisu, 3-1 to claim his first championship in this era. This was no easy feat as he won the most premier BW tournament about a year after he returned.
With this win, EffOrt grabbed the Zerg throne for himself, unseating hero who sat there mere months prior.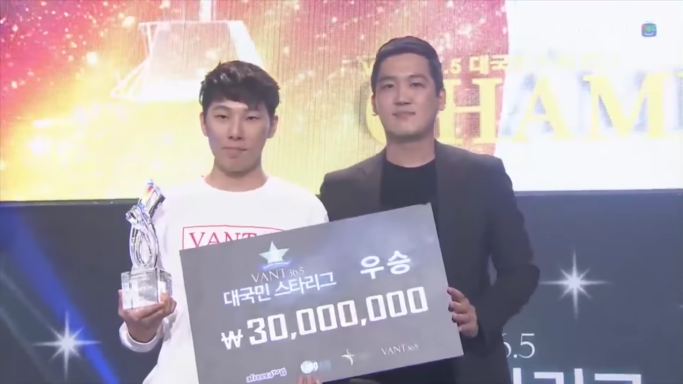 Having met the fans' expectations, many were excited to see just how far EffOrt can go.
Can he maintain his current form for future tournaments?
Will he become a dominant force, perhaps a bonjwa in the post-KeSPA era? Sadly, that did not happen.
Every spectator who has kept an eye on EffOrt's games can confirm that he is a fantastic Zerg who can read games well, and knows how to manipulate the game flow to his advantage, taking small wins and compounding them to a greater victory. However, luck of the draw and/or subpar performance meant that EffOrt was no longer able to reach the top again in non-invitationals. In ASL, his highest finish was the Ro16. For 5 straight ASLs from 2016 to 2018, EffOrt managed 4 Ro16 finishes and a single Ro24 exit.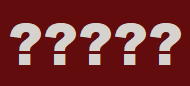 For a player of his caliber and potential, this was certainly disappointing to see...
Now, he did manage to win a small invitational tournament, SSL Classic which took place in the beginning of 2017. He went 6-1 in round robin there before beating free 3-1 to win the championship. But he was still missing the most prestigious trophy of all. The one that was constantly eluding his grasp was an ASL trophy. In order to secure it, EffOrt had to show us his championship form once again and this time, the odds were against him. Many former top players had returned since his VANT win, and he would have to beat the best BW players on the planet to win it.
A chance to shut up his critics and delight his fans, EffOrt finally got a great opportunity to do just that with ASL6. Things looked grim early on when he lost to Action on Sylphid, but the rest was history. Determined to win this ASL after saying that he'll meet and beat Flash in the finals, EffOrt wholeheartedly fought to get there. He topped his Ro16 group defeating Soulkey and Snow before laying waste to Rain in the quarterfinals. Up against Last who had won KSL just recently by defeating Soulkey and Jaedong in the semifinals and finals respectively, EffOrt showed what he's made of, going 3-2 while showcasing his mole strategy for everyone to see.
His final challenger was Flash, the 3-3-3 winner who was more than delighted to meet EffOrt and get revenge for Korean Air OSL. The two faced off in one of the most anticipated and heated finals in years. Playing on the highest stage and facing off against his hardest opponent who knew how to use the 1-1-1 to its potential, EffOrt soon found himself staring defeat in the face. Though not the same 0-2 scoreline from 8 years ago, it was finally time for EffOrt to show us his grit, to unleash his potential for all to see. And just like that, EffOrt came out victorious; a 3-2 victory over a player that many deemed invincible. At the end of the night, EffOrt cornered Flash and in their final game, he showed that Flash is a mortal who can bleed.
He had finally won ASL, keeping true to his word and accomplished a truly extraordinary feat that few have accomplished in this era. Above all, EffOrt allowed us to break the mental shackles of conventional ZvT. He allowed us to rediscover Starcraft on the biggest stage in the biggest tournament against the strongest opponent of all time!
Heading into ASL7, many were hoping that EffOrt would still retain his form and to some degree, he has. After topping his Ro16 group, EffOrt beat Mind 3-1, but succumbed to Mini's wacky builds in the semifinals, losing a close 2-3 series where he almost made a comeback. While his average ZvZ winrate over the years sat at 51% according to TLPD, his ZvT and ZvP sat at 59% and 71% respectively showing that he was quite the formidable opponent. Here's a small sample of games in no particular order that showcase his skills at their best:
6

VANT36.5 Finals

Bisu vs

EffOrt on Matchpoint



5


SonicTV BJ Starleague 11 Ro24

EffOrt vs

free on Neo Jade



4


Afreeca Starleague Season 6 Semifinals

EffOrt vs

Last on Neo Transistor



3


SSL Classic Season 1 Round Robin

free vs

EffOrt on Matchpoint



2


Afreeca Starleague Season 6 Quarterfinals

EffOrt vs

Rain on Neo Transistor



1


Afreeca Starleague Season 6 Finals

Flash vs

EffOrt on Autobahn



With his departure, his legacy ends for now. Nonetheless, he will continue to be celebrated as the most decorated Zerg and remembered as one of the most feared players when he's in-form.
Farewell EffOrt!
Writer:
Bigfan
Graphics:
v1
Thanks to:
2Pacalypse- for css support
Photo Credits:
Blizzard