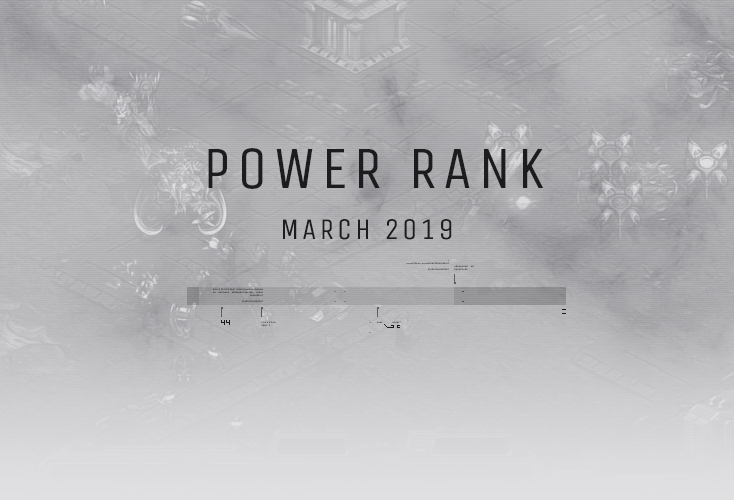 The current season of ASL has brought an abundance of upsets and dramatically reshuffled rankings with the absence of Flash. The tension between players becomes all the more heated as the ASL7 finals draw near and the start of KSL3 is on the horizon. Read all about the competitive free-for-all by Ty2 in this month's Power Rank!
#1: Last

After being struck down not once, but twice, Last managed to rise against all odds. His career looked to be on the downswing after two embarrassing defeats in ASL6 and KSL2 until slowly but surely he progressed through ASL7. No one can say Last is in the finals due to pure luck. After knocking out Soulkey, Snow, Sharp, and Rain, there's simply no way to justify his run as anything other than skillful. As Last continues, his growth as a series player and risk-taker brings him closer than a hair's breadth to the ASL7 gold.
#2: Mini

Mini's shrewdness for keen and abusive plays finally got him to the ASL7 finals. To get there, Mini had to defeat Effort in a match of poetic justice. Just as Effort mind gamed Flash, Mini did the same to Effort. In the Ro16, he made short work of Larva and Calm as well and earned a reputation for one of the best PvZ players out there today. He'll be looking to replicate his success versus Last, but whether his nerves can hold up though is another question.
#3: Effort

Effort is still a top contender, but he showed poor adaptation and preparation against Mini's latest bag of tricks in the semifinals of ASL7. The series showed that, while Effort is comfortable being the aggressor, he isn't good at being the defender. He also failed to properly regain his composure and made constant mistakes even in the games he won. Despite this, Effort still stands as one of the best mechanical players and displayed it in the 3rd/4th place match vs Rain. Overall, his lack of adaptation and mediocre mentality takes away his chances of becoming a consistent champion.
Additionally, Effort has managed to avoid ZvZ in his last two tournaments. There's a lingering doubt that Effort's ZvZ can be relied on, and outside of the game, Effort is just one of the lesser motivated progamers. This semifinals loss ends on a low note considering Effort is leaving for the military soon. However, Effort's overall achievements throughout the years and his momentous ASL6 finals win versus Flash leaves an unforgettable impression. With his concluding performance, Effort's name enters the unassailable fortress of forever.
#4: Rain


Rain's consistency and experience in tournaments has trampled over several players with relative ease. That image of invulnerability was quickly shattered when he was knocked out of ASL7 by Last in the most heated series of the tournament. While the loss continues the downward trend of lopsided tourney runs, this one was his best yet. Perhaps a brief resurgence, there is still hope that Rain can reach another finals.
Rain still seriously needs to up his game when dealing with unorthodox aggression. He was also lucky enough to avoid any Zergs in the ASL7, but he can't ignore his Achilles heel forever.
#5: Sharp


Despite his TvZ shortcomings, Sharp has easily become one of the most consistent and fastest rising players of the ex-pro scene. Most notably, he's accomplished what few other Terrans have managed: dominating TvP. His recent success is defined by this fact, but he still has an impressive TvT in his back pocket. Having solid tactical play and great macro, Sharp's matches are a masterclass in the two matchups.
#6: Soulkey


There were high hopes for Soulkey after winning KSL Season 2. However, either the ASL's Bo1 format or just his usual choking led him to a premature loss in the Ro16. Ultimately, Soulkey lacks the hallmarks of a consistent champion, so we're back to the status quo of being a top Zerg only online.
#7: Snow


Snow's return to the live stage was not in vain. Despite playing his worst matchup, he breezed past Action and Soulkey in style. Showcasing his trademark reaver play to the unique maps, Snow's competitive sense and tenacity truly shined. For all of his effort though, he was just barely knocked out by a cheeky marine medic all-in by Last. Here's to hoping Snow can redeem himself and solidify his play even more.
#8: Horang2


Horang2 is impressive for wielding his limited arsenal to full effect in the offline arena. Such competitive cool is what allows him to outdo opponents who regularly best him online. Still, he remains a step below the top as displayed through his total collapse versus the oppressive gaze of Rain.
#9: Mind


Mind's relevance as a top finisher has waxed and waned, but his knack for mind games—pun not intended—has rarely faltered. He previously dismantled Best on Block Chain and proved he's a step above the bottom tier by swatting away Modesty and Ggaemo. While one of the less mechanically impressive players out there, Mind still remains one of the most promising.
#10: Calm


After a slumped re-entry to the scene, Calm finally came out of the dark and surprised everyone in the ASL. He unexpectedly squeezed past Where in the Ro24 and advanced first out of his group in the Ro16 by beating Last and Snow. Calm proved with that performance there are still remnants of his progaming self.
Tapping into that energy, Calm combined wit, his opponent's complacency, unshakable confidence, and a bit of luck to stage the greatest upset of ASL. He couldn't replicate that same success versus Mini, but undoubtedly Calm has left a powerful impression of what an ex-pro underdog is capable of.
-- Close But No Cigar (CBNC) ---
Where:
Where was looking ready to blaze another trail like in KSL2. Unfortunately, his surprise defeat by Calm has extinguished most of his momentum going forward. Hopefully he can reignite his spirits in the upcoming third season of the KSL.
Best:
Many fans expect Best to finally make serious strides befitting of the play he showcases daily in sponsored matches, but his offline plays just don't reflect that. He demonstrates time and time again his habit of choking and losing in bizarre fashion. Better luck next time, Best.
Larva:
Larva's presence grows smaller as he is unable to confidently deal with the more unique maps and strategies of the ASL. While still a strong contender, he is simply no longer the top Zerg he once was.
Writer:
Ty2
Graphics:
v1
Editors:
EsportsJohn
Photo Credits:
Blizzard Entertainment