It has been several months since the last big BW tournament and I'm sure that we all couldn't be happier than to be graced by such a heavily-stacked tournament. The only thing missing from the perfect ASL was Bisu but the young protoss has decided not to participate. Alas, Flash, Effort, Best and a whole group of very talented players took to the field in order to show their skills and reward us for our patience.

The Ro16 were a unique mix of well-executed game plans and smart plays as well as some terrible and one-sided stomps. There were some rather surprising eliminations as several players elevated their game to the next level in their bid to advance to the next round. Read on for a unique take on recaps by c3rberUs followed by the first two Ro8 group previews by BLinD-RawR and FlaShFTW respectively.

Finally, take a quick peek at staff predictions to see who we believe will advance from the Ro8 to the semifinals. With that said, let's sit back, relax and watch some of the finest BW on the planet with the first group of the Ro8 set to be casted in both Korean and English in .
Table of Contents
by c3rberUs
BLinD-RawR & FlaShFTW
With the conclusion of the group stage, I think it is safe to say that this easily rivals the craziest group stages anybody has ever seen in the past 16 years of professional and post-professional StarCraft. Whether you are a veteran who has been watching the Afreeca scene for years, someone who stumbled back into the fold after years of being away or maybe even a complete newbie, I have no doubt that at least a few 'WTF' moments went through your head.
Group A
The Good
After knowing the outcome:

sSak and

Shuttle unsurprisingly.

EffOrt was easily the strongest player here while

Free was the distant second. However, sSak and Shuttle had none of it and broke out their best form since they entered mediocrity a long time ago. sSak in particular had been in a very deep slump but with some tenacity and a little bit of help from a former SKT teammate, he was able to notch in 2 wins to book his ticket to the next round. He was able to maintain composure against aggressive midgame tactics and then turned the tide late in the game with decisive mech pushes. Shuttle too had solid outings where he outlasted EffOrt who did a 5-pool and took a win from Free with surgical defense of his harass plays and ultimately, his 1 base all-in. If they can keep this up, we can keep expect more upsets to happen.
The two dark horses
The Bad
EffOrt and to a certain extent, Free, both performed badly and underachieved. They weren't bad but they surely disappointed given the expectations placed on them. Both of them displayed mediocre to good games but some things didn't click as was the case for EffOrt's games against Shuttle and sSak; both close games but he couldn't deliver the killing blow.
The Ugly
While not actually ugly, it was cringe-worthy. Free had fought EffOrt to a standstill in a Zerg-favored map and both players scrambled to either get an actual mining base or to eliminate the other guy's base. Free misjudged his positioning and left his warping nexus open to a quick attack. EffOrt saw the opening and sent a team of cracklings to deliver a nasty surprise. When that nexus went down, Free's chance went down with it.
Group B
The Good
The unpredictability and tiebreakers. This group had a lot of surprises even for someone like me who wrote the group's preview.

PianO was the biggest surprise here where despite the incredibly bad results in practice and online games (thanks classicyellow), he not only clinched a two win one loss ratio to enter the tiebreakers, he also won a TvP after rushing all the way from his airforce reserve duty. People who know of PianO's horrid TvP would have seen this as a great surprise. This was also the only group that entered tiebreakers (six more games) thanks to a disastrous outing from

Larva and everyone beating each other.
Larva: I will stop all of his dropships!
PianO: LOL nope.
The Bad
I'm going to have to swallow the pill here. I tried to hype up this band of misfits and believed they would at least keep things interesting - they did but the overall quality of games left me a bit underwhelmed. There were entertaining games but it was filled with uneven play, sloppy control and shotty decision-making for pro level SC.
The Ugly
Larva. Oh man, what the hell happened to him? He practically went brain-dead in all of his matches and lost all three. What a shame...
PianO vs Jaehoon game 2, tiebreakers. One of the most hilariously ugly games I've seen. PianO went for a bunker rush with a vulture then proceeded to completely forget about the vulture in his base. After the bunker rush failed to do its damage, PianO went all-in with biomech on 1 base. Jaehoon then pulled out some strange 1-stargate into shuttle into 2-stargate reaver into cancel second stargate. What a mess.
Group C
The Good
Everything.

Flash happened to grace us with a glorious game versus

ZerO, seemingly as a nod to the style of

IriS. He kept constant pressure on ZerO's expos from the opening up to the late mech switch wherein ZerO was able to counterattack. Anticipating the location though, Zerg units met a two-screen concave of tanks and cliffs and that was effectively GG.

Mind and ZerO dived into a crazy wild game that complimented the craziness of the new and dynamic map, Taebaek Mountains. Mind began with a factory float into a 2-port wraith while ZerO responded with hydra lurker. It was a scrappy close game but ultimately, ZerO forced all scanners to run out of energy and won. Two days later,

Sea sent everyone into a whirlwind of emotions by decisively beating FlaSh in a give-and-take game on the same map. He further endangered Flash's return by beating ZerO in a rather lopsided match. The final outcome was decided by Mind's 2-factory push against Flash's 14cc that ended when Flash controlled his SCVs like a god and somehow cleaned Mind's push. So Flash made a triumphant entrance to competitive SC after many years and Sea broke a curse that had been haunting him since he became a professional Starcraft player.
Flash (while defending) Lesson 1: SCV micromanagement
The Bad
Can there be anything bad about this group of death? Well yes, two strong players did not make it into the next round and unfortunately the victims happened to be ZerO and Mind.
The Ugly
Come on, really?
Group D
The Good
Former STX Soul

Last was awesome and his comrade

hero made it through. Last started making waves with his outstanding games and winrates across all three matchups in the past few months - leading Flash to call him AlphaGo after Google's AI that beat a top Korean Go player. He schooled Mong in a relatively short and dynamic TvT and ruthlessly crushed Best and hero early with a bunker rush and a timing push to advance through unscathed with a perfect win rate. Coincidentally that booked him a best-of-five series with the tournament's other resident cybernetic organism, Flash. Hero played a haphazard game versus

BeSt and smashed

Mong with drops in the new maps but lost one in a ruthless teamkill match. Now, he plays the part of hero Zerg as he remains the only one still in the league.
The Bad
It was a pity seeing Best eliminated despite a strong performance. He was a serious candidate for getting into the next round. He recently got into form in PvT and surprisingly his best matchup is PvZ. His first game was really promising. He fought a ZvP god on a Zerg favored map very well and even came to a point where hero was arguably at his mercy but somehow did not pull through. The STX plan continued with Last and Hero beating him while he beat Mong but they were both out of the league.
The Ugly
Mong provided some entertaining games but he was certainly not himself form-wise. Mong is a clever player and is definitely capable enough of giving strong games but never really resembled anything close to that. That is, until the meaningless game versus Best where he was hopelessly outclassed as BeSt picked him apart with recalls and expert push breaking.
Your base belongs to BeSt.
Opening up the Ro8, we have a newly reinvigorated sSak going up against the TvT terror, the un-bluntable Sharp (You can't blunt the sharp!).
sSak has had a surprising breakout moment in the ASL beating both EffOrt and Shuttle and establishing himself in first place on the group, but has this re-invigoration brought back his monster TvT form seen during the SBENU Starleague Season 1 (SSL10)? That remains to be seen especially with an opponent like Sharp, who made his entire VANT National Starleague run on Terrans (and Bale) before succumbing to Bisu. sSak is 3-4 in TvTs in 2016; two of those wins are from a Bo5 against Last in the 41 Starleague Season 4. That said, TvT has always been sSak's best matchup and if he's on the rise again, then Sharp better come prepared.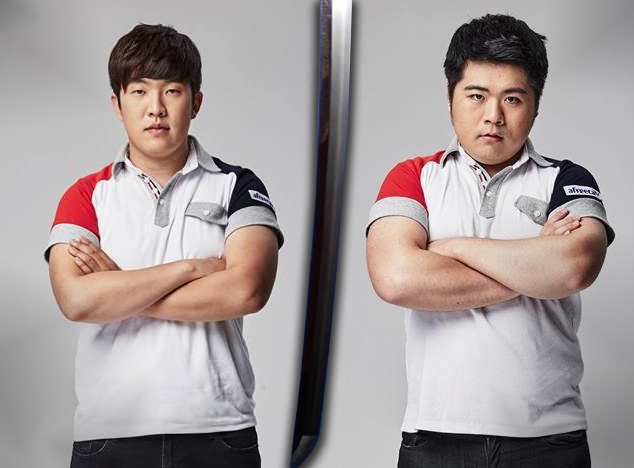 Sharp's group was not all that perfect for him getting caught in a tiebreaker and losing a set to piano's 8rax resetting the tiebreaker once, a play that sSak might consider doing against him. Both players are extremely adept at using vulture drive-by tactics for harassment and in this match, I'd give Sharp the upper hand along with his mental strength and confidence going into the matchup like during his Ro8 match against Mind in the VANT National Starleague especially in Game 4 where he turned around an early game contain and immediately countered with a push from 2 factories.
sSak needs to prove that he has returned to being a premiere terran up there with Flash and Last. Beating Sharp would be an enormous confidence boost to him but Sharp will not make it easy and current trends dictate that Sharp is the one that will walk away the victor!
Sharp
<
Circuit Breaker
>
sSak
Sharp
<
Taebaek Mountains
>
sSak
Sharp
<
Fighting Spirit
>
sSak
Sharp
<
Overwatch
>
sSak
Sharp <Circuit Breaker>
sSak
Sharp
Advances 3-1
The hero we deserve, but not the one we need.
This matchup has been seen countless times, both in group play and bracket play. In the Seaside Super of 2015, hero defeated Sea 3-0 in the finals and began to show his amazing ZvT prowess which led to his stellar SSL11 win over Bisu. In both the VANT SL and Spotimes SL2, Sea took revenge by eliminating hero in the group stages (with the help of Guemchi). In the Terror NINUS Starleague, Sea also defeated hero in the winners bracket but hero managed to claw his way back into bracket play. From records alone, Sea seems to take the advantage in Bo1 and hero seems to fare better in the bracket play.
After his seemingly flawless ZvT in 2015 with a streak of 12 wins at one point, hero's ZvT has slowed down considerably. While he used to hover in the high 30s-low 40s in terms of record, he managed to pull himself to a near 50% vT record. However, his record in the month of July was an abysmal 38-56 (40.4%) vT which is nowhere close to where he needs to be. Hero is going through a sSak phase of champions' slump after his amazing finish at the SSL11. While he manages to pull himself up sometimes and makes it into bracket play, his play has been extremely inconsistent. He was lucky to be matched with a garbage TvZer in Mong and a weak PvZer in BeSt in the group stages to make it through. Against a stronger Terran or Protoss, hero would have been crushed in groups, as shown by his miserable game vs Last. Unless he pulls a miracle, I can not see how he would manage to pull out a victory against Sea in the bracket.
Sea on the other hand has been looking decent as of late. His TvZ is still strong, sitting at a current 64.67%, though he has been going through a slightly drought, only having won 3 of the last 12 games. Still, Sea has been looking more and more confident, especially after his victory over FlaSh and proceeded to dance on stream proclaiming to be untouchable.
MOM I'M A STARCRAFT MONSTER!
His momentum carried him into his next game against ZerO where he played a suffocating TvZ to brute force his way to victory. Sea's momentum will carry him into the match against hero, where I predict his strong TvZ coupled with hero's slump will push him over the top and grant him the victory.
Sea 3-1
Sharp vs sSak
hero vs Sea

2Pacalypse- (Sharp 3-1)
BigFan (sSak 3-2)
v1 (sSak 3-1)
BisuDagger (sSak 3-1)
amazingxkcd (Sharp 3-1)
FlashFTW (Sharp 3-1)
c3rberUs (Sharp 3-2)
BLinD-RawR (Sharp 3-1)

2Pacalypse- (Sea 3-0)
BigFan (Sea 3-2)
v1 (hero 3-1)
c3rberUs (Sea 3-0)
BisuDagger (hero 3-2)
amazingxkcd (Sea 3-1)
FlashFTW (Sea 3-1)
BLinD-RawR (hero 3-2)
Writers: c3rberUs, BLinD-RawR, FlaShFTW, BigFan
Graphics: v1
Editors: BigFan
Photo Credits: Liquipedia and DailyEsports