Your winners, KT Rolster~

KT Rolster's Hwang Byung Young (
BarrackS) "If it changed to Bo7"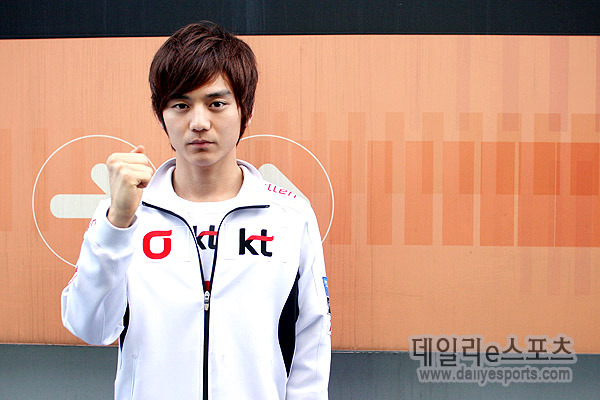 If the season was played at a Best of Seven format, Hwang Byung Young (
BarrackS) could have had more chances and could have shown a better performance to the fans. His teammate Lee Young Ho (
Flash) even mentions "after the change to Bo5 the teammate who was affected the most was
BarrackS" he has shown growth during the off season.

After his bloody fight with No Jun Gyu (
hOn_sin) and coming on top, his face was not all positive. Because he hasn't played in a long time, he would have liked to show a cleaner game but things did not go his way. With a tad disappointing face we interviewed
BarrackS in his first interview.


Q. You got your 1st season win, how do you feel?

BarrackS – In the late season I'm happy to have gotten a win but there are lots of sad points as well. The team gave me a chance but I did not capitalize on it. I will forget the past and try my best to show good performance from now on.


Q. There was a lot of talk of you improving in the off season.

BarrackS – I feel that I improved my game play and gotten more confident. But I have not played often in broadcasted games so my game senses may have dropped a bit. All in all a pro still has to show good performance when given the chance.
Flash's words do give me strength but I grade my skills in broadcast games as a beginner, I'll think of this as the start.


Q. You might have felt sad from the change to a best of five.

BarrackS - I was really disappointed. After that announcement I hoped they would change back to a best of seven. I waited a long time but it did not change as I hoped. I knew that I would get an entry chance someday so I immersed myself in practice.


Q. You had a re-game. You must have been more nervous.
(Due to IP crashing by
BarrackS computer, they did a regame based on game state was arguably even)

BarrackS – When I first came out of the booth I was in panic. I thought this was going to be severe but the coaching staff and the players made me feel calm. So I found my confidence again and played without being nervous.


Q. Your play was not perfect.

BarrackS – After I had the advantage I felt a little pressure to rush ending the game. I did not mobilize my full army well and fought with brute force so it carried on for a long time. I feel like my play could have been much better. As I played, I felt like I need to improve on how to finish better when you have the advantage.


Q. In the post season it becomes a best of seven.

BarrackS – Of course if I get the chance I will do my best but the team winning is the most important so I won't be selfish.


Q. Show us your goal for the remaining matches.

BarrackS – Our team can definitely beat any team, I do want to play by helping our team keep this 1st place. By getting more entry chances, I will do my best to improve my game play for the post season.


Q. Any last words?

BarrackS – From the recommendation of the coach I've been getting some psychological treatment (most likely counseling). I think that helped a lot, and I felt a lot less nervous in today's match so I'm very thankful. Also behind the scenes giving me advice continuously Kim Yoon Hwan (
Hery) coach,
Flash, and Park Sung Kyun (
Mind) I want to thank them.


[Daily e-Sports Lee So Ra Journalist sora@dailyesports.com]
Source - Daily e-Sports
*A smarter life together with T store (www.tstore.co.kr)

Good luck to Barracks in the future, yamatooo.