People kept pming and asking me to do this so I reluctantly conceded.
Please note, this was done haphazardly on a whim and should've yielded a lot of mistakes.
If you see any do not hesitate to post/pm my errors. thx and have a nice day nubs


Jaedong: "Today's game was artistic humor"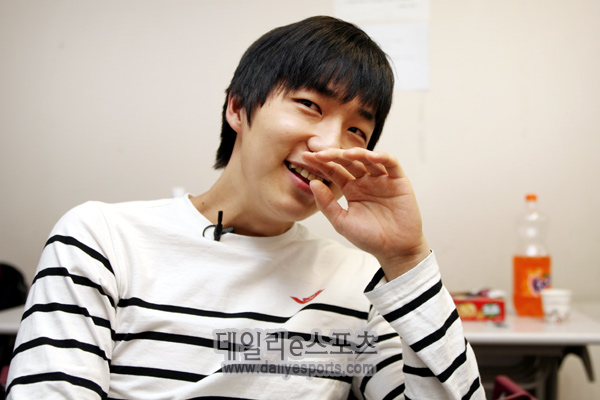 He won but you could read the embarrassment on his face. Of course, it would be unusual if that were not the case. Yesterdays game didn't quite go as well as
Jaedong had planned.
A game that should spectators take a mere glance, would think 'That can't be
Jaedong' or 'Is something wrong with
Jaedong?'

It wasn't the best win but nobody could possibly suppress their curiosity in regards to
Jaedong. He did manage to secure his team's victory over Stars but not in a fashion that an ace should hope to present.

Q: Your expression was pretty sour and down after the game.
A: There was no way I could raise my head after the way I played. After I saw my mistake, I could only think of how I could possibly greet my fans and team mates (TN: Winning was no longer a psychological concern as shame had pretty much taken over). Though, when I think about, deep inside I can't help but laugh at how ridiculous the game was. My win was truly good fortune and a huge relief. If I had lost, I think I would have blown up Mt. Yongsan. (TN: A Korean mountain down south. TN2: Like a bawss)

Q: How did you feel when you finally saw the blockade?
A: It was actually hilarious. Not because of what happened but because I actually managed to win that game in the first place, but I still feel shame of course. If I had just payed better attention to the mini-map...ah, the error was so glaring (laughs)! Actually, to be more accurate, as soon as my eyes set sight on the clump of slithering units, there was an initial wave of anguish, but it was quickly replaced by internal laughter.

Q: Why do you think you weren't able to catch your error in a timely manner?
A: I had 200 supply for a duration of the game and I could only wonder why my unit count was so low. I think I was just too busy to notice why (TN:
Flying was literally flying all over the map). It just felt like I was suffocating. I felt very pressured and there was a lot of tension, especially because I was on a losing streak, not because of the fact that it was set 5. The game was a poor reflection of all the practice and effort I made. I was so frustrated throughout the entire game. I felt like I had to intentionally speed up the tempo of the game.

Q: Was there a particular reason you laughed after you saw your own game?
A: I would actually like for people to see the game now. To be honest, I just thought it's all about winning, and since I won, even if the play was pretty shabby, I can smile (laugh).

Q: Between this and
Jaehoon's Bermuda recall a few years ago, which do you think 'had more fail'?
A: There's really no comparison (laugh). My game will probably go down in eSports history, There's absolutely no player who would clog units for over ten minutes without noticing. I want to think that this will leave a deep impression for everyone in the future (laughs). To be fair, I did laugh a lot at
Jaehoon's bermuda but really, when I watched my game, you can only laugh with more satisfaction.

Q: We're surprised: we thought you would be angry about your game but you're laughing heartily! (TN: apparently i was wrong last night lol)
A: I thought I would have a mental breakdown during that game (laugh). I did get angry because my hands and my mind wouldn't flow as quickly and as fluid as they did in practice (laugh). After I 'opened the floodgates' instead of breaking down, there was really just a sense of laughter deep inside. Of course, it goes without saying this wasn't exactly the best game I've showcased since my debut (laugh).

Q: Team 8 pulled through and won by a margin
A: That just goes to show how important today's games were. 3 straight losses really put a deep emotional burden on our team but after today, it feels like a large rock has been lifted off our shoulders (laugh). Since I even managed to show everyone a game like this so lightheartedly really signals that we're ready to move on (laughs). I think I can look back at this game in the future and smile. Our team has a long road ahead and so each and every one of us will put in an effort that surpasses everyone.

Q: A lot of people were worried and extremely tense watching your game! (TN: lol)
A: It was a game that should make my fans worry (TN: as in, after watching his game, thinking if he's in a slump. etc). But if there are a lot of important games, I'm the type to just grab hold of my self, put myself together, and bring myself back to the leadership role and get rid of this strange pace that I'm playing at. I won't be greedy - I will prove myself game by game.

Q: Any final words?
A: I really hope everyone had/has a fun time re/watching this game. When i see what's been captured on camera, I feel a lot of different emotions but since I ultimately won, I don't feel so bad. I apologize extensively to all the fans who came out today. (TN EDIT, I missed a crucial word (gomsek) and made me feel retarded -.-) In the search engines, I suddenly shot up to most searched. (laugh). OGN was placed 2nd so they should have some gratitude (laughs). I think today would have been well suited for MBCGame to put in the hall of fame. (TN:

, also he references another ambiguous game he played on MBCgame, not sure what tho)
This will truly be an unforgettable game in perspective of the Proleague scene (laugh).


----------------------

[데일리e스포츠 이소라 기자 sora@dailyesports.com]

*SK텔레콤과 함께하는 e스포츠 세상(www.sktelecom.com)

Source


P.S.

The bermuda recall being referenced



And his 3 cm recall




JD


Poll: Which do you think was worse?
RAMPPUUU
(168)
92%
RECALLUUU
(15)
8%
183 total votes
Your vote: Which do you think was worse?