Group A
Hydra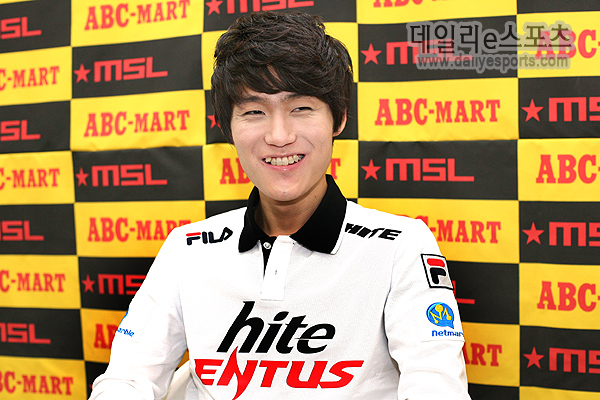 Q You are the first player to make the Ro16.
A If I didn't make it, I was afraid that I would get the "Winner Jinx" tag on me. It feels good to be the first player to make it.

Q Recently, all the winners except the LeeSsang have experienced the Winner Jinx.
A I didn't think about it much before I came into the stadium. Coach forU told me "All the winners have exited early, make sure you don't do that". So I felt that I needed to make it no matter what.

Q You got a lot of attention because you made the Group of Death at the Group Selection Ceremony.
A I was surprised because I got a bigger reaction than I expected. However, even if all the good players are in different groups, there's no guarantee that they'll all make it. I felt that I shouldn't get knocked out until I meet the players from that group.

Q Your first opponent, Light, is a TvZ specialist.
A I first worried a lot when I saw the map, but it was a 2-player map and there were a lot of hilly terrain so I felt I had a chance. I didn't practice too much, but I thought I should be able to win with preparation.

Q They say the new map is favored towards Terran like every other map
A I think it depends on how you look at it. Zero from Woongjin said it looks okay, and I agree.

Q You haven't been playing too well since your MSL win. Do you think you can turn it around starting today?
A I don't think I'm out of the woods yet. After I won, I felt how big one loss is. The future is what matters; I want to be a player that wins more than he loses.

Q You didn't make the all-star game.
A I'm disappointed, but what can I do? I really want to make the next one.

Q Final thoughts?
A I thank the fans for coming out to the opening match. I had a cold today so I hope everyone watches out for that.

Link : Daily E-sports


Light


Q Thoughts on making the Ro16?
A After I lost to Hydra in Game 1, my losses from last season flashed before my eyes. I don't want to lose again from now on. However, I reached my goal of beating a Protoss today, so I'm satisfied with that.

Q You lost to Zerglings because your simcity didn't hold. DId you not know Zerglings could pass?
A I knew, but I didn't experience a Zergling attack so I couldn't get the timing right. I shouldn't play like that, and I never want to lose again in that fashion.

Q Your TvP was excellent today.
A I've lost very disappointingly to Protosses in the past, but I didn't today so I was happy. Also, I always thought that my unit movement was very heavy, but my Vulture control was alive today so I am satisfied.

Q I heard you had extensive training for TvP.
A After I transferred, I only practiced TvP. I lost a lot, which fired me up, and as I got better, I started enjoying it more. TvP is hard, but it's definitely a lot of fun.

Q Do you think you've gotten over your TvP troubles?
A Not yet. I think I have to get my win rate up before I can say that. I'm starting to get it now, but I know I have a long ways to go.

Q Zero came to cheer you on.
A I convinced my manager to bring Zero. I had two Zergs in my group, and it makes it easier if I get help before my games. I want to buy something delicious to Zero, who was my mentor today. There's no downside for him tagging along (laughs).

Q You said you'd prepare more on Proleague.
A In all honestly, I don't care that much about MSL until I reach the later stages of the tournament. Get ready for Proleague rounds 5 and 6. When you see it, you'll know what I mean.

Q Final words?
A I thought I'd play Tyson in the Winner's match, but I was disappointed that I met him in the Loser's match. He lost today, so I hope that he plays better in Proleague. Whenever I took a break, I went and visited the MBC house, and I don't think they're going to do too well in rounds 5 and 6 (laughs). In all honesty, I hope they do well and I hope Free does well today too.

Also, thank you to Zero and my manager for tagging along today. I'll treat you both.

Link: Daily E-sports


+ Show Spoiler +

Original Korean interview belongs to Daily E-Sports (esports.dailygame.co.kr)
English Translation belongs to doothegee, and may not be reproduced in any form without the translator's expressed written consent.