This is a article on fomos. I didn't write this, but sure had fun translating it. I first began watching professional StarCraft the December of 2007. This was few months after GGPlay had won his Daum OSL, and began to slump. That's why I Always saw GGPlay as a "weak" player, and paid more attention to the upcoming star Jaedong. In fact, I Always thought Jaedong was the best player ever, probably because I've wasn't there to watch Bisu 3-0 sAviOr in a dramatic series, or GGPlay make a 3:2 comeback against Iris, but I was here to watch Jaedong beat Stork with mutalisk and scourge on Katrina. Also, I never thought about the rigorous practices these progamers went through to achieve their dreams. This article gave me a new respect for GGPlay, and maybe it will help you think of him as a great player rather than "The least deserved OSL winner". I hope GGPlay continues to work hard throughout his life and becomes successful in whatever he does. My cheers to you, GGPlay!
---
A Requiem for GGPlay: Translation of the article "Cheers, GGPlay!"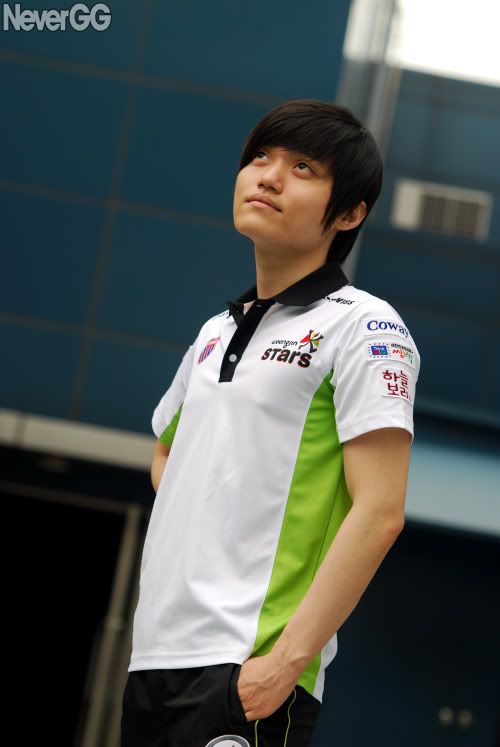 Thanks NeverGG!



Since the progaming world is one where only the top small percentage survive, we can classify even those who just debuted in the broadcasted gaming world "a winner". We have moved on from the era where an amateur moved naturally to the world of professional gaming on his own, to the time where each team finds and raises talents in a team house, through fierce competition. In an environment where each player, with his own reason to play the game, gathers in one place and spends one half of his day practicing, the phrase "hard work" may seem irrelevant.

That is why to a progamer, "hard work" and "diligence" goes one step beyond their original meaning, defining a person who has strong mindset and determination. Lee Seung Won, an ex-commentator, called a match between two gamers a "mental sport". A match to prove which player has a stronger will.

Except a very small percentage of players, every player goes through being "no-namers", playing in the minor leagues. The recurring failures, the pressures of a possibly dark future, doubts about oneself, and the constant increase of strong opponents make a player's heart heavy. If we call the players who has the mindset to overcome these pressures and continuously evolve a "hard working type", that in itself would be a compliment.

If we pick the "hard working type" players using this definition, although there will be debates, we can pick the protoss
Stork, the terran
fantasy, and a very special role-model progamer,
GGPlay.


You're going down!




GGPlay originally debuted under the spotlight as the "Hanbit Stars (former name of Woongjin Stars) zerg that would succeed
Junwi". This was back in 2004 when GGPlay debuted in his match against
Nal_rA in the OnGameNet Challenge League Offline Preliminaries. He defeated Nal_rA, creating an upset, and qualified for the main league in only two tries.



"I want to spread my name"


What GGPlay said before his match in the main league was this calm and succinct. Although he couldn't climb the limits of a new player and was eliminated from the league with all losses, he again returned on his third try, passing through the offline preliminaries.

Unfortunately, in his group there were
Kingdom, who was one of the three top protoss at the time, and
sAviOr, who had just all-killed KTF (now KT) and gained fame. Even with such a hard group, GGPlay did not falter. Against sAviOr he won after a close game with large scale mutalisk fights, and defeated Kingdom in a long game with queens and carriers. On the winners round with
fOru and
TheMarine he lost after tiebreakers, but defeated
Max and
DoGGi in the dual tournament and became one of the 16 people to qualify for the OSL. He was the only player from Hanbit to qualify.

Unlike today's qualification rounds, it was significantly more difficult to make it to the round of 16 back then. For OSL, the 16 players were chosen through the offline qualifiers, then the challenge, then the dual tournament. MSL also had an offline qualifiers, then the minor league, then the major/minor rounds. So for a progamer, becoming a starleaguer in itself required a lot of effort, and the strong players' true abilities were revealed in the starleagues.


GGPlay smiles as he thinks of the candy mountain as he prepares for his match



However, for GGPlay, this was only the beginning of hardship.

In EVER 2005 OSL, even after defeating two strong opponents,
Kingdom and
Midas, GGPlay lost in the tiebreakers and failed to qualify for the round of 8. Then so1 round of 16, Shinhan S2 round of 16, S3 round of 16. Soon, he got the infamous nickname "round of 16 zerg". Besides winning the "most wins award" in 2005 first half of the proleague, he faced failure after failure.

For a progamer to continuously lose in a similar fashion every time can be more devastating than failing to qualify. The player begins to feel as if it's the limit, and getting the same results after intensly hard work truly shakes his will. That's why GGPlay's OSL win is even more dramatic, and shows how he continued to evolve into a winner.


Did you see that..? I'm number 1!



If you want to see the zerg trend between 2005 and 2007, you simply have to look at GGPlay's games. From the revolution of TvZ by the two Parks (
GoRush and
July), to
sAviOr's 3 hatchery and
ChoJJa's fast hive, GGPlay's changing style shows how intensly he practiced.

In time, the two parks left, ChoJJa's last spark disappeared, and even sAviOr's dominance seemed to end, but ggplay probably continued to test their legacy in many different ways. The traces of this can be found on the finals match with
Iris.

In the Daum Starleague Finals 3rd set, GGPlay was down 0:2 and contained by Iris. However, GGPlay broke the contain with amazing mutalisk micro that seemed to remind us of
JulyZerg breaking
Goodfriend's contain. The 4th set where GGPlay placed a proxy hatchery and continued to spawn guardian and hydra reminded us of the "gambler"
Silver, and the 5th set was like a game to answer all the previous Terran vs Zerg.

In the 5th set, Iris saw through GGPlay's attempts to end the game strategically in the lair phase, and through perfect unit usage, dragged the game on to hive phase. Iris then started harassing many different places and brought the game to his advantage. This is when GGPlay pulled out his sword: defilers.

After ChoJJa, Hive management to zerg players was like the holy grail filled with poison. How a zerg used the hive tech units became the center of Zerg vs Terran. GGPlay's decision was to use defilers. Even before his usage, defiler was a key unit in Zerg vs Terran, but GGPlay polished its use. Pushing his control to the limit, GGPlay showed that zerg can profit from fighting the terran force.

After defilers made their appearance, the game dragged on to the fight at 12 o'clock expansion, GGPlay's lifeline. Iris used dropships and other combination of strategies to try and make GGPlay make a mistake, but GGPlay used defilers to defend the expansion with only zerglings. Finally when GGPlay's recovery rate became faster than Iris's attacks, ultras began to spawn one by one. The ultralisks finished the match. For the first time in history of OnGameNet Starleagues, a player came back from 0:2 to 3:2, and as a zerg against a terran.


Pop-Quiz. Is he hugging a man or a woman?



After the Daum Starleague, ggplay started to lose strength. GGPlay's perfected zerg's history began to flow towards a new master,
Jaedong, and the stones GGPlay stood on began to wear down.

In the Incruit OSL, GGPlay made a comeback, climbing to the semifinals, but lost to the new and upcoming terran
fantasy. After that, GGPlay fell into a deep slump and retired due to an injury on his wrist.

If we look back, GGPlay was truly a Hanbit-esque, Hanbit-raised star. Coach Lee Jae Gyun, who raised
Reach and found
Junwi and
Silent_Control, had a soft yet strong method of training that was probably very fitting for GGPlay's personalities. Once GGPlay got through the Challenge Leagues, Coach Lee began to use him in proleague, and his faith was returned with a "most wins award". It doesn't take much to notice how much GGPlay helped Hanbit, and how Hanbit stood as a confidant for GGPlay. Although he had to change teams for a moment, GGPlay was a true Hanbit player.

GGPlay wasn't a genius who surprised everyone around him, nor was he fancy in or outside of the games. He didn't change the course of Zerg history or show off a long dominance. However, the river of Zerg could only show its true magnificence when it came upon GGPlay.

When the hatchery bug occured while he was in disadvantage, he admitted his loss. He also gave money for the taxi fare to the fans who came from outside the city. His clean manners awarded him his nickname "Daeinbae"*, but his strong will did not stop there.


GGPlay: A true winner



Average skills or determination cannot climb the merciless pyramid of progaming. However GGPlay used his tenacity and strong will to slowly walk up to the top.

Now he is leaving. We can no longer see his games, and soon it will become rare to even remember his games. However, his back as he walks away is truly beautiful.

With hopes that the limited knowledge of the Zerg mechanics did not hinder in showing GGPlay's real self, I offer my cheers to his new beginning.

Cheers, GGPlay!

By: Nydus (email: chakis12@naver.com)
From: Fomos.kr

+ Show Spoiler [Original Article] +

프로게이머의 세계는 최상위의 극소수만이 살아남는 피라미드와 같아서, 이제 갓 방송무대에 데뷔한 신인조차도 실은 치열한 경쟁을 뚫고 살아남은 승리자에 속한다고 할 수 있다. 아마추어 고수가 프로의 세계로 자연스럽게 넘어오던 과거를 지나 각 구단 스스로가 게이머를 발굴하고 양성하는 합숙 체계가 정착된 이래 이러한 경쟁은 더욱 치열해졌다. 각기 게임에 관한한 일가견에 있다는 이들이 한곳에 모여 하루에 절반 이상을 오로지 연습에만 바치고 있는 현실을 감안하면 게이머에게 있어 평범한 의미의 "노력"이라는 덕목은 큰 의미가 없을 지도 모른다.

때문에 프로게이머에게 있어 "노력"이나 "성실함"같은 덕목을 따지는 것은 일반적인 의미를 한 걸음 더 넘어서 정신의 강함을 갖춘 이에게 바쳐져야 할 것이다. 과거 이승원 해설은 게이머 간의 경기를 가리켜 "멘탈 스포츠", 즉 정신력의 겨룸으로 부른 바 있는데 이것은 비단 게임 내에 국한되는 것이 아니다. 극소수의 예외를 제외하면 누구나 무명으로 하부리그를 전전하는 시기를 거치게 되고, 거듭되는 실패와 좌절은 게이머의 마음을 무겁게 짓누른다.

보이지 않는 미래의 압박이나 스스로에 대한 회의, 우후죽순처럼 쏟아져 나오는 강자들. 이러한 정신적인 압박을 이겨내면서 꾸준히 발전할 수 있는 건전한 정신력을 갖춘 게이머를 "노력형" 이라고 부른다면 그 자체만으로도 하나의 찬사가 될 것이다.

이러한 의미로의 노력형 게이머를 특별히 꼽아본다면 이견의 여지는 있겠으나 프로토스는 송병구가 있고, 테란에는 정명훈있다. 그리고 저그에는 특별한 모범생이 있었으니 그가 김준영이다.


김 준영은 본래 박경락의 뒤를 잇는 차세대 한빛 스타즈(웅진 스타즈의 전신) 저그의 동량지재로 주목받으며 데뷔한 선수다. 김준영의 데뷔는 2004년의 일로 거슬러 올라가는데, 온게임넷 챌린지 리그 오프라인 예선에서 강민을 누르는 이변을 일으키면서 본선에 올랐던 것이 잠시나마 그의 이름을 주목하게 한 계기일 것이다. 이것이 단 두 번째의 도전으로 이뤄진 결과라는 것을 감안하면 매우 뛰어난 성과라고 할 수 있었다.

"내 이름을 알리고 싶다."

본선 경기를 앞두고 김준영이 밝힌 소감은 이렇게 담담하고도 간결했다. 비록 신인의 한계를 넘지 못하고 어렵게 진출한 챌린지리그에서 전패로 첫 데뷔 무대를 끝마치지만, 세 번째 도전에서는 또 다시 오프라인을 돌파해 본선으로 돌아온다.

불행히도 그와 같은 조에는 3대 프로토스의 일원 박용욱이 있었고 KTF 올킬로 이름을 알리며 차세대 저그 기대주로 각광받던 마재윤이 있었다. 그러나 김준영은 조금도 흔들림이 없었다. 마재윤을 상대로는 대규모 뮤탈 싸움까지 가는 접전 끝에 승리를 따내고, 승자전에서는 박용욱을 마주하여 캐리어와 퀸이 난무하는 초장기전 속에서 오히려 한 수 위의 뒷심을 선보이며 1위 결정전 으로 가는 티켓을 따내었다. 이재훈, 김정민과 함께한 1위결정전에서는 재경기 끝에 탈락하지만, 본선으로 가는 마지막 기회인 듀얼 토너먼트에서 신정민-최수범을 연파하며 당당히 온게임넷 스타리그 16강 멤버의 일원으로 이름을 올렸다. 한빛 스타즈의 유일한 스타리거였다.

여러번 개편을 거치며 스타리그에 진출하는 문턱이 예전에 비해 한껏 낮아진 지금과는 달리, 과거에는 스타리그에 진출하는 것이 대단히 어려웠다. 온게임넷의 경우 오프라인 예선-챌린지-듀얼토너먼트의 3단계에 거친 하부리그를 통해 16명의 선수를 선발했고 MBC게임 역시 오프라인 예선-마이너리그-메이저/마이너 결정전을 거치지 않으면 안 되었다.

따라서 프로게이머에게 있어서 스타리거라는 것은 그 자체만으로도 그의 이력에 집어넣을 만한 것이었는데, 보통 우승권에 근접할 만큼 강력했던 선수들은 스타리그 진출을 계기로 급격한 잠재력의 폭발을 이루곤 했다.


그러나 얄궂게도 김준영에게 있어 스타리그 진출은 새로운 시련의 서막에 불과했다.

삼수 끝에 진출한 EVER 2005 OSL, 김준영은 박용욱과 전상욱이라는 두 명의 강자를 이겨내고도 재경기로 가는 불운을 겪으며 8강 진출에 탈락했다. 그리고 so1 16강, 신한 S2 16강,S3 16강. 어느새 16강 저그라는 불유쾌한 별명이 그를 따라다녔다. 2005 전기 프로리그에서 다승왕을 수상하며 어엿한 한빛의 저그 에이스로 성장한 김준영이었지만 그 외에는 좌절의 연속이었다.

이렇게 동일한 패턴이 반복되는 것은 프로게이머에게 있어 어쩌면 예선 탈락보다도 더 치명적일 수 있다. 자칫 그것이 곧 자신의 한계로 느껴지고, 죽도록 노력해도 돌아오는 것은 동일한 결과라는 사실은 다른 무엇보다 더 의지를 꺾어 놓는다. 때문에 16강 행진에서 우승으로 급상향된 김준영의 다음 스타리그 우승은 더욱 극적이며, 그가 꾸준히 발전해 온 준비된 우승자라는 사실을 보여준다.


2005 년부터 2007년까지 저그의 트렌드를 살펴보는 간단한 방법 중의 하나는 김준영의 경기를 살펴 보는 것이다. 양박이라는 두 걸출한 저그의 탄생 이래 촉발된 테란 VS 저그의 혁명사에서 당시 저그들을 휩쓸었던 중요 화두인 뮤탈 컨트롤과 레어테크 운영, 마재윤의 3해처리, 조용호의 패스트 하이브 등이 김준영의 발전상과 유난히 겹쳐보이는 것은 그가 얼만큼 치열한 노력을 기울여 왔는지에 대한 증명이 될 것이다.

양박이 퇴장하고, 조용호의 마지막 불꽃이 스러지며, 종내는 마재윤의 치세 또한 막을 내리는 것을 목도하며 김준영은 묵묵하게 그 유산을 자신이 원하는 방향으로 갈무리하고, 또 집대성하며 실험을 거듭해왔을 것이다. 그 흔적은 변형태와의 결승에 고스란히 녹아나 있다.

다음 스타리그 결승전 3세트. 0:2로 몰리고 있는 절체절명의 상황에서 혼이 실린 뮤탈 컨트롤로 변형태의 조이기를 뚫어 내는 모습은 왠지 과거 이병민의 조이기를 뚫어내던 박성준의 뮤탈을 닮았다. 4경기에서 사용한 전진 해처리 이후 가디언/히드라는 갬블러 심소명의 것을 차용한 것이다. 그리고 5경기는 그때까지 벌여온 테란대 저그전의 해답편 같은 경기다.

변형태는 레어 단계에서 전술적 승리에 집착하는 김준영의 스타일을 꿰뚫어보고 철저한 병력 운용으로 무승부를 이끌어 낸 뒤에 하이브 이후 끊임없이 펼쳐지는 난전을 펼치며 절반 이상 승기를 가져온 상황이었다. 바로 이 때에 김준영이 뽑아든 것이 "대인배의 검" 디파일러였다.

조용호 이래 하이브 운영은 저그에게 있어 독이 든 성배와 같았다. 어떻게 하이브를 넘어가느냐가 곧 저그의 테란전 핵심이라고 봐도 좋을만큼. 김준영이 찾아낸 하이브의 오의는 바로 디파일러였다. 그 이전까지도 디파일러는 일찌감치 테란전에 필수 유닛으로 자리매김한지 오래였으나, 김준영은 그 활용을 좀 더 갈고 닦아 극상의 컨트롤과 함께 저그가 테란을 상대로 싸워서 이득을 볼 수 있다는 자신감을 체득해낸다.

이후의 게임 전개는 당장이라도 파괴될 듯한 김준영의 생명줄, 12시 멀티를 두고 치열한 공방으로 흘러간다. 변형태는 드랍쉽과의 연계 전술로 김준영의 손을 정신없이 엉키게 만들며 집요하게 12시를 노렸으나 김준영은 디파일러를 이용해 저글링만으로 끊임없이 모든 공격을 막아냈다. 마침내 김준영의 회복 속도가 변형태의 공격력을 능가하는 순간 울트라가 한 두 마리씩 튀어나왔다. 그것으로 승부는 결정지어졌다. 온게임넷 최초로 0:2를 3:2로 뒤집은 우승자, 그것도 역상성 우승자가 탄생하는 순간이었다.


다음 스타리그 이후 김준영은 점점 상승곡선을 상실하며 힘을 잃어간다. 김준영에 의해 완성되고 정리된 저그의 역사는 이제동이라는 새 주군을 찾아 새롭게 흐르기 시작하고 그를 지탱해오던 버팀돌은 점점 구 시대의 것으로 변해갔다.

인크루트 스타리그에서는 다시금 살아난 기량을 과시하며 4강에 오르는 쾌거를 이뤘으나 테란의 차세대 기수 정명훈에게 패하고 만다. 그리고 이후 김준영은 급격한 슬럼프와 함께 찾아온 손목부상으로 최근 은퇴를 선언했다.

돌 이켜보면 김준영은 정말 너무나도 한빛다운, 한빛이 키워낸 스타였다. 지금과 같은 연습생-2군의 선수 양성 체계가 자리잡히기 이전, 박정석을 키워내고 박경락과 나도현을 발굴해보인 이재균이란 명장의 부드럽고도 강한 조련은 묵묵히 스스로를 개척해내는 조용한 성격의 김준영에게 안성맞춤이었을 것이다. 김준영이 챌린지 리그를 뚫어내자 이재균 감독은 과감히 김준영을 프로리그에 적극 기용했고, 그 믿음은 다승왕으로 돌아왔다. 이후 김준영이란 존재가 한빛에게 있어 얼마만큼의 도움이 되었는지, 또 김준영에게 있어 한빛이란 든든한 요람이 어떤 존재였는지는 굳이 부연할 필요가 없으리라. 잠시 팀을 옮겨야 하는 아픔도 있었고, 이로 인해 얼마간의 잡음이 그를 괴롭히기도 했으나 그는 역시 한빛의 소년이었고 한빛의 남자였다.

김준영은 특별한 재능의 뛰어남으로 주위를 경악케 하는 스타일도 아니었고, 게임 내적으로나 외적으로나 화려함과는 거리가 먼 정중동의 사나이였다. 특별히 저그의 역사에 커다란 전환점을 만들어 내지도 절대적인 강력함을 오래도록 내뿜어 보인 것도 아니었지만 도도히 흘러오던 저그의 강물은 김준영에게 이르렀을 때 비로소 굽이쳐 흐르며 아름다움을 뽐낼 수 있었다.

불리한 상황에서 해처리 버그가 발생하자 스스로 패배를 인정했던 깔끔한 매너와 지방에서 올라온 팬들에게 직접 택시비를 쥐어줬다는 일화는 그에게 대인배라는 별명을 선사했지만 그 정신의 강함은 거기서 멈춘 것이 아니었다.


어지간한 수준으로는 재능도 노력도 무력해지는 프로게임계의 가혹한 피라미드를 오로지 꾸준함과 포기를 모르는 정신력으로 넓은 가슴 당당히 펴고 끝까지 걸어올랐던 김준영.

이제 그가 떠난다. 더 이상 그의 경기를 볼 수 없고 그를 추억하는 것 조차 드물게 있는 일이 되겠지만 떠나가는 그의 뒷 모습은 충분히 아름다우니.

저그에 대한 필자의 일천한 이해가 오히려 김준영의 진가를 가리지나 않았나 하는 우려와 함께,

그의 새로운 출발을 위해 축배를 바친다.

Cheers! GGplay.

시민기자 나이더스 chakis12@네이버.com




---


* Daeinbae is GGPlay's nickname, which roughly translates to "gentleman" - Thanks MrHoon