Developer: Kronos
Platform: PSX
Release: Jan 31, 2000.
Genre: Survival Horror / Action
Disks: 4 (1266Mb)

Three mercenaries arrive to Hong Kong with the purpose of retrieving the daughter of the Hong Kong mafia lord. The initial catch is to do it before the mafia men do so, to ask for ransom. The whole plan gets out of course when instead of fighting regular humans the characters find themselves fighting all sorts of weird creatures too.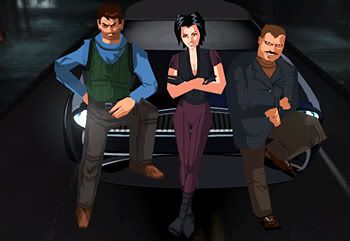 The game is a survival horror game (Resident Evil, Dino Crisis) that uses cel-shaded graphics. Instead of pre-rendered backgrounds, Fear Effect uses looping videos as enviroment. As a result everything has a comic look but at the same time it's rather vivid and sets a movie like atmosphere for the plot to develop.

The game has nudity, violence, you name it. Combat is more common than in other survival horrors games. In fact, you usually want to eliminate enemies instead of running by them, as they usually leave more ammo, or items you need to advance.

The puzzles are neither better nor worse than Resident Evil's, but they are better integrated. You will need to find something to do something usually related to the story, not turning some statue to make it point to a mosque for a door to open. They are really relevant to the game. The only example I will give to prevent spoilers if one of your partners is attached to a bomb and you need to defuse it before it explodes. The camera makes a zoom and there you are: red, green and blue wires and the clock ticking.

Another thing that differentiates it from other games of the genre is that characters move more freely. They can roll in any direction, sneak, shoot while moving and climb ladders without an 'intermission'. Characters can aim two enemies at the same time if they have dual weapons. Weapons are changed in-game and there is not pause while doing so and as a result players need to be quicker when fighting. Rolling, changing weapons and reloading in fights is not rare.



http://www.youtube.com/watch?v=XhIqjvOm5ac#t=0m40s
Blade Runner? No! Fear Effect!



Characters can also shoot while moving. The stealth side of the combat involves using the sneak button to reach en enemy from behind to kill them with melee weapons, or with just one shoot, to save ammo.

The health bar in the game is replaced by an electrocardiogram. When we get hit or shot, the wave goes erratic (that's were the game's name comes from). To go back to normal the player must do something that tranquilizes the character: defeat enemies using stealth mode, solve puzzles, kill a horde of enemies, etc.




You get to use all the three characters during the story. Each player is kind of a stereotype: Hana a sexy but tough girl, Glas a charismatic American killer' and Deke, a silent but brutal partner. During the game the characters are usually split and the story goes from one to another. Character A might be on his way to save character B from something character C told him was about to happen (I just made this up, but you get the idea). The plot makes really good use of time and space to keep you intrigued about the next event.

The cameras contribute a lot in making the game seem like a movie, though it might make controlling the character a little hard on some particular scenes it's more whats gained from it than what is lost.

The music follows the whole Chinese theme the game has is it. The graphics are different but one of the best in PSX at the time.

The controls might seem a little underwhelming at first. Folding your weapon to get out the key you need to open a door and suddenly being attacked might seem too much at the beginning, but it adds a thrilling element to the gameplay.

If you try it, at first it will seem that the story advances slowly and the controls make it kind of hard to advance. But hand on there because Fear Effect is about to give you a hell of a ride!

Yay

Everything is great: concept design, graphics, characters personas, sounds, backgrounds, everything blends to make a great movie-like game!

Excellent puzzles.

Once the story picks up, action never stops.

Intriguing plot that will get you hooked!

Nay
It has almost no re-playability.

---

Poll: You should play this game...
(Vote): right now!
(Vote): only if you like the genre.
(Vote): never.