I have some work to do, but I'm currently watching the GG.net/TL.net show match and I've been meaning to write this up for a long time now. Needless to say, I don't really feel like working right now.

In Support of Boxer and Two Player Maps

Everyone can relate to famous games on a two player maps. In my mind,
sAviOr versus
Nal_rA on Sin Peaks of Baekdu and
Sea versus
Reach on Hitchhiker both stand out. Two player maps are conductive to some of the better games in Starcraft. The fact that both players knows where the other starts allows for a much different dynamic that allows for some unique games to be played. The fact that both players know exactly where the other starts allows for a broader range of strats, proxies and mindgames.

I want to bring your attention to 3 (or 4) games on the recently deceased Blue Storm, which was just taken out of the map pool.






And, introducing the king of mind games and proxies,
SlayerS_`BoxeR`, the Terran Emperor. Even with his reduced practiced time, he has still graces us with innovative play on Blue Storm.



BoxeR versus
RuBy on Blue Storm, Proleague 2007





Only on a two player map with
BoxeR would this happen.
BoxeR proxies, not to roll the dice and try to end the game early, but to make
RuBy play more defensively. Ruby prepared for a situation in which
BoxeR proxied; it's not like Lim Yo Hwan isn't well known for it.
RuBy built his extra marines and scouted the empty base only to find that
BoxeR proxied his first and second factories – the empty base was merely a diversion allowing Boxer to get his factories up earlier. Boxer rides this advantage to the end, grabbing his first and eventually second expo earlier and proceeding to end the game with 3 port wraiths.

This type of strategy would only have been possible had there only been two positions. If it had been a 4-player or a 3-player map,
RuBy wouldn't have been so scared of the BBS and would have opened much more aggressively, probably leading into mid-game even keel. You can see the frustration on
RuBy's face as he realizes that he is playing against a strat that goes far beyond build orders and mechanics.




BoxeR versus
HiyA on Blue Storm, Proleague 2007
BoxeR again exploits his tendency to proxy, except
HiyA handles it a little better, probably because
BoxeR went Mnm, so points go to the Emperor there.
HiyA successfully scouts the proxy and successfully defends it.
BoxeR keeps an empty base for a large portion of the game, and retains map
Control to win the game. The interesting thing about this game is that is is a rudimentary form of
BoxeR versus
RuBy game. It was played twenty-something days before. You can see the elements of the ingenuity of the game versus
RuBy hazily manifest themselves in
BoxeR's game versus
HiyA: the ability to retain map control, to keep an empty base, and keep the opponent on the defensive. He even goes wraiths, like in his game against
RuBy, to cut down on scouting and map control.

Again, this strat was made possible by the two start positions.
HiyA's early scout saw
BoxeR's empty base and forfeited map control to
BoxeR.
BoxeR would not have been able to depend on this build if the map were a three or a four player base; just by having an empty base,
BoxeR realized that he can get people to play passively instead of aggressively.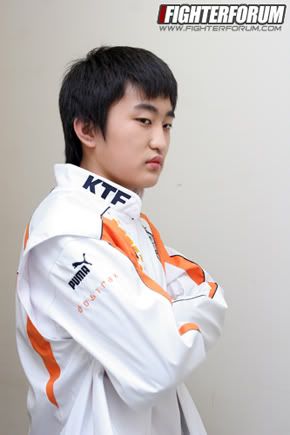 Flash and Blue Storm


A lot of lame things have been said about this map, especially in the TvP. The wide open center allows for easy splitting of the map tend to make PvT's very boring.
Flash popularized this style by winning with it, and a lot of people hold him personally responsible.



Flash versus
JangBi on Blue Storm, Proleague 2007





Both the Terran and the Protoss are to blame for splitting the map like this. It is clear that both
Flash and
JangBi felt they could win by playing this way. Many felt that PvT on Blue Storm was impossible simply because fast-armory fended of any type of harass and the third is so close and easy. Carriers seemed to be the only option, making all games end up like
Flash and
JangBi's stalemate. Although this game was played early in
Flash's era, when it wasn't as apparent that splitting the map would evolve such games. Death God
Anytime proved Protoss can win, perhaps with more than a little bit of multitask and gall, without early game proxies or carriers.



Anytime versus
Flash on Blue Storm, GOMTV Star Invite

Anytime versus Flash on Bluestorm, GOMTV link


He really exploited the 2-player nature of the map, scouting early and forcing an early gas and a delayed rax and pushing out 2 zealots before core, forcing
Flash to build more marines. The precision of the opening build would have not been permitted on any map but a two player map.

And here I deviate: the reason this game is worth watching because not because it demonstrates tactics exclusive to two player maps.
Anytime choses to beat
Flash's fast armory build stylistically. You can play for a macro game, stuck in the mindset that you can will in the long run, inevitably drawing the game into a stalemate or you can play like
Anytime did.
Anytime teched to speed shuttle-reaver telling the fast armory build to go to hell, harassing with multiple shuttles and forcing
Flash's army to defend in too many places at once.
Anytime variated his build, played slightly differently, and blew a hole in
Flash's build.

To a casual observer, two player maps might seem only aesthetically different than one player maps. Two player maps unlock a area of tactics that was previously unavailable. Two player maps allow the players to practice to finer timings and more exact build orders. They also open up a wilder, much more unpredictable mind game, like tricking players into playing defensively. You could see this on past two player maps, like Monty Hall and
Bifrost and I have no doubt you will see it on future two player maps as well.