So, I think we fell for it.

You know when you move into an affordable apartment, it has some nicks and dings but is pretty good all around, about two steps above trashy? And you say to yourself, "Well with how well we cleaned all year and how subpar it was when we moved in, we have to get most of our deposit back, easy."

How wrong we were.

I believe we are dealing with the landlord that reams you for the deposit and probably invests none of it into unit.

My girlfriend and I are mildly OCD with cleaning. We clean each room every week, and do deep cleaning monthly (floors, dusting, windows). But not good enough!

My old landlord sends me an email of a list of reasons why the apartment is in such bad shape. About a whole 5 things. He even complained of crumbs in one drawer. Reach all you want, good sir. But his main obsession is with the oven. Somehow grease or whatever got in between the window glass unit. I don't really understand how that happened. Sounds like a result of simple use. Bad luck? Design flaw? He complains because it was a "new" oven. It was new because we had to get him to replace the old over where 2 burners didn't work and the hinge to the door springs up randomly and nearly took off my girlfriends arm. And this was not "new," this was one of those refurbished ovens that someone had nonetheless fixed up real nice-like. So he wants to charge me for that... because you can see it. It's not structurally damaged in any way whatsoever, but oh god, the faint smudge inside the 6x6 window!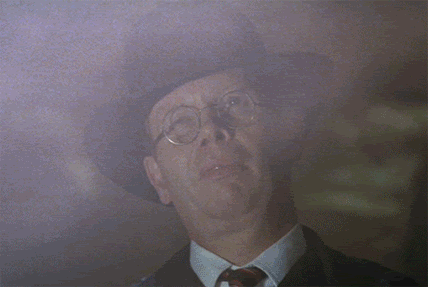 Maybe this is what happened to him when he looked at the smudge



Then he says the following words: "It looks the oven has never been cleaned." Very insulting to a neat-freak like me, and a germaphobe like the girlfriend. A gross exaggeration on his part, but all the more infuriating because I challenge you all to find a cleaner looking stove (I guess I have to go back and take a pic? That would sure solve my problems). He keeps calling it new, but it not new, and it certainly is less so after a full year of use. I mean frequent use. We cook all of the time. Thus we clean it all of the time. We have to. You can't cook on a dirty station (not to mention the smoke from the shit on the burners if you don't clean them). I can't believe he gave us a death-trap broken-burner oven and then complains that his un-new oven is no longer "new." He also mentions how much he said he spent on that oven. Would you believe it's equal to our deposit? Interesting.

Then he complains that the fire extinguisher was discharged. You gave us an unserviced extinguisher when we moved it, you bastard! You never checked it or had it serviced after your last tenant. Also that's his responsibility, if he thinks he can bill me for a service that's not my fault and not my responsibility, he's nuts.

He offered to meet and "discuss" things. I of course am going to, but I'm pretty sure I'll lose my cool. Not violence or yelling, but perhaps colorful language, like, "that's bullshit, sir." He may hold the cards (as in, my deposit), but if he's going to drain my money for this why not just put up a fight on the way down? I'm tempted to cut my losses here, but man, maybe if he made up something better, like carpet damage, or needing new wall paint.

I didn't expect much of our deposit back, I never do, some people don't get a cent and get over it. But just to be told a bunch of bullshit, just to find any reason to keep our money. Oh man if you think I'm pissed, wait till the gf opens her inbox. Holy shit. I might need some popcorn for that.