This Saturday is the opening day of the third TeamLiquid StarLeague. Never before have so many top players from so many countries gathered for a single tournament. In the first day alone, seven nations will be championed by the best they have to offer. Those qualified for the TSL, on top of representing their homeland, will also be flying the colours of their respective teams. Day One will feature the best from top eSports teams Mousesports, Praetoriani, TLAF-Liquid`, TSL, SlayerS, and Fnatic. The amount of prestige, fame, and respect to be won for nation, team, and individual is gargantuan.

For the spectator, the rewards are almost greater. The matchups in the TSL, on the opening day alone, are some of the most anticipated since StarCraft 2's release. The fact that we have the best players from Europe, North America, SEA, and Korea competing against each other as early as the round of 32, solely, makes the TSL a different species of tournament. One of the biggest reasons for anticipation is the question of how foreigners will stand up against the top Koreans, who of late, have only been growing in dominance. From foreigner to Korean, the scope of skill in the TSL is both awe inspiring, and unprecedented. At this point in StarCraft 2 history, it is not possible to fully comprehend the reality of what we will be experiencing on Saturday. Even the most jaded liquibetters are struggling to make their picks. We are sailing into uncharted waters. Our stabilizing force, the one sure and safe factor we have to guide us, is the map pool.

As unfortunate as the longevity of Blizzard's defaults may be, it gives the TSL the unique opportunity to provide not only the best matches, but the best matches on a new generation of maps that few of us have seen more than a handful times at the professional level. Not even Korean favorites Boxer and FruitDealer have played more than two games on all of the new maps combined. For top foreigners like Sen and Fenix, and the majority of others to follow, they will - finally - be playing on maps deserving of their skill. The only thing the new maps assure is quality. How the games will play out is unforeseeable.

I know this is the tournament of your dreams, because these dreams are shared by us all. On Saturday we will wake up and live them.


NightEnd's style is very distinct from other Protoss'. As Plexa pointed out in
the qualifier recap
, NightEnd favors a stalker heavy army in PvT and high templar in PvZ, an approach almost the mirror opposite of what we are seeing from many of his peers. For these, and other reasons, NightEnd has become favored by many to win out over the Emperor himself. Boxer's fall to Code A may have tipped the scales for many in their bracket predictions, but this comes after a stretch of losses and the suspicion that the founding, recruiting, and organization of team SlayerS has left the Emperor with little time to practice. As his results have been dismal of late, such suspicions may unfortunately be correct. Boxer could easily lose this series, as several people, including Artosis and Strelok, have already noted. Boxer has also had his hands full dealing with the up/down matches in the GSL, in which he came out the loser. I am not confident that Boxer diverted enough practice time from the GSL, his bread and butter tournament, to be fully prepared for NightEnd, who, like teammate Thorzain, will be pulling out all the stops to beat a legend.
Bracket Contest:
Boxer's decision to be a StarCraft 2 progamer made it clear that he wants to once again play at the highest level of competition. At the moment, however, his attention seems split between not only the GSL and TSL, but the formation of SlayerS clan and his own marketing. NightEnd has been able to focus 100% of his energy preparing specifically for these matches, whereas Boxer has not. Still, I am not so sure that NightEnd will be able to win. Boxer is too talented and experienced to be taken lightly. I'm undecided.
Bracket Stat:
Boxer picked to win in 77% of brackets (2471 to 746).
Tyler has been a household name at TeamLiquid for a long time. The defending TSL champion, Tyler was one of, if not the greatest foreigner Brood War player. Making it to the finals in Courage on his first try in 2008, it was not long before he began making waves in his new team, eSTRO. According to SangHo, a top player on eSTRO at the time, Tyler "could have become an A-teamer on eSTRO. He was doing really good." The magnitude of this statement should not be lost on anyone. Tyler is the only foreigner player to receive this level of respect in the Korean-dominated professional sphere. Against Strelok, however, in StarCraft 2, one could even go so far as to call him the underdog.
In Brood War, Strelok was a top foreigner who was able to take games off of players like White-Ra. But while he could beat him, Strelok also played in the shadow of his fellow Ukranian. With StarCraft 2, Strelok emerged as a dominant force as early as July when he won his first tournament. Since then, he has taken eleven more 1st place finishes, including his 3-0 sweep of SeleCT to qualify for the TSL. Like Tyler, much of Strelok's success has been within the confines of his home continent. Both players have yet to achieve first place finishes in a major tournament. For the TSL, the largest stage of them all, Tyler will be preparing, perhaps the hardest he ever has in StarCraft 2, to continue his legacy and defend his crown. Strelok will be hungry. The opportunity to usurp the champion, and a fan favorite, is a juicy one indeed. On Saturday, I think Strelok will be stronger and more refined that we have ever seen him before. Tyler was able to macro Strelok out of Assembly 2-1 but this time around, expect the games to be much closer.
Bracket Contest:
Tyler has made it clear that the TSL is "the one" – the most prestigious and important StarCraft 2 tournament he has ever played in. In the TSL bracket reveal, Tyler commented that he "loves PvT right now". He also beat Strelok in the beginning of February in a very large tournament. If he can dissect replays and polish his build orders with the level of focus from his Brood War days, I see Tyler taking this series.
Bracket Stat:
Tyler picked to win in 91% of brackets (2958 to 306).
This is one hell of a matchup. Both of these players are so ridiculously talented that the anticipation is almost too much to bear. For Fnatic, it is unfortunate that their only players in the TSL have to play each other in the first round. For the spectators, it is quite the opposite.
Sen and Fenix are terrifying for so many reasons. Sen is a player that has been part of the professional StarCraft scene forever. He was easily one of the best foreign Brood War players. His 2007 ZvZ win over Savior and TSL2 third place finish are a testament to that. In StarCraft 2, Sen has taken silver in three major tournaments, beating players like Machine and Tyler in the process. After knocking oGsVines out of the third GSL Open, Sen came inches from taking a game off NesTea, the previous season's champion who is renowned for his skill in ZvZ. No one questions Sen's skill in StarCraft – if he puts in the practice and focus. Sen will need both, because Fenix is one of the most well-rounded foreigners and more than familiar with how Sen plays. Fenix is also very skilled at multitasking. I expect him to use drops, harass, and double pronged attacks relentlessly to keep Sen behind economically. All of this will be especially effective on the new maps which are, given their size, very conducive to this kind of play.
Bracket Contest:
Fenix's less than inspiring performance in Hanover, although against extremely skilled opponents, does not speak well of his current condition. I'm giving Sen the edge, in part because I consider his potential to be extremely high, but mostly due to his results. Sen might suffer greatly from harass, but I'm predicting him to weather the storm and emerge victorious.
Bracket Stat:
Sen picked to win in 71% of brackets (2304 to 964).
Thorzain versus FruitDealer is as close as you can get to a real life, David versus Goliath story. FruitDealer is the hero Zerg, underdog champion of the first GSL who cut his teeth on Terran bones. He is one of the best players in the world and on TSL alone, FruitDealer has Alive, Clide, Puma, and Rain to practice with. For Thorzain, his match against FruitDealer is undoubtedly the most important of his gaming career. Until the TSL, Thorzain had eluded the European spotlight but steadily participated in tournaments and honed his skill against players like Adelscott, who he defeated to qualify for the TSL, Naama, and the formidable Nerchio. These are good players, to be sure, but also not of FruitDealer's calibre.

While the matchup may look extremely lopsided, Thorzain does have a few very important factors in his favor. As Tyler pointed out in the bracket reveal, Thorzain has, completely, the element of surprise and a plethora of FruitDealer replays to analyze. FruitDealer has nothing. As Thorzain was preparing, like Boxer, FruitDealer was losing in the GSL. Only this past Tuesday he battled through his up/down matches in what must have been a nerve wracking experience. There is also the possibility that FruitDealer will underestimate Thorzain and try one of the ill-planned all-ins that knocked him out of the third GSL Open. In his qualifier interview, Thorzain admitted that he would have a hard time of it if he was matched against a Korean Zerg like NesTea. FruitDealer isn't far from that.

Bracket Contest:

There is no getting around the strength of FruitDealer. I would not be surprised in the least if Thorzain is able to take a game, but I don't predict him to win this best of three. But if he does win, he will instantly become a hero and fan favorite. It will take a lot of skill to pull that off, but he has some serious motivation.

Bracket Stat:

FruitDealer picked to win in 89% of brackets (2877 to 345).

Side note: I don't know why there slight inconsistencies in number of totals. A few brackets may have been incomplete at the time we ran a checker.



Opening day of the TSL is this Saturday. I know you will all be watching. If you have yet to enter the bracket contest, now is the time. Will the Koreans streak through uncontested, or will a hero be born? The best have gathered and the stage has been set. Experiencing the greatest StarCraft tournament to date is all that remains. Hopes, dreams, and champions. This is what the TSL is made of.




Cheerfuls !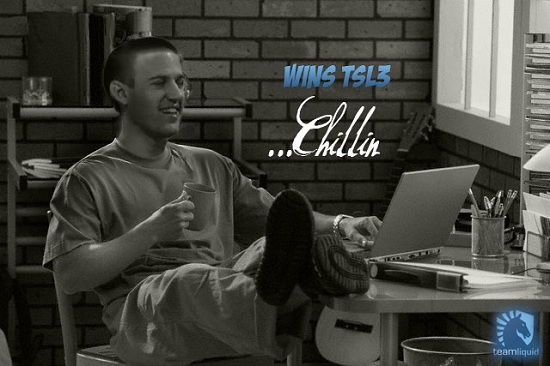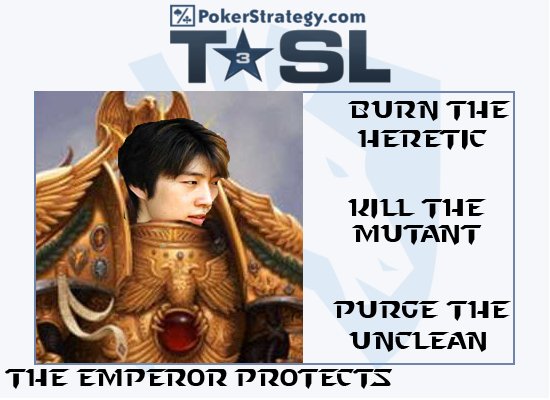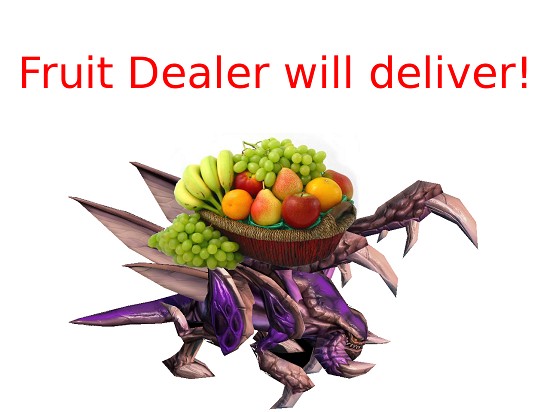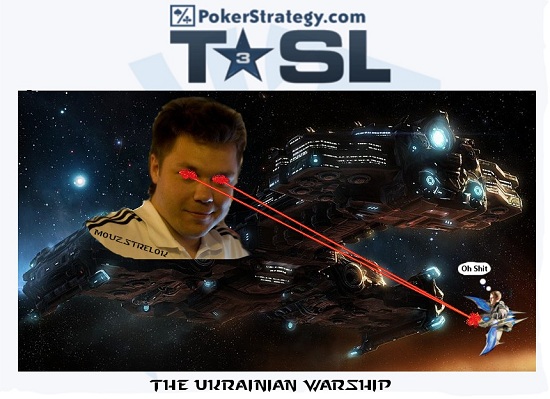 ---
This TSL is sponsored by PokerStrategy.com, the world's largest poker school and community. With hundreds of Poker VODs and an assortment of learning material in 18 different languages, PokerStrategy.com offers the chance for aspiring Poker players to learn from a beginner to a professional level. Sign up using TL's referral link.

By signing up, you can also enter the TSL3 Raffle, where you can win a 5-night trip to South Korea for 2 people to watch StarCraft live in person and tour the oGs-Liquid house.

Discuss with other fans in the TSL3 Forum.