Last weekend, TSL qualifiers ploughed through the halfway point and began heading for the home stretch. While some things have been set in stone, much remains undecided. Expansions have been contested, matches fought, cheeses defended and timing attacks broken. Clawing their way through the ranks, some have fought tooth and nail to secure a spot within the TSL.

Right behind them, there are a number of top gamers making their presence known and looking for that break out performance. With 3 weeks left, it is far from over and still very much anyone's game. As the full roster takes shape there are interesting trends and points of interest, some details worth nothing when looking at the coming qualifiers.

Lets take a moment to look at who is winning, and what it all means in the big picture.



Brood Warcraft

White-Ra is the only player with primarily Brood War experience to have won an open. Kas, Naniwa, Cruncher, and Thorzain all hail from the land of heroes and upkeep, perhaps showing the transition from creeping to macroing less difficult than sometimes thought. However when we look to the TSL ladder, things are a little more balanced. The top 16 is largely Brood War veterans. 11 of the players can claim familiarity with Brood War, while Warcraft has 5 representatives (Ciara, Stephano, beastyqt, Kiwikaki, and Sjow).

Hidden amongst the ladder are the Brood War heroes of previous TSLs - Morrow, Mana, Cloud and Strelok to name a few. So while the Warcraft 3 guys are stealing all of the instant qualification places, the Brood War vets are saturating the ladder and all putting themselves in strong positions heading into the final three TSL qualifiers. Looking at our top 16 and qualified players in their entirety there is a heartening balance between the two RTSs.

With a American focused qualifier coming up this weekend, its likely there's going to be another non-Brood War player qualifying for the TSL. The heavy hitters heading into this weekend are obviously KiWiKaKi, Select and Fenix with TT1 (BW), mOoNan (BW), Nerchio and Axslav (WC3) looking to make their lives difficult. After their performances in last weeks TSL Qualifier, KiWi and Select are certainly favourites to secure their spot in the TSL with Fenix likely to go deep.

It looks as if some of the big heroes from both sides are going to miss out on this TSL. Grubby, despite giving it his best efforts, is still struggling to break into the points. We shouldn't be too harsh on him though, he has only recently started playing both SC2 and WC3 simultaneously and has improved dramatically since he first began. ToD has also struggled to make another point scoring run and is sitting very low on the table with 14 points. Brat_OK, the hero of TSL1, is also struggling to score points and sits on 14 as well. However, he has been hit with a bout of Gastric Ulcers (which prevented him from attending assembly) so unless he pulls out a superhuman effort it's unlikely he'll make the cut off either. DeMuslim also is going to be MIA this season due to breaking his arm meaning one of the brightest WC3-SC2 converts is going to be absent.


The Swarm?

No matter where you look, the Swarm are taking a beating. In Korea we've just gone through the GSTL where teams were hesitant to play Zergs. In Europe, Terrans and Protoss are stealing all the major tournament wins (barring Dimaga's monthly ESL win). In the US the story is pretty much the same. The TSL has been no exception. In the first 5 tournaments, Protoss players won 3 times with Terran taking the other 2. In fact, Ciara is the only zerg to have even made it to the finals. Only 6(ish) Zergs have made it to the final 8: Sheth, Junny, Stephano, Morrow, DarKFoRcE and Nerchio (he's more of a Zerg than anything else, let's face it).

So is there any hope at all for the Swarm at all? Actually, yeah the news isn't all bad! Morrow recently won a Go4SC2 ESL weekly tournament over DieStar. DarKFoRcE and Tefel squared off in a ZvZ final in last weeks Zotac cup. We've also seen some really strong play out of the unknown Zergs Junny and Stephano, both of whom look poised to make more deep runs in upcoming qualifiers. There are also a few Zergs who might turn up and win a qualifier - Slush comes to mind as Zerg capable of doing this.

But let's face it, the way things are going the majority of the Zerg qualifiers are going to come in off of the ladder. The standings are slightly more promising for the overmind. Ciara and Stephano are currently in good spots to qualify, potentially another 1/3 if we want to count TLO. Junny, Darkforce, and Morrow all have good a chance of shooting up the standings with some nice tournament runs as well.

Swarm fans can also look forward to a phenomenal lineup of Zerg invites from Korea, which of course will be announced right before the TSL Qualifier Finals are played (so don't miss it!)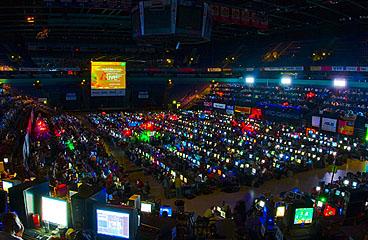 Assembly

This weekend is

Assembly

, one of several large LAN gatherings that also runs a major tournament. In addition to meaning this weekend will have more good SC2 action than normal, it also means that the open will have a European light field. Nobody has to worry about running into TLO in a best of 3.

It doesn't stop there. Darkforce (currently 15th place), Tarson (31st), QXC (23rd), Strelok (10th), Lalush (31st), Sjow (16th), Morrow (16th), Adelscott (3rd), elfi (23rd), Brat_OK (31st), Hasuobs (23rd), and ToD (31st) are all participating. That's just the names of people

currently

on the standings board too, its always possible that someone like Socke or Grubby wakes up one morning and decides to win a tournament.

With that said, there is a small possibility that some of the assembly players will turn up to the TSL Qualifiers. The latest word from Assembly is that there are plenty of PCs available for the gamers to use outside of the LAN. If the players lose before 6pm tomorrow (DarKFoRcE for instance, who has gone out in the group stage) then they should be able to turn up the TSL Qualifiers - if they can resist the other temptations that LANs have to offer!

The end result of this is that this weekend will likely have a strong North American field and that means it's more likely that we'll have a North American winner this weekend. Further, expect the North Americans on the Ladder to gain a lot of ground back on the Europeans this weekend. With only three qualifiers left, this week is extremely important for everyone vying for a spot in the TSL.


Being a big name in Starcraft 2 means a lot. It means that you are going to be receiving many invites to top level tournaments with nice prize pools. It also means that you are going to have a large fan base. It also means that you can secure some nice sponsorships for yourself and get signed to a good team. The TSL Qualifiers have had a surprisingly lack of big names making it. Curious as to why this is, the TSL coverage team sent out tree.hugger to do some investigative journalism to get to the bottom of why the big names of Starcraft 2 weren't qualifying for the TSL.



What's In a Name?
By tree.hugger

Well, it depends, of course.

But for the TSL qualifiers and leading point getters, name value has been surprisingly useless. Half of the MLG finalists, and the winners of Dreamhack and all four major IEM events have not secured their qualification, and only one (Fenix) is within the points range. Powerhouse teams like Dignitas, EG, ROOT, and mousesports have a only one qualifier (d.NaNiwa) between them, and he initially qualified as a member of Empire. Meanwhile, lesser known players and teams have completely stolen the spotlight. Names like coL.CrunCher, PraeThorZaIN, ieS.Ciara, Mill.Adelscott, Mill.Stephano, Empire.Beastyqt, and FXOAllAboutYou adorn the leaderboard, each players who boasted a significantly smaller following before their TLOpen performances. The most recent winner; Thorzain even admitted that he had avoided going to Dreamhack because he didn't think he could compete at that time.

So what gives?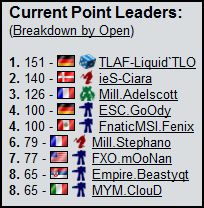 Who??


1. It's the Bo1 format! Big names are getting cheesed out early!

Not so, in fact. While every TLOpen does bring the speedy elimination of several players in the Bo1 rounds—and occasionally creates matches like #5's third round battle between KiWiKaKi and merz—the vast majority of big name players make it to the round of 32, which is where the Bo3 format begins, and where the big name players typically coalesce. Further, there has been no player who has been tremendously victimized by the Bo1 format in multiple tournaments. One of the most notable non-qualified players; the IEM Europe Champion Sjow has made the Round of 32's each time he's entered, and hasn't advanced past the Ro8. And who can forget the luck of iNcontroL who hasn't been able to overcome the Ro32.

2. It's just a run of luck for the winners!

Winning or placing high in such a difficult tournament undoubtedly requires some luck. But luck alone is a poor explanation for how CrunCher swept two big names in Fenix and KiWiKaki, while also taking out a bushel of lesser known players in Beastyqt, Ciara, and Stephano. Or how ThorZaIN swept ClouD in his winning run and Hasuobs in his semi-final placement. And the testament of the thousands on streams can testify that these players succeeded without the help of gimmicks or cheese. Instead, they dominated their opponents with solid and tenacious play as Plexa has highlighted each week in his battle reports. They outlasted players they had to outlast, and broke players who stretched themselves too thin. It's hard to find a single undeserving player who made a deep run. It's nearly impossible.


3. These players wouldn't be poorly known if people were paying attention!

I'm sympathetic to this argument, in part because Warcraft III fans know half or more of these guys. But even this explanation doesn't cover the multitude of major tournaments in which these players weren't a presence. It can't simply be the case that all of these players have been completely ignored by the community for some reason. That kind of collusion is fantasy. The fact is that the IEM winners, the MLG runner-ups, and the Dreamhack finalists are all sitting outside of the loop.

So... could it be...?

4. It's the TSL. These guys are good.

It's a big world out there. As much as it might be painful that some of the biggest names in Sc2 might be left out of this TSL, that's the way it is. And moreover, that's the way it

always

is. Perhaps the lack of presence of the qualifiers in other major tournaments is a reflection of how invite-only focused the community has become. If the TSL's have a legacy of doing anything, it's introducing players to the community in a way that no invite-driven LAN or weekly cup can do. Players who otherwise would be ignored because they lack the cult following that other players have have an opportunity to shine and surprise us all thanks to the open nature of the TSL. Sc2 is a game with broad shoulders, and what this TSL ought to teach us is that there are a whole lot more brilliant players out there then the ones we already know. In fact, they're the best of the best. And after this TSL, some will go on to become just as well known as anyone else. For many, the TSL will be the defining moment in their career - the moment when the scene stopped and took notice of them. This certainly was the case for Brat_OK and IefNaij in TSL Season 1.

So while I'd love to see _____ against MC, and ______ against Genius, I'm equally proud to cheer for any player who runs through the TLOpen gauntlet, because I know they'll throw down harder than a player who couldn't make it through.


Three qualifiers remain, which means eleven spots have yet to be filled (three winners as well as the top eight players in points). This weekend we will fill another slot, as well as continue laying the mortar that will become the final point standings. Time marches on, and with every qualifier we become one step closer to the main event. Join us in the coming weeks to figure out who is deserving and who will fall short. Many hope to earn their place, only a few will be fortunate enough to make it.

Happy watching.

---

This TSL is sponsored by PokerStrategy.com, the world's largest poker school and community. With hundreds of Poker VODs and an assortment of learning material in 18 different languages, PokerStrategy.com offers the chance for aspiring Poker players to learn from a beginner to a professional level. Sign up using TL's referral link.

By signing up, you also enter the TSL3 Raffle, where you can win a 5-night trip to South Korea for 2 people to watch StarCraft live in person and tour the oGs-Liquid house.

Discuss with other fans in the TSL3 Forum.