Update: The raffle is over. See the winners here!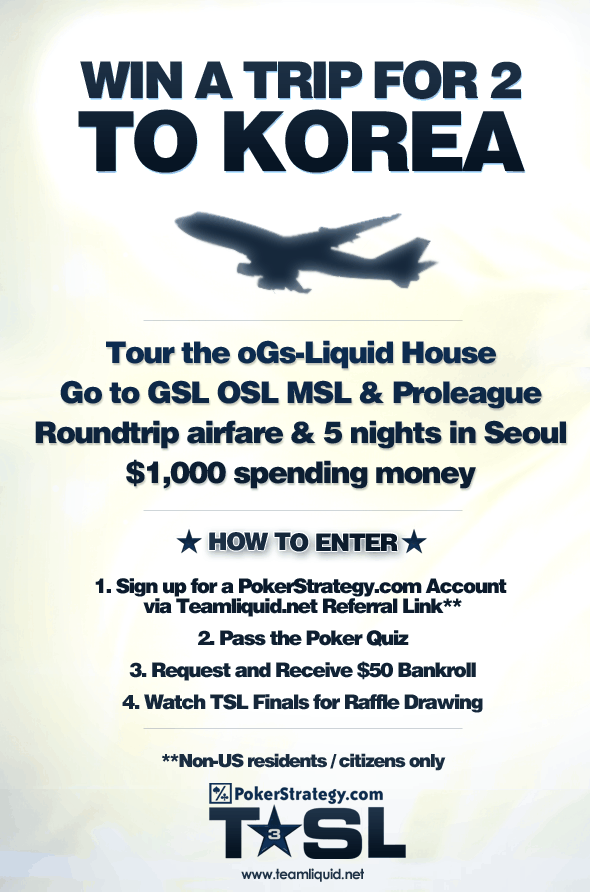 ---

How to Enter the Raffle:

1. Sign up for a PokerStrategy.com Account using the TL Referral Link.
2. Pass the 20-question poker quiz.
3. Request and receive the $50 offer.
4. Watch TSL Finals in May for the Raffle Drawing.

Note: The raffle is only available to non-US residents and non-US citizens due to US online gambling laws. Users who have already signed up and received their $50 bankroll using TL's referral link for TSL3 are automatically entered into the raffle. Limit one per person -- if you signed up last time for the TSL2 raffle you cannot sign up again.

If you are interested in poker and want to support TeamLiquid and the TSL, please sign up!


---

About PokerStrategy.com

PokerStrategy.com is the world's largest poker school and community, available in 18 different languages. Founded by a former StarCraft enthusiast, it treats poker as what it is: a real-time strategy game that is not just fun, but also can be learned.

Three pillars:
1. Poker school – it's the best place to learn poker, especially for beginners.
2. Poker community – it's a place where you can talk about and live poker – just what TeamLiquid is for StarCraft.
3. Free $50 offer – it allows curious beginners to start their careers without risking a single cent of their own money. You just have to pass a 20 question quiz based on their beginner's strategy and get your $50 bankroll to play at one of the top poker rooms, including Full Tilt Poker and PartyPoker.

Here at TeamLiquid, you can already discuss their offers and ask them questions in the
PokerStrategy.com Question & Answer Thread.

Or you sign up at PokerStrategy.com directly through TeamLiquid's Referral Link.

Facts & Numbers:
- More than 4,000,000 members
- More than 1,000,000 $50 bankrolls given out
- Fully available in 18 languages, including Korean, Russian, Chinese, Spanish, Swedish, German...
- More than 12,000 poker videos
- Extensive content from the basics to professional strategies on hundreds of pages
- Daily freerolls and other promos exclusive to PokerStrategy.com members


---

Update:

You must actually receive the $50 offer (by choosing a Poker site to receive it on) to be eligible for the raffle, so there are a few extra steps like registering on the Poker site you choose. We apologize for the inconvenience for those that have not done this yet.