by Steadfast

Week #160 saw Open Cup participation wind down as IEM Katowice approached. Dark came out on top in a lightly attended Korean cup, while HeroMarine pulled off a Europe-North America double.


---
Korean Cup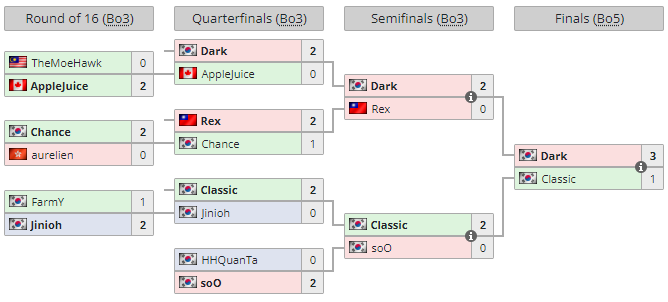 The Korean Cup was once more a small and cozy affair with just twelve players competing. None of the big name Terrans showed up leaving Dark, soO, Rex, Classic, and Chance as the most notable players involved.The bracket was mostly uneventful, although Classic got a nice result for himself by taking down fellow Katowice RO36 player soO 2-0 in the semifinals.

Dark and Classic ended up meeting in the finals (VOD) where Dark took a 3-1 victory over his former T1 teammate. The series actually started with a victory for Classic, as he used Blink Stalkers into fast Storm to overpower Dark's Swarm Host-centric army in game 1. Unfortunately, this only had the effect of awakening Dark's 'uber murder mode' that we frequently see in these cups after a loss. The following two games featured Dark deciding to kill Classic with very attacks, featuring a Zergling-Nydus all-in in game 2 and some early Roach aggression in game 3 which put both games out of reach. Game 4 was a longer macro game and Classic certainly had opportunities to make plays, but it was clear that Dark was locked in as he outmuscled Classic with strong multitasking and the brute force of Ravager-Ling-Bane.

Notes and observations: Looking at this week's matches, there's not a whole lot that you could take away regarding the new patch or the outlook for IEM Katowice. Dark was clearly the strongest player in the cup, and he really showed it after suffering a game one loss to Classic.

Still, it was a promising showing for Classic as he defeated soO 2-0 and took a map off of Dark in the finals. Classic seem to like Blink into fast Storm play, which is a very effective weapon given the narrow corridors/chokes on many of the new maps. Also, something else to note is that Classic was eating a TON of Corrosive Biles to the face throughout his multiple series, but none of them seemed to cost him any games. Still, that's not great news if you're a Classic fan heading into Katowice as those kinds of mistakes will get punished hard.



*****


European Cup (partial bracket shown)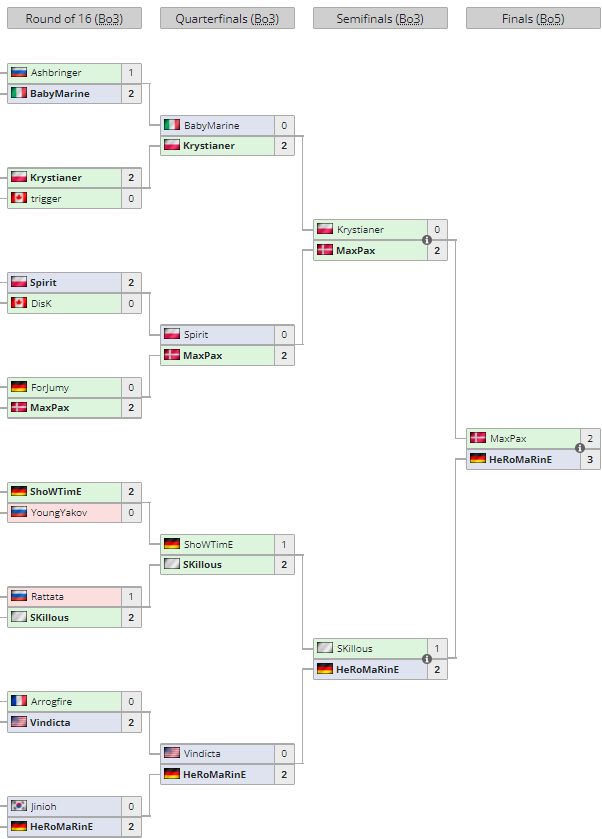 The European Cup was more lively compared to Korea, though participation was still affected by Katowice's approach. While none of the big name European Zergs competed, we still had HeroMarine, last week's champ Spirit, Clem, MaxPax, ShoWTimE, SKillous, and Rattata all competing.

Much of this week's bracket went predictably, except for a big early upset as underdog Ashbringer took down Clem 2-1 in the RO32. This threw open the door for MaxPax to blitz his way to the Grand Finals, taking down Spirit and a slew of Protoss players without dropping a map. On the other side of the bracket, HeroMarine was back at the office on a Monday and made his way to the Finals as well, only dropping a map to SKillous in the semis. This would set up another classic EU cup match in the finals with HeroMarine facing off against the young Danish star MaxPax (finals VOD).

Game 1 saw MaxPax try to fend off a big Tank-bio push with Phoenix-Colossus, but he was ultimately run over by the Terran army after he missed a key Forcefield that would have bought him enough time to get out a 3rd Colossus. Game 2 looked like it was going to be a quick MaxPax victory with Big Gabe going 3 CC against a 4-gate Blink Stalker build. However, HeroMarine managed to survive despite taking significant damage, and even launched a counterattack that put MaxPax into a tough spot. MaxPax ultimately fought back and overwhelmed the German Terran with great economy and strong tech, but it was still an impressive showing from HeroMarine considering that he had lost the early build order battle.

Game 3 produced a weird situation for both players as MaxPax's 3-Gate aggression with a proxied gate went up against a 6-Marine + 1-Hellion drop. Things initially looked good for MaximusPaximus, but the counter damage from the drop proved to be significant. MaxPax tried to strike back with Blink Stalker harassment, but it wasn't enough to even the odds and he eventually GG'd out to a 3-1-1 bio push. Game 4 saw MaxPax finding nice damage early with Dark Templar and going into Colossus behind it, but Big Gabe's still managed to assemble a dangerous bio push in the mid-game. However, MaxPax was able to snipe HeroMarine's key Raven, which helped him hold the push and take the game.

The final game of the series took place on Altitude and displayed some exciting back and forth action. MaxPax opened Phoenix-Colossus once again, but this time he found a great engagement early on to take an early lead. However, HeroMarine got into MaxPax's natural and main with a Widow Mine drop that killed 14 Probes and put the German Terran significantly ahead economically. MaxPax battled back finding small harassment damage with the Phoenix, but couldn't assemble a strong enough army to handle HeroMarnie's big push with bio and Vikings. While MaxPax barely survived and dragged the game out for a while longer, he never regained a true foothold in the game and eventually GG'd out.

Notes and observations: The big takeaway for me from the European weekly cup is that Big Gabe looks damn good right now. The Monday's have always been his territory and he consistently looks good during these tournaments, but he's looked especially sharp over the last few weeks.

Ironically, the game that impressed me the most was a game he lost: Game 2 of the finals on Ancient Cistern. HeroMarine turned an utterly hopeless situation into a near-victory with some extremely crisp defense and overall fantastic play. Any time that a player takes a fast 3rd CC against a 4-gate Blink Stalker attack and doesn't die, that's an impressive feat. And it is worth noting that MaxPax's 4-gate Blink is probably the second best in the world right now. The only unfortunate thing for HeroMarine is that he doesn't have any Protoss players in his group at IEM Katowice. The good news, however, is that his mechanics and speed look nothing short of stunning.



*****


American Cup (partial bracket shown)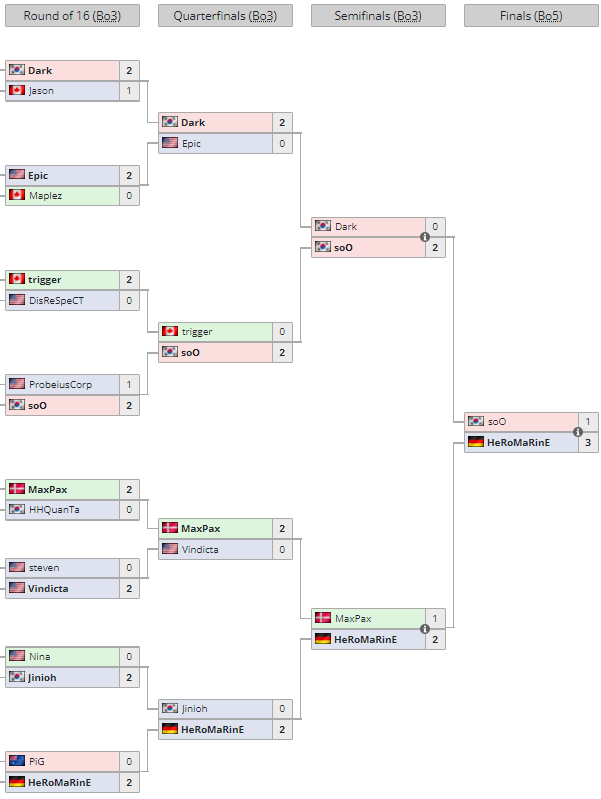 The Americas Cup once again featured players from all three major regions duking it out over the contested server: MaxPax, trigger, HeroMarine, Vindicta, soO, and Dark all competed. This was one of the more interesting brackets we've seen from the America's open and featured some exciting results. One of the biggest results was Jason taking a game off of Dark with a strong BC-Hellion opener that got in great damage, followed up by an impressive display of the recently buffed battlemech. Dark held on impressively after suffering critical damage, but the Canadian lad was too far ahead to be stopped. Unfortunately, this wasn't enough to take the series, as angry Dark would strike back hard in games 2 and 3 to take the series. But nonetheless, it was an impressive showing from JuggernautJason. Meanwhile, HeroMarine beat MaxPax for the second time that day, once again displaying some impressive TvP to win 2-1. On the top side of the bracket, soO showcased some impressive decision making and crisis management in a very weird ZvZ series against Dark. In particular, game 2 featured a bizarre situation of Roach-Muta vs. Roach-Corruptor, in which soO was able to grind out a victory and take down the favorite.

That gave us a somewhat unexpected finals of soO vs HeroMarine (VOD), with the two players facing for the first time since 2019. Things kicked off on Babylon where they had a nice contest of mechanics. HeroMarine kicked things off with standard Hellion-Banshee into an 8-rax push which soO initially seemed to handle well. However, he overextended just a little too far off of creep, and Big Gabe took a strong engagement to snowball game 1 into a victory. Game 2 on Altitude featured a very interesting opener from HeroMarine, as he went for Hellion-Banshee with the Banshee speed upgrade instead of cloak. This allowed him to zip around between bases and find some nice economic damage. Unfortunately HeroMarine somehow missed his opponent's switch to Mutalisk tech during all this, and soO was able to close the game out after catching HeroMarine's first Medivac push.

HeroMarine decided to switch things up for Game 3 on NeoHumanity with a Marauder-Hellbat push which stunned the Korean Zerg. HeroMarine's excellent usage of a bait Viking drew soO's Queens to the front line, which allowed him to take them out and easily follow through with his push. Game 4 on Gresvan featured another 8-rax from Big Gabe. A Baneling counterattack from soO killed 14 SCV's but left him with far too few units to defend, which put HeroMarine in a commanding position. soO couldn't withstand the Terran parade push, and was forced to concede a 1-3 loss to HeroMarine.

Notes and observations: Once again, the big take from the cup was that HeroMarine looks to be in great form at the moment. It's a weekly cup, so we always have to take it with a grain of salt, but he is certainly looking sharp.

As far as patch repercussions are concerned, Jason beating Dark with battlemech is certainly a big result, although it was the BC-Hellion opener that put him into a winning position more so than the later mech army.

The biggest potential development was HeroMarine's experimentation with Hyperflight Rotors instead of Cloak in TvZ. While it was just one game, the extra speed was eye-popping and opened up a whole slew of opportunities for HeroMarine to get in extra damage. It's entirely possible that the extra 21 seconds that the upgrade takes simply won't fit into Terran build orders, but don't be surprised if you see other players at Katowice try some fancy Banshee harassment before transitioning into bio play.