by Steadfast

Week #154 marked the start of another unofficial 'off-season' for the ESL Open Cups, with the EPT points no longer being awarded due to the finalization of the EPT standings. However, the total prize money will remain the same at $400 per server each week.

Due to HomeStory Cup XXII being held over the weekend, week #154 of the open cups featured less of the top players than usual. This proved to be an opportunity for Dark and TIME, who met in the finals of both the Korean and American cups. Dark ended up taking Korea in a 3-0 sweep, while TIME got payback with a 3-1 win in the American competition. Meanwhile, Europe went to HeroMarine, who continued his habit of diligently playing cups even when they come immediately after a major tournament.

Korean Cup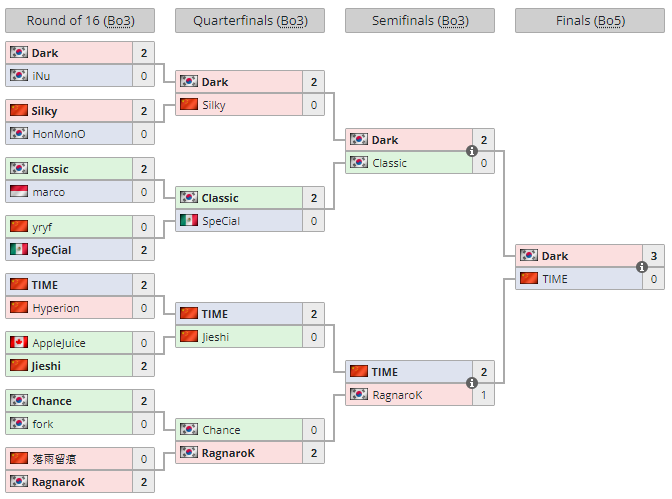 Top KR cup regulars such as ByuN and Solar were busy eating kebabs and reveling in Krefeld, leaving a somewhat thinner field of players than in previous weeks. However, there were still some Code S-level players including Dark, Ragnarok, Classic, TIME, and SpeCial. The bracket went as expected until the semi-finals, with the most notable exception being Dark off-racing as Protoss against the Chinese Zerg player Silky. Dark showed us that his mastery of the game does not stop at Zerg, defending well against a Drone-pull speedling all-in in game 1, and winning an unbelievable comeback in victory in game 2. That game is definitely worth a watch (VOD), as Dark showcased that his outstanding caster control applies to Protoss as well.

Dark would then take out Classic in rather convincing fashion in the semi-finals, while TIME came out victorious on the other side of the bracket with a 2-1 victory over the GSL runner-up Ragnarok. This set up a rematch of the semi-finals from week #152, where TIME 2-1'd Dark on his way to a cup victory. Dark, however, had different plans for the rematch (finals VOD).

Game 1 - Waterfall: Dark opened up with a 16-pool into Roach-Ravager pressure, which found more damage than it realistically should have. By killing several SCVs and canceling a greedy 3rd Command Center, Dark was able to set the tone of the game early.

TIME answered back by canceling the 3rd base of Dark using 2 Cyclones and a handful of Marines that were left over from his early defense. Unfortunately for TIME, this wasn't enough to erase the early deficit and Dark went into the mid-game with a healthy economic lead. Dark converted this into a very fast Hive and quick Vipers behind a sturdy Roach-Ravager-Ling-Bane composition.

TIME tried to take a more long term view, taking expansions on his side of the while teching up to Ghosts. This plan seemed to go okay for him, as he took a series of trades against Dark that didn't favor either side significantly. However, Dark manufactured a key opening before the Terran defenses were set, drawing TIME's attention to his third base and then tearing down the fourth and fifth bases with Ling-Bane on the opposite side of the map.

The expansion situation instantly became dire for TIME, and he was forced to counterattack and try to initiate a desperate basetrade. Dark, however, could easily afford to give up a few of his outlying expansions while he further ravaged the Terran economy. TIME was unable to find equalizing damage, and had no choice but to tap out and concede game 1 to Dark.

Game 2 - Inside and Out: Dark opened with an early gas-pool, which ended up leading into a fast 2-Hatch Mutalisk strategy rather than a fast ground-based attack. TIME elected to open up with a fast 3rd Command Center once again, this time into a 2-1-1 follow-up.

Lady luck did not smile on TIME as his initial advance with Hellion-Marine-Medivac was intercepted by a group of waiting Mutas and Zerglings. Dark wiped out the entire army at almost no cost to himself and took complete control of the game from here. Constant Mutalisk harassment kept TIME in check, and by the 8 minute mark of the game, Dark had lost only 775 resources compared to TIME at 3000. This was basically a preview for the rest of the game, as Dark would continue to pick TIME apart with immaculate Muta control.

To TIME's credit, he refused to crumble and held out until he could attempt a 2/2 bio push off of 8 Barracks. Dark once again seemed to read the situation perfectly and elected to stay on a low Drone count for a larger maxed out army, which he used to needle away at the Terran push. As TIME was attempting to slow-push through the middle, Dark launched a devastating set of Ling-Bane counterattacks which decimated the Terran economy, killing 52 SCVs in just 30 seconds forcing another basetrade attempt from TIME.

Dark once again displayed excellent decision-making and poise, simply avoiding the Terran army and using his Mutas to pick off exposed units. TIME eventually lifted his buildings and tried to win with the army he had on the field, but Dark forced him to play a losing game of Whack-A-Mole by constantly taking new expansions. Perhaps feeling the hopelessness of the situation, TIME let some of his few remaining buildings drift out of position. Dark hunted them down with Mutalisks, forcing TIME to GG out seconds before he suffered an elimination defeat.

Game 3 - Tropical Sacrifice: Game 3 felt like a quicker version of game 2, but with a handful of notable differences. Dark elected to open up with more quick 2-base Muta play, but this time, TIME went for a single BC opener into a 2-base all-in. TIME once again found himself on the wrong end of the exchange, losing the expensive Battlecruiser and several of his early Hellions to Dark's Mutas, killing only a handful of Drones and one Muta in return.

Dark once more unleashed strong counterattacks whenever TIME moved out, with TIME eventually committing to a +1 upgraded Marine-Tank army push. However, Dark simply pulled back with his Muta-Ling counterattack force and held off the Terran push. By the time there was another bio force ready to move out, Dark had completed his critical Baneling speed upgrade and got another deadly Ling run-by into his opponent's natural. Once more, TIME was forced into a desperation attack, but Dark was more than prepared. Dark crushed TIME's army, securing the final map in an impressive 3-0 victory.

As dominant as Dark looked in the series, TIME got the last word on the week when the two met again in the NA cup finals…



*****


European Cup (partial bracket shown)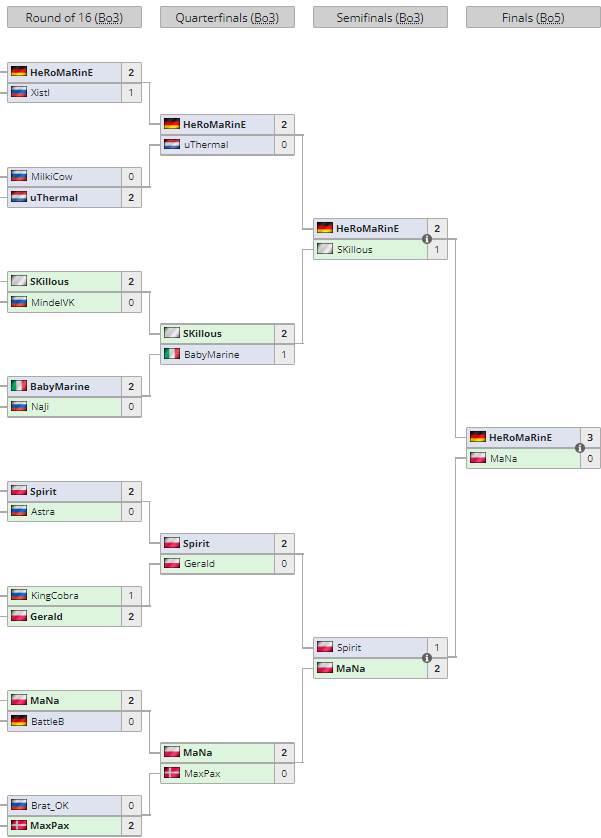 But before TIME vs. Dark II could happen, there was a European cup to be played. The EU cup had a slightly diminished player pool due to HomeStory Cup, with Clem being the most notable regular that elected to take a week off. Still, many of the usual suspects didn't have a problem with the scheduling, with players like HeroMarine, MaxPax, Spirit, Kelazhur, uThermal, and SKillous all competing.

Unfortunately, none of the top Zerg players competed which meant that not a single Zerg cracked the top 16. As for the bracket itself, there were quite a few minor to middling upsets with BabyMarine taking a game off of SKillous, Xistl taking a game off of HeroMarine, and the Ukrainian Zerg playing SunSet taking a game off of YouTube content creator uThermal. However, the biggest upset had to be MaNa's entire run.

The OG Polish Protoss player came through with a 2-0 victory over the PvP master MaxPax, marking the first time that MaxPax hasn't made top 4 in the EU Cup since Open Cup #148. Interestingly, it was MaNa again who knocked out the young Danish Protoss back then, suggesting that maybe it's not such a big upset after all. MaNa continued forward with a 2-1 victory over his fellow countryman Spirit to make it to the Grand Finals, showing us again that he's still got it. On the other side of the bracket, Big Gabe showed us why he is the opposite of Garfield and loves Mondays. While he did drop a map to Xistl early, he tightened things up with a 2-0 victory over uThermal and a hard fought 2-1 victory over SKillous who had just earned a solid top 12 result at HSC.

Game 1 - Moondance: As the grand finals began (finals VOD), it felt like the magic of MaNa's run had perhaps reached its limit. HeroMarine started off by finding some nice early damage with a Reaper, a Hellion, and a Widow Mine drop that got much more damage than it should have. HeroMarine then went for a mid game 3-1-1 Bio push with Raven support and scored a critical Interference Matrix on a Colossus which allowed the German Terran to nearly win the game outright. MaNa barely managed to stabilize with some clutch Warp Prism micro and evened out the game.

Unfortunately for MaNa, HeroMarine followed up with another Mine drop that killed 11 more Probes, and then sniped a key Robo Facility. Perhaps this was his plan all along, or perhaps it was in response to the loss, but MaNa then committed to a big attack with 1 Colossus, 2 Disruptors and a bunch of Chargelot-Archon. HeroMarine managed to land an absolutely game-saving Interference Matrix to deny a critical Disruptor shot from landing. As a result, HeroMarine held the attack off and took a significant lead in the game, which he leveraged with multi-prong drops that MaNa did not have the army to deal with.

Game 2 - Cosmic Sapphire: Game two started off in very promising fashion for MaNa, with Phoenixes and 3 Adepts destroying a Reaper-Hellion force HeroMarine sent across the map. MaNa counterattacked with his Adepts and Phoenixes, killing a Viking, a Medivac, and all the Marines HeroMarine had at the cost of his Adepts and just 1 Phoenix.

This should have allowed MaNa to go into the mid-game with a lot of control and a nice advantage, especially since his Phoenix-Colossus follow-up was a strong composition to play with a lead. Unfortunately, MaNa suffered a critical supply block at 62 population, which halted his production for nearly a minute. That not only erased his lead, but sealed his defeat at the hands of Big Gabe's 3-1-1 attack.

Game 3 - Inside and Out: MaNa got out to another strong start after he found 7 SCV kills with an Oracle and then defended against HeroMarine's early 1-1-1 push with the help of Shield Batteries at home. MaNa took this opportunity to go for a 2-gas Phoenix Chargelot composition in the mid-game, and continued to press his economic advantage by going up to 63 Probes and 4 bases very quickly.

MaNa found HeroMarine's bio army with Mines unburrowed, and jumped on the Marine-heavy force with his +1 armor-upgraded Zealots. Despite being taken somewhat by surprise, HeroMarine was still able to take a good enough trade to keep the supply counts similar, and he picked off several Phoenixes with good focus fire.

That still left MaNa in a strong position for the time being, but he fell into the classic Protoss trap of not transitioning into splash damage early enough. HeroMarine was able to get an army that was big enough to beat the pure Gateway style and caught MaNa as the first two Colossus were in production.

HeroMarine once again claims his title as the EU Cup champion and showed us that maybe Mondays aren't so bad. This unfortunate result in the finals should not overshadow an otherwise phenomenal run from MaNa and I hope we see him continue to show us what he's made of.



*****


American Cup (partial bracket shown)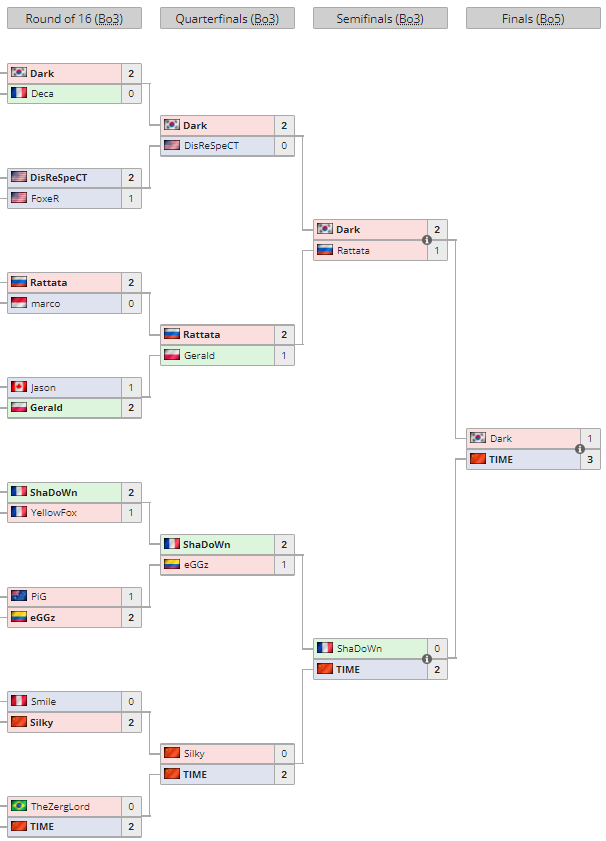 The Americas Cup felt rather sparsely populated compared with the European event, with the most notable names being Dark, TIME, Rattata, Gerald, ShaDoWn, and Silky. Dark did a great job representing Korea as its sole representative, carving a path to the semi-finals where he faced Rattata in his first real test. Dark once again tried to off-race as Protoss, but switched back to Zerg after dropping game 1 to Rattata. Back on his main race, Dark won with strong micro and decision making in two very messy games to clinch a berth into the finals. On the other side of the bracket, TIME stormed through TheZergLord, Silky, and ShaDoWn to earn a rematch of the Korean cup (finals VOD).

Game 1 - Tropical Sacrifice: Game 1 started out with Dark going for a huge Ling flood against TIME's CC first, 2-1-1 opening. TIME was able to hold the first wave thanks to the help of SCVs, suffering almost no losses. Dark, however, was still committed to busting TIME, and tried to bait the Terran player into moving out. But with TIME having his 3rd Command Center in the wall, along with his great read on Dark's intentions, he was able to absolutely slaughter the large wave of Zerglings that tried to force their way in.

TIME took a massive lead after negating all that early aggression, and even Dark's vaunted ability to play from behind couldn't help him turn this game around. TIME played an excellent game where he used drops to clear Creep and find nice trades, ultimately paving the way for an unstoppable 2/2 Marine-Tank timing.

Game 2 - Waterfall: We saw both players take more standard approaches, with TIME opening up with a 3 CC into 2-1-1 Hellbat push vs. Dark's 3 Hatch opening. Perhaps TIME was trying to punish what Dark had done in their previous series from the Korean Cup where Dark had played fast Mutas, but Dark opened up with a quick baneling nest and was able to crush the attack quite handily. Since the attack came off of an economy-focused opener, TIME wasn't left too far behind—albeit he sacrificed his upgrade timings quite a bit.

What ensued from there was one of the most technical TvZ's I have ever seen. TIME displayed the deepest and most unbreakable looking Siege Tank lines, enough to make even Maru blush. Dark played a highly mobile Ultra-Ling-Bane composition to try and crack the defensive Terran, but TIME was always able to flexibly answer and hold off his opponent's aggression without losing too much. It helped that TIME delayed his Ghost transition for a more mid-game oriented army, but it was mainly his phenomenal positioning that let him outlast a sustained onslaught from Dark.

After a long series of fights where both players locked horns, TIME was able to add on the powerful Ghosts to his arsenal. Dark added on burrowed Infestors to try and deal with the Ghosts but forgot Overseers during a critical engagement. This let TIME to split his cloaked Ghosts and clean up several Ultralisks that would have otherwise eviscerated the Terran spellcasters. That turned out to be the decisive fight that put TIME over the edge and secured him the 2-0 lead.

Game 3 - Data-C: Dark went back to his aggressive ways, going for a proxy-Hatch assisted Roach-Ravager all-in. Luckily for Dark, TIME elected to forgo scouting and didn't see the build coming until it was far too late. TIME was able to barely get a Bunker up, but couldn't get the necessary repair to keep it alive. With the bunker down, Dark claimed an easy victory in game 3 and put a point on the board.

Game 4 - Stargazers: Dark took advantage of the map early on, opening up with a delayed gas and a quick pocket expansion as he often does on Stargazers. Perhaps having a read on this tendency, TIME elected to go for a Hellbat Marauder off 2-bases. However, Dark seemed to have an adjustment of his own, getting 2-gas a little faster than he typically does while plopping down a quick Roach Warren for defense. With 10 Roaches out in time for the Terran push, Dark was able to nullify TIME's attack with next to no losses.

It seemed like we were headed to a game 5 due to Dark's massive economic lead, but Stargazers is a great map for Terran to play from behind. While Dark elected to go 1-1 Roaches into a fast Hive for Lurkers and Vipers, TIME took advantage of the map to get a relatively fast 4th base and put together a strong 2-2 timing. He actually managed to kill one of Dark's bases, and took a great fight away from Dark's Lurkers to drag himself back into the game.

Dark still had an extremely strong army of Lurker-Viper which he tried to use aggressively, but his attacks were uncoordinated and many of his Lurkers ended up going down to Siege Tanks before the Vipers arrived. This allowed TIME to make a great defensive stand, where he eventually cleaned up the unprotected Lurkers with his bio. TIME then went for a push across the middle of the map to Dark's most exposed bottom base. Despite Dark holding the push and getting some small worker damage with a Ling runby, TIME was looking strong. Dark was able to eventually make a nice move with a Lurker drop-Nydus worm into TIME's pocket base, but TIME already had the Ghost count to clean this up without significant losses. Still, the distraction let Dark kill off TIME's newly acquired 6th base as well as pick off several Tanks that TIME had forgotten about in the middle of the map.

This caused TIME to go for broke and try to end the game with the army he had. TIME took up a position on the high ground in the middle of the map and refused to scan to kill Dark's creep. Despite this creep advantage and a big fungal to kick off the fight, TIME was able to take a fantastic engagement with an excellent pre-spread and splits vs. Dark's army of Ling-Bane-Hydra-Infestor. TIME was able to trickle in just enough reinforcements to break Dark and take the game and the series.

This was a very cool week for the ESL Open Cups, specifically because of the TIME vs. Dark story that formed around. Dark initially seemed to have the upper hand, due to his 3-0 over TIME in the Korean cup and another 3-0 he took in an earlier Alpha X Brawler's Club showmatch. However, TIME made a statement of his own by winning in the Americas cup, showing he's not the old TIME who Dark could comfortably farm victories against.

While the weekly cups are a different setting from major tournaments, I feel we may have gotten a little preview of what TIME could be capable of at IEM Katowice. In any case, I hope that this rivalry continues to intensify as we get closer to the World Championship.