World Team League - 2022 Summer Season
by: Wax
Overwhelming talent proved to be greater than overwhelming heart, as Dragon Phoenix Gaming defended their World Team League championship by ending a tremendous underdog run from Team NV in the grand finals.
DPG had given fans reason to doubt them due to some shaky performances in the regular season, but the super team showed its quality when it truly mattered. After clinching the #1 seed by defeating KaiZi Gaming in the final week of regular season play, DPG were left to wait and see which team would survive the playoffs gauntlet and challenge them in the grand finals.
DPG were probably expecting to see #2 seed KaiZi, but they instead ended up facing Team NV in a rematch from the
WTL 2021 Summer Finals
. With Maru departing the squad earlier in the year, Team NV had barely scraped into the playoffs as the lowly #7 seed. However, Team NV were an entirely different animal in the playoff gauntlet, with DRG, Creator, and Bunny all showing inspired play to win match after match. Starting at the bottom of the playoff gauntlet, Team NV won five consecutive matches to reach the grand finals.
NV.Creator's
performance in the semifinals match against KaiZi gaming was particularly notable, as he defeated
DPG.Reynor
2-0 in the deciding series.
While Team NV won over the hearts of fans with their terrific play, the actual tournament championship was won by DPG in the end. Fielding a triple Code S champion squad of Rogue, Dark, and herO on the day—their fourth Code S champion Cure didn't even get to play—DPG took a convincing 4-2 victory over the upstarts to win their second straight WTL championship. None of the DPG players needed to put in a particularly arduous shift, with solid contributions from the trio being enough to take down the outmatched Team NV squad.
WTL have announced that
a Winter Season
is being planned, with information on the qualifiers to come soon.
Playoff Results

Format recap (since it's really complicated)
+ Show Spoiler [Format] +
The WTL playoffs format is notoriously complicated, so we'll try to break it down as we do every season.

It's easiest to think of WTL as having a LOSE CONDITION rather than a win condition. Each team has four 'lives,' and the first team to reach zero lives loses the match.

As in the regular season, the teams play a series of best-of-two matches. Only the initial players for each team are predetermined, while the remaining players are chosen as the match progresses. If a player wins a series 2-0, the winner remains and plays in another match against the opposing team's next selected player—this is similar to the all-kill format used in other leagues. But if the result of a series is a 1-1 tie, both players are eliminated and both teams must send out a new player.

Each team is allowed a single revive during a match, where an eliminated player can return to play. The match ends once a team has lost all four lives and is defeated.

There is a rare scenario where both teams can go down to zero lives simultaneously: a 1-1 tie when both teams are down to their last life (the team that goes up 1-0 first does NOT win automatically; the second game of the series must be played). In that case, a single BO1 ace-match is played to decide the outcome of the series.
Round #1
Team NV 4 - 1 Kwangdong Freecs
Watch VOD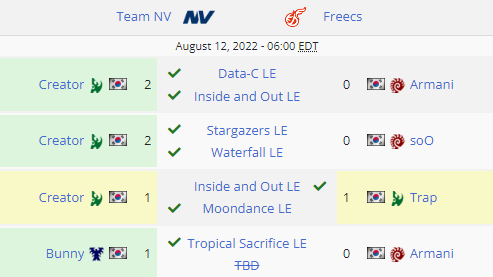 The series began with
NV.Creator
taking on
KDF.Armani
on Data-C. Creator declined to play the popular herO style, instead opening with Oracle-Void Ray into Robo tech. This divergence from the norm was enough to catch Armani off guard, as Creator was able to hit a powerful mid-game timing with Immortals that completely overwhelmed the Zerg defenses. Creator kept the mix-ups going in game two on Inside and Out, playing a 2-base Glaive-Adept all-in. Once again, Armani failed to read his opponent's intent, and was swept aside helplessly.
The Freecs' next runner up was
KDF.soO
, and he faced off against Creator on Stargazers. Creator went for his second Oracle-Void Ray opener of the night, but this time followed up with a fast 7-Gate all-in at around 6:30 on the clock. Like Armani, soO got caught completely off guard and was forced to GG out. Creator continued to demonstrate his aptitude for mind-games, bringing out Glaive-Adepts one more time on Waterfall—but this time playing a more standard 4-Gate version instead of an all-in. As it turned out, he didn't really need the mind-game to win, as he still inflicted a fatal amount of Drone damage early and strolled to a win.
Luckily for the Freecs,
KDF.Trap
finally ended Creator's rampage on Inside and Out. While Creator went for a Stargate expansion, Trap proxied a Gateway for a 3-Gate all-in. Trap's micro was sharp and deadly, and he chipped away at Creator's defenses and forced a GG. Still, Creator managed to take Trap down with him in the next game on Moondance, outmuscling his opponent in a longer macro game.
Since Trap had signaled his likely retirement by skipping the GSL qualifiers, it wasn't surprising to see
KDF.Armani
get revived as KDF's last chance player. However, that last chance didn't last for long, as he was immediately gunned down by
NV.Bunny's
Marauder-Hell bat timing, ending the Freecs' season.
Round #2
PSISTORM Gaming 2 - 4 Team NV
Watch VOD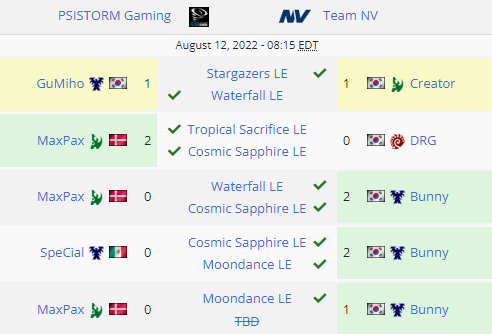 Team NV once again selected
NV.Creator
as their point man, whereas PSISTORM went with
PSISTORM.GuMiho
as their initial runner. The two players dove head first into a manic macro massacre on Stargazers, where Creator came out on top after around sixteen minutes of fighting. However, GuMiho was able to prevent Creator from building any more momentum, deftly holding off his proxy-Gate harassment and winning with a fast Marine-Tank-Raven push on the next map.
The next pairing was
NV.DongRaeGu
vs
PSISTORM.MaxPax
, fighting on Tropical Sacrifice as their first map. The game played out as a rather standard bout in modern PvZ, with MaxPax's mass Oracle-Stalker fighting head on against DRG's Roach-Ling-Bane. While the two players were evenly matched for much of the game, eventually MaxPax's superior upgrades and DRG's lack of anti-air allowed the Danish Protoss to triumph. MaxPax then went for a change-of-pace strategy on Cosmic Sapphire, going for fast Carriers off three bases. DRG tried to break MaxPax with a Queen-Nydus timing at around the 7:45 mark, but MaxPax had enough Disruptor and Archon support to shut this down and win the game.
Fortunately for Team NV,
NV.Bunny
came swinging in for the rescue. He took his first win against MaxPax with a deadly 2-base Marine-Tank push, bashing his opponent's 3-Base Blink build on Waterfall. MaxPax tried to get even with a fast gold-expansion strategy on Cosmic Sapphire, but Bunny found a great counter in Mines—both to slow down his opponent's economy and blast away the Zealots that made up a big chunk of MaxPax's army. Bunny then crushed MaxPax in the mid-game, forcing out
PSISTORM.SpeCial
as the next runner.
Bunny returned to Cosmic Sapphire for the TvT bout, where SpeCial opted for a sneaky proxy-Battlecruiser build. This very unusual build gave SpeCial a big SCV lead to start, which he used to transition into mech play. Unfortunately for SpeCial, he floated quite a few resources and couldn't get his production running in a timely manner, allowing Bunny to take a come-from-behind victory with an incisive mid-game attack. A more conventional macro game played out on Moondance—with both players quickly moving to mass Viking production—where Bunny prevailed in the deciding battle to take the 2-0 victory.
Down to their last life, PSISTORM revived their ace player
PSISTORM.MaxPax
as their last chance player. MaxPax opted to play things safe on Moondance, going for defensive Phoenixes into Colossi. On the other hand, Bunny played a 3-Barracks opener, going for an early poke with Stimmed Marines. This attack paid off big time for Bunny, killing both Probes and a big chunk of MaxPax's early army. MaxPax couldn't overcome this huge early deficit, and eventually GG'd out to Bunny's superior forces.
Round #3
Shopify Rebellion 3 - 4 Team NV
Watch VOD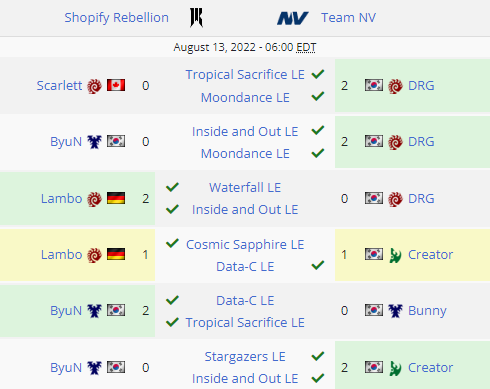 Team NV changed up their roster order for day two of the playoffs, sending out
NV.DongRaeGu
to lead the charge against
SR.Scarlett
. DRG drew first blood on Tropical Sacrifice, triumphing at the end of a long Roach-Ravager-Lurker war thanks to his superior positioning in the deciding battle. The two players then headed to Moondance for another Roach-Ravager tussle. Burrow-Roach harassment was the key for DRG this time around, letting him disorient Scarlett before landing the knockout blow in the key fight.
SR.ByuN
was the next Rebel up, but he also fell to the in-form DRG. ByuN's Marine-Tank push on Inside and Out was swept aside by DRG's Ling-Bane defense, giving the NV Zerg a quick victory. Game two on Moondance went on for a while longer, with ByuN launching multiple bio offensives. However, none of the attacks made much headway, and DRG swatted them aside before finishing ByuN off with Lurkers.
SR.Lambo
started the rally for Shopify, defeating DRG 2-0 in the next series. Game one on Waterfall felt like a continuation of the DRG vs Scarlett series, with the two players duking it out in another bloody Roach-Ravager war. After almost 19 minutes of even fighting, Lambo finally found the game winning fight against DongRaeGu's briefly separated army. Lambo then threw a changeup at DRG to get his second win on Inside and Out, faking another standard Roach-Ravager game before killing him with a fast Roach-Baneling all-in.
Lambo went on to score yet another map win against Team NV's next player in
NV.Creator
. Creator went for a one-two combo of Oracles into Glaive-Adepts on Cosmic Sapphire, but an alert Lambo held off both attacks with aplomb. Thanks to this successful defense, Lambo was able to take a quick victory with a Roach-Ravager counterattack. Still, Creator managed to score the double-KO, overcoming a mid-game deficit on Data-C and winning with a desperate Carrier
hanbang
attack.
Down to their last life, Shopify decided to revive
SR.ByuN
, whereas Team NV sent out
NV.Bunny
while still having two lives to spare. The first game on Data-C was a bloodbath befitting the two offensive-minded Terrans, with Marine parts getting strewn all over the map. ByuN's peculiar style of eschewing Ravens for even more Marines and Medivacs paid off in the end, as beat Bunny into submission with constant attacks and drops. ByuN got a much easier victory on Tropical sacrifice, as he inflicted heavy early SCV damage with a sneaky Hellion runby into Bunny's natural. This forced Bunny to play overaggressive to try and even things up, but he only hastened his demise.
Byun's victory set up a dramatic conclusion to the match, with Team NV reviving
NV.Creator
as their own final runner against ByuN. Game one on Stargazers was a classic game of Terran offense versus Protoss defense, with waves of infantry trying to overwhelm the Protoss army before it could reach critical mass. While ByuN came very close to breaking through at times, Creator managed to barely hold the line until he stabilized with a powerful splash-damage army. From there, ByuN was the one on the back foot, and he eventually had to GG out to the stronger Protoss army. Creator then ensured there would be no ace match, putting the Rebellion down for good with a victory on Inside and Out. Creator opened with defensive Phoenixes into Colossi, while ByuN aimed to strike at Creator's weak timing with infantry supported by a Raven. However, ByuN made the terrible error of losing his Raven to Creator's Phoenixes, taking all the steam out of his attack and letting Creator fully establish his economy. ByuN did his best to fight his way back from his disadvantageous position, but was put back in a hole thanks to Creator's Zealot runbys and some unsuccessful drops. Creator continued to play his lead out patiently until ByuN had no choice but to surrender the final GG.
Quarterfinals (Round #4)
Alpha X 2 - 4 Team NV
Watch VOD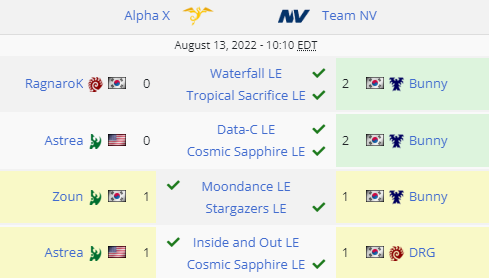 With only a brief break after such a grueling match, Team NV jumped right back into the playoff fray for their next match against Alpha X.
NV.Bunny
was at the vanguard for Team NV this time around, while
αX.RagnaroK
took point for the Golden Dragons. RagnaroK started the series with an early Roach strike on Waterfall, but Bunny's Marine-heavy 3-Barracks start gave him more than enough units to defend easily. Not only did Bunny defend easily, but he soon went on the counterattack once he had stim and Marauders. While this attack wasn't enough to kill RagnaroK outright, it did enough damage to set up a game-ending push a few minutes later. It was then Bunny's turn to try an early attack, striking with a Marauder-Hellbat timing on Tropical Sacrifice. This went exactly as planned for Bunny, as he rolled through the Zerg defenses to collect another GG.
Next up for Alpha X was
αX.Astrea
, but he was unable to slow Bunny's march. The first game on Data-C went long, with both players assembling powerful late-game armies. The game ended abruptly, however, as Astrea's attempt to flank Bunny's army actually saw his own army get flanked instead. The scattered Protoss army was torn apart by infantry striking from all sides, and Astrea had to GG out. Astrea then took the series to Cosmic Sapphire, playing a defensive Phoenix into Zealot-Templar strategy. However, Bunny struck with Marines and Mines before Templar tech was complete, and microed beautifully to take the 2-0 win.
αX.Zoun
finally stoped Bunny's rampage, taking him down on Moondance. Zoun seemed like he was in terrible danger after losing the first Disruptor of his Disruptor-drop build, but he pulled off a solid defense against Bunny's early Marine-Tank push nonetheless. Unfortunately for Bunny, his worst instincts kicked in as he tried to keep the offensive going with daring drops, but only ended up donating units to an entrenched Zoun. Adding Colossi and Archons to his army, Zoun finished Bunny with a strong mid-game attack. However, Bunny managed to take Zoun down with him on Stargazers, proxying a Barracks for a Marauder-Hellion all-in off one base. This attack inflicted a huge amount of Probe damage, forcing Zoun to concede defeat.
Down to their last life, Alpha X revived
αX.Astrea
as their final player. Meanwhile,
NV.DongRaeGu
stepped up for his team, who still had three lives in hand at this point. Astrea gave his team a glimmer of hope, wrecking DongRaeGu with a 4-Gate Glaive-Adept attack on Inside and Out. However, DRG successfully closed the series out on Cosmic Sapphire. Astrea went for 4-Gate Glaive-Adepts again, but this time DRG defended much better against the harassment. Astrea tried to follow up with an Immortal-Adept timing, but DongRaeGu's defense was once again up to the task. This put DRG in a very good mid-game position, and he was able to crush Astrea with a huge Ravager-Ling-Bane attack.
Semifinals (Round #5)
Kaizi Gaming 3 - 4 Team NV
Watch VOD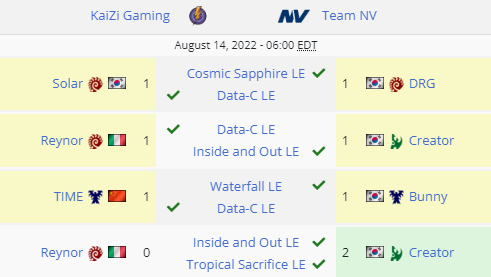 After surviving two days of the playoff gauntlet, Team NV returned on day three to face KaiZi Gaming.
NV.DongRaeGu
was at the first batter up, meeting KaiZi's first pick
KZ.Solar
on Cosmic Sapphire. DRG cut Drones and committed hard to Ling-Bane early, which paid off big as he managed to destroy Solar's third Hatchery. This advantage snowballed out of control quickly, and DRG won shortly thereafter with mass Roaches. Solar managed to go 1-1, however, winning the subsequent Roach-Hydra-Lurker war on Data-C.
The two sides readied a fresh pair of players, with
KZ.Reynor
taking the field for KaiZi while
NV.Creator
appeared for Team NV. The two players began with an intense brawl on Data-C, with Roach-Ravager-Bane going up against Zealot-Archon-Immortal for nearly 20 minutes. Reynor just barely won that brutal fight, and the series moved on to Creator's map pick of Inside and Out. This time, Creator had a much more early-game oriented plan, staying on two bases for a big Immortal all-in. This Soul Train-esque strategy hit its mark, breaking Reynor's Roach-based defense and forcing a GG.
With the first two series resulting in a double-KO, it was
KZ.TIME
and
NV.Bunny's
turn to do battle. Fitting the theme of the series, this resulted in a 1-1 as well. Game one on Waterfall saw TIME go for an early Hellion-Reaper attack, but suffered grave losses against a single Widow Mine Bunny had cleverly obscured with a Hellion. TIME's attack failed miserably, and Bunny took a quick victory with a counter-attack. However, TIME's next early game gambit paid off as his 2-Barracks Reapers significantly slowed down Bunny in the early game. TIME was able to slow-play his lead without any complications, crushing Bunny with a superior midgame bio army.
KZ.Reynor
was KaiZi Gaming's obvious choice as their player to revive for the final series, while Team NV decided to put their trust in
NV.Creator
. The rematch began with an action-packed game on Inside and Out that was reminiscent of their first game of the night, with the two players battling it for almost 20 minutes. Reynor very nearly overwhelmed Creator with the sheer numbers of his Roach-Bane-Ravager, but ultimately the splash damage of Disruptors, Templar, and Colossi allowed Creator to prevail.
The fight moved on to Tropical Sacrifice, where Creator pulled out a peculiar Archon drop + 3 Void Ray harassment strategy. The build hadn't been very successful when Creator used it against Lambo earlier in the playoffs, but this time he managed to be
quite
the nuisance as he killed Reynor's fourth base as well as a decent chunk of units. Creator decided to play his lead patiently, laying back to assemble a Carrier-Disruptor-Archon deathball. Reynor looked to punish Creator with Hydra-Viper, but couldn't stop the Protoss force from growing ever stronger. Even though Reynor belatedly added Corruptors and Lurkers to his army, it wasn't enough to match Creator's final army. Once Creator was ready, he moved out, wiped out Reynor's swarm, and collected the final GG of the series.
Dragon Phoenix Gaming 4 - 2 Team NV
Watch VOD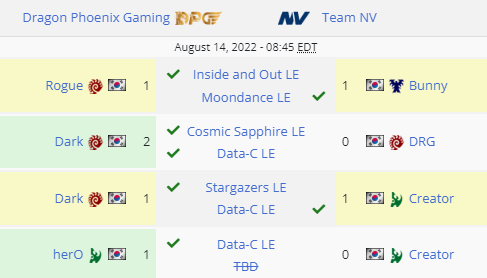 Having climbed all the way up from the bottom of the playoff ladder, Team NV readied themselves for one last match against the reigning champions, Dragon Phoenix Gaming.
NV.Bunny
took the reins for Team NV, while
DPG.Rogue
—one of the best playoff players through several iterations of the SCBOY teamleague—opened for Dragon Phoenix Gaming. Bunny got off to a great start in game one on Inside and Out, killing 13 Drones with Cloaked Banshee harass. However, Bunny's attempt to finish Rogue went awry, as his bio was crushed by a Ravager-Bane-Viper army due to poor Tank positioning. This forced Bunny to turtle up and try to play for the late-game, but Rogue brute forced his way through the defenses with Ultralisks and Banelings. However, Bunny recovered a point on Moondance, beating Rogue early with a Marauder-Hellbat timing (the same one that beat RagnaroK on day two).
With both Rogue and Bunny down, it was
NV.DongRaeGu
and
DPG.Dark's
turn to do battle. Game one on Cosmic Sapphire seemed to be headed toward a mid-game Roach-Ravager battle, but Dark struck early by skipping Lair for a faster Roach-Bane attack. This attack worked exactly as intended, with Dark taking a quick victory against an unprepared DRG. Dark continued to play aggressively in game two on Data-C, surprising DRG with a flood of early Speedlings to kill the opponent's third Hatchery. While DRG managed to kill some of Dark's Drones with a Ling-Bane strike, he ultimately had to GG out against a continued flood of Speedlings from Dark.
Down two lives, Team NV were forced to send
NV.Creator
out. However, he was immediately struck down by Dark on Stargazers, who continued to show his aggressive side. Dark hit with an Nydus-aided Queen-Roach-Ravager all-in at around the 7:30 mark, pouring an endless swarm of units at Creator. Although Creator managed to hold out for nearly around three minutes, he buckled and surrendered in the end. Creator then tried to turn the tables on Dark, going for a 6-Gate Glaive-Adept all-in on Data-C. This attack succeeded in killing a large number of Drones, but Creator had to sacrifice many of his Adepts in the process. This opened Creator up to a dangerous counter attack from Dark which very nearly ended the game. However, Creator barely managed to survive, after which he used his superior economy to win the game.
Down to their last life, Team NV once again called upon
NV.Creator
to save the day as their revived player. With Cure and herO to choose from, DPG decided to go with
DPG.herO
to try and close out the series and secure the championship. The two players headed down to Data-C, where they started with similar Stargate expansions builds (with herO being more aggressive about building-block harassment). Both players went up to a second Stargate as well, committing themselves to a Phoenix vs Phoenix war. herO took things a step further by adding a third Stargate, while also hiding a portion of a Phoenix fleet. This stratagem worked out perfectly for herO, as he was able to goad Creator into engaging onto the visible portion of his Phoenix force. The hidden Phoenixes then soared in to join the fight, dealing Creator a crushing defeat in the skies. With an insurmountable advantage in hand, herO calmly closed the game out to win Dragon Phoenix Gaming its second consecutive World Team League championship.
Team NV's three core players—DongRaeGu, Creator, and Bunny—all deserve a standing ovation for winning five consecutive matches to bring Team NV to the finals. However, if I had to single out a player for special commendation, it would have to be
NV.Creator
.
In total, he put up a record of 4 wins, 6 draws, and 1 loss for a combined 13W-6L map record in the playoffs. While Bunny's map record of 13W-5L was slightly better, I'm giving Creator the nod due to his victories against tougher opponents—namely KaiZi's ace player Reynor. Honestly, I think the quality of Creators' play in the WTL playoffs was close to his Code S finals run. A lot of his build-order mind games ended up being effective, and his sometimes shaky defensive multi-tasking looked very solid over the weekend. Overall, he looked very much like a championship-caliber player, and it was great to see him play at that level again after a brief, midsummer slump.
Weekly MVP's:
Playoffs: NV.Creator

Week 11: DPG.herO

Week 10: NV.DongRaeGu

Week 9: SR.Harstem

Week 8: KZ.Reynor

Week 7: KDF.Trap

Week 6: NV.Bunny

Week 5: DPG.Rogue

Week 4: KDF.Armani

Week 3: GP.Ryung

Week 2: KZ.TIME

Week 1: SR.Harstem
---
Credits and acknowledgements

Writer: Wax
Stats: Aligulac.com & Liquipedia
Images: SCBoy