The Curse of the G5L
by Mizenhauer
If there is one element that most sets humans apart from other species, I believe it is our love, no, need, for myth and tall tales. For thousands of years we have followed the exploits of heroes—both real and imagined—from one arena to another. And, while we have left behind the days of gladiators, chariot racers, and Beowulf—modern day equivalents such as Tom Brady, Lionel Messi, and Dom Toretto galvanize and inspire in the same way.
How then, could there be anything more fascinating than sports? Competition is the greatest vehicle for storytelling, with duels, records, and achievements that date back decades or even centuries. Each statistic, piece of information, or anecdote has the potential to become part of a greater tapestry, turning players and teams into mythic entities. As fans, we create narratives, keep records, and scan for trends, oddities and exceptions to the rule. All the while, we grow ever committed to our favorite players and teams—as we become another devotee to glory that is sport.
Of course, there is a more logical and rational side to sports as well, leading us to try and determine the value of a player, calculate a team's chance of winning, or create something that approximates to an objective all-time ranking. And yet, it's the stories and legends that keep us enthralled. 86 years of championship-less suffering endured by the Boston Red Sox could be logically broken down into thousands of signings, plays, and decisions. But it's much more interesting to attribute it to
bad karma from a trade made by a greedy owner way back in 1918
.
It's impossible to pinpoint a single moment as the 'beginning' of StarCraft esports, but the 1999 Progamer Korea Open may have been the most influential early event.
Even without one-hundred years of history, StarCraft, too, is flush with myths and heroes. Pioneers such as OnGameNet caster
Um Jae Kyung
—whose previous career as a
manhwa
writer was no coincidence—made sure to instill Brood War with a larger-than-life air of grandeur. These casters, writers, and producers made it seem as if the competitors weren't just dueling one another, but going up against fate itself.
As time passed new legends were born. With the release of StarCraft II, traditions like Protoss's
Legend of the Legend of the Fall
gave way to Zerg's domination of World Championships. It led to new historic moments such as
Mvp slaying Squirtle
with a proxy-Barracks in game seven of the 2012 Code S Season 2 finals, like a hero who had pulled his house's ancestral weapon from a stone.
That victory happened to give

Mvp
his fourth victory in the Global StarCraft II League, making him the undisputed king of StarCraft II in its nascent years. Early StarCraft II had been a free-for-all involving mostly fresh faces (a business dispute kept the KeSPA stars from converting immediately), with virtually everyone who won an early SC2 tournament being a first time champion. It took around a year for players like Nestea, MC, Mvp to establish themselves as the stars of the GSL, and the first great players in Korean StarCraft II.
But when Mvp stepped over Squirtle's body to claim his fourth GSL championship in May of 2012, he elevated himself above his peers as a player widely considered the greatest of all time—even if that time spanned barely two years. A few months later, Mvp reached the GSL finals yet again, prompting GomTV to craft a new 'G5L' trophy to commemorate a potential five-time champion. However, where there are legends, there are also curses, and the StarCraft gods seemed determined to punish GomTV's hubris for forging such an artifact before it had been earned.
The
2012 Code S Season 4
finals saw Mvp go up against the rising prodigy

Life
. The young Zerg had been hyped by fans who were impressed by his performances in smaller events, but he had yet to make an impact in StarCraft II's most venerated tournament series. On the other hand, Mvp was already the provisional GOAT, and it was no surprise that almost 80% of Liquibet users predicted his victory.
As we all know, Mvp did not earn his fifth championship that day, with Life walking the Royal Road instead. It was an inflection point in Mvp's career, as his ailing wrists caught up to him and he tracked steadily downhill afterward. He failed to make the top sixteen in the next two Code S tournaments, and he shrewdly switched his region to the newly created WCS Europe where he was able to pick up one more lesser championship. While he occasionally showed flashes of the brilliance that had made him StarCraft II's first GOAT (
Mvp vs INnoVation on Akilon Wastes anyone?
), it was clear that he would never challenge for the G5L again.
Meanwhile, Life went on to win event after event, establishing himself as one of the best to play the game. But the G5L curse caught up with him eventually—an earth-shattering match-fixing investigation in 2016 found Life guilty of StarCraft's greatest crime, and he was unceremoniously banned from competition.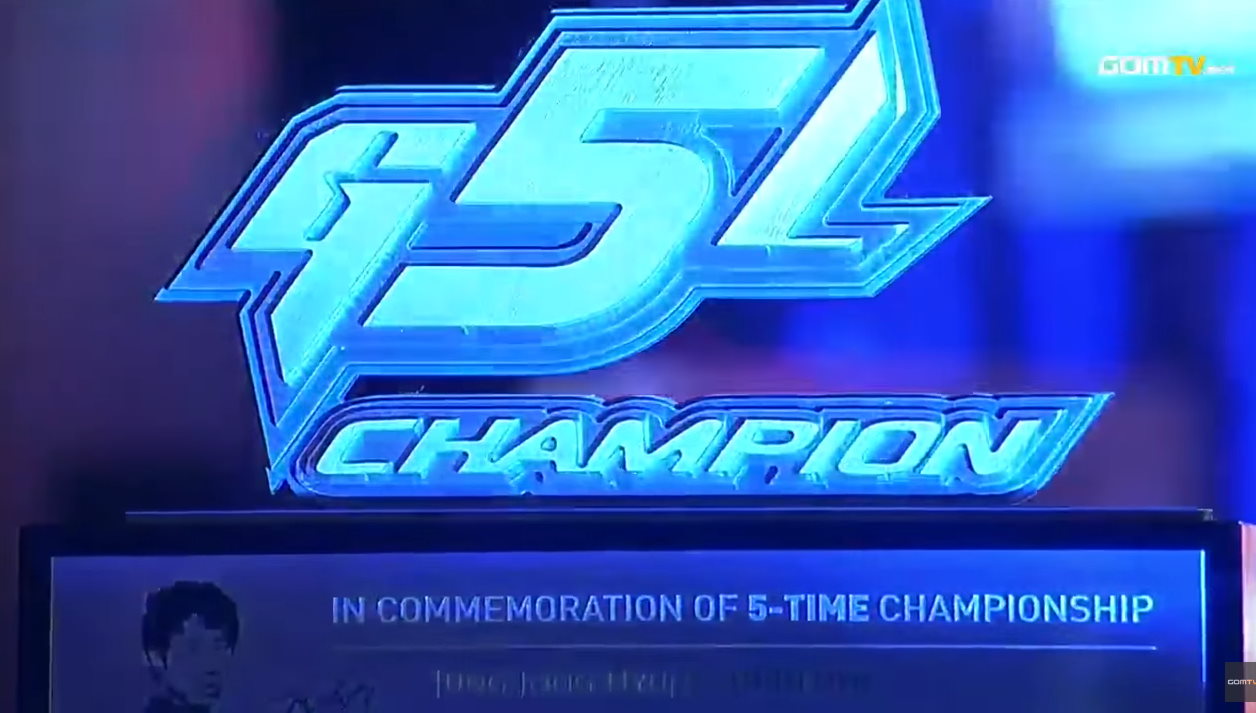 Why does the 2011 GSL World Championship count toward Mvp's five titles? Because AfreecaTV says so, basically.
Having gone unclaimed in its inaugural appearance, the G5L trophy would be left to collect dust for eight years before there was a possibility that it would finally be awarded. Mvp had long since retired by then, but he found himself with a worthy heir in

Maru
.
Even without the involvement of the G5L, Maru had weaved one of the most legendary tales in StarCraft II, winning an unfathomable four straight Code S titles in 2018-2019. But, after that mind-blowing reign as the undisputed best StarCraft II pro in Korea, Maru hit an explicable rough patch where he didn't come close to sniffing a Code S finals for four consecutive seasons. Thankfully, for fans of Maru and fans of StarCraft history, Maru recomposed himself in mid 2020 and rose back to the top of the scene. After a sixteen month gap, he returned to the Code S finals in
Season 3 of 2020
.
However, winning the G5L would be far from easy, as Maru faced arguably the greatest TvT player of Legacy of the Void in

TY
. During Maru's 2018-2019 run, TY had been the only player to really challenge him, forcing a game seven in the
2018 Code S Season 3 finals
. Even with Maru having the advantage in GSL pedigree against 1-time champion TY, most viewers expected it to be close. Liquibet users picked Maru as around a 3:2 favorite, suggesting he would have to play at his absolute best if he were to claim the freshly re-minted G5L trophy.
However, as in 2012, the G5L was not awarded in 2020 either. After six games and more than three hours of broadcast time, TY finally lowered the hammer, forcing Maru to GG from a game in which TY held a hefty supply lead from beginning to end. Just as Life had eight years earlier, TY denied his opponent their fifth GSL title.
Unlike Life, TY was at the tail end of his career at that point, and the Code S title served as something of a self-awarded parting gift before he began his military service in 2021. Likewise, unlike his predecessor, Maru still had plenty left in the tank. He remained the best player in the world in many people's eyes, even in the wake of failing to win the G5L. Indeed, he didn't have to wait very long for another shot at the elusive trophy, as he'd challenge again in the
very next season
.
This time, Maru's finals opponent was

Rogue
. Maru's long-time former teammate was known as one of the clutchest players in the game, but he had looked to be in inconsistent form throughout 2021's Code S Season 1. He had struggled mightily to dispatch Dream in the semifinals, which boded poorly given Maru's far superior position in the TvZ match-up. Even though Rogue was a legend in his own right with an impressive 7-0 record in major tournament finals at this point, it felt like his time might be up.
Liquibet users once more favored Maru in the final, this time by a comfortable 5:2 ratio. And while TL.net had correctly predicted a TY victory in Maru's previous G5L attempt, this time it
sided with the masses
:
"When I add it all up, I have no choice but to predict a victory for Maru in the finals. And, while it would be a shame to lose StarCraft II's most remarkable streak, it would be a worthy sacrifice to finally award the G5L".
In the end, the only sacrifice was Maru. Rogue took an early lead, winning map one on 2000 Atmospheres in a shockingly one sided affair. His seemingly simplistic Roach-Ravager style flummoxed Maru, and all of the sudden he was up 3-0. Maru fought back and stole the fourth game on Nautilus, but it felt like just that—thievery. Rogue had been the better player for the entire series and he dealt the finishing blow in the very next game. And, while Maru was once more left wanting and the G5L went back to collect dust, it was Rogue's third Code S victory, putting him only one behind Maru. In one match, Rogue didn't just
stop
Maru from winning the G5L, but he made himself a legitimate contender to win it first.
2022 has already been a fascinating year in the continuing story of the G5L. In the
first Code S of the year
, Rogue defeated Creator to win his fourth championship, putting him level with Maru. Unfortunately, Rogue's tendency to be StarCraft II's biggest buzzkill couldn't be suppressed, and he crashed out of the group stages on the very first day of
Code S Season 2
. So much for a Maru vs Rogue rematch for all the marbles!
Maru, meanwhile, cruised to the finals, with his only hiccup being a loss to Bunny in the Round of 6. The finals saw him pitted against

herO
, who couldn't help but seem like the easiest G5L warden yet. If TY was the greatest TvT player in LotV and Rogue was its clutchest player, then what was herO? He may have enjoyed an incendiary 2022 run that saw him rise to become the best Protoss in the world, but he had lost to Maru at both DreamHack Valencia and the group stages of Code S. Liquibet voters favored Maru by the widest ratio yet, with around 75% of voters raising his hand.
Unfortunately for Maru, and the Liquibet users who lost their points, it turned out that herO happened to be the greatest military returnee of all time. The score might have been 4-1, but the series
felt
like a sweep where herO looked to be a cut above Korea's best Terran in nearly every game. The final showdown was perhaps the most comprehensive beatdown of them all as herO completely dictated the terms on Cosmic Sapphire, never offering Maru an opportunity to make one of his world famous holds and turn the tide in his favor.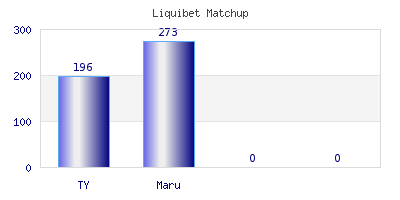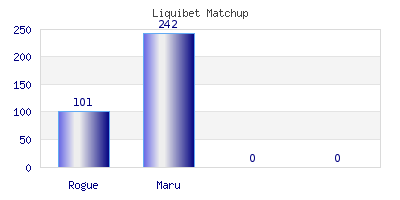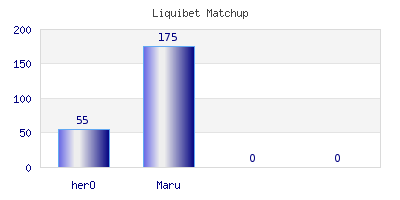 Liquibet voting margins in Maru's three G5L attempts.
The weeks leading up to Season 3 of Code S have only darkened the aura around the G5L trophy. Rogue gave unofficial notice of his retirement by declining to participate in the qualifiers, removing him entirely from contention for the G5L trophy. Maru still appears to be a top-tier player, but his 0-3 record in Code S finals since winning his fourth cannot be ignored. Despite earning a reputation as one of the most clutch players in StarCraft II history during his run of four straight titles from 2018-19, his play has been sorely disappointing in the three finals where he walked away empty handed. It's as if the elements of his play which elevated him to be among the best to ever play the game were stripped away by a supernatural force.
Whether or not Maru can finally make history this season seems less about logic and more about an ever growing legend around a haunted trophy. First, it was Life and Mvp whose careers took fateful turns after a battle for the G5L. Years later it's Maru who's finding his powers sapped every time he nears the cursed relic.
Like the One Ring, the G5L trophy has witnessed—or perhaps even willed—mental breakdowns, moral corruption, and self-destructive myopia in those who enter its orbit. It does not matter who is in form, who TL.net thinks should win, or whatever anyone predicts. The trophy finds a way to slip through the cracks. But if the One Ring at least had the end goal of returning to its master, the G5L trophy seems to wreak havoc for its own sake.
Ever present but always out of reach, we seriously have to ask ourselves: should Maru fail to make this season his own, will he ever get another chance? In the past, AfreecaTV and ESL have left fans holding their breath until the last minute regarding the league's continuation, before finally making an announcement that allows a sigh of relief. Thus, for now, we have no choice but to look ahead to Code S Season 3 with a mixture of anxiety and delight, grateful for another season of premier Korean StarCraft II.
We find ourselves hopeful, even excited, that Maru will have at least one more chance to finally put the perfect capstone on his career. After all, he is the most successful player to ever pick up StarCraft II, but his window will inevitably close. Just like Mvp and Rogue before him, Maru cannot be assured he will get another chance.
After all, this is the G5L. It may be an inanimate object, but it certainly seems to have a will of its own. And, while many will root for Maru in the coming weeks to finally win his fifth title after three consecutive failures, if there was ever a trophy that seemed destined to go unclaimed—that seems determined to dash the dreams of those who pursue it, it would be this simple assemblage of metal and plastic.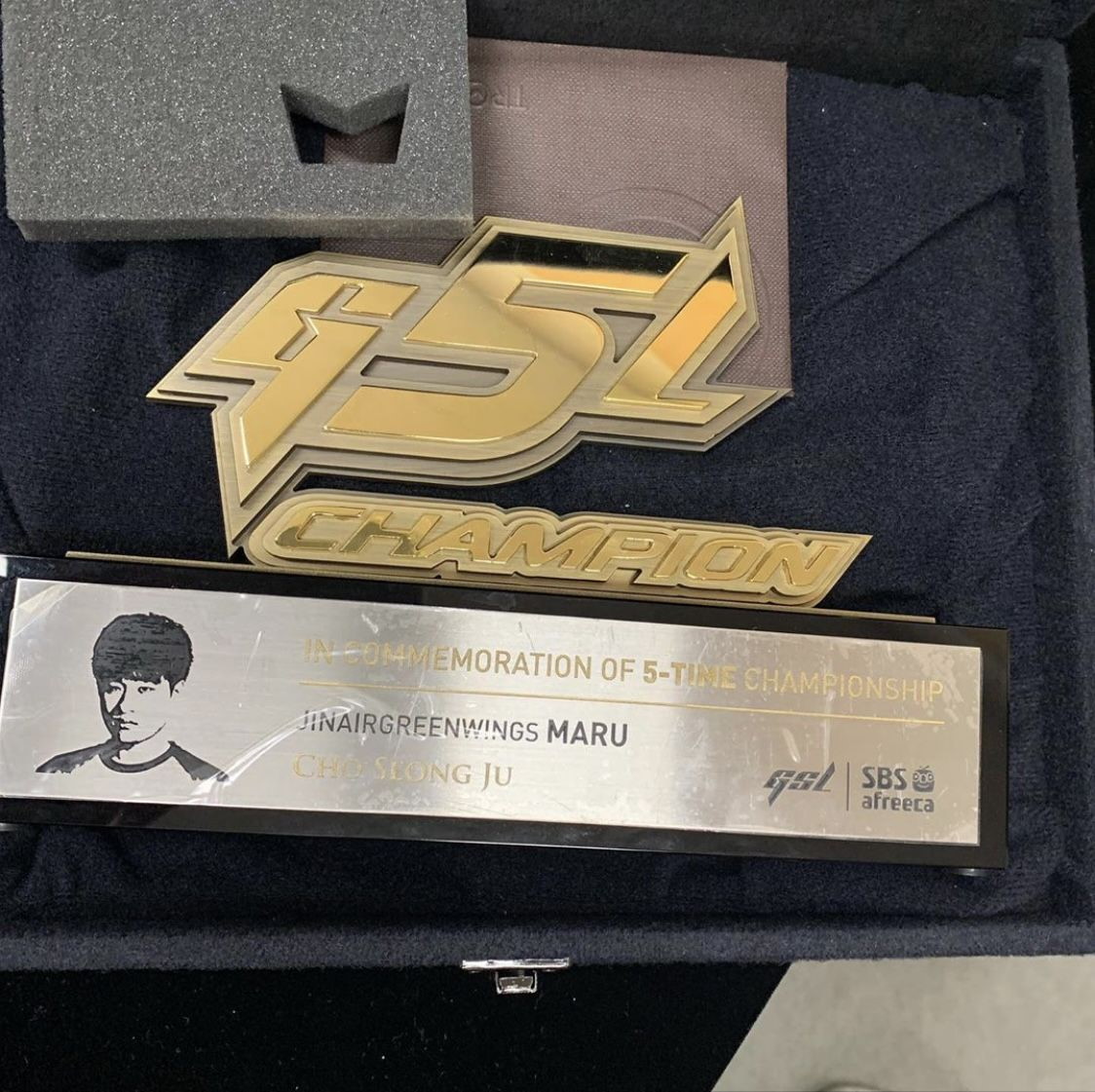 You have been cursed by the G5L trophy! Send this message to three other people or Maru will appear in your home and Bunker rush you as you sleep.
---