Reigning world champion

Serral was conspicuously missing at DreamHack Valencia, but he was right back in championship form when he returned at HomeStory Cup XXI. With a combined 5-1 victory against

Clem in the grand finals, the Finnish Phenom claimed his 18th major tournament championship as well as his 4th championship in the HomeStory Cup series of tournaments.

When Serral was eliminated from DHM: Europe in 5th/6th place back in June, fans were left to wonder if it was the start of his first serious slump since his ascent to greatness in 2018. The early signs at HSC21 were indeed worrisome, as Serral only finished 3rd place in his round-of-32 group after suffering 0-2 upsets at the hands of both

GuMiho and

ShoWTimE—quite a shock for a player who has gone perfect in his DHM: Europe group on prior occasions. This condemned the Team ENCE Zerg to start the playoffs in the lower bracket, where just one series loss would send him out for good.

However, Serral set about putting any concerns to rest by blazing a path of destruction through the lower bracket. He crushed his opponents in the first three matches, taking down

soO (3-0),

Spirit (3-1), and

ShoWTimE in a rematch (3-1). A match against

Neeb proved to be quite perilous, with the recently surging American Protoss actually going up 2-0 to start the series. However, a 45-minute-long victory on Moondance was the impetus for a turnaround, and Serral survived the elimination scare to win in a 3-2 reverse sweep.

As it turned out, Neeb ended up being the thorniest obstacle for Serral in his playoff run, as the Finnish Zerg proceeded to defeat

Lambo and

Astrea by 3-1 scores to reach the grand finals. Clem, despite having won the most recent season of DHM: Europe by wielding his world-class TvZ against Reynor, was no match for Serral in this grand finals. Serral won by a combined 5-1 scoreline, winning 3-1 in the initial BO5 series to 'reset' the double-elimination bracket, and then winning 2-0 in the final BO3 to cinch the trophy. Amusingly enough, it was the much-maligned Hellbat-timing strategy that allowed Clem to take his only map—otherwise, he was overpowered by Serral's overwhelming Ling-Bane style in the mid-game.

Now, Serral can say he's won a championship every which way, from being completely dominant throughout the tournament, to scrapping it out from the bottom of the losers bracket.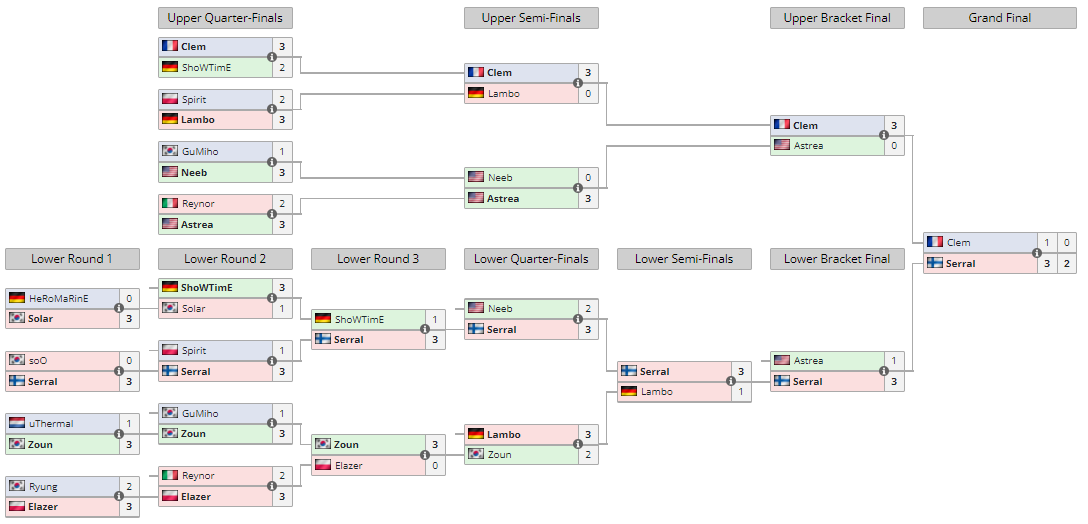 ---
The World Strikes Back? Back at DreamHack Valencia, Korean players took advantage of Serral's absence to assert their dominance and take all top four spots. At HomeStory Cup, the top international players achieved the same by shutting the Koreans out of the top four.

Zoun was the only GSL player who even managed to crack the top eight, while recent Code S finalist

Creator found himself going out in the group stages.

The global balance of power appears to be quite even at the moment, which makes TSL9 all the more intriguing. While Dark and Rogue are unfortunately missing from the line-up of that event, the presence of Serral, Reynor, Clem, Maru, and herO lays the groundwork for a thrilling conclusion at the Dutch finals.

Astrea's Breakout Tournament: American Protoss

Astrea has been one of the fastest rising players since 2020, becoming a North American DreamHack champion and turning his region into a three-way race alongside Neeb and Scarlett. However, despite showing flashes of top-level play in international events—even going 2-3 in consecutive IEM Katowice group stages—he was never able to make a real impact up until HSC XXI.

Astrea was really able to up his game in Krefeld, finishing 2nd place in his RO32 group before scoring a remarkable 3-2 upset over Reynor in the playoffs. He went as far as to call it the biggest victory of his career, and with apologies to DHM: North America, most fans are probably inclined to agree. Astrea followed that up with a 3-0 sweep against Neeb—a player who has frequently stymied him in NA competition—to earn a career-best 3rd place finish in an international major.

Reynor's Off-Race Escapades: Having already defeated Solar with his Protoss in Valencia, Reynor repeated that feat against his KaiZi Gaming teammate in HSC XXI. From the outside, this seems like a great hedge against variance in ZvZ, and he seemed to agree as he initially picked Protoss against Elazer in their lower bracket match.

Unfortunately for Reynor, he couldn't quite handle all-ins from the famously aggressive Polish Zerg, and he went down 0-2 as Protoss to start. While he managed to recover two maps after switching back to Zerg, Elazer was able to take the one map needed to win a 3-2 victory.

Will two lost maps be enough for Reynor to slam the door on his off-racing escapades? Or will he come back with a more solid, more refined version of his Protoss at the next big event?