Week 1 Recap
& Best Games
Zest and Clem out in earlier shocks
Week 2 Preview
Maru vs Serral incoming?
Brackets and standings on

Liquipedia
VODs on Twitch
Day 1
-
Day 2
-
Day 3
Week 1 Review: Zest and Clem go out early
by Wax
TSL7
was one of the most 'normal' TeamLiquid Starleague tournaments to date, with barely any of the upsets that defined previous editions of the tournament. In contrast, TSL8 has gotten off to a crazy start, with top players Clem and Zest already out after one week of play. Even reigning Code S champion Cure has been sent down to the lower bracket early on, where one more loss will spell the end of his tournament run.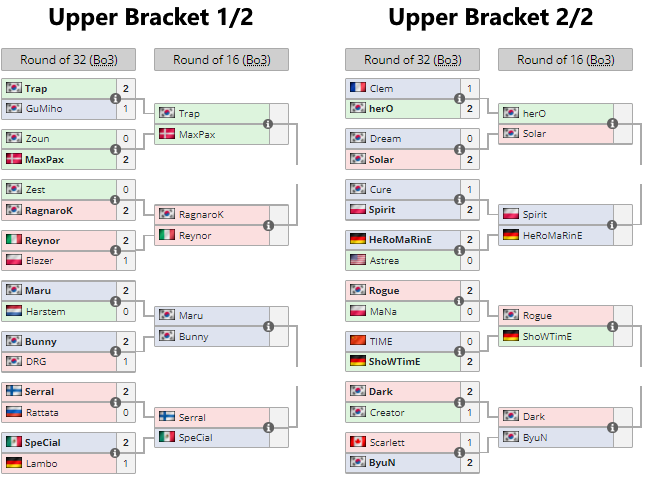 The upper bracket is where all the chaos started, with
Zest
losing 0-2 to
RagnaroK
and
Clem
giving up a 1-2 loss to
herO
. As is often the case, cheesy tactics were key to the underdog victories. Zest simply couldn't find a way to effectively hold against RagnaroK's Queen-Walks, while Clem was undone by herO's throwback Glaive-Adept + Phoenix attack. Curiously enough, herO himself said the strategy wasn't necessarily good—he just thought the ancient strategy might catch Clem off guard.
Meanwhile,
Cure
was sent to the lower bracket with a 1-2 loss to Polish Terran
Spirit
(formerly souL). Whether it was due to intense VOD study or just good ol' fashioned luck, Spirit constantly found openings to land deadly drops in Cure's main. Nerves did seem to affect Spirit as he looked to close out a monumental upset, as he very nearly threw game three at the 99% completion mark. Thankfully, for Spirit's sanity, he recovered and sealed the 2-1 victory.
The week 1 underdogs were impressive even in defeat.
GuMiho
earned TSL7 champion
Trap's
respect after outplaying him in a straight-up macro game on Hardwire, while
Creator
came oh-so-close to taking a 2-0 against TSL6 champion
Dark
before allowing the comeback victory.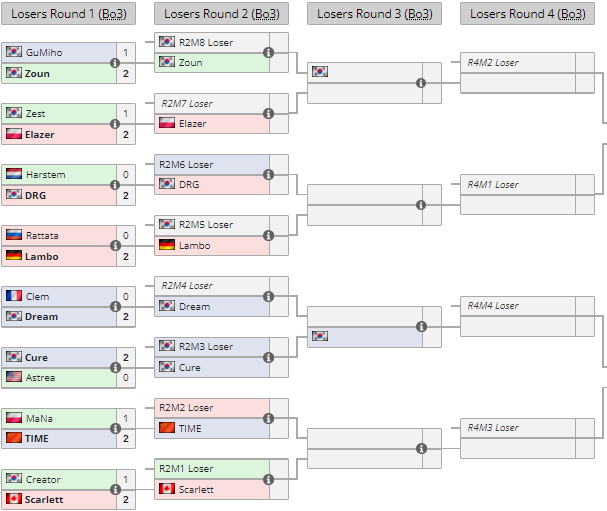 Alas, eight players had to depart the tournament after just one week of play. In the case of GuMiho, Harstem, Astrea, and MaNa, most fans probably weren't
too
surprised to see them eliminated from such a strong pool of players. But seeing Zest and Clem go out in the first week was certainly a surprise, even though it was somewhat foreseeable with hindsight.
TvT and TvP have always been Clem's biggest problem in big international events, and a single 3-2 victory over Trap in DHM Winter doesn't fix the TvP portion immediately. Still, the upper bracket loss to herO was a bit of a surprise, given the lowered expectations we have for players who are only a few months returned from military service. However, the lower match loss to
Dream
was probably closer to 50/50 at the outset. In a vacuum, would Clem 0-2 Dream really have been a
huge
shock in any event?
Zest was never the most consistent player to begin with (he actually missed a Code S season this year which is ridiculous for a title contender), and his recent form has seen him become even more unpredictable. Thus, maybe we should have seen his lower bracket loss to
Elazer
coming, especially with some fans surmising that his impending military service is finally catching up to him mentally. Then again, he did just beat Dark and Reynor in Netease's
NeXT tournament
, so TSL8 may just have been yet another Zest-ish fluctuation.
Recommended Games
Creator vs Dark, Game 2 (at 4h 53m40s):
Nothing gets the blood flowing like a good base trade! A late-game Protoss army can be terrifying to fight head-on, and Dark opted to try and steal a victory by diverting his Swarm and attacking his opponent's bases instead. When the dust settled, we were left with a classic scenario where one player has a strong economy and weak army, while the other player is left with basically zero income but a deadly standing force.
Ultimately, the game was decided more on the difference in information than economy or army. Dark had a much better grasp of what the game state was after the basetrade, and methodically utilized that knowledge to manufacture a victory.
Scarlett vs ByuN - Game 3: (at 6h 5m 40s):
As is often the case, we had Muta-Ling-Bane vs Terran bio to thank for a thrilling and action-packed match. What differentiates this game from other TvZ's was the ending: like in Creator vs Dark, one player was left with all the econ, while the other was left with all the army.
While this wasn't the cleanest game either player has ever played, the entertainment factor more than makes up for it.
God of Predictions: Steadfast
This week's
GOD OF PREDICTIONS
is
Steadfast
, who was correct on 17 out of 24 possible predictions. ZombieGrub and Wardi tied for second with sixteen correct predictions each, while feardragon only got thirteen correct after letting his NA-bias cloud his judgment.
Of course, there is no prize for being the
GOD OF PREDICTIONS
—it only comes with the quiet smugness of knowing that you're much, much, smarter than your fellow casters. Congratulations to Steadfast for his peerless intellect, and we hope the old boy's club doesn't send someone to break his knees.
Week 2 Preview: Counting down to Sunday
Matches begin at 12:00 GMT (+00:00) on Fri, Sat, and Sun.
There are too many matches to go over individually, but I'll just point out a few of the confirmed and potential clashes that I'm looking forward to.
PvP isn't exactly a glamor match-up, but
Trap vs MaxPax
is definitely a series you want to watch.
MaxPax's
unique, personal style of PvP—powered by his signature Stargate expansion—hasn't just flummoxed opponents in Europe. It has toppled elite Korean players too! With recent victories over the likes of Trap, Zest, PartinG, and Zoun, it's arguable that MaxPax is actually the #1 PvP player in the world (Aligulac.com already thinks so).
Trap
himself said in an interview that he would rather avoid MaxPax in TSL8, citing his indecipherable style. Will MaxPax prevail and prove that he is, indeed, the best PvP player? Or will Trap have discovered a solution for MaxPax after studying for a week?
While fans might quibble about whether or not MaxPax is really the #1 PvP player, I doubt many would argue that
Maru
is by far the best at TvT. He is currently on a
22-match undefeated streak
in the match-up, with the last player to defeat him having been TY. While Maru pointed out Cure and
Bunny
as the two players who might potentially end his streak, I get the feeling that's just the typical Maru humility speaking. Thus, I'm not necessarily interested in
Maru vs Bunny
because I expect good games—though I certainly hope we get some—I just want to see if the streak will continue.
While Friday and Saturday will have some strong matches, the real highlight of the week is the potential
Sunday mayhem.
That's when the top title contenders could first start colliding deeper into the bracket. Right now, it seems like
Maru vs Serral
is very likely to happen (if SpeCial and Bunny don't spoil the party), and it would be the marquee match of the weekend. It's a shame that it will only be best-of-three (TSL8 doesn't go into best-of-five mode until the last few rounds) considering how epic their
King of Battles best-of-seven was
. However, I'm still happy to see Maru take on
Serral
in any format.
The other potential big match is
Rogue vs Dark/ByuN.
After losing two grand finals to Maru in recent events,
Rogue
got his revenge in the finals of Super Tournament #3 where he beat his old teammate 4-3. The best-in-the-world title really seems up for grabs lately, but Rogue has made a strong case for himself with that win. A match against Dark would be great for the fans, as the two always seem to find a way to play unorthodox and entertaining ZvZ games against each other. But personally, I'd rather see him go up against
ByuN
. The Shopify Terran has been playing extremely well as of late, and even beat Rogue in an online showmatch. I'm intrigued in learning if this uptick in form is for 'real,' or if it's just confined to smaller events.
In any case, make sure to tune into
Twitch.tv/tlnet
this weekend for week two of TSL8!
---