World Team League - 2021 Winter Season
by: Wax
The feisty underdogs from Team GP have been the darlings of WTL Winter, but their feel-good run might be coming to an end. After suffering a brutal 1-5 loss at the hands of Afreeca Freecs, the Gon Pack is hanging just barely above the 7th place cutoff for playoff qualification.
The way the standings have worked out so far, it seems like Team GP, Afreeca, TL, Alpha X, and PSISTORM Gaming will have to fight fiercely for the bottom three playoff spots—will Team GP play well enough to survive this melee? Meanwhile, the top four teams of Shopify, KaiZi, NV, and DPG still have much to play for as well, with seeding being crucial in the gauntlet-style playoffs.
Week eight matches have been rescheduled to Nov 23-24, with three matches played per day. Each match will start at 11:00 GMT (+00:00).
Week 7 Results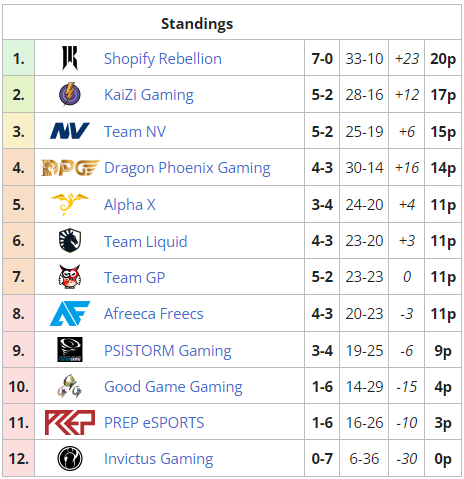 Top 7 teams qualify for the playoffs.
Points are awarded as follows:

3 points for a victory in a series that does not require an ace match

2 points for a victory in a series that requires an ace-match

1 point for a loss in a series that requires an ace-match

0 points for a loss in a series that does not require an ace match
Team NV 1 - 5 Dragon Phoenix Gaming
Watch VOD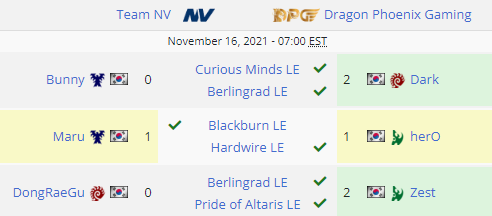 While DPG may never truly recover from their disastrous start to the season, they still made a strong statement by avenging their WTL Summer finals loss to Team NV with an imperious 5-1 victory.
DPG.Dark
got the ball rolling with a dominating 2-0 victory against
NV.Bunny
. In both games, the two opponents were content to play things safe and standard and fight it out in macro games. Unfortunately Bunny, this plan didn't go all that well for him, as he was completely overwhelmed by swarms of Zerg units once Dark put his foot on the gas.
Things went from bad to completely hopeless in the next match, as
DPG.herO
managed to steal a map off
NV.Maru
. The first game on Blackburn was the Maru-stomp everyone expected, as he shrugged off herO's cute 'back-side' gold mineral expansion (sacrificing gas access to avoid detection) to overrun his Protoss foe with infantry. However, excessive swagger cost Maru the 2-0 on Hardwire, as he got a little
too
eager about pounding herO with continued infantry attacks. herO spent most of the game laying against the ropes, taking a beating from Maru and just barely surviving thanks to Battery Overcharge and wasteful attacks from Maru. For a while, it seemed like Maru would never pay for his bloodlust, as he continued to expand and grow his infrastructure behind these attacks. However, herO shrewdly recognized the window of weakness after Maru had finally over-extended himself too far, and launched a devastating counter-attack that allowed him to take the 1-1.
After that,
DPG.Zest
proceeded to close the series out with a 2-0 against
DPG.DongRaeGu
. Game one saw DongRaeGu actually get into a decent position after an early Queen-Ravager attack, but gifted Zest the game through indecisiveness. Instead of teching up or committing to follow-up attacks, DRG just sat on an awkward mid-tech army while Zest built up a powerful army of Stalkers and Colossi. Once Zest's force came knocking, DRG had no choice but to GG. The final game was also a bit of a gift from DRG, as poor army control on his Queen-Walk all-in caused his Roach-Ling-Ravager and Queens to attack in two seperate waves, which made it easy for Zest to defend with his Oracles and Gateway units.
KaiZi Gaming 4 - 2 PREP eSPORTS
Watch VOD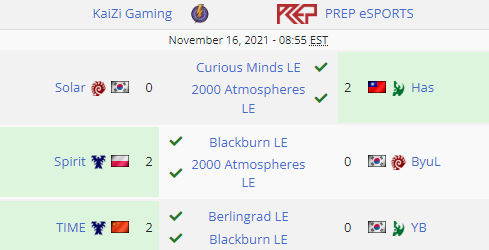 PREP.Has
improved to a shining 9-3 record in the midst of another team defeat, taking a 2-0 off
KZ.Solar
in the most Has way possible. The first game on Curious Minds saw Has go for the classic Cannon-rush into proxy-Immortal strategy, but without even building the first Cannon in range of the opponent's expansion. Instead, he just plopped his buildings in front of the Zerg natural, and basically announced that he was doing this very well-known strategy. Yet, somehow this strategy worked absolutely perfectly, with Has even showing some shockingly precise Warp Prism-Immortal micro as he forced Solar to GG.
Has followed with a more 'standard' cannon rush on 2000 Atmospheres, failing to destroy the Zerg expansion but still ending up in a good position after forcing Solar to expend considerable resources on defense. With both players in low-econ situations, Has follow-up perfectly with mass Chargelot-Archon, overwhelming his opponent to take the 2-0.
Unfortunately for PREP, the other two players couldn't get a point on the board. Game one of
PREP.ByuL
vs
KZ.Spirit
really shined a spotlight on ByuL's weakness in late-game TvZ (as we've seen in previous weeks as well), as he simply couldn't find a way to crack a turtling Terran on Blackburn. The ending was particularly ugly for ByuL, as he GG'd out after taking a terrible fight where some twenty-odd Infestors lost all their energy to two EMP's. Spirit then finished the job on 2000 Atmospheres, surprising ByuL with a double-Starport Battlecruiser rush. The BC's got enough damage done to seriously disorient ByuL, softening him up for an unstoppable Marine-Tank push that came soon after.
KZ.TIME
finished things off in the final series, holding off two proxy-Void Ray all-ins from
PREP.YB.
TIME patiently cranked out Mag-field Cyclones both times, and used their firepower to shut down his opponent's attacks.
Shopify Rebellion 6 - 0 Invictus Gaming
Watch VOD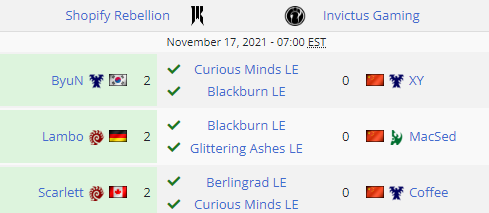 Shopify took the maximum number of points and maps off of Invictus Gaming before heading into a difficult three week stretch that could define their season.
SR.ByuN
didn't have much trouble taking the first point off
iG.XY
, setting up a containment off two-bases and keeping it up until XY was forced to GG. The second game went a bit longer into the mid-game phase, but ByuN's superior speed and maneuvering in the Marine-Tank wars still allowed him to take another straight-forward victory.
It was then
SR.Lambo's
turn to go collect the points, though he required the most time of all his teammates. His first win against
iG.MacSed
came quickly, as his Overseer-assisted Queen-walk attack made short work of MacSed's Dark Templar-based defense. However, the second game on Glittering Ashes turned into a drawn out stalemate, with MacSed planting down fields of Cannons and Shield Batteries to support his flying armada. MacSed ended up playing the game too passively, as he ceded more than half of the map to Lambo. With the resource advantage in hand, and with some effective spellcaster use, Lambo was able to gradually break MacSed down and force the GG.
SR.Scarlett
then finished the job against
iG.Coffee
without dropping any maps needlessly. On Berlingrad, she held out against an early Hellbat attack from Coffee before striking back with Roach-Ravager for the win. Coffee then tried a two-base Marine-Tank all-in on Curious Minds, but GG'd out rather hastily once he realized he wouldn't be able to break Scarlett's Ling-Bane-Queen defenses.
TeamLiquid 4 - 3 Good Game Gaming
Watch VOD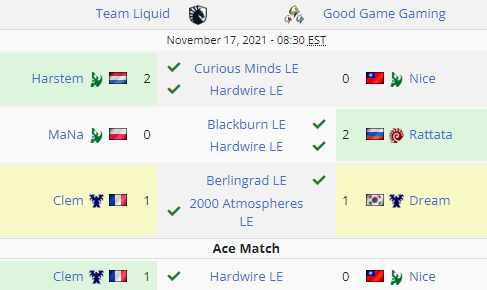 GGG's hope of staying in the playoff race hinged on a victory against Team Liquid, but an ace-match loss has left them almost assuredly out of the running.
Liquid`Harstem
got TL off to a strong start with a 2-0 victory against
GGG.Nice.
The first game on Curious minds saw Harstem deftly hold off Nice's Oracle and Blink-Stalker harassment to put himself in a superior position headed into the mid-game. Harstem didn't let this lead slip, and he eventually ran over Nice with his superior upgrades and tech. Game two was almost a disaster for Harstem after Nice snuck a Pylon into his main and warped in a sneaky round of Adepts early on. However, poor micro from Nice meant he didn't do nearly as much damage as he needed to, and he ultimately fell behind against Harstem's much faster expansion. Once again, Harstem snowballed his lead patiently and won with his superior tech army.
GGG.Rattata
made sure his team wouldn't go down without a fight, and tied up the score with a 2-0 of his own against
Liquid`MaNa.
Seeing MaNa play a 2-Stargate style on Blackburn, Rattata responded by going up to Spire and going for Mutalisk-Corruptor. While it first seemed like Rattata would struggle to match the firepower of Void Ray-Phoenix, he bypassed that issue by making mobility-based plays with Roaches and Zerglings on the ground. The Protoss fleet struggled to defend against both the aerial and ground-based raids, and Rattata eventually inflicted enough economic damage so that he could swarm over MaNa with sheer numbers. MaNa then went for another 2-Stargate strategy in game two, but this time, Rattata busted through with a typical 6-minute Queen-walk.
Liquid`Clem's
TvT struggles continued against
GGG.Dream
, as he could only fight his way to a 1-1 draw. The first game on Berlingrad was decided by a powerful mid-game attack from Dream, who found an angle of entry into Clem's natural and set up his tanks a few moments before his opponent. Clem unwisely charged into his opponent's superior position, and could not recover from the losses he took in that fight. Early on in game two it seemed like Dream might close out the 4-2 victory for GGG as he calmly defended against Clems' 2-Barracks Reaper attack. However, Dream's defense faltered when Clem went for a second raid with Reapers and Hellions which took out a painful number of SCV's. Clem wouldn't let his huge advantage slip and closed the game out to force an ace match.
Clem
was the obvious choice as ace for Team Liquid, but GGG made the somewhat unexpected decision to send out
Nice
instead of Dream. There was past precedent for this move: back in WTL Summer, when Nice was playing for Alpha X, he took a surprising ace match victory off Clem with a clever proxy Void Ray + Tempest all-in.
Unfortunately for GGG, Nice's attempt to play a more standard game in the rematch didn't really go as intended. At first, it seemed like Nice's defensive Phoenixes-into-Colossus strategy was working out, as he set himself up nicely on three bases. However, he just wasn't ready for Clem's mid-game explosion of infantry—especially not a game-ending doom drop of Marauders that landed directly on top of his Colossi.
Afreeca Freecs 5 - 1 Team GP
Watch VOD (CN)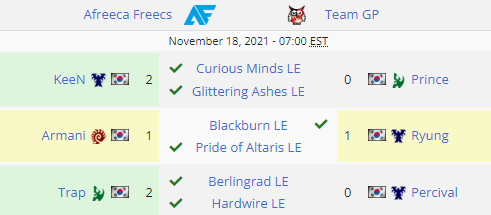 All good things must come to an end, and so it was with Team GP's winning streak which was cut short by a heartless AfreecaTV squad.
Game one saw
GP.Prince's
cheese finally fail to hit its mark, as a fast 3-Gate strike on
AF.KeeN
was easily thwarted by a well-placed Tank and Liberator on defense. Prince tried to play out a regular game from there, but it was hopeless given his starting disadvantage. There was a sharp change of pace in game two, with Prince deciding to play for a greedy macro game on Glittering Ashes. KeeN was unfazed by this as well, seeming almost nonchalant as he absorbed Prince's fast psi-storms and overpowered him with armies of infantry.
GP.Ryung's
1-1 instinct kicked in against
AF.Armani
as he was the only player to take a point for Team GP. Game one on Blackburn saw the two players go to a familiar map-split macro game, which actually featured an unfamiliar amount of action once the two players were settled in. Armani was very eager to fight Ryung's Liberator-Ghost head on with his Hydra-Bane-Lurker—sadly, that's probably why he ended up losing. RyunG tried his best to create another map-split scenario on Pride of Altaris, but the map didn't quite allow for it. Armani did a fine job of giving up his outer bases to Terran pushes, while launching devastating counter-attacks with Muta-Ling-Bane which eventually crippled the Terran economy. RyunG couldn't outlast the Zerg swarm this time and he surrendered the 1-1 tie.
Finally,
AF.Trap
landed the killing blow on Team GP with a one-sided mauling of
GP.Percival.
Everything seemed to go well for Percival during the early-game on Berlingrad, with his initial Reaper-Hellion poke getting unexpected Probe damage against Trap's porous defense, while his follow-up Mine drops further hurt the Protoss economy. Percival stayed on two bases to try and keep up the pressure on Trap, but only found his various bio attacks being
casually
dismissed by the master Protoss. Eventually, Trap assembled an army of whatever units he wanted and ran over Percival.
Percival had a clever strategy in store for Trap in game two, proxying a factory to go for a Marine-Tank-SCV all-in at his Combat Shield timing. However, Trap got just enough advance notice of this attack to
completely
shut down this attack with Blink Stalkers (off three bases, no less) by force of sheer micro.
Alpha X 3 - 4 PSISTORM Gaming
Watch VOD (CN)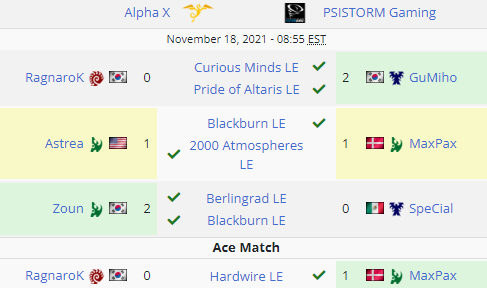 Though Good Game Gaming's playoff hopes were dashed with a key loss to TeamLiquid, PSISTORM Gaming managed to hang on for dear life with a vital victory against Alpha X.
PSISTORM.GuMiho
played a key role in the victory, returning to the starting line-up to take a 2-0 off
αX.RagnaroK
with his signature mech style. Game one on Curious Minds started with GuMiho going for a bizarre late-Bunker rush at RagnaroK's third Hatchery that had no chance of doing any damage, but somehow it seemed to disorient RagnaroK so that he'd take massive damage against all of other GuMiho's harassment. Using Hellion run-bys and fast BC's, GuMiho was able to deal huge Drone damage to RagnaroK early and set his mech up without any threat of a mid-game bust. RagnaroK rushed up to Brood Lords to counter the mech, and while he did catch his opponent off guard, GuMiho simply responded by backdooring every possible expansion with his mech forces. Even mech was made to look lightning fast compared to the lumbering Brood Lords, and RagnaroK was forced to GG.
RagnaroK picked Pride of Altaris as his second map, which GuMiho took as an invitation to go for one of the greediest mech builds possible where he took three bases with double-armories and barely any defenses at all. This worked out against RagnaroK's own greed, as the Zerg player went up to 100 Drones to try and overwhelm his opponent with Muta-Ling-Bane. Yet, in a comical twist, it ended up being GuMiho who sent an endless stream of mech across the map, with 2/2 Thors and Hellbats being more than enough to deal with the fragile Zerg forces. Honestly, RagnaroK probably should never have lost the game, but fighting against such an unfamiliar composition probably just scrambled his brain for fifteen minutes.
PvP masters from NA and EU faced off in the second series, and perhaps fittingly, it went to a 1-1 tie.
PSISTORM.MaxPax's
Oracle play shined in game one on Blackburn, with
αX.Astrea
taking damage from them throughout the game. MaxPax's economic advantage soon manifested in an army advantage, and he won with a frontal attack with a superior Stalker army.
Game two on 2000 Atmospheres saw MaxPax force his favored Stargate-expand on the lowground, which Astrea seemed to take as a challenge to try and bust. Going all-in on Blink-Stalkers off one base, Astrea found the defensive hole he was looking for when his Adept got high-ground vision into MaxPax's main. The situation gradually deteriorated for MaxPax once enemy Stalkers were able to Blink up into his main, and he eventually GG'd out after a tenacious defense.
PSISTORM.SpeCial
had a chance to lock in all three points for his team, but
αX.Zoun
managed to hold the line and force an ace-match for his team. Game one on Berlingrad featured an action-packed first half, with SpeCial setting up a Bunker-Tank containment outside of the Protoss natural that became the site of almost non-stop combat for several minutes. While Zoun eventually broke through, it seemed like SpeCial had set himself up to play out a macro game on slightly better footing. However, the might of Disruptor shots was enough to turn the tide back in Zoun's favor, taking out chunks of SpeCial's army before key battles and allowing Zoun to carry the day.
The second game on Blackburn was your usual map-split scenario on the map, with SpeCial turtling on his half after his heavy investment in early mine drops failed to pay off. Fortunately for Zoun, playing from an advantage gave him an easier path to unlocking the Terran defenses than usual, as he was able to safely tech up to Carriers and end the game.
PSISTORM gave its ace match honors to
MaxPax
, while Alpha X decided to give
RagnaroK
a chance to redeem himself after his earlier loss. Early on, it seemed like RagnaroK would seize that opportunity, as a Ling-Bane bust inflicted significant damage on MaxPax's economy as he tried to assemble a Skytoss army. However, the damage may not have been as severe as RagnaroK had expected, as his later attempt to finish MaxPax off with Hydralisks was met with a surprising number of Carriers. Despite thwarting MaxPax's attempt to take a fourth base, RagnaroK soon found himself facing a growing Carrier fleet with the limited anti-air capabilities of Hydralisks. Realizing his opponent's situation, MaxPax moved out once he had six Carriers. In almost an instant, the RagnaroK's situation went from
"I'm 60 supply ahead I'm fine"
to
"oh f*** I'm actually going to get a-moved by +1 Carriers."
Ultimately, RagnaroK ended up in a terrible situation where Carriers were gunning down Hydralisks as they hatched, preventing him from consolidating his units into one, strong fighting force. Unit after unit, base after base, MaxPax floated through RagnaroK's territory until he forced the final GG.
Weekly MVP Award: DPG.Dark
The week seven MVP award goes to
DPG.Dark
for his 2-0 victory against
NV.Bunny
, which contributed to a 5-1 win for Dragon Phoenix Gaming. While there were several other players who went 2-0 on the week, I think Dark had to overcome the toughest challenge in the form of Bunny. While
GGG.Has
scored a similarly impressive 2-0 victory against Solar, I currently rate Bunny as a slightly better player when taking all tournaments into account (not just WTL).
Though there were two ace match winners on the week in
PSISTORM.MaxPax
and
Liquid`Clem
, I didn't give them serious MVP consideration. Both of them lost their initial series 1-1, and neither of their ace match opponents (
αX.RagnaroK
and
GGG.Nice
, respectively) were as impressive take-downs as Bunny or Solar.
Weekly MVP's
Week 1: GP.Cham

Week 2: NV.Bunnya

Week 3: PSISTORM.MaxPax

Week 4: GP.Prince

Week 5: AF.Trap

Week 6: AF.Armani

Week 7: DPG.Dark
Week 8 Preview
Tuesday, Nov 23 11:00am GMT (GMT+00:00) Matches
Both Afreeca and Team NV have drawn some favorable matches for their ace players, with Maru getting to flex his TvZ against Armani while Trap gets to play his world-best PvT against Bunny. In terms of upset potential, I have to favor Bunny slightly due to his better WTL form, but I'm still keeping Armani's Week 6 upset over Cure in mind.
The swing match could end up being Creator vs KeeN. In terms of a long macro game, Creator is surely the favorite, but KeeN is quite adept at two-base pushes and other strategies meant to end the game early. Aligulac sees this match as around 60:40 in favor of Creator, and given the loser's map choice, I see this ending in a 1-1 draw.
If things go as I project, this series will head to an ace match. Now, while Trap is the obvious ace pick for Afreeca, it's actually not 100% guaranteed that Maru will play ace for NV. Bunny has been given ace duties in big matches where it seemed obvious that Maru should play, and he shouldered that responsibility well. Whoever ends up playing, I will still favor Trap to win it. Despite his recent slump, I still rate his PvT as the best in the world, and I even give him a slight advantage against Maru.
Prediction:
Team NV 3 -
4 Afreeca Freecs
There was no Team GP miracle last week, as a 'normal' result finally played out when they played the Afreeca Freecs. Fortunately for Team GP, the normal result for anyone facing Invictus Gaming is a win—it's usually just an issue of what score they manage to put up.
XY is still looking to get in his first map win of the season, but I think he'll be hard pressed to get it against TvT specialist Percival. However, I do think Coffee can take a point against Ryung, who has an uncanny WTL tendency to go 1-1 against
anyone
—regardless of whether he's the underdog or the favorite on paper. MacSed might also get a point as well—PvP is responsible for two of his three wins so far, and Prince isn't the scariest PvP opponent.
While I'm ultimately predicting a victory for Team GP here, I'll still be rooting for the humorous result where Invictus gets an ace match victory against the ace match gods themselves. Wouldn't that be a perfect identity for the honorable, noble Team GP? Strong against the strong, weak against the weak.
Prediction: Team GP 4
- 2 Invictus Gaming
Good Game Gaming vs PREP eSPORTS
Dream
< Pride of Altaris >
Puzzle
Rattata
< Glittering Ashes >
Has
Cyan
< Hardwire >
ByuL
Ace Match
:
< < 2000 Atmospheres > >
This is feeling like another 1-5 or 2-4 loss for PREP eSPORTS, who would be having an absolutely dismal season if not for the shockingly good Has (9-3). Puzzle and ByuL haven't really shown us anything to suggest they can be positive contributors in the WTL (despite my misguided belief that ByuL has some potential in ZvT), and it's doubtful they can turn it around this week. It's a bit puzzling that Bly has been left on the bench for another week, since you figure subbing him in for ByuL might give PREP a chance at stealing a point or two here.
Prediction: Good Game Gaming 4
- 2 PREP eSPORTS
Wednesday, Nov 24 11:00am GMT (GMT+00:00) Matches
Shopify now head into an important three-week stretch, where they face TL, Team NV, and DPG consecutively. This is where Shopify can prove that they truly deserve to be called the #1 team in the WTL, or reveal that their seven week run at the top was due largely to fortunate scheduling.
Shopify have succeeded at the 1/3rd dice roll against TL as they've managed to put a non-Zerg player against Liquid ace Clem. While ByuN isn't exactly a TvT specialist, neither is Clem, so getting a 50/50 TvT instead of a near-certain ZvT defeat is still a huge win for Shopify.
While Lambo will have been glad to avoid the TvZ buzzsaw known as Clem, it's not like he's drawn an easy match-up in return. The German Zerg's ZvT is a bit hit or miss, and Aligulac's prediction system actually sees him as a slight underdog against uThermal.
It might be Scarlett who ends up carrying the day for Shopify in the final match against Harstem. While I'm very impressed with Scarlett's recent hot streak, I do have some reservations and doubts. It's not like she's dominating her opponents—she's played some very tight matches where she's narrowly clutched out victories. Still, clutch is exactly what Shopify will need from her as the third and final player, and considering her performances so far this season, I think she'll find a way to deliver the three points at any cost.
Prediction:
Team Liquid 2 -
4 Shopify Rebellion
This is probably the toughest match of the week to predict. I like Zoun, Solar, and TIME as slight favorites in the three match-ups, but not so much that I'd take any of them in a 2-0. I see an ace-match as being very likely, which is where I'll give Alpha X the slight edge due to the number of options they have at ace.
It didn't pay off last week when RagnaroK failed to defeat MaxPax, but you could argue that was a thrown game on RagnaroK's end. With Solar being the obvious pick for KaiZi while Astrea, Zoun, Classic, or even RagnaroK could be fielded for Alpha X, I have to think they have the advantage in terms of preparation.
Prediction: Alpha X 4
- 3 KaiZi Gaming
PSISTORM Gaming vs Dragon Phoenix Gaming
GuMiho
< Pride of Altaris >
Cure
MaxPax
< Glittering Ashes >
Zest
Gerald
< Hardwire >
Dark
Ace Match
:
< < 2000 Atmospheres > >
With GuMiho having taken a 2-0 against RagnaroK in the previous week, he's earned another outing against Dragon Phoenix Gaming. Unfortunately, Cure is a much more difficult opponent than RagnaroK—slump be damned. While I'm a huge fan of GuMiho personally, one 2-0 isn't enough to convince me that he's anywhere back to his old form.
In PvP, at least, I think MaxPax has a 50/50 chance against even the best Korean players, so drawing him against Zest is probably one of the better outcomes for PSISTORM Gaming. MaxPax already scored a 2-0 against Trap earlier this season, and he'll need to get the same result if PSISTORM are to stand a chance of winning.
Unfortunately for PSISTORM, it'll be hard to expect much from Gerald against the OG foreigner-killer Dark. Even with Dark showing some vulnerability against Creator in his latest Super Tournament match, I have to think he'll take the clean 2-0 vs Gerald.
Prediction:
PSISTORM Gaming 2 -
4 Dragon Phoenix Gaming
---
Credits and acknowledgements

Writer: Wax
Stats: Aligulac.com & Liquipedia
Images: SCBoy