Zest started his Code S farewell tour on a positive note, advancing in first place from Group A with victories over KeeN and Trap. While #1 overall seed Trap lost a hectic PvP series to Zest in the winners' match, he was still able to easily dispatch SpeCial and KeeN—two players he hand-picked during the group selections—to move on to the playoffs as Group A's second place finisher.

Both Zest and Trap made it clear in their post-match interviews that they wanted no part of Maru in the playoffs, and in that sense, Zest may have dodged a bullet with his first place finish. With Maru favored to take first place in the upcoming Group B, sunny days might continue for Zest as he looks to earn a high finish in his final Code S. On the other hand, barring some unexpected upsets in Group B, Trap is likely to head into a grand finals-caliber match against Maru in the quarterfinals.

Code S will resume on Thursday, Sep 02 9:30am GMT (GMT+00:00) with Group B of the RO16, featuring Maru, Solar, sOs, and Dream.

Recommended game - Trap vs Zest on Lightshade: This unusual PvP featured a frantic semi-basetrade in the early-game, which forced both players to think on their feet and adapt to an unusual situation. While the game became somewhat one-sided as it progressed to the later phases, it was still refreshing to see a game play out in such an unpredictable manner.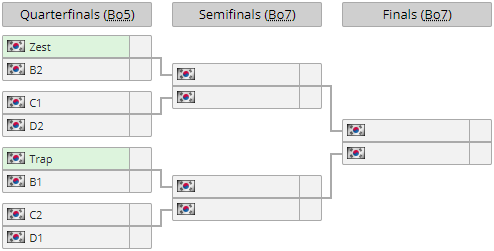 ---
Match Recaps

Initial Match #1: Trap vs SpeCial

Game 1 - Romanticide: SpeCial's attempt to go for his favored mech composition ended in disaster, as he couldn't survive Trap's relentless attacks in the mid-game. Juanito laid a solid foundation for his mech play early on, with his unorthodox combo of Hellion-Reaper, Mine drops, and fast Battlecruisers keeping Trap on the back foot. However, he wasn't able to really hamper Trap's economy that much, and eventually had to face an onslaught of Gateway units from three bases. Though Trap made a few uncharacteristic micro errors, the sheer numbers of his Zealots and Stalkers allowed him to break the Terran defenses in the end,

Game 2 - Lightshade: SpeCial opened up game two with one of the most brazen moves in recent memory, floating a Barracks into Trap's main, lifting the Barracks off after it was discovered, and then floating a Factory back onto the exact same spot. This "surely he wouldn't do it again" mind-game almost hooked Trap, as he was initially oblivious to the Hellions being built in his main. Unfortunately for SpeCial, Trap got suspicious before the Hellion count could hit the critical number of three, and the attack was thwarted.

SpeCial somehow managed to hang in the game for a while despite his failed early gambits, harassing with Banshees while building up a bio army. However, the economic disadvantage was too much for him to overcome, and he GG'd out after a failed Bio + SCV all-in.

Initial Match #2: Zest vs KeeN

Game 1 - 2000 Atmospheres: KeeN looked all but dead just seven minutes into this game, with Zest furiously microing his Warp Prism and two Archons to wipe out a huge swath of bio units. However, Zest gave KeeN a lifeline when he tried to apply the finishing blow with Blink Stalkers, only to have his army chewed up by KeeN's entrenched defenses.

KeeN made sure not to waste the opportunity, harassing Zest with Ravens and Liberators before applying pressure with his Marine-Marauder forces as well. After a number of drops and frontal attacks, KeeN finally hit the jackpot with a drop into Zest's undefended main as the bulk of the Protoss army looked to move out. KeeN quickly targeted down the Pylons supporting Zest's Warpgates, putting the Protoss player in hot water. Zest couldn't recover from this huge momentum swing in KeeN's favor, and eventually GG'd out against a superior Terran army.

Game 2 - Lightshade: KeeN nearly clinched the 2-0 upset with a Marine-Tank-SCV all-in, but Zest's patient defense allowed him to hold and tie the series. It started off poorly for KeeN as his Marine drop + Hellion opener failed to do much damage, but his successful defensive stand against Zest's 4-Gate Blink-Stalkers meant the game was far from over. When an opportunistic drop from KeeN picked off two Immortals that were left stranded without any support, a window seemed to open up for KeeN to go for a killing blow with a Marine-Tank-SCV attack.

However, Zest's clever army movements and fake engagements brought him enough time to get out three Colossi on defense, and he further manipulated KeeN into taking a fight in a tight choke point. Zest's forces crushed the Terran army, forcing the GG out of KeeN.

Game 3 - Oxide: After two surprisingly difficult games, Zest closed out the series in a game where he looked dominant from start to finish. After going for a fast Oracle, Zest deftly eluded KeeN's defensive mines (which were readying themselves for a drop), picked off five SCVs, and slipped right out. KeeN decided to pivot out of a drop and into a Raven, looking to hit a stim-timing all-in with Marines, SCVs, and the singular Raven in support. However, Zest was able to establish his econ and crank up his Chargelot production far quicker than KeeN expected, and despite eating a juicy anti-armor missile hit, he was able to utterly crush KeeN's attack to win the match.

Winners' Match: Trap vs Zest

Game 1 - Romanticide: The two players diverged slightly within their standard 2-Gate starts, with Zest getting a round of Sentries and Trap going for an early poke with 2-Stalkers and 4 Adepts upon seeing his opponent's sentries. That potentially dangerous attack ended in failure for Trap, as Zest's Shield Battery finished just in time. Both players followed by taking their third bases, with Zest going up to Blink tech while Trap opted for a Robotics Facility instead. These tech choices worked out in Zest's favor, as his Blink Stalkers were able to force a cancel on Trap's third before he had enough Immortals to properly defend.

With a significantly slower third base, Trap moved out with his Immortals and Chargelots knowing that he had to get something done. However, he lost his crucial Warp Prism in a moment of uncharacteristically sloppy micro, rendering that attack a failure as well. Zest played his economic lead beautifully from there on out, assembling a huge army and overwhelming Trap to force the GG.

Game 2 - Lightshade: Early game chaos ensued on Lightshade as Trap went for a Proxy-Robo + 3-Gate build while Zest went for a fast Stargate. Somehow, both players' early game forces completely missed each other, resulting in a semi-basetrade where it was unclear who had come out ahead on the balance sheets. Zest managed to kill more of Trap's Probes but failed to destroy his opponent's natural Nexus, whereas Trap razed his opponent's expansion but left him with a healthier Probe count. Once Zest rebuilt his Nexus, the situation actually looked surprisingly even, in spite of all action in the early game.

After this soft reset, Zest seemed to seize the initiative by going for Disruptors first, forcing Phoenixes out of Trap in response. In turn, Zest responded by swapping to Colossus production, but that actually ended up being a self-defeating move as Trap was transitioning to 2-Robotics Disruptor production himself. Trap's superior Disruptor count gave him the advantage in a head-on fight, and after much posturing between the two armies, he finally caught Zest out of position and landed the massive Purification Nova needed to swing the game decisively in his favor. Zest managed to delay his death with some surprise DT's, but had to surrender when Trap came back with detection.

Game 3 - Blackburn: Trap decided to get extra cheesy in game three, going for proxy Void Rays and cannons against Zest's standard 1-Gate Stargate expansion on Blackburn. Trap committed to his attack once he had three Void Rays and some supporting ground units tow, but Zest's own Void Rays backed by Cannons and Shield Batteries allowed him to stave off the assault.

The game wasn't fully over at that point, as Trap was able to take his own gold base and transition into Blink-Stalkers after his failed assault. Still, Zest had the advantage of a stronger economy and the firepower of several surviving Void Rays on his side. Once he added Stalkers and Immortals to supplement his Void Rays, he easily overran Trap's mostly Stalker army to cinch his spot in the playoffs.

Losers' Match: SpeCial vs KeeN

Game 1 - Romanticide: Much like his earlier game against Trap on the same map, SpeCial couldn't get his mech off the ground against his opponent's mid-game assault. SpeCial opted for an air-unit heavy version of mech in this game, adding Vikings, Ravens, and Liberators early on. While this helped him hold off a few of KeeN's initial drops and attacks, the Afreeca Freecs Terran continued to dance around the edges of sensor tower range to look for another opening. Ultimately, KeeN was able to find the weak point in SpeCial's defenses, and burst through to end the game before mech could reach critical mass.

Game 2 - 2000 Atmospheres: Game two started off with KeeN going for a typical Factory expansion, while SpeCial changed things up with a Gas-Rax-CC build. SpeCial made the odd choice to go up to 6 Hellions after this greedy build, but it worked out perfectly against KeeN's 1-Medivac 1-Tank harass. The Hellions intercepted the supporting ground troops in the middle of the map, completely shutting down the harassment. SpeCial furthered his economic lead with some Hellion and Raven harassment, putting himself in a great position headed into the mid-game.

KeeN committed to a major attack on SpeCial's third base to try and turn the tide, but found himself barely beaten back by SpeCial's defenders. Unfortunately for KeeN, he lost all his Ravens in the attack, opening himself up to a devastating counter-attack from a Raven-wielding SpeCial a few minutes later. SpeCial effectively sealed the game by forcing a lift off at KeeN's third base while killing a ton of SCVs, eventually collecting the GG after several minutes of dogged defense from KeeN.

Game 3 - Lightshade: The final game ended up being surprisingly one-sided and quick. KeeN's Cyclone-drop build hard-countered SpeCial's fast Banshee, setting KeeN up to go for a low-ground siege into SpeCial's main with his first two Tanks. Alas, SpeCial's defensive micro was found to be lacking, resulting in him bleeding away several key units for free. KeeN used this early advantage to establish his third base quickly, and then used his superior economy to overwhelm SpeCial with a larger army.

Decider Match: Trap vs KeeN

Game 1 - Romanticide: Both players went for unorthodox starts, with Trap going defensive-Blink into double-Forge while KeeN went for a defensive Mine-Viking build (GSL caster JYP suspected that KeeN bit too hard on the basic TvP read of "Adept first = Stargate"). In any case, this let Trap get away with his very greedy build, with later harassment attempts from KeeN yielding few results. Once Trap hit 2/2 and Storm, it was all too easy for him to walk over KeeN and force a GG.

Game 2 - 2000 Atmospheres: KeeN went for an Engineering Bay block early before transitioning into a Mine drop off one base. Trap took the Ebay block in stride, clearing it out with a Zealot and going for defensive Phoenixes while expanding. Though KeeN initially eluded Trap's Phoenixes and successfully landed his Mines, Trap's quick reactions allowed him to limit his losses to just three Probes while killing all the Mines AND the Medivac. Trap then counter-attacked with his Phoenixes, and Oracle, and a handful of Stalkers to bring the game to a quick end.