Team NV World Team League Summer!
by: TheOneAboveU
The Summer 2021 Season of the World Team League has been a renaissance for team competition in StarCraft 2. with some of the best squads from all over the globe competing in a single league over many weeks. After a regular season full of twists and turns, the first ever WTL champions were crowned during July's gauntlet playoffs.
Team NV played a dominant regular season, finishing in second place with a 10-1 record. Though it was Team NV's first time competing in the SCBOY Team Leagues, it brought a veteran roster with ex-Jin Air players who had won the championship in the past. Despite earning an advantageous seed, the Maru-led squad still faced two difficult matches against former champions of the SCBOY Team Leagues. But the old guard couldn't get in the way of Team NV's march down the royal road, and the "newcomers" defeated both KaiZi Gaming and Dragon Phoenix Gaming to win their first championship under a new banner.
Round 1: Hero of the Rebellion
Afreeca Freecs 5 - 7 Shopify Rebellion
Watch VOD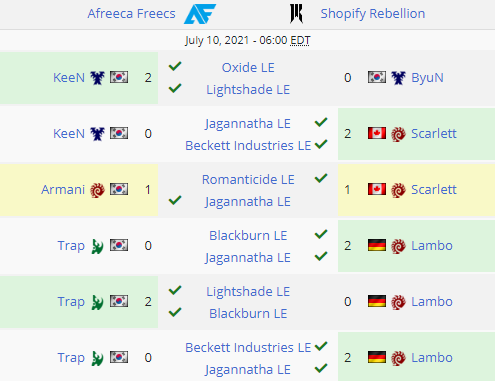 After fighting a nail-biting regular season campaign, the Shopify Rebellion earned a much deserved spot among the top five teams headed into the playoffs. Starting at the bottom run of the playoff gauntlet, the Rebellion were set to face Afreeca Freecs in their first match. The Freecs were a mystery team headed into the playoffs, with the loss of Stats and TY's decline diminishing much of the roster's power compared to the start of the season. This problem was exemplified by the Freecs' starting player, who wasn't even part of the roster at the beginning of the Summer Season:
AF.KeeN
. Recently discharged from the military, KeeN was fielded by Afreeca for the first time this season in the playoffs—quite a stage for the veteran Terran's WTL debut. Across the battlefield waited
SR.ByuN
, a fellow military returner who had a disappointing showing in the regular season, a trend which would soon continue in the playoffs.
Things went according to plan at the beginning as ByuN managed to seize a commanding position on Oxide, exploiting army positioning mistakes from his opponent. KeeN's fantastic grasp of the TvT basics proved enough to keep him from being overrun, however, and he managed to repeatedly hit ByuN with devastating backdoor counter-attacks, slowly grinding away at his opponent's advantageous position. This was not the first time we saw ByuN throw away a clear TvT lead in this season, as the same thing happened against KZ.INnoVation during an ace match. KeeN, after almost half an hour of game time, made a decisive move against ByuN's production facilities while he himself was down to merely one Orbital Command. The Shopify Terran botched his attempt at dislodging the enemy from the heart of his war machine, sending his units in without coordination, presenting an elated KeeN with a debut victory for his new team.
ByuN attempts to crush KeeN's forces at his natural, but his uncoordinated assault fails.
The Afreeca Terran played like a man possessed in the next game, completely crushing ByuN's early game aggression with his Cyclone play and then running amok in his opponent's base with two Cyclones and a Medivac, killing several SCVs and a Siege Tank. In a gamble to claw his way back into the game, ByuN used his Raven energy offensively to harass, but he sure wished he didn't do that as a minute later KeeN landed his army in the Rebel's base and ended the game, taking the first life off Shopify in a surprising upset.
Having done his job, any additional win would have been the cherry on top for KeeN, but the Terran was spent and could not find an angle to overcome a very solid
SR.Scarlett
, who dominated the macro game on Jagannatha with her Ling-Bane-Lurker swarm and ran away with an economic advantage on Beckett Industries after KeeN had opened CC first and did not follow this up with any pressure. Falling back on his fundamentals had worked great for the Afreeca Terran in the mirror match-up, but not so much in TvZ, enabling the Canadian Zerg to equalize the series in seemingly effortless fashion.
Having gathered steam behind her, Scarlett showed an excellent Corrupter-Infestor defense against
AF.Armani
's Mutalisk strategy on Romanticide. Chasing the flyers around with her own air force and thus rendering them completely ineffective, her superior ground forces overwhelmed the Korean's fledgling defences and denied him the opportunity to establish control over the map and additional resources. Determined to at least take Scarlett down with him, however, Armani countered with an early Ling-Bane attack in game two and managed to break into Scarlett's main base, where he did devastating damage by killing Drones and the Spawning Pool. The 1-1 tie knocked out both players, making room for the main event of the series, and perhaps the entire playoffs.
As both Armani and Scarlett were eliminated,
AF.Trap
and
SR.Lambo
stepped up for their teams. Facing Trap as Afreeca's last bulwark was, in a way, very fortunate for the Rebellion: Only about a week prior, both Scarlett and Lambo had put in ample preparation time to counter Trap for their group stage matches in the Summer Season Finals of DreamHack Masters, shockingly eliminating the favourite early on. Their efforts would now once again benefit Shopify, as Trap was forced to deviate from his go-to playstyle in order to surprise his German opponent.
Throughout what would become essentially a BO7 series between the two, Lambo clearly established himself as the reactive player with Trap assuming a proactive role in an attempt to overcome the powerful Zerg. With his Stargate-openers so decisively crushed at DreamHack, Trap opted for the more traditional Adepts in the first game on Blackburn, with Lambo taking significant damage from small hit-squads. The Rebel did, however, hold the Immortal push and subsequently managed to hatch a massive swarm of Roach-Ravager-Baneling, which utterly routed Trap's Gateway-Robo army in a brilliant engagement. The pincer movement of the Zerg swarm picked off one rallying Colossus and rendered Trap's lacklustre force fields even more useless than they had already been.
Lambo's overwhelming pincer attack wipes out Trap's army on Blackburn I.
The following match on Jagannatha became essentially a rewind of their Regular Season match on the same map with Lambo crushing the Protoss using a Queen-Ravager attack at his third base, with Trap using his Battery Overcharge on the natural instead of the third. Things were a bit unlucky for Trap in this case, as his Oracle opener had a good chance to do quite a bit of damage against an unprepared Lambo, but he selected the base without any real Drone saturation to attack first. In any case, Lambo had taken down Trap 2-0 without losing a life, forcing Afreeca to revive one of their three players. The only real choice was to revive Trap and send him out for a rematch with the German.
Bringing out the Disruptor-drop follow-up to the Adept opener on Lightshade, Trap culled his opponent's worker count with a successful initial raid and then settled for putting on light pressure by cleaning Creep and assassinating stray Queens as both players built up their ideal compositions. Lambo once again went with the dreaded Roach-Ravager-Bane, Trap put his hopes into Stalker-Colossus with the support of his initial Disruptors. Though the Zerg was late with the speed upgrades for both Banelings and Roaches, he was able to fend off the Afreeca player's aggression against his fourth base. Swift retaliation followed with the destruction of Trap's own fourth Nexus, but the Protoss then switched into try-hard mode and micromanaged his battered forces with great attention, kiting the ever dwindling Roach-Ravager force off Creep to force a retreat. While a counterattack wasn't feasible for Trap at this point, this was the recipe to win the game as he demonstrated a few minutes later: the German went for a two-pronged attack at the fourth and natural, which Trap held off with the core of his strong army remaining intact. Chasing the routed Zerg forces to their homes, Trap used the opportunity given to him by Lambo's overextension and went right for the throat, getting his first win on the board.
Lambo chose Blackburn next, where he fared so well in the first bout, to try and get rid of Trap for good. The Protoss showed him the same Adept opener as before, but went for Dark Templars behind it. Though the tech remained indeed a secret, the Zerg played it safe and built Spores anyway to guard against anything unexpected, minimizing the harassment value of the invisible warriors. Bolstering his forces with high-tier Robo units to strengthen his defences, Trap began to prepare for his Carrier transition—completely undetected by Lambo, who hit him with a Roach-Ravager-Bane attack at the nine minute mark. This was it: If Trap could hold him off without suffering critical damage, he'd have the game in the bag. With cannon and shield emplacements providing support, the Protoss fought a tenacious defensive battle at his natural and third, bleeding both units and workers away, but ultimately repelling Lambo's assault. Showing his first Carrier group, Trap forced the Zerg into a desperate offensive to somehow equalize the odds once again, but devastating Disruptor shots, combined with the uncontested air force roaming the map, secured Afreeca's victory in this bout. Trap had repaid the favor with a 2-0 victory of his own, forcing Shopify to revive Lambo as their final player.
Trap forces Lambo into a suicidal charge into his defensive lines on Blackburn II.
Now, the two players faced each other on even terms, with a chance to finish off the opposing team with a 2-0 victory. As a quirk of the WTL playoff rules, a 1-1 would actually force a final, best-of-one ace match—but with neither Trap or Lambo being eligible due to already being revived once. However, thanks to Lambo's heroics, such an unusual scenario ended up being averted.
Trap fell back on Oracles on Beckett Industries, dealing not insignificant damage to Lambo's Drone count while researching Charge and building Immortals as well as Archons. However, this was the German's turn to mix things up in the pseudo-Bo7, and a Spire went up in his base undetected by Trap, who was still being sold the idea that Lambo was doing the same Roach-Ravager-Bane strategy as before. With a force of Roaches being caught on the map by Force Fields, Trap opened himself a window to get a kill on Lambo's fourth base. An attempt to repeat this feat, however, ended in failure as Trap's expensive army was pinned down by a now much more complete Zerg composition.
Mutalisks started their hatching process after the battle, as Trap had to replenish his losses from the Robotics Facility—his two Stargates remained inactive at first, until some hunch triggered him to start Phoenix production. With some ships in place to contest the air and Cannons protecting mineral lines, the Mutas at first had little effect. Once Trap moved out on the map, however, the flyers coordinated with a small Roach-Ravager force and hit the Protoss at two different spots. As some units from the front were redirected to deal with the backstabbing move, more Zerg forces emerged to catch the weakened main army. A single pair of Corrupters gave the Mutas enough staying power to fight with the small Phoenix force Trap had mustered. Protoss contingents were wiped out everywhere, the production's picture-in-picture feature going into overdrive, and the strong core of the Afreeca Player's army disintegrated rapidly with the Mutas mopping up any survivors.
A visibly shaken Trap now had to win the next map to keep his team alive against the underdogs hailing from Canada, choosing Jagannatha and opening with a Glaive-Adept push. The German pulled off an almost flawless defence, merely losing three Drones during the harassment attempts. Trap's follow-up attack with Immortals was greeted at the edge of the Creep by an overwhelming force of Roach-Ravager, leaving him no option but to retreat. Lambo, having tasted blood, geared up for a massive Roach-Ravager-Bane attack against the Protoss player's third base, crushing his army with a pincer movement akin to the one on Blackburn. Tripling the Afreeca ace's army supply after that massacre, the Rebellion's hero crashed against the gates of his opponent like waves during a relentless storm, finally breaking through and forcing the Korean to surrender. The Shopify Rebellion had made it into the quarterfinals!
Rounds 2 & 3: Lü Bu Fights at Tiger Trap Pass and Perishes at White Gate Tower
KaiZi Gaming 6 - 1 Shopify Rebellion
Watch VOD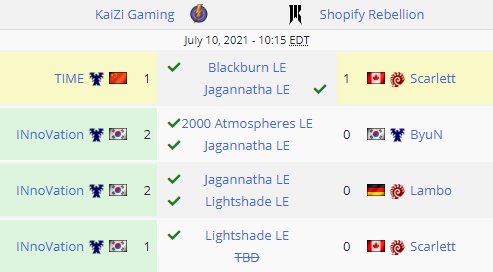 As fans of Shopify Rebellion celebrated their hero, followers of KaiZi Gaming were about to say farewell to one of their own:
KZ.INnoVation
, one of the greatest players of all time and doubly so for team leagues, would fight his last team campaign that weekend. How far, though, would he be able to lead his comrades? Could KaiZi Gaming, the reigning champions, rise to the challenge and mount a successful title defence?
While our eyes were on the Machine,
KZ.TIME
had his own battle to fight: After emerging as the hero of the previous season's dramatic final, he had come back down to earth with a mediocre Regular Season. TIME got a bit of redemption in his first game against Scarlett, grinding down her Roach-Ravager into Lurker-Viper style on Blackburn with some great maneuvering of his Marine-Tank-Ghost composition. However, the Canadian struck back on Jagannatha, making sure to take TIME down with her by fully utilizing devastating Ling-Bane counterattacks and adding Mutalisks into the mix as well, running circles around her opponent.
It was now time for the main event, as INnoVation finally took his position as KaiZi's commander, opposed by ByuN. The pair had played an ace match earlier in the season, where ByuN took a monumental lead over his opponent, but failed to finish him off, allowing Inno to mount an impressive comeback. Things were quite a bit clearer this time around, as INnoVation crushed the Rebel's proxy Reaper-Hellion attack before mounting his own offensive a bit later in the game, which cost his opponent the lives of many SCVs to repel. Desperately trying to catch up, ByuN attempted several pushes into INnoVation's bases, forcing the third to evacuate. This however, came at the price of losing the game, as the KaiZi Terran had used his advantage to gather a Marine force to counter attack while ByuN's army was bogged down in a prolonged siege. Striking ByuN's unprotected third base and forcing a headlong charge into his defensive lines as a response, INnoVation had the first win in the bag. ByuN again applied early pressure with Reapers in the next game, but the Machine held him off with Cyclones—an excellent unit choice, as they were also critical in repelling the Rebel's Banshee follow-up without many losses. INnoVation's own cloaked flyers, in the meantime, rained devastating damage onto Byun's mineral lines, who was forced to surrender from the sheer power of the harassment alone. Once again, ByuN had been unable to deliver the goods for his team. The Rebellion's hero took the field to face KaiZi's champion.
INnoVation brought out a Blue Flame Hellion opener to slow Lambo down, roasting 16 Drones with his attack and getting himself into a very solid economic position in the meantime. Invoking the Machine of old, columns of Marine-Tank forces paraded over the map to wear the German down in a lengthy series of engagements, the Terran troops efficiently destroying swarms of Ling-Bane. Ultras joined the fray at some point, but INnoVation had gathered enough steam—holes in Lambo's impressive defence opened and the KaiZi player used them to land fatal blows. Opting for a Mech build on Lambo's map choice, Hellion aggression once again slowed the Zerg down as Inno began massing his Battlecruiser fleet. The quick Yamato Cannon research enabled his battleships to start the Queen and Corrupter snipes early, further reducing the Zerg's overall ability to defend himself. Being very efficient with his BCs—he lost a single ship in 15 minutes—allowed the Terran to invest into a strong ground army as well, keeping his German opponent busy with several forces at once: Battlecruisers sniped units and teleported away, Hellions infiltrated Drone lines and a growing Tank-Cyclone army took key positions on the map to keep Lambo from expanding or counter attacking. On his way out, the Machine gave a masterclass on 'Meching in 2021'.
INnoVation brought the irresistible power of Mech to Lightshade, hijacking Lambo's map pick.
With all three Shopify players eliminated, the Rebels had to revive someone to mount a comeback—but going 2-0 against both INnoVation and KZ.Solar to equalize the series would be a tall order for anyone. Scarlett's chances to save the Rebellion were deemed best, and Lightshade was once again selected as the battlefield. INnoVation chose a different brand of Mech for this game, with Scarlett at first dealing well with a massive Hellbat attack, but two stray Hellions found their way into a Drone line and roasted it. Trying to bust INnoVation's third with a Roach-Ravager attack, the Canadian stumbled into an already well fortified position and took brutal salvos of tank fire to her face. To make things worse, Inno had unleashed the second part of his Drone killing plan: Cloaked Banshees started to roam the map in combination with the Hellions, killing 32 workers in a coordinated attack. Having to invest Larvae and resources into Drone production did not help Scarlett's prospects in the long term. INnoVation had smelled blood and came to finish the job, bringing down the hammer and ending Shopify Rebellion's impressive maiden run in the WTL.
If you ever wanted to know how the battle of Endor would've gone without Ewoks, here you go.
Team NV 5 - 2 KaiZi Gaming
Watch VOD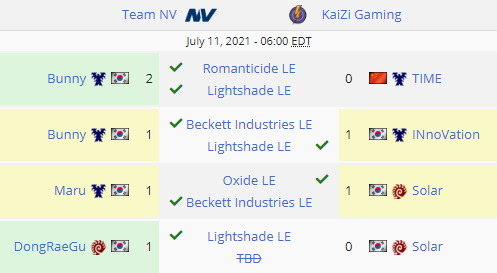 Once upon a time,
NV.Bunny
had been part of KaiZi Gaming, which then sported a triple Terran line-up known as the 'three Lees'. Now, the GSL Code S semi-finalist would deal a critical blow to his former teammates. TIME started for KaiZi again, keeping his Korean counterpart under pressure for a long time by taking control of the map, but ultimately not really achieving much. It was Bunny, who made the decisive moves: 16 Marines managed to massively change the tempo of the game in his own favour, as they ravaged an undefended third base, giving the NV Terran enough breathing space to contest for map control. Several massive showdowns ensued between armies of similar compositions, with Bunny eventually gaining the upper hand. Bunny slowly took down TIME's bases and finally got the typical TvT checkmate by reaching the opponent's production lines. Early skirmishes dominated the second map, with the Korean Terran excelling in these quick paced battles and overwhelming his Chinese opponent after seven minutes. One 'Lee' down, one to go.
In terms of a storybook ending, it would have been fantastic to see INnoVation face his old foe
NV.Maru
at some point during the series. Alas, the killer Bunny had no intention of allowing the legend to go down in a blaze of glory. Facing INnoVation on Beckett Industries, the NV Terran gained a fantastic position toward the north of INnoVation's natural, enabling him to strike at the mineral line and control both choke points between the bases. Unable to break this chokehold even under huge SCV sacrifices, INnoVation had to concede. He would not go down entirely without a fight, at least. Both players were out and about on the map looking for skirmishes in game two, but missed each other and instead found themselves in a base trade scenario after only seven minutes. The Machine had the speed advantage, arriving earlier at Bunny's natural, taking the traitor down with him and securing a victory in the last team match of his career.
INnoVation receives the last 'gg' of his illustrious team league career.
Solar briefly managed to raise KaiZi Gaming's hopes despite the elimination of the Machine, taking a strong macro victory over Maru in a bruising game for both players with plenty of action all around Oxide. Solar's Ling-Bane-Hydra-Lurker force could not always take victory in the large-scale battles with Maru's troops, but was mobile enough to strike at the Terran's weak points while giving away expendable ground at the home front. Having dropped the first map, Maru pulled the Beckett Industries card to take Solar down with him, with Hellions and Marine drops causing critical damage early in the game and Solar subsequently falling apart.
KaiZi Gaming opted to revive Solar—sentiment may have favored INnoVation, but Solar was surely the correct pick at the time—while NV interestingly sent out
NV.DongRaeGu
who had played a middling Regular Season. But Team NV's faith in him proved to be most justified as he overran Solar with a quick Roach attack, fooling the KaiZi ace into producing far too many Drones to hold the attack off. Ultimately, KaiZi Gaming would not defend their title—it would go to Team NV at their first attempt or return to KaiZi's archrivals in Dragon Phoenix Gaming.
Grand Finals: Taming the Dragon

Dragon Phoenix Gaming 3 - 5 Team NV
Watch VOD



Over the course of the Regular Season it became ever more likely that the Grand Finals would be a clash between Dragon Phoenix Gaming and Team NV. Both teams seemed to be a level above the other competitors, and proved it by finishing with the top two seeds.

Starting out with the properly warmed up DRG, Team NV first had to overcome DPG.Zest, the regular season Protoss MVP according to TL.net as well as the organizers. Aiming for a Golden Armada build from the very start, Zest remained in a defensive stance for the initial stretch of the first game. His Zerg opponent attempted a Hydra bust at the third Nexus, but failed to achieve critical damage despite blowing up 21 Probes. Carriers, supported by Void Rays and Disruptors, commanded the skies and mounted a decisive counter attack. DRG had spent his fortune on the push, and was forced to GG out to Zest's superior army. DRG had a trump card up his sleeve on Lightshade, however. Scouting Zest's mass Void Ray opener, he opted for a Muta-Ling composition, which backstabbed the Protoss every time he moved out and mostly kept him in his little corner of the map, contained on three bases. A Carrier transition ran the risk of being overrun, as Queens could always march forward and support the Mutas, and Phoenixes were delayed for a long time, since Zest needed units to deal with the Zerglings. Spending most of the game on pure Void Rays as his army, Zest could neither break out nor really defend all of his assets, and was slowly whittled down by a relentless swarm of DRG's units.

A fresh pair of players took over for them with Regular Season MVP DPG.Cure representing the team in gold, faced by a powerful PvT player in NV.sOs. Game one saw the DPG Terran hide a Starport on the edge of the map to facilitate a surprising Hellion drop, but sOs sniffed out that something was coming. A Shield Battery and Stalkers nearby reduced potentially game ending damage to merely eight Probes, leaving the Protoss in a very solid position for the ensuing game. Fully in the knowledge about his disadvantage, Cure tried to build up tempo by staying on two bases and heavily investing into the army, trying to get a decisive push going. Showing flawless defensive play, sOs held his third and subsequently crushed Cure's army, who prolonged the game by floating his main to the third and keeping his economy alive that way. Dark Templars surprised the Terran, however, and set him back even more. A desperate last ditch attempt to turn the tide failed and sOs scored a big win for Team NV. Unfortunately for sOs, his inconsistent bent reared its head in game two as he forgot about Warp Gate tech at a critical juncture. His Cybernetics Core was sniped before it could finish, making it simple for Cure to once again equalize the series.



Daenerys sOs kind of forgot about the Iron Fleet Warp Gate.



With the series tied up, both teams decided to bring out the heavy guns as DPG.Rogue faced off against NV.Maru in a rematch of the previous Code S finals. The series started off with Rogue going for an early Roach Warren—perhaps a mind-game to remind Maru of the Roach-Ravager armies that crushed him in their GSL match. Whatever the intent, it didn't really matter as the game was decided by Maru's two-prong Hellion runby + Marine drop. The attack did significant early damage, which Maru followed-up on with constant pressure for the rest of the game. Rogue barely survived until he got Mutalisks out on the map, but he was forced to tap out against a superior Terran army shortly after. Maru's quest for vengeance concluded successfully on Jagannatha where he clinched the 2-0 victory. Rogue perhaps over-thought things with his tentative gas-pool opener, ultimately achieving nothing against Maru's rather mundane fast-expand opener. In fact, it set him behind against Maru's follow-up in the form of a fast Hellbat-Marine attack, which easily overran the weak Queen-Zergling defense to force a second GG.

Instead of reviving one of their players, Dragon Phoenix Gaming decided it was time to field the man who had won them two team championships in the past: 'The Final Boss' DPG.Dark. Maru's Hellions and Banshees tried their best to cripple Dark early on in game one, but unlike Rogue, Dark escaped the early game relatively unscathed—even finding the time and space to deal damage back to Maru with a Zergling run-by. Advantages then started to accumulate for Dark: another run-by hit home, a Zergling drop did a bit of damage, a Medivac full of units was shot down. It seemed as if even Maru was struggling to handle both offense and defense with perfect attention. Dark's fourth base finally went down during a Marine-Tank push, but the Terran army, in turn, was routed and crushed by a Ling-Bane-Hydra force. Maru partially fought his way back into the match with two-pronged attacks, but a massive counter-attack into his natural completely blindsided him: Over 30 SCVs died and the Ghost Academy was destroyed, halting all of Maru's momentum. It bought time for Dark to safely complete the transition to Lurkers, which he used to control space while continuing to focus on counter-attacks against Terran expansions. Maru was unable to deal with the mounting damage to his economy, and he surrendered a much-delayed GG after a desperate defensive stand.




Dark blindsides Maru with a counter-attack swinging the game in his favour.



While Dark still needed the 2-0 to extend the series, Maru still had a chance to secure the championship for his team with a 1-1. Naturally, he chose Beckett Industries as his preferred battleground. Dark was quite unwilling to play out a long duel on this unfavourable terrain, gambling everything on an early Ravager attack instead. The assault did kill 17 SCVs, but did not outright cripple Maru's ability to play on. Instead, the Terran turned the tide with a brilliantly executed Marine-Banshee snipe of Dark's third base. The Zerg was confident enough to let the Hatchery finish, believing he could save it with a Transfuse, but Maru's micro had kept a good number of units alive and the base fell despite Dark's efforts. Not much could be done from there—even Dark's power of playing from behind seemingly has limits—and Maru triumphantly finished off Dragon Phoenix Gaming's final champion with a Bio-Tank attack. Team NV had claimed the championship upon the first participation in the WTL!




Team NV celebrate Maru's final victory as they become the champions of WTL 2021 Summer.





Playoffs MVP Award: NV.Maru
Three candidates have a strong claim to be called Most Valuable Player of the Playoffs. Lambo (4-4) crowned an already impressive Regular Season with an awe-inspiring performance to carry the Shopify Rebellion into the quarterfinals. INnoVation (6-1) put an end to Lambo's run and delivered a great performance for both his team and his fans as a goodbye present.

Ultimately, however, Maru's contributions to championship-winning Team NV count for more. He put KaiZi Gaming on match point by going 1-1 with Solar, and delivered the deciding victories against Dragon Phoenix Gaming by totally destroying Rogue, and ruthlessly exploiting the map pick system against Dark, scoring the ultimate win of the tournament and amassing a 4-2 record. All the accolades go to the winner, in this case.




Maru kills Dark's third base in an intense battle, dealing a decisive blow to the Zerg.




Final Remarks & Thanks
The World Team League has continued a proud tradition of team competitions organized by SCBOY, but at the same time successfully initiated a new chapter for the league: Never has competition there been more international, never have the mid-field battles been as exciting to follow. WTL will be back with a new season later this summer or at the beginning of fall with an additional tournament—the format is still pending—being planned for the end of the year, so there's plenty of team competition still to come.

I'd like to take this opportunity to thank the organizers for putting together another amazing edition of the tournament, which has become my favourite by far in recent years, as well as Wardi for providing consistent English coverage of the event and TL.net user digmouse for his relentless efforts in providing us with all the necessary information about the league. Finally, I'd also like to thank all of you for following our coverage over the course of the last months.

---
Credits and acknowledgements
Written by:
TheOneAboveU
Edited by: Wax
Stats: Aligulac.com & Liquipedia
Images: SCBoy