Week 2 Recap
& Best Games
Dark stuns Clem in lower bracket
Week 3 Preview
Every match worthy of a grand final
Brackets and standings on

Liquipedia
VODs on Twitch
Day 1
-
Day 2
Day 3
-
Day 4
Week 2 Review: Dark Threatens a Repeat
by Wax
After two weeks of play in TeamLiquid Starleague 7, only six players remain to contend for the title. It's the most top-heavy roster of players we've seen going into a TSL championship weekend, with every match being worthy of a grand final.
The stand-out match of week two was
Dark's
4-2 upset over
Clem
, with the world's top TvZ player bowing out of the tournament at the end of a thrilling series. While three of the games were rather dull, being decided on the success or failure of early game attacks, the other three bouts were intense macro games played at the pinnacle of the match-up. On the whole, Dark proved to be faster, more precise, and more decisive than Clem—something that seemed impossible after the multiple TvZ beatdowns Clem had administered to Serral and Reynor over the last year..
In retrospect, one could argue that the result wasn't really a surprise. While Dark's short-term form wasn't great heading into TSL7, we should have remembered he was in a similar position when he entered
TSL6
—and he ended up going on a world-beating run to win the entire tournament! Perhaps we shouldn't have doubted Dark's ability to up his game in a key moment.
Click for full bracket on Liquipedia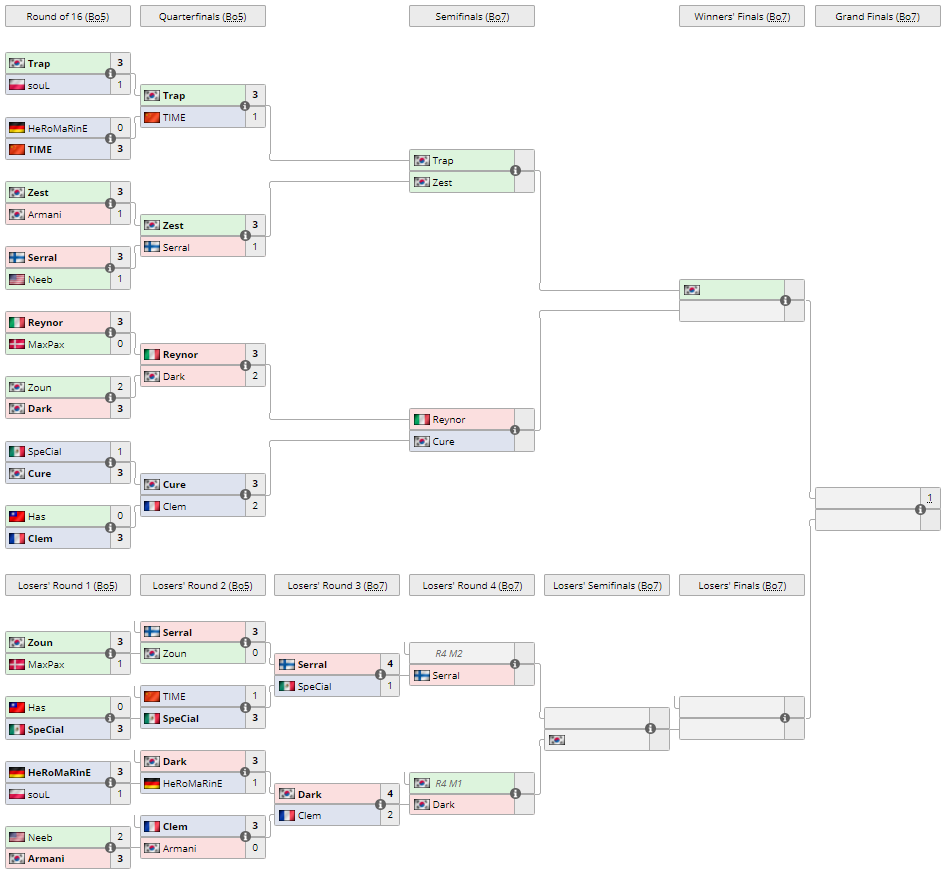 Alas, the earlier upper-bracket matches that led to Dark and Clem's deadly duel weren't quite as exciting. Dark vs
Reynor
featured mostly short and one-sided games, except for a forty-five minute marathon match on Jagannatha which seemed cosmically ordained to prove TLO's
"Not a single match will go over 12 minutes of game time"
prediction wrong. Clem vs
Cure
was also a succession of one-sided matches, with Cure ultimately reaffirming concerns about the French Terran's ability in top-tier TvT matches.
Down in the lower bracket, none of the underdogs (besides Dark, if we count him) were able to disrupt the tournament with an upset.
HeroMarine
and
SpeCial
were at least able to save face by taking a map a piece against Dark and
Serral
, but
Armani
and
Zoun
were brutalized by Clem and Serral.
The six remaining players in the tournament were all ranked within the top seven of our
pre-tournament Power Rank
, which is a good indicator of how 'orderly' this tournament has been. While that's a disappointment to fans who looked forward to a star-making run from an underdog, they'll surely be excited for the string of top-tier matches to come in week three.
Recommended Games
Games of the week: TvZ was sorely missed in week one, but the fan-favorite match-up made a worthy return to the TSL stage with Clem vs Dark (not so much the case with Serral vs Armani and HeroMarine vs Dark). Their brawl on Romanticide is now the front-runner for game of the tournament, featuring the constant action and explosive plays that have made TvZ so beloved.
Dark and Reynor's marathon game on Jagannatha also deserves mention. While the game threatened to turn into an interminable late-game stand-off between lines of Lurkers, Spores, and Vipers (okay, it sort of did devolve into that), the two players stayed active and jostled for position, trying to find small gains in the margins. It's quite the change of pace from the unrelenting carnage of Dark vs Clem, which some fans might appreciate.
God of Predictions: Wardi
This week's
GOD OF PREDICTIONS
is the venerable

Wardi
, whose 7/10 record in predictions gives him a 70% accuracy rate on the week. While the casters were largely of a mind with their predictions, Wardi edged out ZombieGrub and RotterdaM by correctly picking Reynor to beat Dark, and Cure to beat Clem in the two crucial upper bracket matches.
Now, TLO should technically win this award, as he had a higher accuracy rate than Wardi at 75%—a benefit of picking only four matches on Sunday. However, TLO has also gone 0/6 in his True or False contest predictions, and has thus been disqualified from winning GOD OF PREDICTIONS (ironically, TLO predicted Wardi to have 50% or less accuracy).
Once again, there is no reward for winning GOD OF PREDICTIONS, except the smug satisfaction of knowing that you're much, much smarter than your caster peers, and probably smell nicer too.
Week 3 Preview: The Finish Line
As mentioned above, we're left with six elite players contending for the TSL7 championship. It's a line-up so stacked that you'd hardly even miss the absence of Clem, as long as we're getting championship Dark in return.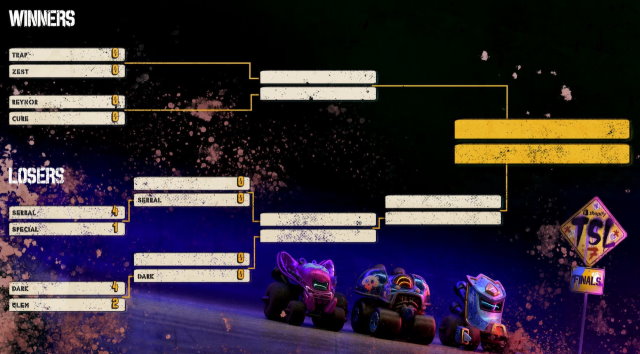 To begin, we should briefly reacquaint ourselves with the Protoss duo who got to take the last week off, due to the somewhat unorthodox scheduling in the earlier rounds.
Trap
, the #1 player in TL.net's pre-tournament power rank, has been proving himself worthy of such praise, reaching the finals of
NeXT Season 1
. In fact, he may even have won the championship by the time you read this article. Trap has already won a mountain of championships in the $20,000~$30,000 prize-pool tier of events, and winning NeXT Season 1 would give him his sixth championship in a little over half a year. There was a time when Trap had trouble against the European Zerg duo of Reynor and Serral, but his 3-1 victory over Serral in NeXT was a reminder that he's long since overcome that weakness. While all the matches between the remaining six contenders should be close, Trap still appears to be the slight favorite to go all the way.
As for
Zest
, things took a turn for the worst since he upset Serral in Week 1 of TSL. He headed into his Code A match against PartinG as a heavy favorite to advance, but instead gave up a 0-3 sweep to a player he had historically used as a punching bag. While one can't read too deeply into the result of a single series in isolation, it does fit in with the big picture view of Zest as a championship-caliber player with consistency issues. Some fans might see this tournament ending up as a repeat of TSL6, with an underrated Dark going berserk and rampaging his way to the championship. But Zest fans will be hoping that it's more like
TSL5
, with Zest following in soO's footsteps and claiming one last championship before military service.
Somehow, reigning IEM World Champion Reynor has become overshadowed in TSL7, but it's not due to any fault of his own. While other players were creating drama and upsets, all Reynor did was beat the players who were put in front of him. In fact, he was the one who beat Dark in the first place, sending him down to face Clem in the losers bracket. Now, with Clem out of the picture, it seems like Reynor has a golden opportunity to win his second major championship of the year. Mind you, it's really only Clem who's had Reynor's number in recent tournaments—against anyone else, Reynor should enter the match on
at least
even terms.
Cure
fans might be filled with a familiar feeling of mixed dread and hope headed into the weekend. It's another chance for the mighty online-Cure to go all the way and finally win a championship!... or it's another chance for him to fall short at the final step. The thing is, for all the praise we lavish upon online-Cure and the amazing games he occasionally plays, he still hasn't
won
anything online. The closest he came was back in
King of Battles 2020
, where he placed runner-up after losing to Maru. More recently, Cure lost 2-3 to Trap in the semifinals of NeXT Season 1—the kind of impressive but ultimately fruitless performance that's become typical of Cure. Can he turn things around in TSL7 and string together the three series wins he needs to get over the hump and win a major title?
Down in the lower bracket we have
Serral
and
Dark
, the 2018 and 2019 WCS Global Champions. Throughout his long career, Dark has shown that while he might go through some small slumps, he always has it in him to return to championship form. It feels like the once-dominant Serral is entering a similar stage of his career, as he's currently going through his longest slump yet. Seven months without a title would hardly constitute a slump for anyone else, but that's just the cost of making world championships his standard. It wouldn't be wrong to say Serral is the weakest player left in the tournament simply going by recent tournament performances—even Cure outperformed him in NeXT. However, Serral could easily turn TSL7 into his 'comeback' stage.
As for Dark, what more needs to be said? No matter what his remaining TSL7 matches are, his path still won't be as difficult as the hellish gauntlet he had to go through in TSL6: Rogue, Reynor, ShoWTimE, Maru, ByuN, and Serral (partly due to TSL6 simply having more players). Of course, just because Dark pulled off a miracle once doesn't mean he can repeat the feat at will. But he'll certainly have the belief—not that he was ever lacking confidence—that he can overcome the odds again, and become the first back-to-back champion in TSL history.
---