World Team League - 2021 Summer Season
by: TheOneAboveU
The competition grows ever fiercer in the WTL, with Week 4 of the Regular Season delivering a whopping three ace matches from every part of the table. At the top of the rankings, Team NV won the showdown against KaiZi Gaming, with Maru winning the ace match to give him team sole control over the #1 spot. Further down the rankings, Team Liquid found itself in its third ace match in a row, grabbing another win over fellow mid-table team Good Game Gaming ( though the Chinese club probably thought this to be quite a good bargain). Towards the bottom of the rankings, Team GP finally showed up and rallied to force Team eXoN into an ace match, though RyunG was ultimately unable to topple ace player SpeCial.
We enter Week 5 of the WTL with the top six teams being within three points of each other, while the remaining teams are not that far behind. With nine teams having a realistic shot at the playoffs, almost every match of WTL feels like it carries real competitive weight.
Shopify Rebellion versus Dragon Phoenix Gaming will be this week's top match—can the Rebels continue their resistance and score another upset, or will the Chinese Empire strike back with fury? The match between KaiZi Gaming and Good Game Gaming should also be put on upset watch—KZ is certainly favored, but maybe, just maybe, GGG can force an ace match for the second week straight. In a key mid-table battle, the team American squads Alpha X and Team eXoN will contend for points that may very well decide their future as playoff contenders.
Meanwhile, Afreeca, Liquid, and NV will try to pick up 'easy' wins, facing the trio of winless teams at the bottom of the table. This is their opportunity to run up the score—as previous seasons of the SCBoy Team League have shown, map differential can have a very big influence on the final rankings.
Catch the WTL 2021 Summer Season on the streams of Wardi and CreightonOlsen every Friday, Saturday and Sunday at 11:00 GMT (+00:00)!
Week 4 Recap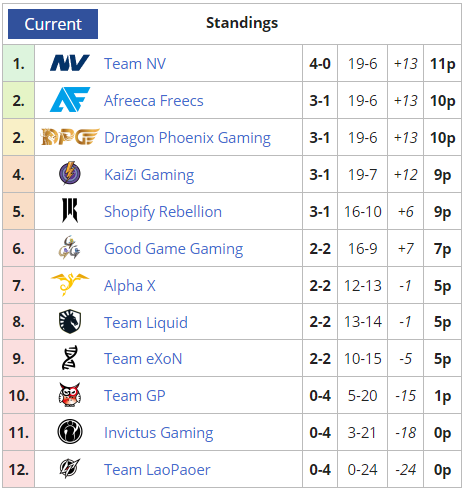 Top 5 teams qualify for the playoffs.
Points are awarded as follows:

3 points for a normal victory in a series that does not require an ace match

2 points for a victory in a series that requires an ace-match

1 point for a loss in a series that requires an ace-match

0 points for a loss in a series that does not require an ace match

Invictus Gaming 1 - 5

Shopify Rebellion
Watch VOD
Invictus Gaming started off strong against Shopify, with
iG.MacSed
showing his defensive qualities in his first PvZ against
Shopify.Lambo
. The game featured a different spin on the typical Roach-Ravager-Queen march employed by the German Zerg, who added Mutalisks into the mix to open a second front during his attack and enhance the economic damage done. While MaxSed did lose a lot of Probes and his fourth base, Lambo was unable to break the Chinese player's defensive position fortified with Void Rays and Disruptors. Using his tech advantage to take several cost effective battles, MacSed slowly whittled his opponent down, who could not find the time and resources to tech up to a Hive-powered swarm, and took a surprising first victory against last week's MVP. Lightshade offered Lambo the opportunity for a more usual attack timing with his Queen-Ravager force, and he equalized the score comfortably.
With MacSed already securing the typical single map for Invictus Gaming, the Chinese team's Terrans were basically doomed to lose.
Shopify.ByuN
wrestled the first game off
iG.XY
—after some mutual early-game aggression that didn't amount to much, ByuN eventually set up a deadly siege at the Chinese player's third base. XY tried to break away with a secondary force and counter attack, but the Korean had sniffed the move out and crushed it under the heels of his reinforcements to end the game. As is often the case in his TvTs, XY actually got ahead with the better strategy in the second game, completely shutting down ByuN's early game attacks and taking the economic lead, but he then failed to capitalize on the gained advantage, leaving the Korean enough room for a comeback. Falling apart against ByuN's relentless drop play and aggression, XY didn't see the Battlecruiser transition coming and had to surrender once they warped behind his lines, his last push getting bogged down in the meantime.
The first game of the final series saw
iG.Coffee
get steamrolled by
Shopify.Scarlett
's Muta-Ling-Bane play after an ineffectual Marine-Hellbat attack in the early stage of the game. Not willing to play ZvT longer than necessary on Beckett Industries, the Canadian Zerg opted for Roach-Ravager aggression on Coffee's map choice, hitting just as he warped his first Battlecruiser into her base to take the decisive win to conclude the series. Ruthlessly crushing a brave band of natives fighting for survival may not be something a Rebellion should do, but in terms of making their way into the playoffs, this was another important result for the Shopify Rebels to bolster their score.

Good Game Gaming 3 - 4

Team Liquid
Watch VOD
For Team Liquid, there do not seem to be any easy series in WTL, and the Dutch team had to compete in another ace match to secure its second victory of the season.
Liquid'uThermal
celebrated a successful debut in the WTL, winning his first game against
GGG.Patience
by crushing the Protoss player's Phoenix build with a Stim push. The second game turned out to be as straight-forward as the first one, but in the other direction: Patience played a clean macro game, and uThermal could not get any critical harassment done or take favorable engagements, leading to the GGG equalizing the score.
Liquid's all-Terran roster continued with
Liquid'Clem
taking on
GGG.Cyan
in a match with clear roles: the young Frenchman as the overpowering star player, and Cyan as the plucky challenger trying to prove himself to be a credible threat. From the beginning, Clem pressured his opponent heavily with an almost never-ending stream of Bio forces attacking the third Nexus, but Cyan did an excellent job defending, even turning the tide at one point and doing severe damage to the Terran economy. The relentless aggression did mean that he had to sacrifice an earlier transition to splash damage, since he needed large amounts of Gateway units and had to keep his Phoenix count up to hold on. He also made a critical positioning error as he chased one of Clem's Medivacs with Widow Mines on board, using his whole army to follow it and thus giving the Terran the space to destroy a base. A domino effect set in from there, Clem taking the first game. Cyan went from a failed proxy Stargate to a quick fourth base on the next map, somehow trying to get an edge over his competitor with surprising greed. Clem didn't give Cyan the time to bring his plan to fruition, and crushed him with a Bio-Tank push while there were only Gateway units on defense.
Just like in the second week against DPG.Cure,
Liquid'Kelazhur
came very close to closing out the series for his team, but once again, he just didn't have that last bit of finishing power to steal a map against
GGG.Dream
. In game one, Kelazhur's strong early push with Liberator support forced the Korean Terran to sacrifice many SCVs in defense, but he was able to turn the situation on its head with the counter attack, destroying Kelazhur's third base. From there, Dream had the better economy and kept the Brazilian in check, slowly winning the game in a war of attrition—understandably, with the series on the line, he did not want to take any unnecessary risks. Game two saw Kelazhur commit to an audacious doom drop in the mid game, ignoring the Turrets that Dream had placed in defense. While this move killed off droves of SCVs that had to be conscripted in defense, it left Dream with a significant army advantage. As in the first game, Dream was able to exact disproportionate revenge with his counter attack, and he eventually won the game to force the ace match.
To nobody's surprise
Clem
was sent out by Liquid—fortunately, he's come of age by now, otherwise his heavy workload might violate some EU labor laws—while GGG went with the more unusual pick of
Patience
. The famously cheesy Protoss did not really have a snipe build in mind, though—he went for the same straight-up approach as against uThermal earlier on in the series, completely stopping Clem's Hellion drop from a proxy Starport in its tracks, and then also warding off the follow-up Marine drop. Still, Clem kept up much better than his older team mate, firing up the macro machinery at home to build up a massive Bio army with Viking and Tank support, which dished out massive amounts of damage and forced Patience into uncomfortable battles with its superior range. Steamrolling over the fourth and third bases, Clem took his second ace match victory of the season. While the ace matches have hurt Liquid's place in the standings compared to the other 2-2 teams, they might consider 8th place a reasonable position considering their difficult slate of opponents so far.

Team LP 0 - 6

Afreeca Freecs
Watch VOD
No surprises awaited us in the first series of Saturday as the Afreeca Freecs had a very good time rolling all over Team LP. Their Zerg player
LP.Wanted
was no match for
AF.Armani
in the early Ling-Bane skirmishes on the first map, taking some losses to his worker count. He tried to get to Mutas, hoping to surprise the Korean, but Armani finished him with a Roach-Ling attack before he could get the flyers out. The Chinese player went for a Nydus attack in the second game—judging by his series against DPG.Rogue, this seems like a personal favourite of his—but didn't get much done, so he transitioned into Mutas. Armani did the same, but had the better economy behind the switch, ending the game with his larger Mutalisk flock.
Another match between unequal opponents followed,
AF.Stats
taking the first map against
LP.JoliwaLoves
with Warp Prism play by dropping off Sentries and Stalkers in his opponent's main and blocking the ramp, snowballing to a victory from there. A simple Blink Stalker attack did the trick in the second game, the LP player's army being totally out of position when Stats' force arrived at his natural expansion.
The Freecs did not feel generous enough that day to donate a map to charity, with
AF.TY
delivering a solid performance against the Chinese team's strongest member
LP.JieShi
to secure a clean 6-0. The Protoss aimed for a quick Charge attack with Warp Prism support, but the Terran threw a wrench—well, technically a few Widow Mines and Marines—between those plans and hit with an early attack of his own. Easily holding off JieShi's now weakened attack, TY finished the game with a Bio-Tank push. A Hellion drop had a similar effect in the second game, giving TY an early edge from which he could snowball to victory in relative comfort, overrunning JieShi's Psi Storm build.

Dragon Phoenix Gaming 4 - 2

Alpha X
Watch VOD
With disadvantageous line-ups working against them, Alpha X had a steep hill to climb in Dragon Phoenix Gaming.
DPG.Dark
started his team off with a win against
αX.RagnaroK
, coming back from an early destruction of his third base at the hands of his adversary with a massive Ling-Bane attack, which straight-up forced RagnaroK to surrender. The Alpha X Zerg got his revenge on the second map, expanding to the rich mineral base on Blackburn and holding off Dark's Ling-Bane onslaught long enough to earn the benefits. It was a close call, however, as his entire Drone population at the gold base came within a single hit of utter devastation. The DPG player made one last attempt with a Roach army, but RagnaroK had the better production and the shorter reinforcement route, equalizing the series.
So far, so good for the Golden Dragons, but their toughest match was yet to come:
DPG.Zest
had never dropped a series to
αX.Nice
and that wasn't about to change. The Taiwanese player tried a siege with Void Rays and Shield Batteries on the first map, but was soundly defeated by a Gateway force before the siege ring could be closed up. Nice attempted to gain an advantage in the second game with Adept aggression, but Zest left no opening in his defenses and deflected the attacks easily, returning the favor with counters of his own. The game ended abruptly when Nice lost his Warp Prism loaded up with two Immortals to a squad of Stalkers Zest had wisely stationed out on the map to intercept the retreating transport.
This left
αX.Zoun
in the unenviable position of having to win both maps against
DPG.Rogue
to force an ace match. The Protoss got some work done with his initial Stargate harassment, but Rogue simply kept up expanding, claiming the rich expansion as his fourth and following it up with a quick fifth, swarming the Alpha X player with Ling-Queen-Roach on the ground, while also being rich enough to put a sizeable Muta-Corrupter force into the air. While he did not take the most efficient engagements, Rogue was so wealthy that he could afford to throw units into the meat-grinder as long as he kept destroying Zoun's critical air units. Whenever the Protoss tried to break through the onslaught, more units would show up and keep him in check, eventually overrunning him while Rogue already prepared the Lurker transition. Zoun did secure an important map win in the second game, keeping the Golden Dragons ahead of Liquid. Applying early pressure with Cannons and then putting in a lot of work with his Oracles, the Protoss kept Rogue's economy in check this time, surviving a Roach-Ravager attack by getting Immortals out in time. The Zerg had one last trick up his sleeve, trying to turn the tide with Swarm Hosts, but the Protoss had assembled a robo army of such power that neither Locusts nor Lurkers could halt it anymore.

Team GP 3 - 4

Team eXoN
Watch VOD
Goodbye '6-0 Saturday' and hello 'ace match Sunday'! Team GP turned their fortunes around after a bad start against Team eXoN, earning their first point of the season and throwing a wrench into their foe's playoff ambitions. Danish Protoss
eXoN.MaxPax
used a similar strategy against
GP.NaTuRal
as he already showed against
GGG.Dream
in the previous week, going for DTs with an Archon drop follow-up. The blue energy balls and a handful of Gateway units caused devastating damage against the Terran army and economy, but a massive blunder cost MaxPax his entire army as he tried to destroy NaTuRal's third base, running into Tank fire and a huge Bio force. Zealots and DTs ravaging the Terran's outer expansions a bit later saved him from an embarrassing throw, but once again his youthful over-aggression reared its head. The second game was a pretty straightforward affair, MaxPax doing his
namesake opener
and then winning a macro game against his Korean foe.
Things got spicy when
GP.Ryung
took the field against
eXoN.SpeCial
and quickly secured the first map with a proxy two Barracks Reaper rush, following this up with a proxy Barracks Marauder rush with Concussive Shells, which also killed the Mexican Terran outright. The Korean old school Terran really seems to flourish in the WTL, locking down his second 2-0 victory over clear favorites.
GP.Prince
followed the lead of his chief, executing a successful proxy Stargate strategy with his Oracles doing massive damage to
eXoN.Gerald
's economy, giving him the edge he needed to finish the game with a Stalker attack. The second map developed into a pretty standard macro game, Gerald gaining a big advantage with DT harassment and then profiting from Prince missing a strong attack timing with a greatly superior army in terms of numbers. When the Korean finally moved, the Polish player had more than enough to hold with Disruptors in production. Outplayed in macro and army composition, Prince had to concede and let Gerald force the ace match.
The decisive game turned out to be a rematch between
Ryung
and
SpeCial
, with Juanito getting his revenge when it most mattered. Once again, early game shenanigans ensued, but this time SpeCial participated in the chaos, his unopposed Banshee raining havoc upon Ryung's workers. The GP Terran, meanwhile, devastated SpeCial's SCV count with big Hellion-Marauder attack. The eXoN player got the better of the exchange, forcing his opponent into a desperate attack with Hellions and Tanks, which he soundly defeated to secure the series for his team.

KaiZi Gaming 3 - 4

Team NV
Watch VOD
The top match of the week fulfilled expectations, with Team NV narrowly managing to defend its #1 in the league during the ace match, dropping a point for the first time this season. As expected, things started quite rosy for KaiZi Gaming with
KZ.Solar
meeting
NV.Creator
and crushing his Glaive attack build in the first game, holding the initial push and then countering with an overwhelming Roach-Ravager force. The Protoss found better footing in the next game, doing good work with Adepts and Void Rays, but evidently it was not quite enough to slow Solar down, who pressed on with his planned Roach-Ravager-Queen attack and sent wave after wave of units over to the enemy's bases, pushing on relentlessly and wearing Creator down, who simply could not put a stop to the onslaught and had to surrender.
Unfortunately for the Chinese team,
KZ.TIME
couldn't steal at least one map from NV's star player
NV.Maru
, already starting terribly into the first map by getting five of his SCVs killed by two Reapers and then having his first Medivac destroyed without getting his units into the Korean's main base. Maru put him out of his misery soon enough, pressuring his main base from the low ground and eventually pushing into the natural to take the first game. On the second map, TIME tried to hit Maru with a push around the six minute-mark, but the Korean was completely prepared and overcame the attackers, albeit narrowly. The NV Terran countered a bit later, gaining a strong foothold on the high ground near TIME's third base on Blackburn, from whence he was able to rain down deadly artillery barrages. Forced to pull his SCV's, TIME's economy was annihilated without even clearing Maru's position, and he conceded his second GG.
The day's highlight match between
KZ.INnoVation
and
NV.DongRaeGu
followed with the Zerg putting on an excellent show on the first map, taking on the Machine in a straight-up macro game. Defending the Terran aggression very well—including the interception of a big drop, which might have given INnoVation flashbacks to a certain GSL finals game on Daybreak—DRG got into a strong Ling-Bane-Hydra-Lurker-Viper composition and started to attack relentlessly. His great manoeuvring stood out especially in this match, using Nydus Networks to get Lurkers into INno's production or simply pull his army this or that direction by threatening to unleash the swarm somewhere the Terran did not want it to be, only to attack somewhere different entirely. A great showing by the Zerg, who eventually forced the KaiZi player to surrender in a series of great battles, using the army advantage gained by stopping the enemy's production for a time. Beckett offered a more straightforward match, with INno being the aggressor and hitting a strong Marine-Tank-Hellion timing before DRG's Muta-Ling-Bane swarm could become fully operational, leading to an ace match between the two top-ranked teams.
Surprisingly, it was not to be a TvT between the Machine and
Maru
, but a ZvT with
Solar
taking the part of KaiZi's ace. Predictably (but apparently not to Solar), Maru went for a proxy two Barracks rush with both structures going up despite several Drones harassing the SCVs in a disgusting display of great Barracks position, SCV micro (or rather, frantic clicking to bug them into the right construction spot) and pure luck. Solar survived the rush, but not without taking as many losses as Maru needed to gain value out of the whole endeavor. Hellions roasted some more Drones for good measure a bit later, with a Marine-Tank push giving the Zerg the coup de grace.
Weekly MVP: NV.Maru
Contributing nine of Team NV's total 19 wins up to this point without dropping a single map,

Maru
has played the perfect WTL season so far—holding up his fierce reputation as one of the strongest team league players of all time, which he earned back in Proleague. The Korean Terran had to work an extra shift this week, not only defeating KZ.TIME 2-0 to get NV back into the series, but also securing the ace match in dominating fashion against KZ.Solar. When you're as good as Maru, those are expected results, but that doesn't make them less impressive.
This week's honourable mentions go out to
Liquid'Clem
, truly the workhorse of the Liquid stable, and to
GP.Ryung
, who has scored a majority of his team's map wins all by himself up to this point and whose ruthless aggression led Team GP to its first point gain this week—a huge step towards not ending up at the bottom of the barrel.
Weekly MVPs

Week 4: NV.Maru

Week 3: Shopify.Lambo

Week 2: Liquid`Clem

Week 1: NV.Creator
Week 5 Preview
Friday, Apr 23 11:00am GMT (GMT+00:00) Matches

Invictus Gaming vs.

Afreeca Freecs


XY
< Blackburn >


Stats


MacSed
< Oxide >


Trap


Coffee
< Jagannatha >


Armani
Ace:
< Romanticide >
As in previous seasons, Invictus Gaming have reliably managed to take at least one map off their opponents, no matter how outgunned they may be. However, the line-ups don't exactly look promising for them against the Afreeca Freecs: None of the Chinese players has ever won a map against their Korean opponents and the match-ups aren't too good for them either in terms of recent forms.
AF.Armani
hasn't looked too hot
in ZvT
recently, but
iG.Coffee
own form suggests he'll be hard pressed to take advantage of this. With even Afreeca's weakest player on paper being heavily favored, iG might have to give up a clean 0-6 sweep.
Prediction:
Invictus Gaming 0-
6 Afreeca Freecs

Team NV vs.

Team GP


Percival
< Blackburn >


NaTuRal


sOs
< Oxide >


Ryung


DongRaeGu
< Jagannatha >


Prince
Ace:
< Romanticide >
Pulling
NV.Maru
for the first time this season, Team NV seem to be confident that they don't need their ace player to defeat the 10th place Team GP.
NV.Percival
has gigantic shoes to fill as Maru's Terran replacement, but he did manage to win 2-0 over Jieshi in his last appearance in Week 2. In contrast, Percival's opponent
GP.NaTuRal
, has yet to make a positive impact for his team, putting up a 0-4 record so far. Surprisingly, the two Koreans have
never met
in an official match, so it's hard to say how their styles and preferred strategies mash up against each other. The conservative estimate here is definitely a map-split scenario, though Percival has certainly been the more impressive of the two Terrans and might be regarded as the favorite.
Making one of his rare appearances outside of the big money competitions,
NV.sOs
for
historical reasons
must be favored in the bout with
GP.Ryung
, against whom he sits on a commanding personal record between them. It should be considered, though, that you can count the number of sOs' PvTs of the last two months on one hand: a 3-0 over Percival, a 1-2 against INnoVation, and 1-3's against both ByuN and Dream. Ryung with all his experience supposedly falls somewhere between Percival and the other three and the GP Terran has shown extremely deadly strategies against αX.Zoun previously in this season. With sOs being the enigma he is, every result is possible in this one.
The prevalent ZvP meta seems not exactly to
NV.DongRaeGu
's liking, looking at his
recent performances
in the match-up, which include losses to Billowy, ViViD and Creator—hardly the top echelon of the Protoss faction. Belonging to a similar class of players,
GP.Prince
might be clashing with the legendary Zerg at exactly the most opportune time to steal away a map. It's still not likely, as DRG has proven
very resilient
against Prince's tricks in the past. With these pairings there is a slim, but very real, chance of an upset in the form of an ace match being forced, but there should be at least one 2-0 for NV to prevent that from happening. Still, it feels like they are taking an unnecessary risk in this series and if GP are going to get a really shocking win this season it might happen in this series.
Prediction: Team NV 4
-2 Team GP
Saturday, Apr 24 11:00am GMT (GMT+00:00) Matches

Team Liquid vs.

Team LP


uThermal
< Blackburn >


JoliwaLoves


MaNa
< Oxide >


JieShi


Clem
< Jagannatha >


Alka
Ace:
< Romanticide >
After a series of tough contests that went to ace matches, Team Liquid finally have a chance to pick up some 'easy' points against Team LP. Poor Team LP, which is in for another week of pain and suffering. Is there a realistic chance for the Chinese team to make this not a 0-6 loss? Maybe
LP.JieShi
as his team's strongest player can make things happen against
Liquid'MaNa
, but the Polish Protoss is extremely solid in the mirror match-up and shouldn't really fall for anything out of the ordinary all too easily. Bluntly put, any map win missed in this series is a big loss for Liquid's playoff ambitions, so while this might look like a relaxed stroll in the park on a sunny Saturday to take some candy off of a baby, there are some stakes here, because the Dutch team really needs that map score to rise drastically.
Prediction: Team Liquid 6
-0 Team LP

Alpha X vs.

Team eXoN


RagnaroK
< Blackburn >


SpeCial


Zoun
< Oxide >


Gerald


Astrea
< Jagannatha >


MaxPax
Ace:
< Romanticide >
The duel between the two American organizations could be a make-or-break event. So far, it's been exceedingly easy to take wins off the bottom-ranked teams, and equally difficult to steal any points off the top teams in the WTL. Thus, matches against fellow mid-tier teams are likely to decide these two teams' fates.
The Golden Dragons have drawn a solid first match for themselves in
αX.RagnaroK
versus
eXoN.SpeCial
. Though his ZvT hasn't been extraordinarily great as of recent, the RagnaroK commands a strong
personal lead
over the Mexican, suggesting his style being quite effective against what SpeCial likes to do. Additionally, the eXoN Terran has really not been impressive whatsoever so far in the WTL, while RagnaroK has a history of putting in great effort to help his team's chances.
The first PvP pairing of the series could lead to quite an exciting series, as both
αX.Zoun
and
eXoN.Gerald
have
very solid records
in the match-up to show for themselves. The Korean faces opponents of higher quality more often, so his numbers in comparison should be regarded as even more valuable. On top of that, Gerald has now played two mirror series in WTL, giving the talented preparation staff at Alpha X some studying material with possible attack angles for Zoun, who's won the last series against the Polish Protoss—though that was merely a Bo1. While Gerald absolutely has the potential to outright win or at least steal a map here, Zoun looks like the favorite.
This series really has some great games in store for fans of the Protoss mirror, as
αX.Astrea
and
eXoN.MaxPax
will clash in the third match. While the young Dane leads the
personal stats
between the two, the American actually has won more maps in 2021 with a draw in series, so this should be a very even showdown between two strong PvP players, who both can tap into a wide variety of playstyles from reckless and tricky aggression to clean macro games. MaxPax has shown himself drawn towards the aggressor role so far in any series he played in the WTL, so it'll be Astrea's decision if he wants to focus on defense or steal the initiative from his opponent with his own aggressive tactics. Depending on how the series has gone so far, pressure might also be a factor, as one team's hopes and ambitions for the entire season could well hinge on the results of this PvP. In this case, Astrea's experience will be a huge boon for the Golden Dragons.
Prediction: Alpha X 4
-2 Team eXoN
Sunday, Apr 25 11:00am GMT (GMT+00:00) Matches

Good Game Gaming vs.

KaiZi Gaming


Cyan
< Blackburn >


TIME


Dream
< Oxide >


INnoVation


Patience
< Jagannatha >


Solar
Ace:
< Romanticide >
Good Game Gaming are in for a rough week as they clash with one of the juggernauts of the league in KaiZi Gaming. The triple G's have done alright so far, making the best of the easy start they got into the season by facing the two weakest teams first, but they now stand at 2-2 after facing tougher opposition. That record is likely to get worse after their match with KaiZi, with the best result probably being to force an ace match and lock in another point to stay ahead of their pursuers. It's tough to be optimistic with the line-ups being as they are, however. Though
GGG.Cyan
has been one of the very few Chinese players to be able to even touch
KZ.TIME
in domestic competition, the Protoss hasn't really been able to do this reliably, remaining confronted by
terrible odds
.
GGG.Dream
comes fresh from a great TvT triumph in GSL Code S over
KZ.INnoVation
's old team mate NV.Bunny, which secured him advancement into the semis of the Korean tournament. While this bodes well for his overall ability in the mirror match-up as well as his confidence, it also forced him to show the real thing off on the big stage for everyone else to see—Dream likely didn't withhold some superior strategy from his all-important GSL match just so he could beat the Machine in WTL. 'Lü Bu' himself has been rather resilient in the mirror so far this season, in addition to taking home a
4-1
victory over Dream back in February. INnoVation should be able to secure at least one point here, leaving KaiZi in a good position.
To describe
KZ.Solar
's relationship towards
GGG.Patience
as
'dominating'
almost fails to do it justice: for the last victory the Protoss has been able to achieve over the Zerg, you'd have to go back to January 2020, which may not sound so bad since a lot of players don't meet as often, but with 16 series played since then—Solar emerging triumphant in all of them—that's not an argument to be made. Solar has great ZvP, he knows Patience like the insides of his pocket and he'll be the clear favorite to secure a win for KaiZi Gaming here.
Prediction:
Good Game Gaming 1-
5 KaiZi Gaming

Shopify Rebellion vs.

Dragon Phoenix Gaming


Scarlett
< Blackburn >


Cure


ByuN
< Oxide >


Zest


Lambo
< Jagannatha >


Dark
Ace:
< Romanticide >
The Rebellion has won some outstanding victories operating from their hidden base on the ice planet of Ottawa, successfully challenging some of the titans of the WTL so far. The Dragon Phoenix Gaming line-up certainly makes them look like a villainous Galactic Empire in comparison, right up to them being led by a Dark master. In reality, both teams are funded by SC2-loving billionaires, so maybe we shouldn't Force too many Star Wars references.
To the games:
Shopify.Scarlett
has drawn a pretty bad lot for herself, as over the course of her entire career she has been
unable
to ever win a series against
DPG.Cure
. Her strong ZvT record (12-2) of recent times listed on Aligulac is also very misleading, as it was achieved against vastly inferior competition and comes mostly from Scarlett farming the early rounds of ESL Open Cups on the American server. It's going to be a tough ask for Scarlett
Five
to
bullseye the thermal exhaust port
steal a map here, raising the pressure on her teammates to make up for that.
In 2021,
Shopify.ByuN
and
DPG.Zest
have
faced off
in eight battles so far, and are tied with a 4-4 record. The Protoss leads the map score 14 to 11, always taking at least one map in a series against the Terran with a single exception. If you still need reasons to tune in, both opponents also command fantastic match-up forms at the moment, the DPG player shining especially bright with a win rate of almost 70% in PvT. Zest will be entering this bout as the slight favorite to take both maps, but realistically one would expect a map-split scenario between these two giants of the game. Zest has so far gone 6-0 in WTL, while ByuN always seems to run into trouble, merely amassing a 5-4 score up to this point (though this shows his consistency in taking a map every week).
Having already vanquished KZ.Solar with a clean 2-0 win,
Shopify.Lambo
continues his ZvZ crusade against the Korean scene with a campaign against
DPG.Dark
, though the former world champion has been regarded as being in a class of his own when it comes to mirror match-up playstyles. The German has had a lot to say about Dark in the past, usually in a manner of begrudging respect, as he always seems amazed by how the Korean can pull off his wins while making decisions that fly in the face of European military doctrine. Well, the time of reckoning has come: Can Lambo mark another target off his list by bringing the superior strategy package, or will Dark's consistently strong ZvZ withstand the German's assault? The
numbers
favour the Korean, but this WTL season so far has certainly shown that underestimating this Rebel is a sure way to lose some points.
Prediction:
Shopify Rebellion 2-
4 Dragon Phoenix Gaming
---
Credits and acknowledgements
Written by:
TheOneAboveU
Editor: Wax
Stats: Aligulac.com & Liquipedia
Images: SCBoy