The Good, Bad, and the Ridiculous of Proleague
Edition 2: Jin Air, Questionable Decisions and Inclement Weather
by Mizenhauer
The first edition of
The Good, the Bad, and Ridiculous of Proleague
focused primarily on traditional KeSPA teams, with Jin Air (formerly Team 8) and Samsung getting a lot of run.
Jin Air features heavily this time as well, but we'll also be taking a look at the Proleague escapades and misadventures one of those poor, poor eSF teams, as well as a couple of players from CJ Entus.
StarTale Forfeits a Match Due to Snow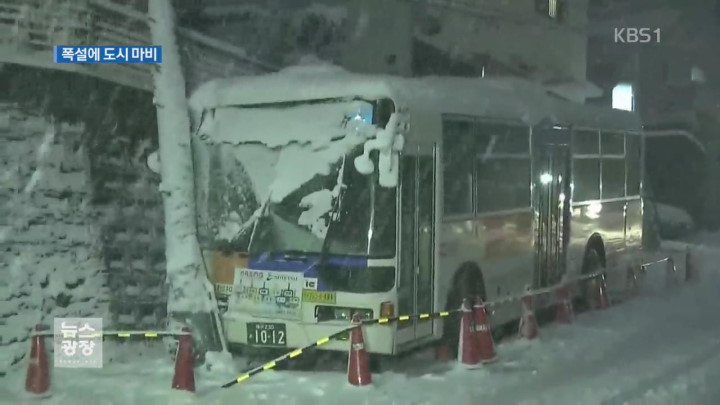 Not the actual team bus but let's just pretend it is.
When KeSPA defeated the
e-Sports Federation (eSF)
to complete its conquest of Korean StarCraft II, it made the intriguing move of inviting some of the surviving eSF teams back into the fold for the 2014 Proleague season. The decision was more pragmatic than magnanimous—old KeSPA teams like Woongjin, STX, and Air Force Ace had left the fold, and the Proleague line-up needed some depth.
Incredible Miracle had the shortest stay in this new world order, disbanding and exiting the league after just one season in 2014 (ironically, IM founder Hirai is now the head coach of KT Rolster in League of Legends). PRIME was an unmitigated disaster, finishing last place in two seasons before disbanding when its head coach was to be found
inducing players to fix matches
. Only MVP lasted a full three seasons until the end of Proleague, going from second-last to last place after PRIME's departure.
Finally, there was StarTale, which had perhaps the most curious evolution of the four assimilated eSF teams. Unlike the previous three teams, StarTale made its move to Proleague belatedly, replacing IM for the 2015 season. The team put forth a really impressive performance in the
opening round
, going 5-2 and reaching the playoffs thanks strong play from Life and Leenock. While they still were long shots to make a deep run in the playoffs, it was an encouraging start to Proleague for the old eSF giant.
Whatever good vibes had been floating around StarTale were put on ice on February 9, 2015. Scheduled to play against Jin Air in the opening match of the Round 1 Playoffs, StarTale's coaches must have felt a little wary as they departed the team house amid a rare Seoul snowstorm. Thankfully, the team wasn't a direct victim of some tragic accident (unless someone [i]really had to go to the bathroom)—they just got stuck inside of a tunnel due to a traffic accident further down the road. Startale was unable to arrive at the mandated time, and was
forced to forfeit the match and give Jin Air a 4-0 walkover win.
While that might seem like a freak, one-off incident for Startale, it was actually the first in a series of
really
unfortunate events for the snake-bitten team. Ace player Life immediately bounced for KT Rolster, and if you were wondering why, it probably had to do something with the fact that the team played Round 2 of Proleague with the phrase "We Need A Sponsor" on its uniforms (they posted a 0-7 record despite taking part in four ace matches). It seemed like StarTale was saved prior to Round 3, when it was acquired by SBENU—a shoe company owned by Brood War enthusiast Sonic. But even that lifeline was cut off when it was revealed that
SBENU was basically a scam running on funny money
.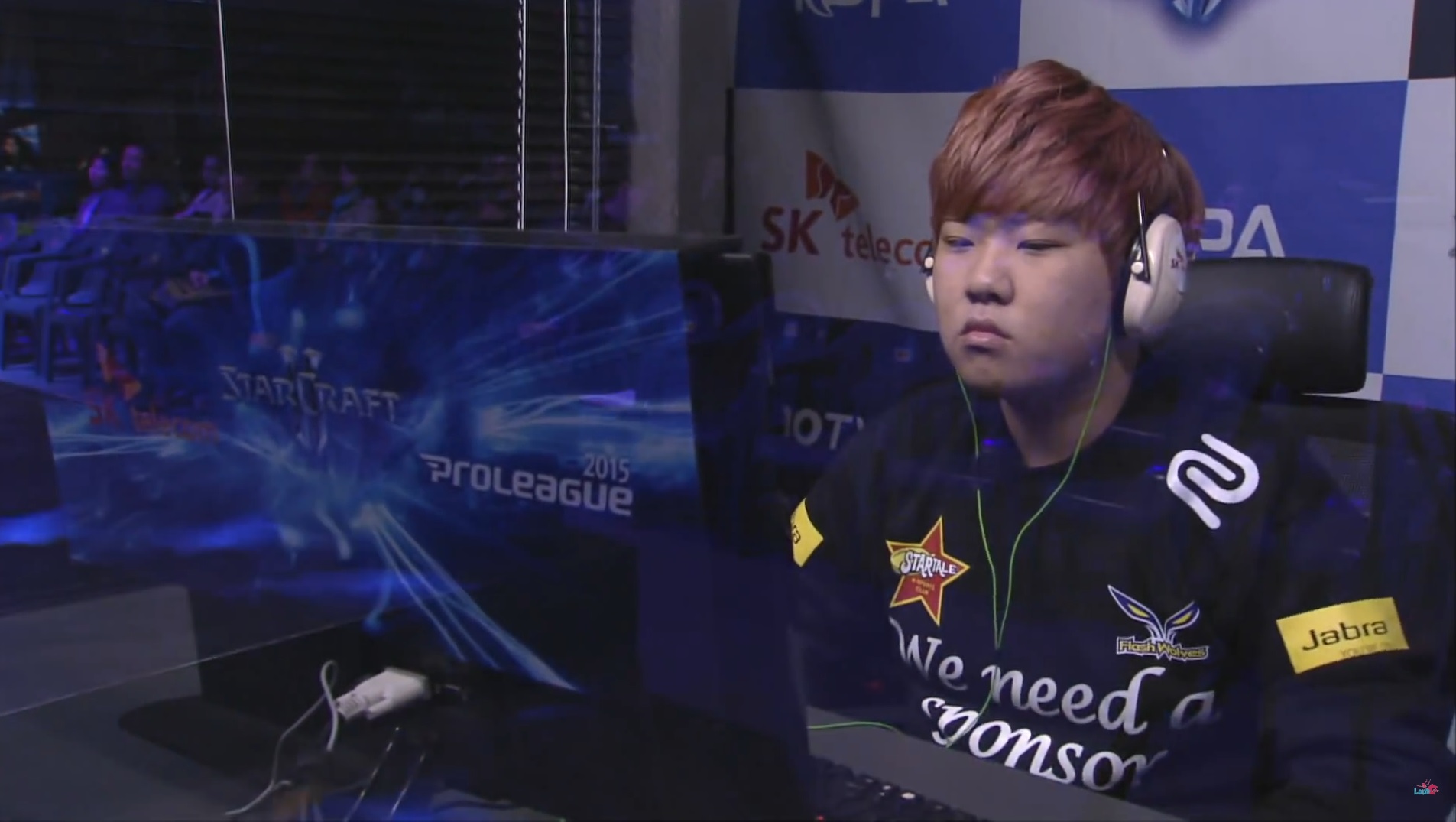 Leenock debuts perhaps the saddest uniform in StarCraft II history
By the time 2016 rolled around, the team seemed like it finally had solid financial backing, being acquired by AfreecaTV and becoming the the Afreeca Freecs. They even reacquired their old ace Life in the off-season!.... who was arrested for match-fixing before he could even play a single match.
Yet, the 2016 Freecs still managed to be the most successful incarnation of StarTale since the
days of the GSTL
, scraping and clawing their way through three rounds and ultimately earning a spot in the season-end playoffs.
It's hard to say a blizzard started a sequence of events that brought a once-great StarCraft II team to ruin (Blizzard, on the other hand...). However, one can't help but wonder how things just
might
have played out differently if the roads had been clear on that fateful day. What if Startale pulled off the upset? What if they rode that momentum all the way to the Round 1 title? What if that brought Startale some much-needed prestige and attention, and they never had to wear those god-forsaken pauper's jerseys?
What if the players' hotel at IEM Katowice didn't have a casino right next to it.
One has to think things would have gone at least a
little
bit better.
Still, when compared to Prime's corruption, Incredible Miracle's transience, and MVP's irrelevance, StarTale's wayward Proleague journey remains the most successful of all the eSF teams. Just because you don't have the budget to compete with telecom and airline companies, doesn't mean you can't leave your mark on history in the strangest of ways.
Alterzim Stronghold: Bad 1v1 Map, Even Worse 2v2 Map
Back in the days of Brood War, 2v2 was a standard part of Proleague from 2004 to 2008. While it was a well-intended effort to bring some 'team play' to what was ostensibly a team competition, it didn't really work out. Double-Zerg was so so overpowered that same-race teams were banned outright, but teams would still go Zerg/Random to try and luck out that winning hand. 2v2's ended up being reserved for the weaker players on the roster—remember how BW fans used to mock SC2 fans that their 'creator of the universe' Nestea/Zergbong had been a dedicated 2v2 player in his BW days? 2v2 was so much of an afterthought that Proleague couldn't even do proper quality control on maps, with the map
DMZ
being hastily decommissioned after SCV-rushing became the dominant meta-strategy. Ultimately, 2v2's were phased out of Proleague in
2009
, and it soon became clear that nothing of great value had been lost.
Still, that didn't stop some madman at KeSPA from reviving 2v2 for the
Preseason of 2014 Proleague
. With the matches being exhibitions, it was the best time to try out such experiments and see if competitive 2v2 would work any better in StarCraft II.
But, instead of doing their research and playing games on a 2v2 ladder map or recruiting Clan Crux (creators of the Proleague exclusive Caldeum and ladder juggernaut Whirlwind) any number of mappers to create something especially for the occasion, Proleague decreed 2v2s would be played on
Alterzim Stronghold
.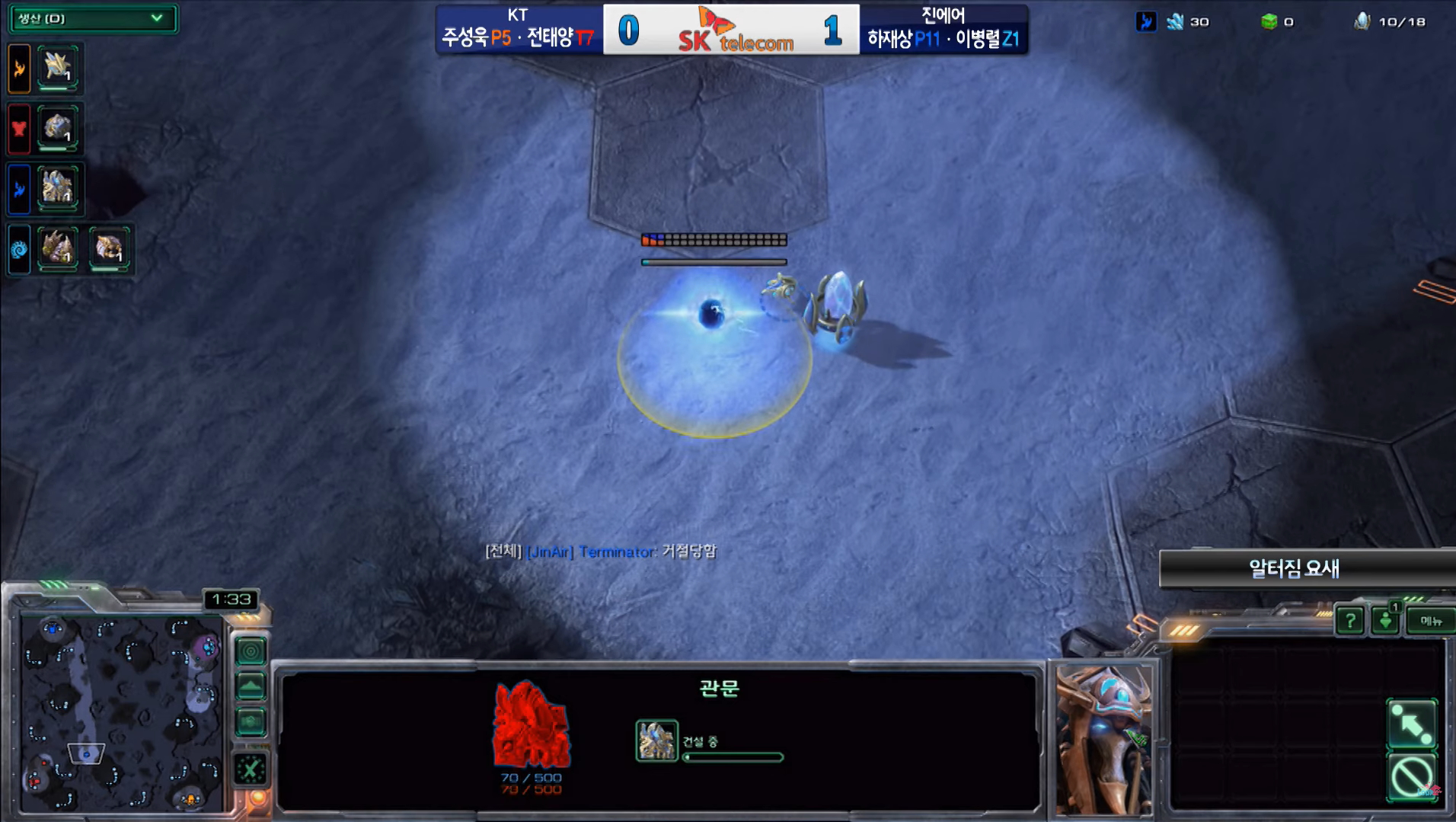 So, I'll spawn top left, you'll spawn 32 seconds away to the right, and I'll proxy this gateway as far away as possible so neither of us can protect it
―Terminator's pregame plan
To refresh your memory,
Alterzim Stronghold
was a four player 1v1 map, and the largest map in the 1v1 ladder pool at the time. It could never be confused with a balanced map (Terran's 62% win rate against Zerg on the map is pretty much the gold standard for imbalance), but it was an even more transcendentally wretched for 2v2 games. Friendly players spawned in the corners of the map, giving them no viable means of assisting their teammates when an attack inevitably arrived at their doorstep. While this was standard for 2v2 maps in Brood War, it went against the fundamental core of balance and map-design philosophy in StarCraft II team play. Combined with the fact that the participants didn't take the games too seriously, it meant nearly every game was some sort of obnoxious all-in.
Thankfully, the experiment didn't outlive the preseason. Two weeks after EffOrt and Bbyong
played a 17 minute game
that realistically ended at the seven minute mark when Rogue (we'll get to this in a minute) had his base destroyed by a combined attack in which Rogue's teammate Terminator played no part (as he was too busy building units in his main base),
Round 1 of 2014 Proleague
began sans 2v2. And, in a final act of mercy for exposing the fans to such miserable games, Proleague also retired Alterzim Stronghold in 1v1, giving us a bit of closure on one of the most poorly conceived experiments in Proleague history.
[As long as we're talking about 2v2, let me get on my non-Proleague soapbox here: As a frequent player of team games on ladder, and a three time judge of the TLTMC, I've long lamented on the blight that is mech/air and the various heinous compositions plaguing 2's,3's and 4's. It's simply impossible to sustain a healthy meta when the game is balanced around 1v1 and, despite a number of smaller 2v2 tournaments in recent times, 2v2 remains too problematic for premier competitive play.]
Maru: Killing Your Hype Since 2016
To those of you who are still hoping for an Serral vs Maru dream-match: be careful what you wish for.
There's nothing quite like an ace match, where the two best players from each squad go head-to-head in a winner take all duel. But while every ace match has a certain gravitas, some carry a particularly heavy burden of hype with them. You know, the kinds of ace matches that aren't just the conclusion to a single Proleague series, but the culmination to weeks of speculation and hype about who the best player in StarCraft II is.
In
Round 2 of the 2015 Proleague seasno
, CJ Entus and Jin Air had steamrolled their way through the competition with each team posting 6-1 records. Such excellence certainly wasn't
shocking
, but the manner in which CJ and Jin Air had upended the established Telecom dominance felt like a seismic shift of power. For CJ,

ByuL
and his emergence as the best Zerg in Korea gave them a legitimate third star alongside herO and Bbyong. Jin Air, meanwhile, had gotten a flawless 5-0 performance out of Rogue in round two, giving them their own Cerberus composed of the Sexy Boy,

Maru
and sOs.
It was only fitting then that the two upstart teams would face off when the rubber met the road. CJ booked their ticket straight to the finals with a superior map score differential during the round robin, but Jin Air wasted no time in joining them, dismantling KT Rolster 4-2 in the semifinals after Maru crushed Zest, Life and Stats in succession.
The opening match of the finals was a horrifyingly one sided affair. At the 11 minute mark Cure had already lost two SCVs, one reaper, one marauder and 19 marines while herO had yet to suffer a casualty. It took another eight or so minutes for CJ to take a 1-0 lead, but the writing had been on the wall from the very start.
Needing an answer, Jin Air sent out Rogue to dispatch CJ's ace. He did just that (as he would so many times in 2015), with a proxy hatchery placed just beyond the backdoor rocks on Expedition Lost. From there he added two more scalps to his tally, dispatching Bbyong and sKyHigh to put the score at 3-1.
Facing elimination, CJ predictably sent out ByuL who, while still a few months away from his first of three final appearances in Code S and SSL in 2015, firmly ranked among Korea's best. Rogue had a deserved reputation as a ZvZ sniper, but ByuL simply outmuscled him, coming out on top of a prolonged roach vs roach duel. Jin Air turned to Trap, but ByuL swatted him down as well, with the staunch defense of his gold base playing a huge part in taking the duel on Vaani.
And, so, the match came down to game seven. ByuL, seemingly unstoppable, against Maru, perhaps the best player in the world, only a month removed from winning the
inaugural season of SSL
.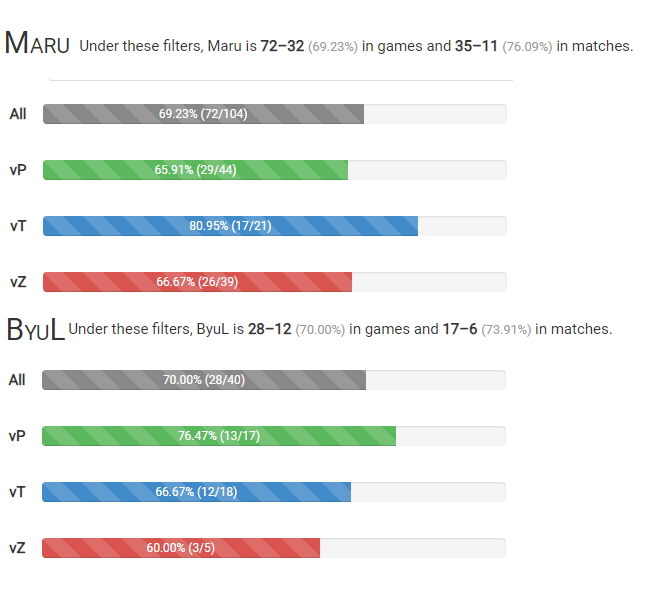 Maru and ByuL had been as good as gets over the first four plus months of 2015
However, we didn't get the clash of the titans, the dream-match, the knock-down, scrappy, frenetic duel of the fates that the moment demanded. Instead, we got perhaps the most anticlimactic ace match in Proleague.
The game started as so many ZvTs did in that era, with Maru opening hellions, aiming to do some damage before transitioning to Mech, while ByuL opted for a quick lair. That lair, however, wasn't for quick roach speed to aid in the hellion defense, or perhaps for a rapid ramp into hive tech and vipers. It was for a spire, a spire which Maru had zero awareness of until he scanned ByuL's main. Moments later eight mutalisks, having been produced seemingly ages earlier, arrived in his natural. Maru pulled his SCVs and began construction of an engineering bay, but all hope of victory had already slipped away. A parade of roaches crossed the map to deal the finishing blow as Maru cowered in his main base behind the safety of a turret. All that stood between the Zerg horde and victory was a single thor and, once that went down, the GG followed. After less than 12 minutes it was over. ByuL had won and CJ were the champions.
It was a glorious moment for CJ Entus. But, even as CJ players and their faithful fans celebrated, fans, both Jin Air-aligned and neutral parties alike, were left shaking their heads, asking themselves how a game stacked with talent, a game that had all the trapping of an all time epic, had wound up being so terribly bad.
Leave TvP Mech to the Pros, Unless it's Bbyong

Bbyong
is a name that has pretty much disappeared from the StarCraft II lexicon after being banned due to match-fixing. Like many of the non-superstar players to be banned, there just hasn't been much reason to talk about him or mention him ever since. There was a time, however, when Bbyong, though not a championship quality player, was one of the best Terrans in Korea. Back in 2014 he was one of three to take part in the
First Season of Code S in 2014
, and the only Terran other than Maru to advance past the Round of 32. He was one of the few bright spots for the race in Terran's darkest period, also qualifying for the
Second Season
alongside Maru, INnoVation and SuperNova. Though that time he failed to advance past the opening round, with Dark defeating him twice on the season's opening day.
While Bbyong never achieved any notably high finishes individual leagues, he played a vital role for CJ Entus in the 2014 Proleague, notching 20 wins for his team, the sixth most in the league behind Maru, herO, sOs, Flash and Rain. As CJ's second best player he began the proud tradition of being the other guy who would have to grab a win so herO could close things out in the ace match (ByuL would inevitably inherit this burden). He did all this without the endless parade pushes of INnoVation, or the breathtaking micro of Maru. Bbyong was a little quirkier and his 65% win rate, which made him one of the most reliable players in the league, and an essential part of the team, was the product of some very strange encounters.
Buried within his 31 appearances that year was perhaps the most peculiar of them all, a trio of games against Classic, PartinG and Rain during the
year end playoffs
. At the time, the playoffs series were a BIG best of three held over several days, with the first and third match-days following the traditional Proleague format while the second day followed the all-kill rule set. Facing off against SK Telecom and its triumvirate of Protoss giants, Classic, PartinG and Rain, CJ assigned Bbyong what I like to call "
Outboxer
Duty" as the map was a notorious stomping ground for Protosses, and they could be fairly certain what race Bbyong would be going up against. With that knowledge in hand, Bbyong and his coaches went into the lab to devise a strategy which would help them overcome the trio of champions. In a real sliding doors moment for the 2014 playoffs, they decided that instead of playing the strategy d'jour (go bio and die to blink stalkers), BByong was going to go mech.
The plan worked to a
T
in the first match. Bbyong took the island base in the lower left corner of the map while doing a bit of harassment with some marines. The mild pressure was enough to convince

Classic
that Bbyong wasn't up to anything out of the ordinary, and after a raven killed Classic's observer hovering just outside his main base, Bbyong safely dropped his second and third factories. Completely unaware of Bbyong's shenanigans, Classic went on his merry way, assembling a standard Protoss composition very much aimed to combat bio. It predictably failed to break Bbyong's siege tank laden defenses and, since Classic kept losing large swathes of workers to hellbat drops every time he moved out, he had no choice but to tap out in humiliation.
The rest of the day went exactly as planned. Thanks in part to Bbyong's win, CJ reached the ace match where herO defeated soO, putting CJ in a commanding 1-0 lead heading into day 2.
Take Two
The score wouldn't stay in CJ's favor for long though. Down 2-1 in the second match of the best of three, with

PartinG
threatening an all-kill, CJ sent Bbyong out on Outboxer once again. To everyone's surprise he did pretty much the exact same thing he had done the day before. This time, however, PartinG didn't give Bbyong the room to fortify his third and amass a healthy tank count. Relentless stalker pressure kept Bbyong on the back foot and, after a series of incisive blinks, gave PartinG his third victory of the day. Hydra would derail his run, but Rain picked up the slack for SKT in game six, tying the series at 1-1.
And, so, with a spot in the finals coming down to a third decisive match, CJ and SKT submitted their lineups. To the surprise of no one, Bbyong was once more assigned to play on Outboxer. SKT, clearly anticipating such a move, didn't give Bbyong another chance to bamboozle Classic or get revenge on PartinG. Instead they sent out their workhorse, the ever reliable Rain, to take care of the industrious Terran.
He couldn't possibly be dumb enough to try this again...Could he?
If there ever was a Protoss you didn't want to go mech against it was

Rain
, but Bbyong had, at this point, tied his fate to the strategy. He started things off with a tank push that Rain calmly deflected before taking BOTH island bases. Rain, totally nonplussed, started making carriers the second he established himself on three bases. Bbyong tried for a series of hellion run bys to limit Rain's income, but as a wise man once said, making carriers is a useful talent toi have (just don't take that wise man's advice on automobile maintenance). Rain expanded all over the map and chipped away at Bbyongs bases while building an ungodly powerful army full of carriers and tempests. Bbyong fought best he could, but he never built a large enough viking count to threaten the golden armada and Rain took the game without breaking a sweat. Down 3-1, CJ pushed SKT to an ace match, but Rain would not be stopped as he defeated herO in the ace match, catapulting SKT to the finals and sending CJ back to the team house to ruminate on their 2014 campaign.
More than a half decade has passed, but one can still safely rank Bbyong's three day TvP mech excursion as one of the strangest obsessions in Proleague history. Despite being one of only four Terrans in Proleague who played against Protoss more than 15 times in 2014 while winning more than they lost, Bbyong stubbornly doubled, then tripled down on what was more of a "Proleague sniper build" (this is being rather generous) than a viable strategy for combating Protoss during the Blink era. Shockingly, once his opponents were wise to the gimmick, the whole plan went up in smoke. Maybe, after the series was over, Classic felt some relief about being such a blockhead in that initial match. If he had not, would Bbyong have set himself up for two such predictable failures afterward?
That time Rogue changed his ID to "CliMax"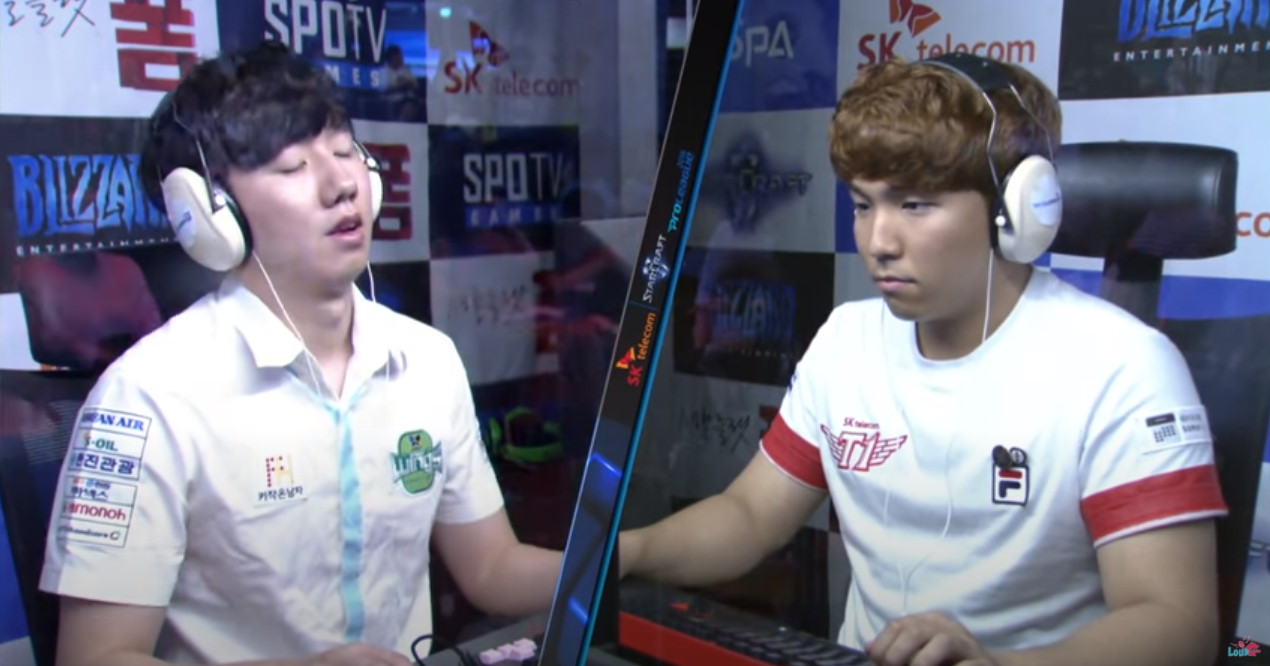 What's in a name? Shakespeare, in his classic Romeo and Juliet, told us that a rose by any other name would smell as sweet. It's a virtuous and enviable stance—a name can't actually alter the intrinsic quality of an entity. It's why while our parents pick ours names at birth, we're not disrespecting them by picking a new moniker in video games such as StarCraft II.
However, Ol' Billy Shakes wasn't thinking about how a name changes the
perception
of an object. And there's the rub: for all his literary ability, he couldn't anticipate just how bad the ID's in StarCraft II would be.
Some pros, like soO, go with variations of their name. DongReaGu took inspiration from his childhood neighborhood. Nestea selected his based on the soft drink sitting on his desk when he made his account. Bbyong is just a Korean onomatopoeia, like "boop" or "boink" in English. There's a million and one way to select an ID, and it's that very variety that causes problems.
One player who has had his fair share of identity changes is

Rogue
. Though his current ID was suggested by TRUE back when they were teammates on Jin Air, Rogue had to undertake a journey before adopting his now familiar moniker.
He went by the name Ryul2 in Brood War (taking a page out of the soO book), but changed that to Saber (according to Liquipedia), before ultimately settling on Savage by the time KeSPA made the jump to StarCraft II. Savage wasn't the best name, but in a world where people went by VINES (apparently pronounced as Finesse?), Luvsic, asd and Pet, Savage was pretty middle of the pack. It was hardly interesting, offensive or inspiring—it perfectly fit the type of player Rogue was at the time (a not very good one).
So, it was in the
Preseason of Proleague 2014
that Rogue decided to switch things up. Shedding the moniker of Savage, he opted for what has to be one of the worst IDs in StarCraft history, CliMax. Gamer capitalization and all, CliMax would have been your 13 year old Call of Duty player's wet dream if you bracketed it in
X
's and threw in the sex number or the weed number.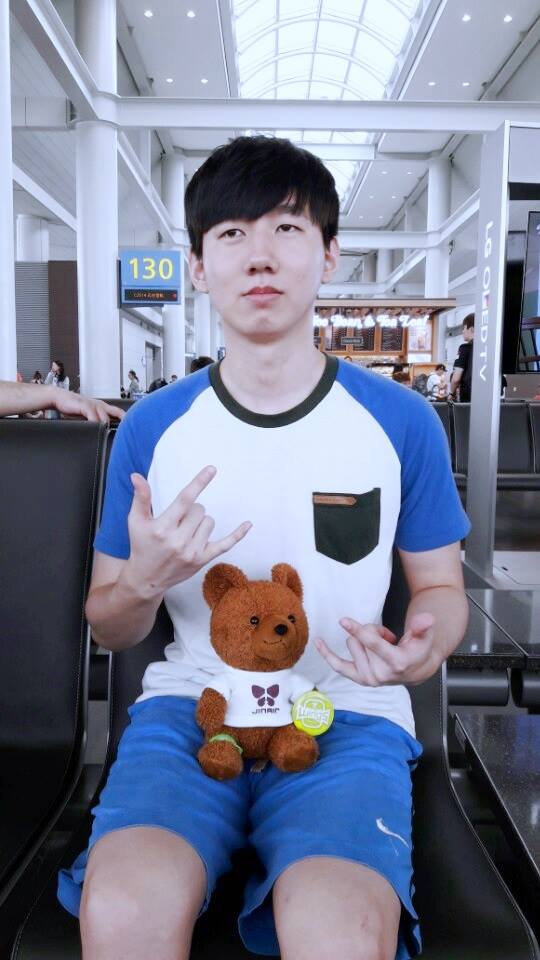 Of course THIS GUY would think CliMax was a good name. (Photo: Jin Air Facebook)
Rogue played three matches under this name, all 2v2s alongside Terminator, but only managed a 1-2 record. Whether out of shame or superstition, he quickly changed his name again ahead of Round 1, finally adopting the title by which we have come to know Lee Byeong Yeol—Rogue.
While Rogue's three day stretch as CliMax was about as unmemorable as you can get, what with him not playing in any individual events during the period and Proleague's brief run of 2v2 games being practically forgotten (until now!), it's worth acknowledging just how terrible of an ID it was. Rogue, who would go on to become one of the best players in StarCraft II history, a WCS and IEM World Champion, as well as a two time Code S champion, certainly put William Shakespeare to the test. It's a habit he never quite kicked, as he dubbed himself Sexy Boy in 2015 and insinuated there might be an even better title for him after winning Code S in 2019.
Ultimately, no matter what you decide to call Rogue, his penchant for strange names is a cautionary tale. Sometimes it is better to listen to your elders—just because we
can
choose our own names, doesn't mean we always should.
---