Gold Series Team Championship: 2020 Spring Season
by TheOneAboveU
It was a busy week for the GTC teams, having to fit
another
important team leagues into their schedule. While regular season play in the Gold Series Team Championship continued, the other big Chinese team competition,
NeXT Spring 2020
reached its conclusion with
DPG and KaiZi colliding in the finals
.
Will the GTC also end in a predictable finals between the two power teams led by Dark and INnoVation? Perhaps, with GTC's underdog-favoring format, we'll see the title race play out different from NeXT.
Week 5 Recap
With Dragon Phoenix Gaming on break, the other teams had a chance to shine and catch up. With favorites KaiZi Gaming, Alpha X, Brave Star Gaming, and Team LP all prevailing, we have a tentative top 5 marked out to claim playoff spots. But with four weeks of play ahead of us, upsets may yet happen, and there could be plenty of movement in the middle of the table.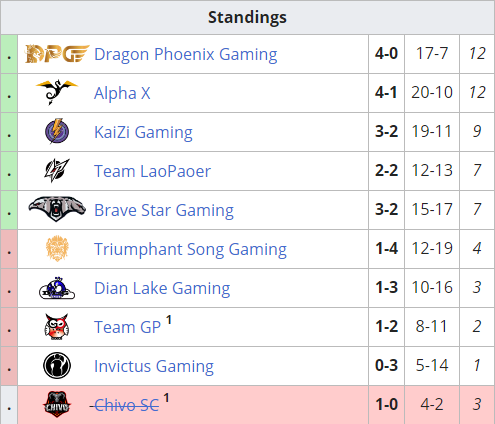 Points are awarded as follows:

3 points for a 'normal' victory in a series that does not require an ace match

2 points for a victory in a series that requires an ace-match

1 point for a loss in a series that requires an ace-match

0 points for a loss in a series that does not require an ace match
Triumphant Song Gaming 2 - 4 Brave Star Gaming
Watch VOD
The series between TSG and BSG did not surprise in terms of its final result: the post-TY TSG squad continued its transformation into an unofficial league punching bag. At least the individual matches offered some interesting twists, with two of the Chinese making upsets happen against stronger opponents.
Unfortunately for TSG,
TSG.Star
was
not
one of the players to achieve such an upset, despite his desperate effort. He opened with a proxy 2-Rax build on Zen, but
BSG.Dream
was ready for that and while defending easily at home with only the loss of some Supply Depots. Dream's own proxy Starport did economical damage in the form of a Liberator and then a follow-up Hellion drop. Having suffered all that harassment, Star did not get the economic advantage his earlier CC was supposed to give him, and had to concede the game after failing to break out of Dream's subsequent containment. On the next map, Dream managed to get an early lead out of his double Reaper opener, killing six SCV's and from there snowballing the advantage to a slow, clean win. That's yet another 2-0 for Dream, whose 10-1 record puts him comfortably atop of the win rankings.
Dream 2-0'ing Star was expected. But in the second match, things got a bit crazier.
BSG.Scarlett
won her first map playing for BSG, taking out
TSG.Cloudy
with Swarm Host pressure. But then, in the second game, Cloudy took a point back for his team. His quick Dark Templars hit just the right spot at the right time to catch Scarlett off-guard—she had an Overseer ready, but moved it to the wrong position at exactly the wrong time. Killing Scarlett's third, Cloudy kept up the pressure with his Archon drop and built up his own power base in the meantime. Mutalisks presented a way for Scarlett to get back into the game, but Cloudy held off the harassment well. Eventually, he set out for a two-pronged attack against Scarlett's bases, exterminating 30 Drones, while Scarlett could only disassemble 13 Probes. Knowing her army could never match up to Cloudy's ball of Archons, Immortals, and Chargelots, Scarlett had to GG out and concede the 1-1 tie.
With Cloudy having achieved all you could reasonably expect from him, TSG's powerhouse
TSG.Solar
had the opportunity to force the ace match and secure a much-needed victory for his team. Unfortunately, Solar's reliability just isn't what it was in the previous seasons. A huge underdog on paper,
BSG.Cyan
hit a nice Glaive-Adept timing in game one, catching Solar before Roaches had hatched. However, Cyan missed his chance to do crippling Drone damage, instead fighting Queens before being chased off by Roaches. Still, he kept the pressure up after the initial attack, leaving without Solar much breathing room, while he built up his own economy and tech at home. Both players tried to find holes in each other's defenses, but didn't get all too much done. When it almost seemed like Cyan had waited too long to move out and try to kill Solar, he finally marched out and hit the perfect timing, with his Colossus-based army rolling over Solar partly due to Cyan's great Colossus control. The map win sealed the overall victory for BSG, and one imagines it must have been especially sweet for Cyan. His 0-8 record definitely did not tell the full story about his performances so far, so it must have felt vindicating for his first map win to be a series-deciding victory.
Solar did recover a map for TSG, at least, tying his series with Cyan 1-1 with Roach-Ravager. Still, he must have felt as disappointment as Cyan felt gleeful: he squandered an opportunity to be the hero for his team.
KaiZi Gaming 4 - 2 Team GP
Watch VOD
This was another comfortable victory for KaiZi Gaming in the end, though the Korean duo of Bomber and Super sold their lives dearly to salvage two maps for GP. The two ex-military men kept things competitive against Dear and INnoVation—if they can keep that form up, Team GP will definitely be in the playoff race.
KaiZi's quick recruitment of
KZ.TIME
from the disbanded Newbee squad is paying dividends. The top Chinese player was a disappointment for Newbee in the CTC, but now he's starting to look like the unfair advantage everyone expected him to be in a Chinese-quota league. TIME easily deflected
GP.GogojOey
's Roach aggression on the first map, following with a ruthless Marine-Cyclone-Medivac counter-attack to seal the game. Joey tried another aggressive strategy on Golden Wall in the form of a Nydus rush, but TIME was well-prepared and defended easily to lock in the 2-0.
TIME's Korean team mates had a bit more trouble this week.
KZ.Dear
gifted
GP.Bomber
a perfect start in their first match, going for a Speedprism-Colossus drop but losing both to a defensive Widow Mine. Somehow, Bomber squandered the advantage of getting away with a greedy 3 CC opener by losing two full Medivacs to Dear's Stalkers and refusing to build Vikings to counter Colossi. The game ended with Dear winning an elimination race, as he was able to camp Bomber's production facilities while scrapping together an adequate defense on his side of the map. Bomber tied up the series in game two, showing that Golden Wall is effectively his home turf. Playing a 3 CC opener again, Bomber moved out with a bio force to keep Dear busy early on, but was easily deflected. Most of the units survived, though, and hid themselves at Dear's third base location, coming back for a crippling backdoor attack once Dear's army left his base. On the other side of the map, Dear and Bomber fought a drawn-out engagement in the midst of Bomber's southern natural base, which after heavy struggle the Terran was able to win. On three bases versus two, Bomber had secured the upper hand and forced Dear into a desperate attack. Bomber held it off, taking the game the 1-1 tie.
With the score at 3-1,
GP.Super
still had the chance to turn things around for his team if he could take a miraculous 2-0 against
KZ.INnoVation
. Unfortunately, the dream remained a dream, with INnoVation opening up the first map with proxy-Starport Banshees that netted 15 Probe kills. INnoVation's follow-up ground attack was indecisive and sloppy, but he came out ahead anyway and sealed the win for KaiZi. Perhaps, judging his work to be done, INnoVation continued his streak of giving up 1-1's in GTC. Super scouted Inno's proxy Barracks in game two, delaying it for a long time by killing the SCV building it. Despite a relatively good recovery from the early setback, INnoVation still felt he needed to pull the boys for an all-in attack. He got up Bunkers at Super's natural, but the Protoss held on by a thread, utilizing his third base to set up several flanking attacks on the Terran position. While he couldn't finish Inno off, his merciless Blink attacks reset INnoVation's tank count again and again, so that his last desperate attempt to win the game was deflected after a tense bit of fighting, once more at Super's natural. A very exciting last game to end the day!
Alpha X 5 - 1 SYF
Watch VOD
The second match-day of the week also didn't offer any surprises—in fact, the matches were much more one-sided than on the first day. SYF, despite having good odds to put up a solid resistance, seem to have depleted the fighting spirit they had in the first weeks. Alpha-X, on the other hand, continued to show that they're more than just plucky underdogs, tying DPG for a league-best map score differential of +10.
Seemingly inspired by KZ.INnoVation,
SYF.DynaMite
tried the Proxy 1-Rax build against
αX.Zoun
, but what failed for Inno also failed for DynaMite: Zoun scouted it immediately, forcing a hasty cancel and awkward transition to Cyclone-based mech for DynaMite. However, Zoun had all the tools he needed to counter that, using his superior economy to go for Phoenix-Colossus. With his air superiority giving almost total map control, Zoun just built on his advantage, identified a kill-timing, and pulled the trigger. Golden Wall saw a similar composition from Zoun, but a more standard build from DynaMite. The SYF Terran tried to be active with drops, but couldn't get much done and ended up throwing away too many units. Once again, Zoun knew when the time was right to end things. With four Colossi against two Vikings, he just ran DynaMite over to take the 2-0.
The duel between housemates
αX.Astrea
and
SYF.SortOf
began with a pretty hard shutdown by Astrea, as he perfectly countered SortOf's early Roach attack. Astrea went for a Stargate build, using his Oracles to kill ten Drones and then intercept the Roaches on the map, taking absolutely no damage from SortOf's gambit. Forced into a follow-up all-in, the SortOf tried to push with Roach-Ravager-Queen, but was crushed by Astrea's superior forces. Game two looked a bit like TSG.Cloudy vs. BSG-Scarlett on Nightshade—except SortOf actually had proper detection and held off Astrea's DT's. Still, Astrea's macro proved too much for Swede, who simply seemed a bit outmatched on this day. Having his fourth base killed off by a Protoss attack, SortOf tried to throw several waves of Roach-Ravager against Astrea's defenses in response. Astrea managed to survive, cinching the quick 4-0 for Alpha X.
At least
SYF.EF
was able to secure a point for SYF and added some dignity to the loss, critically damaging
αX.BreakingGG
with an early Pool on the first map, and then finishing him off with an overwhelming number of Roaches. BKGG kept his 50% win rate intact, though, coming back on the second map by fending off EF's Nydus aggression. His counterattacks made sure that EF couldn't seize any advantage through his offensive moves, keeping BKGG only a slightly better economy, which enabled him to pay EF back for game one, breaking his resistance with massive numbers of Roach-Ravager.
Invictus Gaming 1 - 5 Team LP
Watch VOD
Unfortunately for Invictus Gaming, they did not get the first series win they were hoping for. On the other hand, it was exactly the kind of victory Team LP needed to stay in the playoff mix.
iG.Coffee
managed to tie
LP.Impact
the last time they faced in the CTC, but this time around Impact toko the 2-0. Impact played a very solid Ling-Baneling-Mutalisk game on the first map, shutting down all of Coffee's aggression and stifling his map presence entirely to take a win. Game two ended after only a few moments, as Impact scouted Coffee's two Proxy-Rax and killed the SCVs, leading Coffee to call it quits immediately.
LP.Patience
also had a pretty solid day against
iG.MacSed
, showcasing a more passive and defensive playstyle than we're used to seeing from him. In game one, a nice Stalker maneuver from Patience de-powered most of MacSed's buildings, after which Patience recalled the Stalkers to safety. Patience just built-up a big, Colossus-based army after that, stomping MacSed in the final engagement. MacSed was the one getting cheeky with Stalker tactics in game two, but Patience kept the damage manageable while building up a Disruptor-based army. Big Disruptor hit gave Patience the victory in the deciding fight, confirming the second 4-0 victory of the night.
The final consolation match between
iG.Jim
and
LP.Jieshi
began with a rather even game one, with both players defending each other's harassment attempts very well. Jim made the strange choice of cutting Probe production at a certain point point, trying to force a decision with a larger army, but he delayed his attack for too long, allowing Jieshi to get enough army together to hold him off easily. Once again, the losing team salvaged a map to preserve their dignity. Jim failed to get anything done with his proxied Oracles in game two, but Jieshi got just a bit too greedy, or simply underestimated Jim's will to attack again and again. With two waves of Blink Stalker attacks, Jim was able to get a consolation point on the board.
Weekly MVP Award: BSG.Cyan
This week's MVP award goes to Chinese Protoss player

Cyan
for securing Brave Star Gaming's victory over Triumphant Song Gaming against none other than heavy favorite TSG.Solar! He finally grabbed a deserved win after so many good performances in losses. He really made his first win count, giving his team a victory against a likely playoff rival.
An honorable mention goes to
KZ.TIME
for looking like the most consistent player on KaiZi, with his 2-0 victory against Team GP securing the win when his Korean teammates under-performed.
Week 5 Preview
Newly crowned NeXT champions DPG return to the GTC after a week's break. Their roster alone made them look like favorites to win the GTC, and now they have a result to back it up. Still, their championship run in NeXT was anything but easy, with KaiZi gaming sending them down to the losers bracket at one point. After seeing the presumptive favorites toil in their NeXT championship run, perhaps the other GTC teams will have feel better about their chances going forward.
I spy with my little eye, a series that might actually be winnable for Triumphant Song Gaming! A surprise to be sure, after the thrashing they got in the last weeks of play. But with the match-ups they got, they look like they are in a good position to at least force ace match, if not outright secure victory. And any of these alternatives is better than going home with 0 points again.
Even though
TSG.Solar
is not the reliable ace of seasons past, there should be no doubt about him being favored to beat
GP.Bomber
. While the old-school Terran does still possess impressive macro abilities from the past, his unrefined micro hasn't aged well in the present day. Brute force pushes are often enough his playstyle of choice, but it's not something modern Zerg players are likely to lose to. Solar himself doesn't command the greatest ZvT in the lands, but most of his losses come from beasts like DPG.Cure and KZ.INnoVation, who most Zerg players are expected to lose to. on the other hand, Bomber as yet can't really compete with top-class Zerg opponents. There is a chance he'll be able to force the map split, in what would amount to a huge win for GP, but Solar should by all accounts take the 2-0.
This next match-up is certainly an interesting toss-up, as
TSG.Cloudy
takes on
GP.GogojOey
. The Zerg player has shown as a variety of playstyles so far, more often than not of the aggressive kind, but we've also seen some solid macro play from him. Cloudy has visibly gotten more secure in his play since his comeback, and his surprising map win against BSG.Scarlett last week looked very solid from his side, as he made all the correct decisions after his initial Dark Templar attack. Daily form is going to make up a huge part of this result, because I think these two players are pretty much as fifty-fifty against each other on paper as it gets. I can see a 2-0 from either side, or most likely a 1-1, because one of them could totally crumble under all-ins from the other side, and both can take macro games from each other. This is probably going to be the deciding pairing of the series.
TSG.Star
is definitely not getting any easy matches, having to go up against the opposing team's ace player in
GP.Super
after two weeks of difficult TvT clashes with superior players. And while he may have potential, he is not ready to take on an experienced player like Super in a match where he's likely to decide the final outcome for TSG. Super split maps with KZ.INnoVation last week, who is actually in tremendous form right now, despite his mediocre GTC record. INnoVation beat other good Terrans like KZ.TIME and BSG.Dream recently as well—he is the clear and overwhelming favorite.
So, we could very well get an ace match here if all the games go chalk (which they don't always do, otherwise this would be a rather dry sport to follow). For TSG, any choice other than Solar as ace would be foolish. But if GP know this, and they know the map as well, then they can definitely plan for this scenario. Sure, Solar should beat both Bomber and Super in a BO3. But after SYF.DynaMite proxy-raxed Solar in a week 1 ace match, we should be well-aware that anything can happen in a BO1 ace match.
Prediction: Triumphant Song Gaming 4
-3 Team GP
It looks like KaiZi Gaming have heavily bought into the #TerranPatch memes, bringing out their fearsome triple Terran line-up against SYF. It sure looks destructive, and the new patch hasn't even hit.
KZ.TIME
has proven himself to be an invaluable asset to KaiZi, delivering two solid 2-0 victories in the last two weeks. It definitely looks like he will be able to add another such win to his record against
SYF.SortOf
, who didn't look quite on-point last week. With all the
recent numbers in his favor
, the Chinese Terran is likely to prove too much for SortOf again, who already suffered a big loss to TIME once at WCS Spring last year. The Swede is not to be counted out, as he's shown himself to be unpredictable in his playstyle, willing to cheese or macro depending on the map.
SYF.EF
's family and friends may want to avert their eyes, because I think
KZ.INnoVation
will finally get a 2-0 in the GTC instead of another 1-1. Poor EF is likely to feel the full brunt of INnoVation's wrath. The Korean Terran has been justifiably confident as of late—he went a combined 3-2 against Dark at NeXT, and looked utterly unstoppable in some of the maps he won. Whatever the reason for INnoVation's surge in form (maybe he's been practicing more instead of playing LoL), he's bound to correct his GTC record to reflect his stature. Funny enough, EF actually took a map off INnoVation two months ago in the Kung Fu Cup, and taking a map here would be more than a job well done. He's taken single maps off strong Korean opponents here and there, so
there is the miniscule chance
of him staging a massive upset here and continuing the Machine's GTC plight.
If nothing crazy happens, KaiZi should have the 4-0 in their collective pocket at this point, leaving
KZ.Bunny
and
SYF.DynaMite
to fight it out for the details of map-score in what should be a pretty fun match-up to watch. DynaMite has shown his mettle in TvT by defeating TY earlier in the season, and recently defeated Bunny's teammate TIME in the TSL5 qualifiers. Bunny himself lost to TIME recently, but claimed wins over BSG.Dream and TaeJa at the TSL5 qualifiers. Stats wise, KaiZi Terran should definitely
be the favorite
, but DynaMite could absolutely take a map (or more) here. Both have a tendency to drop perhaps a bit too obsessively and inefficiently, so it's going to be really interesting how well their styles match up against each other. A fun fact: the last time these two have met, they did so in GSL Code A, they still played Heart of Swarm, and both of them were on KeSPA teams. Yeah, it feels like a rematch was long overdue!
Prediction: KaiZi Gaming 5
-1 SYF
DPG can certainly go into this match against Team LP with additional confidence, having eliminated them with a clear 4-0 victory from NeXT Spring 2020 only a few days ago. With KaiZi Gaming getting stronger and stronger with the resurgence of KZ.INnoVation, and Alpha X close on their heels, DPG can't make any mistakes—their first place is perhaps not as secure as it looks like. One slip-up, and it could be gone.
It has been interesting watching
DPG.Firefly
in GTC and NeXT, because he seems like a totally different player depending on the tournaments: in NeXT, he took down opponents such as LP.Impact, TSG.Solar, KZ.TIME, and KZ.Dear showing really solid macro performances with on-point decision making. In GTC, nothing he does seems to work too well, and his strategic choices all seem sub-par. Facing off against
LP.Patience
now, Firefly once again looks like he's in a good position to secure at least a map on paper, but reality might prove disappointing again. Patience, it has to be acknowledged, has been on a tear as of recent in PvP. It's clearly his strongest match-up, and his often defensive style seems to provide him with a good enough mix of stability and flexibility to react to his opponents. He will definitely be the favorite to secure an opening victory here for LP, but Firefly has shown in the NeXT Grand Finals that he can be relied upon.
Of course, DPG will have the stronger hand from here on out.
DPG.PartinG
is basically a creature straight out of
LP.Impact
's nightmares: he's as cunning and solid as Firefly, but more experienced, devious, and has divine (or devilish) micro. PartinG is
12-4
against Impact in matches from this year alone, and leads in all the other indicators as well. Additionally, Impact has been prone to fall victim to Protoss aggression in the current meta, taking critical damage from Glaive builds and other openers, and then being finished off a bit later in the game. The Big Boy should bring DPG two maps here, but by no means is Impact doomed to just watch his own destruction helplessly. And should both Patience and Impact really show up, Dragon Phoenix Gaming may find themselves in some unexpected trouble.
Even if it's somehow 1-3 against DPG by this point, they should be able to salvage the situation.
DPG.Cure
has the mission to close the series versus
LP.Jieshi
, against whom
he never lost a map against
in his entire career. The Chinese Protoss may have been able to split maps with SYF.DynaMite recently in the league, but as good as DynaMite has become, Cure is of a different caliber entirely. Cure is not a reckless, drop-crazy player—instead, Jieshi is likely to face strong pushes with Raven support. And should he survive those, he'll face a well-maneuvered, precisely-micro'd, late-game army.
Prediction: Dragon Phoenix Gaming 4
-2 Team LP
Should DPG slip up against LP, Alpha-X could jump ahead to #1 in the rankings with a win against Invictus Gaming.
Last week's PvP from
iG.Jim
wasn't very impressive and should provide
αX.Astrea
with some study material on how to approach the match against the former Chinese prodigy. The American Protoss has a very good track record against
Chinese Protoss players
, and the preparation-heavy style of GTC really seems to suit him. He should be the clear favorite to secure an opening victory for Alpha X. That said, iG clearly must have confidence in Jim at the moment, otherwise they wouldn't send him out two weeks in a row.
Another week, another Korean for
iG.Coffee
to play against, this time in the form of
αX.Zoun
. Unfortunately for the Chinese Terran, he seems to get more worn out as the season goes on, since he has been the only stable element for Invictus Gaming so far, playing a match every week. He looked quite outclassed against LP.Impact last week, and there was no moment of 'perhaps he's got a shot here' like in some of his earlier series. Zoun will have studied Coffee's previous TvP's and will be aware of his love for SCV pulls, which leads me to think that this strategy is going to be even less effective than it has been so far. Alpha X are once again primed to take a quick 4-0 victory.
What seems like a curse for KZ.INnoVation (being fifty-fifty in the league) is more like a blessing for
αX.BreakingGG
, because it makes him one of the most reliable and solid Chinese players in the tournament. The match-up against
iG.MacSed
follows this theme, as both players have a long history of facing each other, BKGG leading the head-to-head score narrowly
19-17 in maps
with matches from this year adding up to a 3-3 score. MacSed has the better match-up form, but BKGG really seems to flourish with preparation being part of the equation. We have seen some creative drop play from him on Purity and Industry already, and perhaps it has been refined since last we saw it against GP.Super. And if all else fails, the Speedling flood on Ever Dream is still an option. It's very likely we'll see a map split here, so Invictus Gaming can preserve some of their pride.
Prediction: Alpha X 5
-1 Invictus Gaming
---
Credits and acknowledgements
Written by:
TheOneAboveU
Editor: Wax
Stats: Aligulac.com & Liquipedia
Images: Netease