Code S Season 1 - Round of 24
by Wax
It's incredible to think that it's been over half a year since the last GSL Code S tournament! But after being delayed due to complications such as the creation of an entirely new StarCraft II esports circuit, overlapping international events, and a goddamn global pandemic, the grand-daddy of all StarCraft II tournaments is finally back. Sure, the Super Tournament was damn entertaining, but we all know what we've
really
been waiting for.
The GSL Code S format has changed slightly for the 2020 season, going from a 32-player tournament to a 28-player tournament. The first group stage is now the round-of-24, with six GSL-style groups being played instead of the previous eight groups. The twelve players who advance from the RO24 are joined by four seeded players (the Super Tournament top four this time around, but presumably the Code S top four in subsequent seasons) in the second-group stage (the round of 16). From that point, it plays out exactly like previous Code S tournaments, with eight players advancing to the single elimination playoffs.
Alright, let's take a look at the first group!
Group A Preview: soO, TRUE, Bunny, sOs
Start time: Saturday, Apr 11 4:00am GMT (GMT+00:00)
For better or for worse, GSL's propriety point and seeding system (which dates back to 2011) is working as intended, cleanly splitting most of the RO24 groups into two favorites and two underdogs. The division is pretty stark in Group A, with
sOs
and
soO
seeming like near locks to advance over
Bunny
and
TRUE
. One only needs to take a look at the
Liquibets
to see how the community feels about everyone's chances...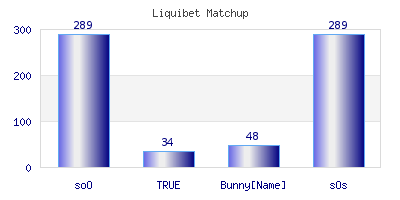 Is anyone surprised?
TRUE
has only qualified for three out of six Code S tournaments in the two years since he returned to Korea from the United States, and was eliminated from the first round in all three outings.
Bunny
, despite reaching the quarterfinals in 2019's Season 1, failed to qualify for the last two Code S tournaments. To be fair,
sOs
or
soO
weren't in Code S championship contention in 2019, but at least they qualified for all three tournaments.
In terms of 2020 results, Bunny failed to make it out of the
IEM Katowice open bracket
, being eliminated after losing to none other than soO and Taiwan's Nice (TRUE did not participate at IEM). soO at least made it out of the open bracket before losing in the group stage, while sOs actually made a run to the top eight. As for the
Super Tournament
, which was the most recent major, TRUE and Bunny failed to qualify at all while both soO and sOs got to the main event. Given all this information, one might say the Liquibet polling should actually be even MORE lop-sided in favor of soO and sOs.
But instead continuing down this cruel path where I continue to shovel dirt over TRUE and Bunny's graves, I'll pivot here and play (Wax)devil's advocate: what are the positive factors TRUE and Bunny have going for them, and how might they upend everyone's predictions?
While I don't give
Bunny
much of a chance of beating sOs (
who has been a PvT monster
in the latest patch) in his initial match, his saving grace is that he has decent TvZ in a two-Zerg group. His TvZ win-rate since the 4.11.0 patch is a very respectable
66.66% (22W - 11L)
(though this drops to
42.11%
against Koreans only), and he beat RagnaroK—a 2019 Code S regular—in two BO3 series to qualify for this tournament. Now, as mentioned before, he did lose his most recent match against soO at the IEM Katowice open bracket. But in career head-to-head, Bunny and soO are surprisingly closely matched at
15-14 in soO's favor.
When I look at their match from IEM, I can imagine how Bunny might score the upset. The first game saw Bunny split the map with mech, successfully forcing soO to actually play Hive. Despite being painfully slow to adapt to soO's Brood-Lord tech, Bunny still came close to forcing a signature late-game throw out of soO. As for the second game, well, he didn't see a Roach-Ravager attack coming—it happens.

Force soO to Hive and try to make him beat himself: Sounds like a plan!
So, here's the advancement scenario for Bunny: He loses to sOs in the initial match, and then plays it safe to stave off TRUE's inevitable all-ins in the losers match. If things break well, sOs will take out soO in the winners match, giving Bunny a chance to scrap out a win against soO in the decider match. Likely? No, but maybe more likely than you'd imagine at first glance.
Now for the most challenging exercise: How does
TRUE
get to the RO16? So, not withstanding the fact that he's been hard-stuck in the first round of Code S, the fact that he's ranked
exactly 24th in Korea on Aligulac.com
, and the fact that he's attained "we're okay with joking about his skill-level" status among Korean pros, his stats are actually not-terrible in the latest patch. He's
74-60 in matches since 4.11.0
, though that drops to a definitely-terrible
28-47
when accounting for Korean opponents only. Wait, I was supposed to be making the case
for
TRUE, right.
It's boring and cliched, but the case for TRUE hinges on his erratic, variance-heavy playstyle. He has a looooong history of being cheesy, aggressive, and generally making units and attacking at timings that no one else goes for. His Roach-Ling-Ravager-QUEEN DROP timing against Astrea in the
finals of ESL Korea Open Cup #3
is a perfect example of the craziness you might see from TRUE. Was the strategy
good
? I'm not sure. Did it work?
*Grumble*
I guess.
*Grumble*
TRUE's path to victory is to capitalize on the moments where his opponents get just a little bit too lax and greedy. When that happens, he'll be ready to pounce with his tried and true "Ravagers+Whatever" timings. And if TRUE is REALLY fortunate, his opponents will forget they're playing against him and get caught off guard by his other signature move, "random Mutas."

The weirder TRUE makes his games, the better chance he has.
Predictions:
Okay, now that we're done with that exercise, let's be real. Even though I can make the
case
for the two underdogs, I'm too cowardly to actually pick any upsets. I'm going with the crowd on this: sOs and soO will advance.
Curiously, my predictions exactly match
TY's predictions
, which he claimed would be at least more accurate than TL.net. A bold claim, when it seems like he's making the same picks as 90%+ of the community. Regardless, I accept your challenge,
Mr. "soO iS tHe BeST vS biO pLayEr iN thE WoRLd"
. Let's see who the real experts are after the RO24 is over. (Would I reach out to TY and offer to subtitle some of his YouTube VODs in a cynical, mutually beneficial ploy to manufacture a rivalry and drive traffic to both TL.net and his YouTube channel ? Maybe.)
soO >
TRUE
sOs >
Bunny
sOs >
soO
Bunny >
TRUE
soO >
Bunny
sOs
and
soO
to advance
---