Super Tournament 1: RO16 Day 2 Preview
As we head on to the second day of RO16 matches, we've learned more about what's on the line as the GSL
announced the format of the 2020 GSL season
. Not only is there $30,000 on the line, but the four seed-winner of the Super Tournament will effectively get to skip a round and place directly in to the RO16 of Code S. How's that for an incentive?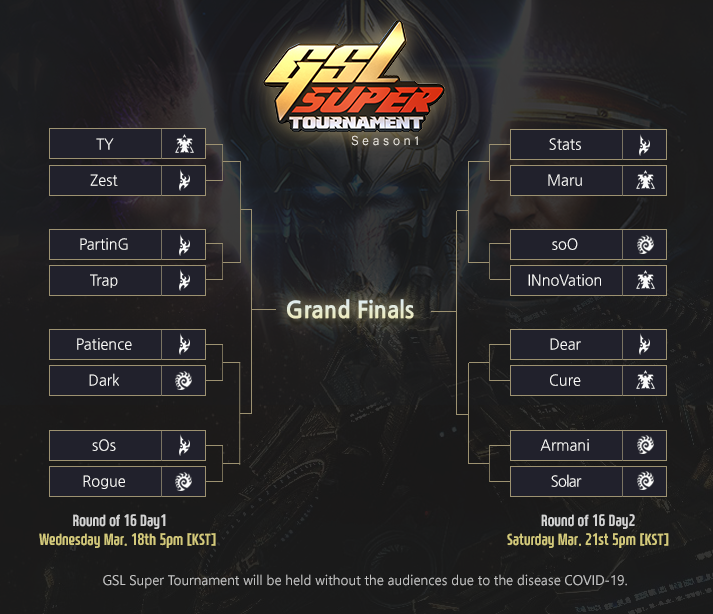 RO16 Match #5: Stats vs Maru
by Orlok
Start time: Saturday, Mar 21 8:00am GMT (GMT+00:00)
With
IEM Katowice
out of the way, we can somewhat assess how the players are standing in terms of their offline skills. So, where does
Stats
stand? In an odd place. IEM Katowice was the first major tournament for Stats after joining Afreeca alongside soO and Armani early this year, and while soO and Armani had disappointing outings, Stats at least cleared the baseline level of expectations for a player of his resume by reaching the playoffs. In the group stage, he showed a trend of beating those he should beat while getting smashed by those similar or slightly above his level, with quick wins against PartinG, SpeCial and Has sandwiched with blowouts against Dark and Dear. Then, he was quickly 'upset' by sOs in the playoffs—a result that is being still being processed in real time given the Jin Air Protoss' resurgence.
This trend has continued post Katowice with his online forays. It's not a confidence booster to lose to the likes of Armani and Creator, even if it comes with wins against the likes of Trap, Cure and INnoVation. One might think that a win against INnoVation would be a sign of hope prior to a match with Maru, but with just how inconsistent modern-day INnoVation has become, it's not quite as assuring. Stats hasn't faced stiff Terran competition in a best of five since last years WESG qualifiers, where he handily lost to TY 3-0. If anything, Maru is a great TvP player. Stats' chances in the aggregate don't look too great on paper, and it'll all come down to just what kind of style and form he brings on Saturday.
As for
Maru
, he looks slightly better but like Stats has a few doubts surrounding the outcome. His IEM Katowice run was a lot more convincing, making it all the way to the semi-finals and dueling Rogue down to the wire before Rogue managed to clinch out the series. But in terms of TvP, he was shut down hard by teammate Trap in the group stages. Granted, it was a single series and Trap is a PvT god, but the severity of the beat-down affirms that Maru isn't quite the overwhelming TvP force he was in the past. Stats isn't as good as Trap is in the matchup in terms of playstyle and overall prowess, but he is firmly top tier as a Protoss contender too, which makes this match rather hard to predict. Maru did defeat teammate sOs in the IEM playoffs, but again, sOs' abilities are something we're all still collectively processing. Of course, Maru has once again to not participate online in any way, shape or form after Katowice, making things even more opaque.
In 2019, the two faced off in three BO5+ series, giving us a broad variety of outcomes: A 3-0 win for Maru, a 3-0 win for Stats, and a very tight 3-2 win for Stats. So, really, the prediction for this match-up really comes down to the simple question of who you BELIEVE will beat the other.
Both Maru and Stats are playing at a level that's below their absolute peaks, but they're still definitely title contenders. Both of them have the talent to make this conservative assessment of their abilities seem silly. Let's hope they bring something exciting to the table.
Prediction:
Stats 2-
3 Maru
RO16 Match #6: soO vs INnoVation
On paper, this match looks like it's going to be a brutal beatdown. No offense to
soO
, who is forever the champion of our hearts with after his Cinderella run at IEM Katowice 2019, but it feels like the clock has long since struck midnight. He hasn't put up any notable results since that run one year ago, except perhaps giving us the most honest answer to what a progamer would do with the 1st place prize money ("FLEX"). While it's a pain to admit it, it looks like soO's best StarCraft days are definitely behind him. He's no slouch and still slays foreigners and lower-tier Koreans with relative ease, but it's incredibly hard envisioning the player he is now as a championship caliber or tournament favorite player.
INnoVation
, on the other hand, looks to be a top-tier Terran who just can't get past the very best players of the other factions. He entered IEM Katowice with the same robotic demeanor, stated that he was probably the favorite to win the whole thing, smashed everyone not named Maru or Serral before being thoroughly outclassed in a best of five against the Finnish Zerg. Despite being one of the few players to take down Serral in 2019, this year's rematch was anything but close, with a lone win coming off a misread blue flame hellion proxy build. In any game where INnoVation tried to battle Serral in the mid-game, the Finnish Phenom left him looking largely outclassed.
But despite soO middling tournament results and his
mediocre ZvT statistics
, he has received a rather curious endorsement from TY. TY spent one of his recent streams
discussing his predictions
for the Super Tournament matches, and in this one he pegged soO to actually come out ahead. Behind the scenes, apparently, soO is regarded as the best ZvT player against bio-style opponents at the moment. It so happens to be that INnoVation very much favors bio. How interesting!
While there don't seem to be enough tournament games to prove TY's assertion, it poses an interesting counterpoint to what fans can observe from the outside. Online doesn't necessarily translate directly into offline performances, but a progamer endorsement has to make us at least pause for a second before predicting a one-sided slaughter. We're sticking by the prediction for a INnoVation win, but keep an eye on this match in case we see a side of soO we haven't seen since last March.
Prediction:
soO 1-
3 INnovation
RO16 Match #7: Dear vs Cure
by Wax
Following Zest's finals run at IEM Katowice and recent 3-0 drubbing of TY in the Super Tournament,
Cure
has been left to stand alone at the apex of "online-only" mountain. In case you've forgotten, let me remind you have his online competition stats from the pre-season:
96-22 in matches (for a 81.36% win rate) and 238-96 in games (71.47%)
. There's really no better way put it: Cure was an online
bonjwa.
And then, we saw all the hype surrounding Cure go up in smoke at IEM Katowice, as the he was was meekly eliminated from his RO24 group. Getting knocked out early was already deflating, but sadly for Cure, the specific details made the tale even more depressing. In the final round of group D matches, he faced off against former teammate sOs with both of them tied at 2-2 in the group—effectively a winner-take-all qualification bout. sOs, the ultimate "he can't keep getting away with it" player of all time,
clutched it out
by holding off an -SCV pull marine-tank timing and earned himself a trip to the playoffs. As for Cure, we can't even say he got "exposed." After all, many fans suspected that despite his online rampage, he was still the same offline tournament choker he had been for the last couple of years.
Katowice brought the curtain down on one of Cure's story arcs, but this is a cycle that seems infinitely renewable. After IEM, Cure resumed right where he left off, playing in just about every online competition possible and somehow
improving his win-rate
from the pre-season. He's close to 90% in matches with a 27-4 record, and has an insane 80+% win-rate in individual maps (66-16). But as impressive as Cure has been online, one gets the feeling that it's only leading to another anti-climax at the Super Tournament.
Cure's first opponent will be
Dear
, who's a different kind of StarCraft II curiousity entirely. As the
good ol' Dear chart
demonstrates, Dear is one of the most inconsistent match-to-match, game-to-game players in StarCraft II. Still, if you run a trend-line through his wildly fluctuating form, you get the overall profile of a pretty good, but non-championship-tier player. IEM was a great encapulation of who Dear is as a player: In the span of a few days, he qualified for the group stage through the open bracket, surprised everyone by taking 1st place in his group with a 4-1 record, and then got absolutely
destroyed
3-1 by Zest in the playoffs (given Zest's ridiculous throw in game three, it felt like a 4-0 sweep in a BO5).
In general, Dear plays that solid, defensive Protoss style that everyone seems to be good at nowadays. But if we're looking at just small samples, I think his
peak
PvT has been best we've seen over the past few years. He actually
out-turtled god-mode Maru in a late-game stalemate
, and even went on a 20-0 run in offline PvT over a period of few weeks.
I figure this match will play out in the typical PvT style of the day, with Cure looking to pull off a variety of "do early economic damage into a deadly timing push" strategies while Dear flips a coin on whether to defend with phoenixes or blink stalkers in the early game. At least Cure occasionally employs the unpopular TvP BC-rush—that's one quirky element you could look forward. Ultimately, I think this match just boils down to two, simple and unreliable factors. Dear is unreliably a PvT god. Cure is just unreliable at
everything
offline. Which force will prevail on the day?
Prediction:
Cure 2-
3 Dear
RO16 Match #8: Armani vs Solar
by Orlok
The second day of the Super Tournament culminates in a Zerg mirror.
Solar
comes into this particular match as the favorite by default: He's a former champion who's actually been playing StarCraft II continuously without interruption. On the other hand,
Armani
is a player who has returned from military service, a type of career setback that no one has
really
shown can be fully overcome.
Solar hasn't faced many Zerg vs Zerg tests as of late—a handful of understandable losses to Dark being all we can really go by. But on the whole, he's retained his place in the tier just below Dark and Rogue in the Korean Zerg hierarchy, unsurprisingly making it to the playoffs of IEM Katowice by going 3-2 in his group, and then unsurprisingly being eliminated immediately after by the aforementioned Dark.
Armani is no longer working off his 'ring rust,' so to speak, since he's been back from the military for half a year. And he's actually done quite well for someone returning from the military, putting up decent results online (recently winning his first
ESL Open Cup
) and even making the group stage of IEM Katowice through the open bracket. He really encapsulate the dilemma of just how seriously we should take returnees on the biggest of stages. Yes, qualifying for both IEM Katowice and the Super Tournament is nothing to sneeze at. However, we've previously gotten hyped up for a stretch of good results or a qualifier run by the likes of Dream, Super or FanTaSy—but they've remained firmly middle-tier Code S players at best.
Still, middle-tier Code S could be enough to get Armani the upset here. After all, FanTaSy all-killed for P1 in the China Team League before his retirement, and Super got in a few licks on Maru in Code S. And ff there ever was a matchup where tilted odds could be fudged, it's the Zerg mirror. In any case, it would be interesting to see the upsets keep coming in, and for the returning veterans prove that they can move up beyond their middle-class ceiling.
Prediction:
Solar 3
-1 Armani
---