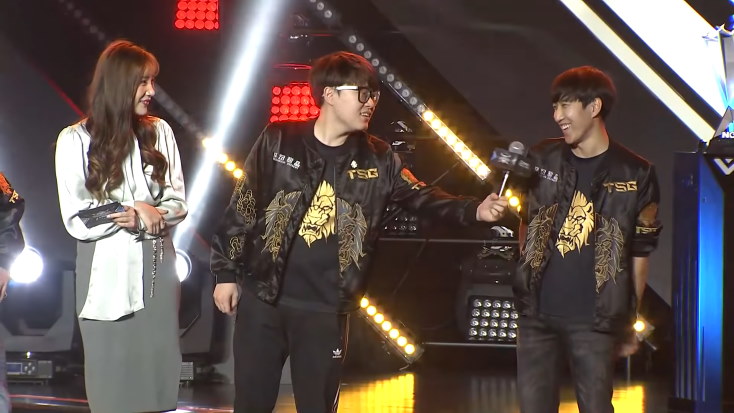 With Jin Air out of the picture, Triumphant Song Gaming are team league champions once more. After finishing fourth place in October's China Team Championship Season 2 playoffs, TSG triumphed over mostly the same field of competitors (minus Jin Air) to win Netease Esports X Tournament (NeXT) Autumn's StarCraft II championship.




Having already eliminated Pixel 1 and LP in the group stage of the tournament, TSG proceeded to take out Ocean Gaming and Newbee (x2) in the live, double elimination playoffs in Foshan, China.

While ace player Solar did much of the heavy lifting for TSG, it was herO who single-handedly clinched the championship in what is likely to be his send-off match before the start of his mandatory, 2-year military service on December 10th. The 'smiling assassin' went out with a bang, all-killing Newbee in the grand finals.

herO's first mark was Scarlett, who attempted to employ Rogue-like Swarm Host-Nydus tactics on Thunderbird. However, the Global Finals experience seemed to have steeled herO against such attacks, and he easily defended against the waves of Locusts before counter-attacking Scarlett to force the GG.

The next couple of victories highlighted herO's cheesier side. A proxy-Gateway set up a barrage of incisive, early-game attacks against TIME, and the Chinese Terran was quickly forced to surrender another win to herO. Proxied buildings featured heavily once more in win number three for herO, with both he and Dear opting to open with proxied Stargates. The situation played out as an almost comical best-versus-worst case contrast, with herO's initial Oracle doing crippling damage while Dear's Stalkers were distracted by Adepts. On the other hand, Dear opted to wait for two Oracles before striking, only to run into herO's defenses.

After Dear tapped out against the economic snowball, Newbee revived TIME as their final, ace player. This time, herO brought out a different, tried-and-true strategy from his playbook: mass Glaive-upgraded Adepts. Using a handful of Phoenixes to hunt down TIME's crucial Raven, herO was able to crack open TIME's defenses and complete the all-kill.

In the post-match interview, herO said "I wanted to win the previous team league as well, but because we were unable to, I entered this season with a different mindset. I'm really happy to win, and I'm glad that I could give my fans a present before going to the military."