Code S Season 3
Semifinal #2 Preview: Maru vs Trap
Start time: Friday, Sep 20 4:00am GMT (GMT+00:00)
by Orlok
There's a feeling of
deja vu
surrounding this second semi-final match.
Maru
and
Trap
faced each other in the semifinals of the
first Code S tournament
of the year, which ended with Maru wiping the floor with Trap in a 42 minute, 4-0 sweep.
A lot has happened between now and then. Maru went on what we will kindly call a 'detour' in his quest to win the Global Finals, while Trap has only grown steadier and stronger after his humbling loss to Maru. TL.net users might be
predicting another Maru victory
, but it's clear that things have become much more complicated in this rematch.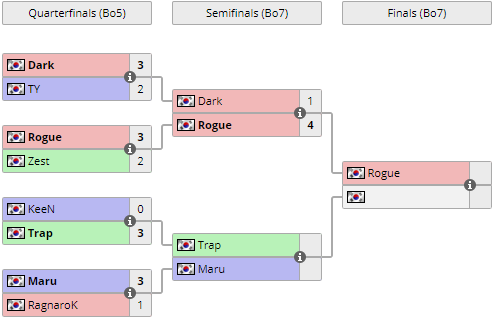 For the first time in a while, it feels like Maru has arrived in the semifinals after having overcome real adversity. Sure, it's not like Maru's four, consecutive championships runs were cakewalks.
Season 1 of 2019
saw Maru survive a Ro16 scare, where he lost to Bunny and come within a map of elimination against Patience. Quarterfinal opponent Dear looked like the perfect assassin to end Maru's consecutive title run, coming into the match with an absurd 20-0 winning streak in PvT. But at the end of the day, what we remember is how Maru crushed Dear in four games, and then made his matches against Trap and Classic look like mere formalities as he cemented his place in the StarCraft II pantheon.
This time, it's a bit different. Even now, his elimination in the round-of-32 of
Code S Season 2
remains utterly inexplicable. The shock seemed to have lasting effects, as he began Code S Season 3 with a rocky Ro32 performance, nearly losing to both Super and Impact while advancing with a meek, 5-4 map score.
Given his uninspiring Ro32 performance, some fans even started to go against the conventional wisdom of
"it's still Maru"
and wondered if he had it in him to escape a Ro16 group of death with Rogue, Solar and Stats. Maru ended up giving a mixed performance, one of both utter domination and desperate survival. While his mech TvZ didn't do him any good against Solar's BL-infestor, his late-game PvT masterclass against Stats suggested he had at least one match-up on lockdown. A brilliant switch to a fast-paced bio style allowed him to overcome Solar in the Ro16 decider match, and later take down an out-matched RagnaroK in the quarterfinals. He might not have a complete answer to the TvZ match-up yet, but that search can take a backseat for now.
It's no surprise to see Maru play at a championship level. However, the way he's been swinging between impotent and incredible feels new. Within the same day, or even within the same game, Maru can go from looking like he's washed-up to looking like he'll never lose another game. The ability to 'flip the switch' when the chips are down is something rare even for elite players, but Maru seems to do it at will. In a certain sense, that's even more impressive than showing continued, uninterrupted dominance. But will it be enough to win him a fifth Code S championship?
In contrast to Maru, Trap comes into this match as the strongest version of himself. In their previous semifinal match, Trap was only weeks removed from getting over his mental-block in the Code S group stages, and was playing in the Code S playoffs for the first time in years. Who could blame him for getting crushed then? Now, he heads into semifinals with another season and a half of experience under is belt, a Code S finals appearance, and perhaps even the title of #1 Protoss player in the world.
The conversation about top-tier Protoss players in LotV has always been centered around names like Stats, sOs, Classic or Zest. However, 2019 saw sOs and Zest become shadows of their former selves, whereas Stats became uncharacteristically inconsistent. Classic, whose intense preparation and strategic brilliance made him the top Protoss for the first half of the year, fell into a rut as the season came to a close. Trap, on the other hand, has finally delivered on his potential and outshone his peers. After reaching the top four in Season 1 and top two in Season 2, there's only one more step for him to take.
While Trap has become a more complete player since his last foray with his teammate, one has to wonder if it's quite enough to let him push past Maru. He defeated formidable foes INnovation and Classic in last season's playoffs and had a competitive finals match against Dark. He even showed phenomenal composure to pull off some comeback wins—a far cry from the player who always crumbled in the Ro16—but it wasn't enough to let him hoist the trophy.
While Trap deserves much credit for his improvement, Maru still looked like an unbeatable TvP player in his 2-0 victory over Stats in the Ro16. In contrast, he appeared utterly hapless in his 0-3 loss to Stats at GSL vs. The World. Thus, in spite of all of Trap's progress, this match seems like it will be all about Maru. When Maru hits his stride, no one in Code S has come anywhere close to beating him. However, if Maru stumbles, Trap could most certainly take the victory. Even if Maru has started to show glimpses of his dominant 2018 self, he's only just re-ignited his engine and could very well be stalled by crafty builds and preparation. And while it's easy to dismissTrap's 3-0 of KeeN as a mere tune-up match, it further reinforced the notion that Trap is now fully acclimatized to the Code S playoff stage. While I have to give Maru the edge due to his past accomplishments and peak ability, this version of Trap will be a tougher opponent both inside and outside the game.
Prediction:
Maru 4
- 2 Trap