China Team Championship: Season 2
Week 2 Recap & Week 3 Preview
GSL Code S might be taking a break for Asia's Mid-Autumn Festival, but a number of Korean progamers are still scheduled to be in action in the China Team Championship. The first two weeks of games delivered an interesting mix of favorites dominating and underdogs punching above their weight classes—what kind of results will week three bring?
Group A, Week 2 recap: Newbee and KaiZi to the top
by Ziggy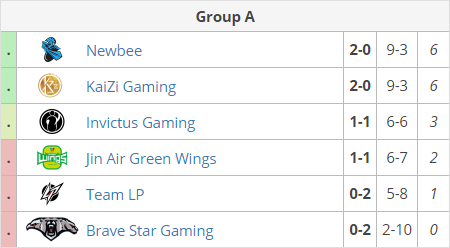 Team LP 3 - 4 Jin Air Green Wings
Watch VOD
Finding themselves in the first ace-match scenario of the season, Jin Air's Trap handily dispatched LP's star player Impact in a rather one-sided game on Thunderbird to nab his team its first win of the season. Unfortunately for Jin Air, some of the teams weaknesses were more notable than strengths.
Nothing has changed in regards to their glaring Achilles heel in Rex—the Taiwanese Zerg is now sitting on an 0-4 map score in the second season of the CTC, which puts him on pace to somehow do
worse
than his 1-13 showing in the inaugural season. He's yet to convince me that he's anything more than Jin Air's buy-in fee into the league. Also, Jin Air are still holstering Maru, and it's anyone's guess as to when he'll finally be deployed (absent again in week 3 line-ups listed below). However, Cure has proven time and time again that he can fill Maru's shoes in CTC, so perhaps this particular 'weakness' will remain unexploited.
Invictus Gaming 2 - 4 KaiZi Gaming
Watch VOD
The Four Horsemen ride again in the CTC! Or at least one of them does, as INnoVation made his debut. Bolstering the lineup of KaiZi Gaming, a team created for the very purpose of competing in the league, the Machine took down iAsonu in a rather convincing 2-0. While the Chinese Zerg did his best to fight back and actually pulled a few good moves, the ten-time premiere tournament champion proved too tall a hurdle to jump over.
The all-Chinese roster of Invictus Gaming got off to a good start, with Coffee 2-0'ing Misaki (the unlikely key to KaiZi's success, as we pointed out in week 1) in a somewhat one-sided match. However, KaiZi's Korean Terran duo turned things around. After INnoVation took his set, Bunny closed things out against XY despite his extreme greed (seriously, XY, a no gas expo into a quick third into two Armories off
one
Factory?).
Newbee 5 - 1 Brave Star Gaming
Watch VOD
Fresh off a 4-2 over the league's (supposedly) fiercest team in Jin Air Green Wings, Newbee continued their roll. Taking down Brave Star Gaming in a 5-1 series, Newbee now share the #1 spot with KaiZi in Group A.
Dream will have to make a recovery to pre-military form if BSG is to be successful this season. While he hasn't quite got back to his 2014-2015 form just yet, I'm optimistically going to say that he has what it takes to make a successful comeback. But given Dream's current level-of-play, Dear's 2-0 over the former SKT Terran wasn't necessarily surprising—nor was Scarlett's win over Cyan in the closing match of the series. What indeed proved the hardest to predict was the TIME vs Hurricane match that ended up in a tie. All in all, it was a decent showing from BSG considering low expectations.
Group B, Week 2: Season 1 Reruns
by Ziggy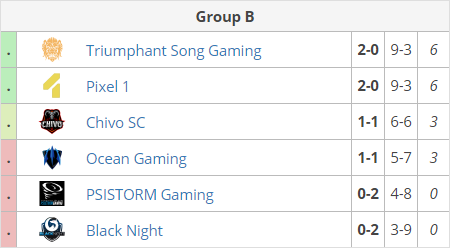 Triumphant Song Gaming 4 - 2 PSISTORM
Watch VOD
Triumphant Song Gaming rose to the top of the rankings, taking down PSISTORM Gaming in an unforeseen, two-way upset bonanza. Whilst some could argue Korea's prodigal son TRUE squeezing in a map win over Solar shouldn't be construed as an upset
per se
, Nice's unlikely tie against GuMiho basically ended the series for PSISTORM. The decorated veteran and one-time GSL Code S champion isn't quite living up to the status of PSISTORM's ace, and with just three more series to go in the group stage, he's running out of opportunities to prove himself.
Black Night 2 - 4 Chivo SC
Watch VOD
Redeeming himself after a week one loss to SpeCial, soO managed to pull off a quick 2-0 over Black Night's Daydreamer. The Chinese player's antics that saw him and Solar swap mains on Ephemeron last week ran into a wall that was the IEM Katowice champion's defense. Chivo cemented their win with a convincing 2-0 from RagnaroK, whose ZvZ proved too tough a nut to crack even for his fellow countryman Armani. Black Night, though falling straight down to the bottom of the rankings, managed to put two map points on the board for themselves, as their most recent amateur pickup DynaMite 2-0'd Taiwanese player ExpecT in a bizarre TvT series.
Pixel 1. 5 - 1 Ocean Gaming
Watch VOD
The Terrorist Terran strikes again! FanTaSy is quickly building momentum in the CTC, with his two wins helping P1 climb to the top of the rankings early in the season. Starting off the series, PartinG's Soul Train-esque timing attacks struck home, with TooDming's defence crumbling under Immortal fire. In the following series, SpeCial appealed to my sentiment that upsets are a key attraction in a teamleague, as the Mexican Terran dropped a map to Chinese underdog Firefly. To close out the match, former FanTaSy snuck four Hellions into an unprotected base, trading out workers against Zest's proxy Oracles. Coming out with the upper hand, FanTaSy then treated the fans to a textbook showing of TvP mech on Thunderbird, catching the Kingslayer unawares.
Weekly Spotlight
by TheOneAboveUWeekly MVP: P1.FanTaSy
Week 2's MVP Award goes to Pixel 1's

FanTaSy
for his dominating performance against OG.Zest. His 2-0 victory secured an important win for Pixel 1 against one of the bigger threats of Group B, and established P1 as the top challenger to defending champions TSG in their group. FanTaSy not only defeated Zest quite comfortably, he also did it with panache, successfully fielding a mech composition in the second game between the two players.
FanTaSy may not have escaped his Ro16 group in GSL Code S, but he is more and more becoming one of the most dangerous and entertaining players of the CTC. We look forward to the strategies he'll bring in week 3, and hope that other Terran players might find inspiration in his creative style of play.
Taiwanese Player Spotlight: TSG.Nice
Sen and Has are the two names that have dominated Taiwanese StarCraft II for years, reigning over local qualifiers to compete at various international events.

Nice
is one of the few players who was able to step out from under their shadow. His most notable run was back in WCS Leipzig in 2018, where he went all the way to the Ro16. Later that year, he defeated Has to earn the right to represent Taiwan at IEM PyeongChang.
Unfortunately, Nice was handed a
four-month ban from competitive SC2
in 2019 due to ladder-abuse during qualifiers. Whether or not you think that punishment was sufficient, it's been interesting to see how he's immediately made an impact in the CTC in his return. In both Week 1 and Week 2 of the league, he was able to tie 1-1 against Terrans Dynamite and GuMiho, securing vital points in the battle for first place. Players who fill the China/Taiwan/Macau/Hong Kong quota
struggled to break even
during CTC season 1—if Nice can actually be a positive contribution, it would be a huge boon to TSG's title defense.
While Nice's map split with BN.DynaMite in week 1 was not surprising, his week 2 victory over GuMiho was a bit of a shocker, especially the manner of his victory. Nice did not need to play like his infamous countryman Has at all—he won in a very straight-forward macro game, even after taking early game damage from a Hellion attack. Nice kept a cool head, defended the following harassment attempts very well, and continued expanding ahead of GuMiho. An opportune engagement for Nice in the center of Triton combined with a simultaneous Zealot run-by at the Terran's third, which killed many SCVs, dealing a serious blow to GuMiho's chances at victory. Nice very accurately judged the situation right to apply further pressure, and took another engagement at GuMiho's natural expansion, breaking through his defenses.
With more solid play like this, Nice could make defending champions TSG an even scarier team than they were in Season 1. Going outside of the CTC, it will be interesting to see if Nice can bring this level of gameplay to his local WCS qualifiers and have an impact on the Circuit as well.
Week 3 Preview: Back from Breakby TheOneAboveU

Group A
Group A's matches will be played at 11:30 GMT (+00:00) on Saturday (14. Sept.), Sunday (15. Sept.), and Monday (16. Sept.). Wardi will broadcast in English.


Team LP vs. KaiZi Gaming (14. Sept.)

Impact < World of Sleepers > INnoVation
Jieshi < Winter's Gate > Bunny
Patience < Ephemeron > Misaki
Ace Match: < Acropolis >

Never change a winning team, or so KaiZi Gaming seem to think, as last week's trio is fielded once again and KZ.Super stays on the bench; and it seems like the old figure of speech will prove to be right another time: over their careers KZ.INnoVation and LP.Impact have so far played a baffling 84 maps against each other, with the Terran coming out as victor 60 times. There is little to indicate a change to this norm, as Impact seems to struggle a lot in ZvT at the moment, even splitting maps against Coffee in Week 1 of CTC. KZ.Bunny should also be expected to do his part in securing a quick victory for his team against LP.Jieshi, as he's been rock-solid so far this season, taking 2-0 victories over all his Chinese opponents.

Should everything play out according to expectations, the only thing LP.Patience will be able to achieve is to recover some points for his team, as reaching an ace match seems rather far-fetched at this point—the match again Jin Air last week had much better match-ups for LP to make it that far. It's questionable if Patience even can take a 2-0 here, as we've already seen Misaki split maps against Hurricane earlier this season. He's probably as astute as Patience at playing chaotic games, so this has potential to be quite a crazy match-up.

Prediction: Team LP 2-4 KaiZi Gaming


Jin Air Green Wings vs. Brave Star Gaming (15. Sept.)

Rex < World of Sleepers > Cyan
Trap < Winter's Gate > Dream
Rogue < Ephemeron > Hurricane
Ace Match: < Acropolis >

After taking their first win of the season in Week 2, Jin Air should be able to take a second one this week. Though BSG.Cyan is definitely favored over JAGW.Rex and is very likely going to get some early points on the board for Brave Star Gaming, the other two matches seem easily in hand for Jin Air. At the very worst, Jin Air should be able to force an ace-match, akin to Week 2. BSG.Dream does retain a positive score historically over Trap, but this old artifact of data has long since lost its' meaning as Dream has looked far from his old form since coming back from the military, while Trap is probably having the best year of his career. Anything but a 2-0 here would be shocking.

The margin between JAGW.Rogue and BSG.Hurricane is a bit closer than that. In fact, Hurricane has won all three series between the two this year, amongst them a Ro16 match at Super Tournament. Now, a lot has happened between then and now, and Rogue has just lifted his Ro8 curse at Code S in a ZvP, but that didn't look all too convincing either. The advantage clearly still lies with Rogue, but Hurricane could force an ace match here—which still means Jin Air will probably win, but it's going to be a win worth less points.

Prediction: Jin Air Green Wings 4-3 Brave Star Gaming


Invictus Gaming vs. Newbee (16. Sept.)

XiGua < World of Sleepers > Scarlett
Coffee < Winter's Gate > TIME
iAsonu < Ephemeron > Dear
Ace Match: < Acropolis >

Invictus Gaming are changing it up a bit, sending out iG.XiGua out instead of iG.XY this week, which could turn out to be a crucial decision! The Chinese Zerg has considerable experience from progaming since 2011, but one might question his relevance in 2019. Against Newbee.Scarlett, his chances are probably better than XY's would be in TvZ. Newbee.TIME, despite his newly found international fame, had some rough match-ups so far this season, only going 1-3 in maps, but this week should be a successful one for him: he hasn't lost a match to Coffee since 2017 despite them playing rather frequently in WCS Qualifiers and Chinese online tournaments. Coffee has shown that he knows how to play from an underdog position successfully, such as against Impact, but TIME's tempo in TvT may be too much for him to handle.

So it'll probably be up to iG.iAsonu, China's pride in Season 1 as the most successful player against non-Chinese players, to decide the fate of his team once again. Fortunately, there is a precedent for success: in Season 1 iAsonu actually split maps with Newbee.Dear. This didn't do anything for iG in that match, but that result could be enough for them now to force an ace match this season.

Prediction: Invictus Gaming 2-4 Newbee


Group B
Group B's matches will be played at 13:00 GMT (+00:00) on Saturday (14. Sept.), Sunday (15. Sept.), and Monday (16. Sept.). Wardi will broadcast in English.

Triumphant Song Gaming vs. Chivo SC (14. Sept.)

Nice < World of Sleepers > RagnaroK
Solar < Winter's Gate > ExpecT
herO < Ephemeron > soO
Ace Match: < Acropolis >

Could it be? Could TSG actually be in trouble? Chivo may have made some winning picks here. By luck or on purpose, they've managed to match TSG.Solar against Chivo.ExpecT, essentially 'wasting' TSG's ace card (called a 'non-ge' tactic in the old Korean Proleague) while the real war is fought in the other matches.

Now, TSG.Nice has been really impressive so far and it is absolutely not guaranteed that Chivo.RagnaroK can take the 2-0 win here, but the Zerg has been flawless so far this season, is riding high on a Top 8 in GSL Code S, and leads the head-to-head score between the two 14-5 in maps. The omens couldn't be better—which is of course exactly when a Protoss from Taiwan loves to show up to flip the table, but one can't count on that. Solar against ExpecT should be very straight-forward: The Terran's upset chances are miniscule at best, as Solar is regarded as a Top 3 Korean Zerg at the moment.

Which brings us to TSG.herO against Chivo.soO, two formerly great players who had short resurgences to glory this year, but fell off again pretty quickly. Who fell harder? Probably soO, to be honest. But looking at their head-to-head score this year, which is actually surprisingly extensive, as they kept hitting each other in tournaments, a 1-1 seems to be the most likely result, with herO being more probably to take 2-0 than soO. TSG may be forced into an ace match here. Solar will probably still secure a win for them here in a ZvZ (though he's been inconsistent in the Zerg mirror), but this could be a blow for them in their battle against Pixel 1 for first place. Fully expect this match to be tough for both sides!

Prediction: Triumphant Song Gaming 4-3 Chivo SC


PSISTORM Gaming vs. Ocean Gaming (15. Sept.)

TRUE < World of Sleepers > TooDming
GuMiho < Winter's Gate > SpeCial
Sakura < Ephemeron > Zest
Ace Match: < Acropolis >

The initial matches here look good for PSISTORM, but they will be on a bit of a timer: if the match is not decided before PSISTORM.Sakura versus OG.Zest, they are likely to lose or be forced into an ace match, while a quick 4-0 is as likely. PSISTORM.TRUE should be regarded as the favourite over OG.TooDming, especially in light of his 1-1 against Solar in Week 2. TooDming, so far, was not able to a map, and unfortunately it seems that Week 3 might not be his best chance to reverse the trend. For Ocean Gaming to deny PSISTORM an early win, OG.SpeCial will need to take a map off PSISTORM.GuMiho—a hard task, but not impossible. The Mexican has proven that in Season 1, when he actually achieved that map split against the Korean, after having lost every match against him up to that point. If he can build upon that, OG are still in a good position.

There can hardly be doubt about the result of Zest against Sakura: The Korean's brilliant form stands against Sakura's worst match-up. In a potential ace match between GuMiho and Zest, we're in for a very exciting prospect: The players have been hitting each other often this year, with GuMiho leading the score between them 16-11—but there is this loss to Nice in Week 2, that throws some doubt on GuMiho's TvP. PSISTORM may take home their first win here and deal a critical blow to OG's ambitions of pursuing the leading teams in the top ranks, but it's going to be a hard battle.

Prediction: PSISTORM Gaming 3-4 Ocean Gaming


Black Night vs. Pixel 1 (16. Sept.)

Daydreamer < World of Sleepers > FanTaSy
Armani < Winter's Gate > PartinG
DynaMite < Ephemeron > Firefly
Ace Match: < Acropolis >

With TSG facing a very hard match, Pixel 1 should be rather excited going into this week, as they look well positioned to take over the top rank in Group B. BN.Daydreamer has outsider-chances against P1.FanTaSy at best, as the Terran has looked absolutely beastly so far this season, proving last week that even a Code S Ro8 player such as Zest is someone he can style on. Daydreamer may be fantasizing about taking a miracle win here, but there's no escape from the reality of his weak PvT form. BN.Armani certainly stands a better chance of defeating his opponent, but P1.PartinG in ZvP is hard to crack: The Protoss has been riding the Soul Train like it's 2012 and the Zerg players of CTC have not found an answer to it just yet. While Armani is becoming better since getting back from the military and is able to get wins even over players such as herO, PartinG has several months of practice on him, and his trademark aggression is very hard to defend for any player.

At this point Pixel 1 should have a comfortable 4-0 victory in the bag, leaving BN.DynaMite and P1.Firefly to fight for some additional map points—very important map points, mind you, as they could get very handy at the end of the season. Firefly did take a map off of SpeCial last week, an upset that was overshadowed by FanTaSy taking out Zest so easily, but a result that should actually give him confidence against DynaMite. The Korean is the only one for Black Night who earned some wins for his team so far, and may pretty well repeat that feat this week. He should have a slight advantage going into this match though, as TvP seems to be his best match-up at the moment.

Prediction: Black Night 1-5 Pixel 1



---



Credits and acknowledgements
Written by:
TheOneAboveU
,
Ziggy
Editor: Wax
Stats: Aligulac.com
Images: SCBoy