The GSL took a blow to its vaunted reputation on day one of GSL vs. The World as Code S Season 1 & 2 champions Dark and Maru were both eliminated in the first round.

Dark's embarrassment came at the hands of Poland's Elazer, who took a 3-2 victory after completing a ZvZ trifecta of blocking an all-in, succeeding with his own all-in, and outplaying his opponent in the late-game. In Maru's case, he gave up a clean 3-0 sweep to Stats, whose championship-winning form from ASUS ROG Summer seemed to have carried over directly into GSL vs. The World.

Stats wasn't the only player to build on his momentum from ASUS ROG. Barely a week after putting up an impressive fight in a 2-3 loss against Serral, TIME came through with a 3-0 sweep against soO at GSL vs. The World. While the games themselves weren't as one-sided as the scoreline (in particular, TIME's mech issues from his series against Serral came up again), TIME was still able to make it 2-0 on the day for foreigner vs Korea matches.

Finally, Neeb edged out his old nemesis ShoWTimE in the only foreigner vs foreigner match of the day.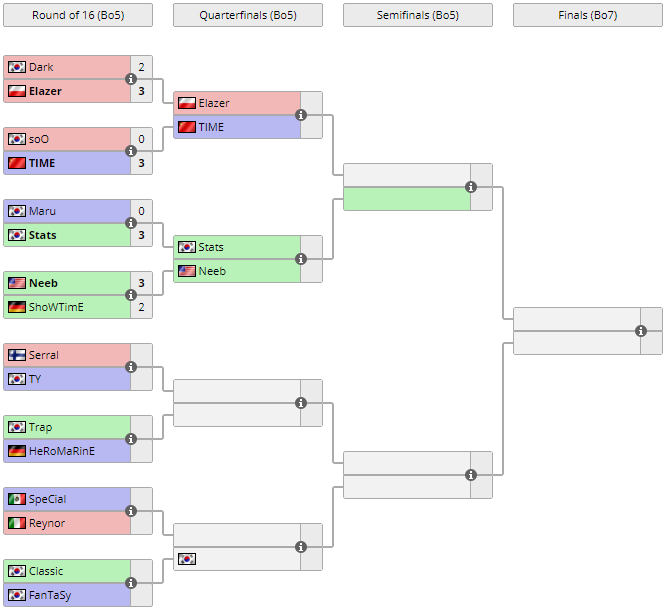 Following the first four matches, team captains Dark and Serral proceeded to select teams for the 10,000,000 KRW (~$8,200 USD) team competition to be played on August 18th. Reynor had the pleasure of being the #1 foreigner picked by Dark, while Maru received the nod from Serral despite his earlier loss to Stats.

Dark picked first after winning the coin toss.

Captains picked in alternating GSL-World order.

Picks order listed in [brackets].

Team Dark: Dark, Reynor[1], Stats[3], TIME[5], TY[7], SpeCial[9], soO[11], HeroMarine[13]
Team Serral: Serral, Maru[2], ShoWTimE[4], Classic[6], Elazer[8], Trap[10], Neeb[12], FanTaSy[14]