Two months after playing for the United Kingdom at WESG,

RiSky looks to represent New Zealand at WCS Spring after winning the Oceania/SEA qualifier. TL.net talked to RiSky about playing the SEA qualifier from Korea, his desire to represent New Zealand at WCS Spring, and the dilemma of going full-time in competitive StarCraft II.

*This interview has been edited and condensed.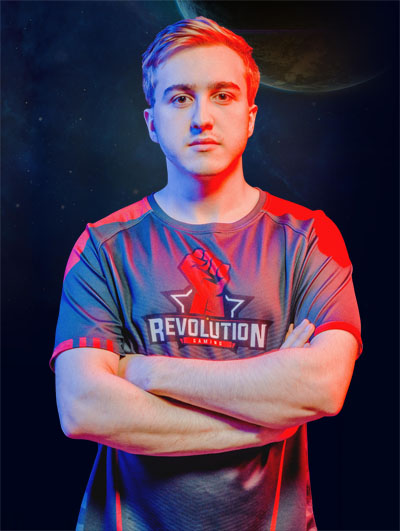 Image: Blizzard

(Also, he's not on Team Revolution anymore, but it's the only Blizzard photo I could find.)
Wax: How'd you get into competitive StarCraft II?
RiSky: I actually got into StarCraft II through esports and casting. I watched HuskyStarCraft, Day9, and all those people in the beginning, 2010-2011. I think I started playing in 2010, but I was bronze and like really terrible.
I don't know why, but at some point I just decided that I really wanted to be good at the game. And what I mean by that at the time was reaching masters or something like that. But then, StarCraft is like, the better you get, the more you realize you're not good at the game. So that's what spurred me on. I wanted to get masters, and I kept masters for like 2~3 years. And then at some point I got Grandmaster, and that's where I...
For a lot of people, I think—well at least a lot of people I know—they get GM and they sorta feel like that's their accomplishment, that they're kinda done with the game. They just play it casually from then on. They don't really focus on improving. OR they feel like they want to take it a step further and try and get REALLY good, try and get top 50 GM or top 100 GM or something like that.
And I was the latter, so when I got GM, I just wanted to get even better. That was when I started taking it much more seriously.
You're a UK player who won a spot at WCS Spring from the SEA/Oceania qualifier due to having dual New Zealand citizenship. Could you explain how that went down?
Basically, I only found this out last year—that I had citizenship because my mum is a full New Zealand, kiwi citizen. Last year I decided to play with 400 ping from Europe and I got top eight both times. At that point I was heavily debating going to Korea to try and get the better ping. Once I realized it was kind of possible with saving money and a lot of other stuff, that's when I sorta decided that I would try it this year. I was in the foreigner team-house with NoRegret. I just stayed there for like ten days or so, just for the qualifier basically.
How did you feel about your chances of winning a seed from Oceania/SEA?
I was confident that I was at least as good as the best players, I'll say that. I wasn't confident I would BEAT them, because I had to play with Korea-to-Australia ping, which was a lot more than I thought it would be. I didn't necessarily expect to beat the top guys, but I was basically hoping for a good bracket. Basically I wanted to avoid Probe and Seither, and then Meomaika and HuT, and luckily I avoided them all in
the qualifier.
Why didn't you take a shot at the New Zealand qualifiers for WESG?
I didn't want to take a spot from there. I felt like WESG is more of a national pride thing, whereas WCS qualifiers is very much like a competition. I felt like it would have been a bit... I really didn't want to take a spot from the New Zealand qualifier for WESG. I had the UK qualifier as well, which I was fairly confident in winning since DeMusliM decided not to play.
Did you know any of the Aussie players before competing in the WCS qualifier? Did you talk to them about competing in their region?
Yeah, I met NXZ, Seither, and HuT at WCS Valencia last year. I didn't necessarily talk to them about it, because it's kind of like a touchy subject, so I wasn't sure how to bring that up. I didn't ask specific people, HuT or Seither about it, but I asked some people how they would feel if I did this. I came to the conclusion that it's kind of bulls*** if I'm allowed to play the qualifier, but it's what's best for me, and it's a competition at the end of the day. And if you're not good enough to win it, you're not good enough to win it, based on the rules of the competition. So as brutal as it is, and kind of how unfair it is, it's just kind of the way of the world, I guess. If I want to take this full time, this is the way that I have to go.
What flag do you want next to your profile and graphics during the WCS broadcast?
I definitely want the New Zealand flag. I was actually going to ask someone there when I got there to change my flag to New Zealand. It's only right, you know? That I represent NZ while I'm there. Honestly I would like to have both my flags, but I'm not sure how possible that is.
Are you balancing SC2 competition with school?
Yeah, I'm going to university, I'm finishing my final degree for uni this year.
Have you thought about going full-time?
I did take [my gap year before], just to see if I could get as good as possible, break into the pro scene basically? But I didn't prove much that year, and I think it's because I took it way too seriously. Like, I would get a lot more upset because I was full-time, if I was not improving as much, or just in general. So I would get a lot more upset and that would ruin my practice and that sort of stuff. I didn't actually improve at all during that gap year, the year after I finished high school.
I think a lot of people have the same experience, that part-timing helps relieve the pressure. They feel like they perform better in tournaments and stuff because they're not relying on THIS, you know? Whereas if you're a full-time progamer, this is your only thing, so you HAVE to perform, and you have to make money from being a full-time progamer. Having that side plan, for a lot of people—obviously me—has helped quite a bit. And I can always fall back on the degree—it's never all-in. It's games programming, I'm a very games oriented guy
*laugh*
.
Are you satisfied with your competitive results so far? Do you think you'll eventually have to go full-time again to reach your goals?
I'm a super competitive person, and I wouldn't say I'm satisfied with my results or my skill level. But I don't think I'll ever be, you know? I would like to be one of the Serral's or the Neeb's or Reynor's—a top pro. But I do think you need to be a full-time pro to be at that level. So it's a difficult thing for me to handle, cause you know I've got that past experience of going full-time in my head. I'd have to change something about how I think about the game and my mentality in general to be able to go full-time. And I don't know how possible that is. I have thought a lot about this subject, how ingrained the way you take losses is, and how much you can improve that aspect.
Because I feel like people like Reynor or Serral take losses really well, and obviously there's loads of other progamers who are good at that, who have a very good mindset. I'm not sure how much of that is just their nature or how much they've just trained that. Because I have tried, obviously, to improve my mentality, my mindset in StarCraft, because it's been basically one of the most negative aspects of my StarCraft play. So yeah, I'm not exactly sure, but I'll probably be going full-time, so I'll be trying to improve that aspect.
How do you feel about your chances at advancing from group stage #3 at WCS Spring/Kiev?
Well, I can't really say until I see the final groups. It's hard for me to say how my chances are of getting out of the round of 32, but... feel like I'm in pretty decent shape. I'm in top 25 EU right now [note: at the time of the interview], in ladder at least. I'm just generally feeling quite good in all the MUs, but it can so easily change.
Is getting this far as a seeded player already a success for you?
Yeah, for sure. In terms of my skill, this sounds... I get criticized for this a lot, but I just feel like I'm realistic with my skill level. It's quite likely that I just lose in the RO32. It's not like I'm not confident or something, I just think that's my realistic chances. But I think it's possible for me to get RO16 if I get the right group and the right players. It's definitely POSSIBLE, but not likely, I don't think. I mean Europe is just super hard, the depth of Europe is insane. The top 32 players of the event are gonna be really good. So it would be tough for me to say I'm really confident about getting out of the RO32.
Okay, here's our traditional pirates question. Your girlfriend has been kidnapped by pirates and is being held on a boat in the middle of the ocean. You can recruit three people from the StarCraft II scene to take with you on a rescue mission. Who do you choose and why?
This is hard. Cause, you know it's my girlfriend right? I don't want to get her stolen by a too attractive guy. So I was thinking about ShoWTimE, but I just realized, f***, he's way too good looking. So that's tough.
I think I just have to take Harstem cause he's just a great guy to hang out. But then again, he is also quite good looking so I still have that problem. He's a good storyteller, I feel like we'd have a good time.
Could I take CSGO playerS? Could I take Pasha to be the muscleman?
PashaBiceps
?
Sure, it's better than "I don't know." How about the brains of the operation? Is that you?
The brain... nono, that's definitely not me. Let's take Lambo. I feel like Lambo is probably the smartest guy. He's a good problem solver I think.
Okay, any shoutouts or final comments?
Shoutout to my team
Epikk Esports
. They're a new team in StarCraft II. They were previously in HotS, but obviously due to certain things happening they've decided to go into StarCraft. And I was their first pickup, so I'm really happy about that. Shoutout to the UK scene, shoutout to my managers Zervaz
Henning, and Figaro!
---
WCS Spring, the first WCS Circuit stop of the year, begins on May 17th.
You can follow RiSky and Epikk Esports on Twitter at @RiSkysc2 and @Epikk_Esports