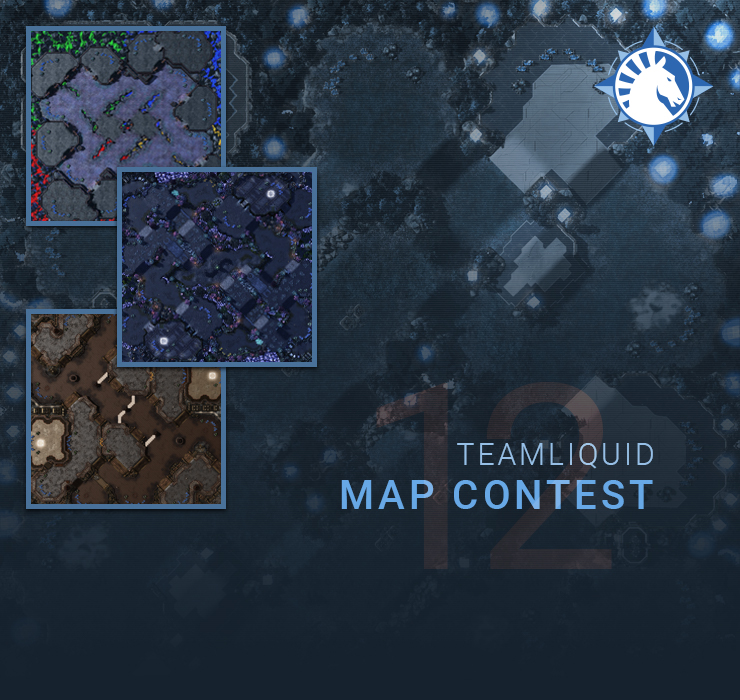 The 12th edition of the Team Liquid Map Contest is closing up on the finish line but we still have the most exciting part left: the voting.
After an exciting end to the

WardiTV Team Liquid Map Contest Tournament
we gave the map makers a week to fix smaller issues with their maps, so they could really impress you, the voters. That iteration period has now come to an end and it's time for you, the community, to give us your thoughts on the maps. Or as Frank Sinatra once sang: "And now, the end is near, and so we face the final voting."
The voting, just as last year, will be hosted as a Google survey so you can vote on your five favorites. This also means that just before/after you submit your vote you will have to post in this thread saying you voted, to make sure no one is impersonating you to vote. More details can be found under the
"Voting"
section at the end of this post. Please read through it before you post.
The voting will remain open until
Saturday, Mar 02 8:00pm GMT (GMT+00:00)
and the results will be published on the 3rd of March.
Bandwidth

By: themusic246
Expand the perimeters of this digital battleground or hold the forward highground bases to control important chokepoints.
Changelog
Made natural walling easier
Aesthetic enhancements
Added cannon rush deterrents
Operation Lockdown

By: IeZaeL
All of the parts and attack paths of the map are connected by small bridges. No attack paths are near each other, making each one very important and different. Players must be extra careful to not get caught offguard when crossing them. Map awareness is key here.
Triton

By: themusic246
Mixture of high and lowground bases on a frozen outpost. A xel'naga tower in the center of the map gives vision of important attack routes. Bundle up!
Changelog
Made natural walling easier
Highground base retexture for easier identification
Made corner base ramps smaller
Moved corner lowground base to add more space to its area
Added cannon rush deterrents
Aesthetic enhancements
Ephemeron

By: -NegativeZero-
A series of small bridges and ramps aid in defense and emphasize positional awareness. Destroy the rocks to open up larger, unobstructed attack paths across the high grounds.
Changelog
Minor pathing fixes
Improved visibility of overlord pods
Disco Bloodbath

By: Marras
Macro map with an average rush distance of 45s. There are 16 blue bases total. Rocks on both of the thirds to help with defense. In the middle of the map there is a disco dancefloor, which might make it a bit harder to see burrowed or cloaked units.
Changelog
Fixed the issue with the overlord spots
Changed some of the doodads on unpathable areas
Moved the overlord spot near the highground third a little bit further from the cliff to make the path wider and changed the smaller debris to a larger one
Added debris on the ramp leading to the corner base
Added a visual cue for the reaper ledge
Changed the lighting a little bit
Acropolis

By: RQM
Acropolis is a relatively smaller sized map for macro plays. Vertical third is very close to natural and main. Natural and third are easy to acquire and protect. Middle encourages direct conflicts in early games. Possessing central high ground leads players to victory. Players can take bypassing routes after destroying large rocks.
Changelog
Gave more space behind natural mineral nodes
Rocks on central high grounds are now smaller, enabling units pass in early game
Ramps involving direct path became wider and were moved backwards
Added a reaper path to main
Added extra doodads near the map boundaries
Black Baroque

By: Zweck
This big old stardusted temple of the gods got battered down with grime during its industrialized renaissance.
It provides a safe third and lots of easy to hold bases in contrast to the exposed main bases.
The middle part provides good possibilities to flank, good options to maneuver and strategically demanding high and lowgrounds. However the outer attack parts require more dedication.
Changelog
Natural choke was made a little bit smaller, to make 3 3x3 wall a bit easier to pull off / understand
Reaper jump-attention decals added
The lowground passage between the two lowground bases was made a little bit wider and more open. Therefore the 5th base on the highground pointing towards the middle was moved a little bit further to the middle
Small decorational changes
Easy cannon rush spot in the natural was made harder to wall off
Heatwave

By: themusic246
Choose between an open third and safer fourth, or safer third in open fourth. Bring on the heat.
Changelog
Aesthetic enhancements
Fixed reaper jump spot pathing
Added cannon rush deterrents
Thunderbird

By: RQM
Thunderbird is a macro-friendly map with mineral walls. Every reduced mineral nodes in the map is worth '5', allowing workers eliminate them by one trip.
Changelog
Mineral placement of base over the first mineral wall was changed
Mineral wall heading to external paths was removed
Overlord pods on middle were replaced with rocks and LoS blockers
Bases on 3 and 9 o'clock were moved to become a bit safer
Collision Course

By: IeZaeL
While the layout is purposefully as standard as possible, there are new gameplay elements: Mineral fields that litter the shortest attack path and mineral fields that block other "main" attack paths. Both are minable to open up new ways.
Collision Course is a map inspired by Freakling's well regarded BroodWar map Oxide
Rest Calm

By: Marras
A map with a smallish average rush distance of 37 seconds. There are 12 regular blue bases in total with additional semi-island gold bases on the 9/3 o'clock positions. These bases are blocked off with a wall of reduced mineral nodes with the value of 50. The gold mineral nodes themselves also form a wall, and the mineral line can be harassed from the other side. If mined out, a new pathway will open up leading to the lowground third base. The path going straight through the middle of the map has LOS blockers and rocks making the path narrower. There are also rocks on the middle highground areas restricting army movement.
Changelog
Removed the rocks from the ramp leading to the lowground third
Rocks added to the highground
The path through the middle made narrower by moving the rocks closer to each other
The mineral line at the natural moved closer to the edge of the map, also ramp moved accordingly and made a bit wider, added a highground pillar to ensure easy wall-off
Highground third moved a bit away from the edge so it is closer to the natural, rocks added to make it easier to defend
Reaper ledge moved to the other side of the lowground third
The mineral line at the lowground third made more compact and moved a bit closer
Some of the highground pillars in the middle paths replaced by doodads, los blockers placed between them
Added rocks and los blockers to the vertical lowground path
World of Sleepers

(Previously known as "Loss Aversion")
By: -NegativeZero-
This dreamlike battleground provides three choices for your third base - the standard linear option, the aggressive low-ground base with a rich geyser, and the protected base located behind a row of depleted minerals.
Changelog
Name changed to "World of Sleepers"
Changed mineral wall at the nat to 2 rows with 10 minerals each
Added pair of rocks narrowing the center choke
Added pair of rocks partially blocking outer low ground paths
Reduced vulnerability of the main cliff to reapers
Decorative improvements
Neo-Tokyo Turbo Cruise '84

By: Superouman
This small map features three rows of slowing areas that make the initial rush distance longer. As the game progresses, the additional bases make both players much closer than usual which promotes aggressive playstyles. So get ready for some turbo games on the turbo cruise.
Changelog
Slightly enlarged the main
Slightly enlarged the path around the triangle third
Disabled occlusion and activated outline occluder to "Korhal Sky Scraper Medium" and "Space Platform Sign"
Mungyeong Saejae

By: RQM
Mungyeong Saejae is a large map for macro games with inhibitor zones attached. Attacker can choose between two paths in front of enemy's natural entrance. One is a wide ridge but with inhibitor zones, and the other path involves LoS blockers.
Changelog
Removed IZGs on central ramps. Those ramps became wider.
Double ramps on middle were removed and now there is a flat passage. High ground close to them became wider.
Break Out

By: ATTx
TThe map has a narrow distance in the center and a wide outer battlefield.
It is a structure that can be easily adapted to a new object called deceleration field.
Players can be defended using a decelerator. And you can break a long rock to open a new passage.
Changelog
Winter's Gate

By: Marras
Smallish map with total of 14 blue bases and an average rush distance of 37 seconds. The triangle thirds are connected to each other via a highground route. There are four IZGs on this path to slow down units. In addition to this, there are also rocks near the choke to help defend against early pushes. Additional IZGs are situated next to the main bases to slow down air units.
Changelog
Widened the ramp leading to the choke at the highground third
Added a visual cue for the reaper ledge
Removed the lowground path and widened the ramps near it to compensate, added rocks to one of the wider ramps leading to the lowground area
Made one of the overlord spot at the lowground area smaller
Changed the decoration next to the main to make the new IZG models more visible there
In the voting document, linked below, you will be able to vote for a total of 5 maps, ranking them high to low. Your highest rated map will receive 5 points, your 2nd highest rated map will receive 4 points, etc all the way down to 1 point for your 5th highest rated map.
Some things to keep in mind:
If you vote for a map more than once, your vote will be voided.

For example: If you vote for MAP once as your highest rated map and then again as your lowest rated map, none of those votes will count

After you've voted you must comment in this thread. A simple "voted" will do.

This vote is only used to internally rank the maps, to determine the prize pool split. Blizzard has the final say regarding which map(s) make it into the ladder pool.
As a reminder, all of the top 16 finalists will receive $100 per entry. The top five entrants, as voted by you, will have their winnings expanded with the following amounts:
First - $500
Second - $250
Third - $125
Fourth - $75
Fifth - $50
Vote here!
Voting closes in .