NationWars III
Much like the World Cup or the Olympics, there's something inherently inspiring about pitting country against country in a battle of skills and wit. People take a particular pride in representing their country and showing the world exactly how good they can be. NationWars 3 is as close to a Starcraft Olympics as we have, and 16 different countries will be sending 3 of their best players to carry their flag to glory. Norway has now won 2 in a row; is a third title on the cards or will a different national anthem blare during the victory celebrations?
Each player involved in NationWars exemplifies the best that their countries have to offer. Every country has their own unique histories and their own famous personalities, and we've noticed that some of our participants resemble some famous people throughout history. Hopefully this ends up being a little educational.
Australia
iaguz
-
Ernest Giles
Does this even need explaining? The most famous beard in Starcraft is a popular figure for his outspoken ways and his... memorable pre-game taunts. He also happens to be one of the best foreign terrans, exploring a territory that was once thought barren. His explorer look-a-like may not have been a cuthroat pirate like we wanted, but it's close enough.
PiG
-
Errol Flynn
With charm in spades and swashbuckling good looks, Errol Flynn was one of Hollywood's greatest leading men during the golden age of cinema. PiG is Australia's most famous SC2 star, and you'll be hard-pressed to find anyone who doesn't love the affable zerg. I mean, just look at this
If Australia wants to have a shot at the title, their leading man will have to perform.
NXZ
-
John Monsah
A civil engineer by trade, John Monsah became one of the most decorated generals in Australian history due to his exploits in the First World War. NXZ is studying engineering full time, yet that hasn't stopped him from becoming one of the few Australians to reach WCS Premier League. With more and more Aussies traveling to international events—like Probe for DH Winter—NXZ will need to earn a few wins for his country to prove he's a worthy representative.
Canada
Scarlett
-
Agnes Macphail
In 1921, Canadian women were first given the right to vote; in that very first election, Agnes became the first woman to reach the House of Common and then the Ontario legislature. Scarlett was the first woman to ever reach WCS Premier League, the first to compete in the finals of a Premier tournament, and the first to win a Major tournament. The two Ontario natives were trailblazers in their respective fields, though I doubt Scarlett would ever get this haircut:
HuK
-
Sir John A. Macdonald
"That makes it all the more surprising that the man considered most responsible for Canada's birth as a nation was a fast-talking, crudely mannered heavy drinker with lifelong bad behaviour — but big accomplishments."
Did we write that about HuK, or was it taken as a quote from the link above? That's actually about Sir John Macdonald, but it may as well describe the Canadian protoss. As the person responsible for putting Canada on the SC2 map, HuK has achieved more than many foreigners could ever dream of. Even though he has his many, many detractors, his big accomplishments talk bigger than any clever slight we could ever throw at him. As long as he doesn't have a hit or miss tournament, Canada will go far.
desRow
-
Seth Rogen
Some people like him, some people hate him, but overall Seth Rogen can be a funny guy when given the right role. As the comedic relief when he isn't starring in a film, he knows how to fill out a role. desRow himself knows his role on Team Canada: come out first, try to take out some of the lesser players, and let his teammates mop up the pros. The Canadian team captain certainly has modest expectations.
China
XiGua
-
Gan Ning
Back in 2011, XiGua was the best player in China, raiding tournaments left and right. The zerg was by far the most capable player in his region, but times have certainly changed.
He's settled down
, and unfortunately he hasn't won anything since early 2012. Gan Ning was a former pirate during the Eastern Han dynasty, but he eventually retired from his cutthroat past to... become a cutthroat general in Sun Quan's army.
MacSed
-
Pang Tong
In another timeline, maybe Pang Tong could have been the most important strategist for Liu Bei during the Three Kingdoms era. Unfortunately for him, Liu Bei found Zhuge Liang, and he had to settle for second. That's basically the story of MacSed, the Chinese kong extraordinaire. It's been a while since he last impressed as he's been in the shadow of players like Jim for so long, but he could be a valuable member of this three man squad. He's equally adept at standard and unorthodox strategies, as long he doesn't get hit by a stray arrow.
TooDming
-
Zhang Fei
While he wasn't exactly known for his strategic prowess, Zhang Fei was one of the most feared generals during the Three Kingdoms era. Unfortunately, he was also rather heartless and hardheaded, which eventually led to his assassination by his subordinates. Much like the famed warrior, TooDming is one of those zergs that just knows how to smash an army. His roach donut against Scarlett is the stuff of legend, but his inability to transition and think of a plan B cost him a famous upset against Bomber. LotV may fit the Chinese roach king's style, however.
Denmark
Bunny
-
Tycho Brahe
When Bunny realized that foreign terrans were doing it wrong, he decided to take up the mantle and show them how to do it right. At Gfinity G3, he became one of the only foreigners to win a Major tournament where Koreans had competed. Tycho Brahe, on the other hand, spent his life correcting Copernican tables to create some of the most accurate celestial observations before the telescope was even invented. The two juggernauts showed that even with a slight 'handicap'—Bunny, the foreign terran; Brahe, the astronomer without a telescope—one can achieve great things with enough talent and hard work.
SpaceMarine
-
Kasper Schmeichel
Contrary to popular belief, SpaceMarine actually plays protoss. That's a little confusing considering he named himself after the quintessential terran unit, but I guess he figured out he was better as protoss. Unfortunately, that hasn't resulted in much success. For team Denmark, he's going to be playing between the sticks, catching the outliers that go before or get past Bunny. Like Kasper Schmeichel, who played youth for Manchester City as opposed to his dad's club Manchester United, they'll have to do more to get out of their peers' shadows.
Lillekanin
-
Nicklas Bendtner
Once upon a time Lillekanin and Lord Bendtner had some potential. They were doing okay and slowly finding their footing. Lillekanin even managed to reach Challenger League for the first time at the end of 2014. Then everything came crashing down when they did... some less than acceptable things. Lillekanin was banned from a season of WCS, and Bendtner was shuttled around on loan before being sold to Wolfsburg. Neither have managed to kick on.
Finland
Welmu
-
Renny Harlin
Renny Harlin's career as a film director has been eccentric to say the least, and he's carved a niche for himself as a B-movie specialist, with true classics such as A Nightmare on Elm Street 4, Die Hard 2 and Deep Blue Sea. While they're never likely to win any awards, their awkward nature makes them strangely compelling, much like Finland's favourite protoss son. Welmu's never been the most classically correct protoss, but his weirdness has always made him one to watch out for, and he'll certainly be his team's danger man.
Serral
-
Jeff Sarwer
A former child chess prodigy, Jeff Sarwer was once rated as one of the most gifted youngsters in the history of the game, winning several youth tournaments alongside his equally gifted sister. Serral also burst onto the scene with his brother Protosser at a young age, and while Sarwer never managed to sustain the drive required to conquer the world, time is still on Serral's side.
ZhuGeLiang
-
Ashprihanal Pekka Aalto
Ashprihanal Pekka Aalto is a Finnish ultramarathon runner who has been competing since 1999, winning multiple events in his sixteen year career so far. He once ran over 125 miles in a single 24 hour period. Meanwhile, ZhuGeLiang's most notable achievement to date is playing in the longest game to date in the WCS system - clocking in at over 4 hours against Lillekanin. I think you all see where this joke is going.
France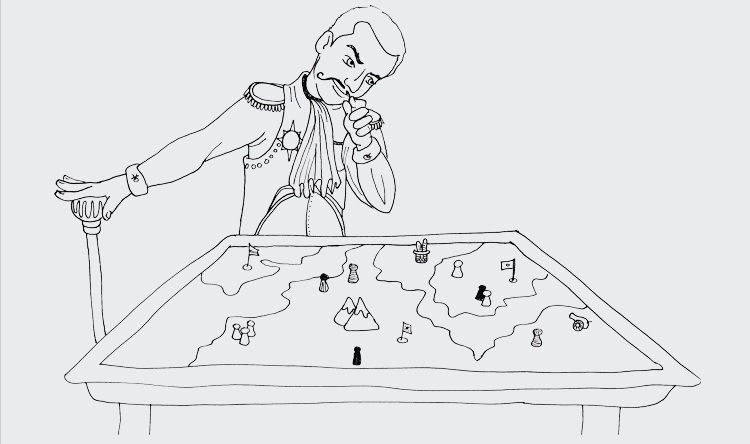 Lilbow
-
Napoleon Bonaparte
Self christened, perhaps, but Lilbonaparte proved the moniker well deserved in WCS S3 2015. He became the first foreigner to ever win WCS, and the first Premier champion in over a year. While his tactics were far from genius, his efficiency and ability to create advantageous tug-of-wars allowed him to beat players that were once considered his betters. His diminutive stature and controversial character also do Napoleon justice.
Stephano
-
Charlemagne
Before there was Napoleon, there was Charlemagne. His is a name everyone in the world knows, and the famed King of France is often considered the father of Europe. His revolutionary strategies and use of cavalry aided him in his conquests, much like Stephano and his roaches. The Frenchman is considered the best foreigner to have ever played the game due to his influence, success, and cult of personality.
MarineLorD
-
Louis-Nicolas d'Avout
D'Avout was a contemporary of Napoleon's and one of his best generals. He was well kown as the "Iron Marshall" and his penchant for surprising victories against the odds made him one of the most decorated commanders of the Napoleonic era. MarineLord is one of the few talented foreign terrans with the results to back it up, but little was expected of him before his convincing march to the Ro8 during WCS Season 2 2015. Now, he just might be one of the best terrans in the region.
Germany
TLO
-
Porsche
There are very few players as well loved as TLO, and even fewer play as fun a game as the German Zerg. A Porsche is about as fun as German driving becomes, and it's hard to argue against TLO's sportscar status. While he has yet to scale the heights of his other teammates, TLO has been a consistent performer for over 6 years now, and it doesn't look like he's slowing down any time soon. There's no speed limit yet on this new expansion, so expect him to step on the pedal.
HeRoMaRinE
-
Opel
HeRoMaRinE is one of the most successful players in local tournaments, having won ESL Pros Series in Germany. However, he has yet to replicate that form in international offline tournaments. His first taste of Premier League came this year in Season 3, but he was summarily ousted in the first round. Opel may be a reliable carmaker, but very few really think of them outside of its home nation.
ShoWTimE
-
Volkswagen
Their emission scandal aside, you know what you're going to get with a Volkswagen. It's not going to be fast or very exotic, but it's going to be a steady ride that might get you further than any of your other options. With ShoWTimE, you know exactly what you're going to get: a macro game. Sure, he may have started to mix in cheeses lately, but he has shown that he's one of the best macro protoss in LotV right now, especially in PvP and PvZ.
Mexico
MajOr
-
Alejandro González Iñárritu
For some, Iñárritu's films can be an unbearable bore, a true test of one's patience for a hypothetical satisfying payoff. However for others, his is a special kind of genius that can only be appreciated with repeated viewings. That pretty much describes MajOr, a player that has sometimes tested our patience with his plodding, positional mech play. He's often considered one of the best meching foreigners, yet he has yet to claim a title outside of the Copa America. He did carry his team to second place in Nation Wars 2, and only victory this time will be an improvement.
JimRising
-
Pancho
Cham
- Lefty
There are very few active, prominent Mexican players, and JimRising is the only "big name" in Mexican Starcraft outside of MajOr—especially now that Maker is effectively retired. Only recently signed by ROOT, Mexico will need JimRising to raid a few foreigners for wins just like last year, and this time his sidekick is going to be Cham. Despite last year's success, they will once again be the underdogs of the competition, and you can bet some of the traditional powerhouses will be after their heads.
Netherlands
Harstem
-
Dennis Bergkamp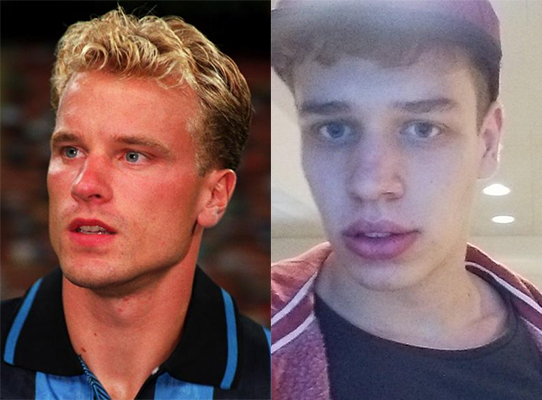 Just look at that pretty face. Both players are among the most good looking to play their respective games, but they also have the skill and talent to back it up. Harstem is a flamboyant protoss much like his fleet-footed lookalike, and the two Dutch wonders have matching hairdos, too. While Harstem has yet to claim a significant tournament title, he has been hard at work in Korea trying to elevate his game.
uThermal
-
Memphis Depay
When uThermal broke into WCS Premier League last year, many expected great things. He was supposed to be the next big Dutch player and, and many considered him one of the more exciting terran prospects. Unfortunately, he didn't get much further than the Ro32, and we're still waiting for him to fulfill his potential. Memphis Depay moved to the big leagues this season, yet he has struggled to replicate his form from the Eredivisie. It's time for them to show up in order to live up to their promise.
Jona
-
Sven van Beek
Jona isn't very well known outside of online leagues, and he has yet to make an impact at a Major event so far. He's gotten to the 2nd group stage of DreamHack a handful of times, but NationWars could be his biggest tournament yet. Sven van Beek is a solid central defender playing in the Eridivisie, and will likely play for the Dutch national team eventually. The jury's still out on whether he will move on to a bigger league or if this is as far as he gets.
New Zealand
Crimson
-
Jemaine Clement
While he's possibly more famous for his work in Flight of the Conchords, Jemaine Clement's recent role as a member of a reclusive vampire family in the excellent 'What We Do in the Shadows' has suspicious tangential connections to another member of New Zealand's growing zerg community. Crimson may have been active since 2011, but has attended a mere two LAN events in that time. We're not saying that he's a reclusive vampire, but...
MightyKiwi
-
Zoë Bell
Extensive research on MightyKiwi has revealed little so far (i.e. he has no Liquipedia page yet), but Aligulac reveals that he's played a whopping total of 839 games in the past three years, forever destined to perform well before losing to one of the SEA's big hitters. Much like MightyKiwi, Zoë Bell has also served a career making other people as a stuntwoman for all manner of Hollywood films; let's hope for the zerg that this will be his breakout role.
Petraeus
- Russell Crowe
Much like Russell Crowe, Petraeus is often a man caught between two nationalities. His close ties with the Aussies means that he's often been mistakenly identified for one, while Petraeus' gladiator-esque showings in the competitive SEA arena have certainly been of note. We have no comments on his singing ability for now though.
Norway
Snute
-
Roald Amundsen
Until Sen's history victory in August 2014, no foreigner had won a Premier title since Snute in HSC VI. He was the last of the great explorers, which included MaNa and Nerchio in 2012. Starcraft was an icy landscape in 2013, but Snute persevered and became one of the few foreigners to contest Koreans and genuinely have a shot at winning more titles. He was the single smartest swarmhost user in the world before they were reworked, and the nerf to his signature unit did little to stop his ascendance. He still needs a follow up expedition, but a three-peat for NationWars would certainly be sweet. Amundsen would be proud.
Eiki
-
Kristoffer Throndsen
Kristoffer was an admiral in what would become Norway's navy, and he was instrumental in the defense against Danish attackers during the Reformation of Norway. While an important figure in Norwegian history, he is little known outside his native country. That sums up Eiki as well; despite the fact that he isn't very well known, his past two stints in Nation Wars have been essential to the country's success. While Snute and TargA get all the plaudits, Eiki is just as important to the cause.
TargA
-
Stian Grimseth
How could you ever compare TargA to anyone that was anything but a beast of a man? I tried googling Norwegians for days and no one could do TargA justice. Except this guy, an European Championship weightlifter and former Olympian. Sure, sLivko's massive biceps often get credited as SC2's favorite muscle, but TargA certainly is the game's strongest man. He could probably carry his entire team on one forearm, but luckily, he no longer has to carry them through NationWars.
Poland
MaNa
-
Klaus Kinski
Editor's note: Klaus is German, but was born in Poland. Due to the necessity of the following picture, we have made an exception.

Yikes. MaNa is considered the greatest Pole to ever play the game aside from Nerchio, and Kinski is by far the most famous Poland-born actor to grace the silver screen. Both men are known for their intense stares, and it's difficult to say who exactly has a more menacing glare. While Kinski has quite a bit more insanity about him, we wouldn't be surprised if MaNa actually possessed X-Ray vision.
Nerchio
-
Roman Polanski
It's difficult to tellwhether Nerchio is simply unlucky or controversy is just destined to follow him. The great Polish zerg has always been one of the best foreigners in the game, yet his outspoken nature has gotten him in hot water more than a handful of time. Still, his talent is undeniable, and he's always earmarked as someone who could potentially go far in tournaments. Likewise, Roman Polanski is just as famous for his intriguing backstory as his excellent films. More than likely, the complex figures will be remembered for both.
Note: because Nerchio hates mayonnaise he is now the greatest Polish player of all time.
Elazer
-
Jakub Gierszal
Perhaps with a slight makeover, Elazer could have been a Polish actor instead. He certainly has the boyish good looks, which aids his resemblance to Jakub. However, after a few years of plugging along online, Elazer has found some success in offline tournaments. His big break came in WCS S3 2015 when he finally made it to the Ro16 and the offline portion of the tournament, ensuring some much needed screen time. The young zerg has all the elements for stardom, he just needs to grab that starring role.
Sweden
MorroW
-
Björn Borg
The original Swedish national sports icon before Zlatan (can you guess who would have been him?), Borg won 5 straight Wimbledon titles before retiring at the tender age of 26. MorroW was the very first champion of Starcraft 2 in a major LAN, winning IEM Cologne Global Challenge back in August 2010. Unfortunately, he went on and off between playing full time, and we'll never know just how good he could have been. We still fondly remember 5rax reaper.
Zanster
-
Oscar Enestad
Miniraser
-
Oscar Molander
We could talk about how both zergs are pretty good and up-and-coming players, moreso for Zanster who reached the semi finals of WCS Season 3 2015. That'd be interesting. But what's more interesting is the fact that Zanster and Miniraser might secretly be a part of a Swedish pop group of Starcraft players including Harstem and BabyKnight. We all know how these pop groups eventually end up: they break up when one guy goes solo. With his exploits last season, will Zanster ditch his cronies and become a star of his own? Only time will tell.
Read
this interview
for more.
Taiwan
In order to avoid any controversy we've decided to just use Taiwan's short history. Unfortunately, that means we don't really have much to use.
Has
-
Alien Huang
Sometimes, we aren't quite sure where Has comes from. He's listed as Taiwanese, but we have a feeling he isn't from this earth. His outright disdain for playing anything remotely approaching standard has made him a household name in Starcraft, and we eagerly anticipate whenever he plays a tournament. How he manages to stay competitive with his oddball approach is commendable, even if you can't stand his alien strategies.
Nice - No idea.
Yeah, we got nothing.
Cheetos
-
Jay Chou
If Taiwan had a king of cheesy, it would probably be Jay Chou. While he immediately tried to diversify with roles in period films and action flicks, it's hard to shake off that first impression. Cheetos may not be as cheesy as his name suggests, but the only time we've ever seen him play was at TWOP over a year ago. This will be a good chance to make a name for himself, and hopefully he doesn't bomb at the box office.
Ukraine
DIMAGA
-
Andriy Shevchenko
Once a champion on the global stage, Ukraine's most feted football star saw his legendary record of success dry up in the latter years of his club career. However, he often saved his best for his nation, and one final surge at the European Championships in 2012 cemented his reputation as a national hero. While the memories of DIMAGA's past glories now lie in bygone expansions, the call of his country could be just what he needs to brush off his recent results for another tilt at a title.
Bly
-
Ivan Kozhedub
Ivan Kozhedub was regarded as the greatest Soviet fighter ace in the Second World War. Famed for his decisive aggression, he certainly seems akin to Ukraine's blitzkrieg zerg Bly, whose insistence on ending series early, no matter the result, was certainly on display at Dreamhack. Kozhedub was particularly noted for his ability to lead his target effectively when shooting; now for Bly to hone those ravager shots to perfection...
Kas
-
Milla Jovovich
While Kas has been missing from the star studded Hollywood red carpet event that is the WCS Premier League for 2015, his track record in online seems as strong as ever. Much like Ms. Jovovich, he's specialised in smaller events for a while, and while he's not quite the A-lister he once threatened to become, he seems perfectly content in his current role. That's not to say that he can't dole out a kick-ass performance once in a while though, and he shouldn't be taken lightly here.
Korea
The dreaded TBD returns to possibly rule the world. We don't know who's going to be playing for Team Korea quite yet, but as long as it isn't KeSPA benchwarmers, we're pretty sure they're going to do well.
---
Writers
: lichter, munch
Editor
: lichter
Coder
: FO-nTTaX
Graphics
: shiroiusagi
Photos
: Blizzard, dravernor, Harstem (selfie)