We Live, We Die,
We Live Again
by
munch
It's hard to think of two champions in Starcraft 2 who have been mocked more for their achievements. Both Classic and Dear rocketed to the most unexpected of heights, before immediately crashing to the lowest of lows. However, that shared trough is where the similarities end for now.
While we had seen signs of Classic's prowess in STX's Proleague campaign in 2013, that success had yet to be replicated in the individual leagues. His championship run in only his second season in Code S, then, was a bolt from the blue. Built off the back of solid stargate play in PvZ, flexible adaptability in PvP, and mastery over the blink meta in PvT at the time, Classic seemed to be primed to rival Zest as the new champion of protoss. His embarrassing exit as the defending champion in the very first group of Season 3 threw a rather hefty spanner in the works, and along with his declining form in Proleague, Classic quickly dropped off the radar. Derided as a patchtoss, he looked like one more in the line of forgotten champions. His renaissance then, is one of the most engaging stories of 2015, and his return from the brink culminated in his dual triumphs at IEM Shenzhen and in the SSL. While he might not have quite hit the heights of Zest and his astonishing 11-0 record in Round 4 of Proleague, or amassed herO's ridiculous hoard of WCS points, Classic is in with a shout of being the standout protoss of the year. One more title to round off the year could put things beyond doubt.
"I have overcome doubt."
Much has been made of Classic's consistency over the year, but it's still impressive to see his near 70% win rate over the past six months. Of all the matchups, the protoss mirror is the best of the lot. His offline record stands at 74% since March, and in between Proleague losses to Dear in June and Zest earlier this week, he put together a string of ten consecutive series victories. In BO3+ PvP, he's unbeaten since January, and his shock defeat to PartinG at IEM Taipei. PvP is one of the most idiosyncratic matchups we have in Starcraft 2, but Classic's secret is his sheer versatility in the matchup. He might not be the best at any one style, but combining his swiss army knife approach with his intelligence in strategy selection more than makes up for it.
In stark contrast to his ex-STX brother in arms, Dear's trajectory since the heady days of Autumn 2013 has been strictly downwards. It's become a matter of course to mock him; to hold him up as the ultimate example of the unstoppable champion who crashed and burned. The double royal roader, reduced to a bit part participant in Korean Starcraft.
That's the accepted version anyway. Why then has Dear made two Round of 8s this year, on top of successful qualification for five out of the six Starleagues on offer? Why has he frequently taken up the ace position for Samsung in Proleague, racking up a number of impressive kills in the process? While clearly it would be completely inaccurate to say he's in championship form just yet, his determination not to roll over and die is impressive in itself. In 2013, he went into Season 3 with Blizzcon the least of his concerns, and emerged from it having pulled off one of the most miraculous runs in Starcraft history. This year, his chances are a decent degree better (9% compared to 2% approximately, according to Die4Ever's WCS Predictor) ; all he needs to do is repeat the feat of 2013 and take home the GSL title. With reference to the past two years, that's an extremely unlikely event. With reference to his past achievements though, it's just the kind of move he'd pull off.
"I must overcome doubt."
Dear has pulled off the Schroedinger move of being both fortunate and unfortunate in drawing a PvP in the quarterfinals. He's fortunate in that by pretty much every observable metric this year, Classic has been outperforming Dear. The volatility of the mirror matchup though narrows that gulf though, and we've had plenty of examples in the past of shock results in PvP. However, this is still the case of a really good PvPer going up against a player struggling hard in the matchup—Dear is 8-14 in offline games since April. Whatever the case, we won't know which one's the case until we open up the BoX.
Predictions
While Dear's been the master of unpredictability this year, Classic's simply been playing too well to have too many difficulties here.
Dear
0 -
3
Classic
Meat Against Metal
by TheOneAboveU
Of all the pairs of players in GSL Season 3's quarterfinals, one stands out due to its lack of great past titles and championships. While the three other Round of 8 series contain one or even two former champions, neither
ByuL
nor
GuMiho
have earned themselves a victory in Korea or overseas yet, although both did come close, with ByuL most notably losing last seasons' final against Rain. However the clash doesn't lack explosive potential, as it is one of the rare occasions which will show the two best players of a certain match-up going up against each other.
GuMiho, who has the chance of getting into his first Code S semifinals since 2012 Season 1, has been named as the best mech player versus zerg in all of Korea in this seasons' group selection ceremony—a huge feat to achieve, with players such as INnoVation as the alternative. Looking at GuMiho's recent kills, it is much deserved praise. In the Round of 32 both soO and Rogue fell victim to his abilities, despite being two of the most renowned anti-mech zergs.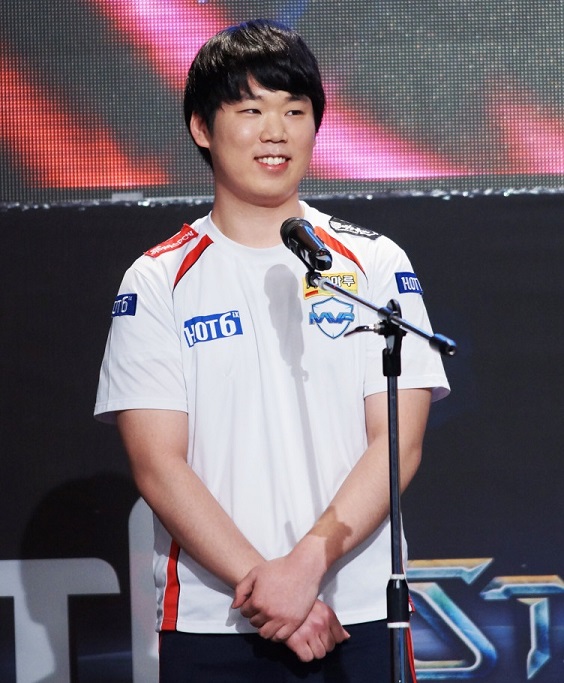 "My reaction when a zerg thinks he can beat me? Amusement. Amusement and no mercy."
Neither soO's hours of practice against INnoVation's mech nor Rogue's craftiness were enough to resist the Towel Terran and his long experience with the controversial style, which came to dominance in TvZ in the last months. Not only is his defense almost unbreakable, he is one of the few mech terrans to emphasize early and mid game harassment which he showed against Rogue. His ability to inflict critical damage early shocks his opponents' morale, and it could be a deadly tool against ByuL, a player that struggled to defend similar tactics from TY.
However ByuL always seems to struggle to defend attacks and always seems to stand on the edge of defeat, before he somehow comes out on top at the end. The CJ Zerg has shown extraordinary mental fortitude in high pressure situations, such as multipronged hellbat harassment, and long, draining stand-offs with deep siege tank lines. ByuL, even when under attack and at the verge of losing bases, has the needed amount of patience to wait for just the right moment to defend himself, overrun the enemy and counterattack. He knows exactly when he has the correct amount of units to take action, where many other players act too early or too late and die.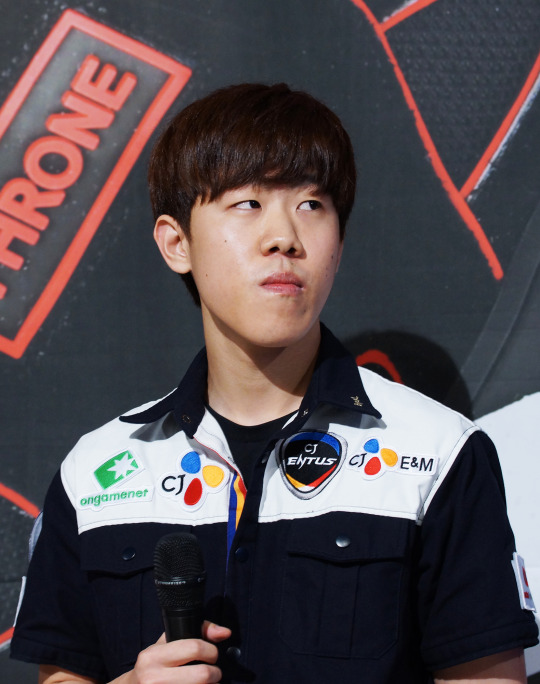 "I hereby declare: the tyranny of mech will be ended once and for all, my dear zerg brothers!"
His refusal to be broken and routed off of the battlefield allows him to combat mech better than every other zerg player right now, as recently shown against FanTaSy, INnoVation and TY. ByuL is a crafty player, who is easily able to end games early and is very fond of burrow playstyles, but the aforementioned characteristics make him the one player who might be able to match GuMiho's prowess with mech in the mid and late game.
Of course there is one possibility we have neglected so far. GuMiho has the option to surprise the world with another display of his skills with bio, like he did against INnoVation's mech in the Round of 16. Although it is unlikely that we'll see this composition, the Best of 5 series does offer enough space to plan for one try with bio, just to shake things up and make ByuL feel a bit insecure. Such a move would be extremely risky, as the zerg player has already smashed down a ploy like that in his S2SL quarterfinals by crushing INno's bio with flawless ling muta bane play in the first game of their series. The Towel Terran does have an advantage in regards to preparation, because ByuL has the S2SL Grand Final against his colleague herO coming up on Sunday, while the terran's only focus lies on the GSL.
MVP Terran and CJ Zerg: both are being praised for their abilities in this match-up by fans and colleagues alike, and all that with loads of evidence from recent series to back it up. But the ultimate achievement, that would prove their mastery of their crafts once and for all, is to advance to the semifinals and then go even further. Waves of metal and meat shall crash, and only the one—whoever knows how to use their respective advantages to their utmost effectiveness—is going to survive this clash.
Predictions:
Both players have crushed the greatest anti-mech and mech players in recent times, now, being hailed as the top players of their respective races with and against mech, they have to prove who is superior. It's going to be extremely close and we should expect some prepared tricks from both of them, but how can GuMiho kill a player who's rejecting to accept defeat?
ByuL 3
- 2
GuMiho
lichter's Foodie Guide to the Ro8 Part 1
by lichter
Welcome to lichter's foodie guide to the GSL Ro8.
"Foodies" are weird. They insist on trying all of the food, but actually they only try some of the food, and that food had better be cool. Of course here on TL we're all about being cool so we've decided to hop on that bandwagon! Talking about food is now our new found passion which will last approximately 1 week, conveniently long enough to last all of the Ro8.
Dear - A former Michelin star restaurant that lost its chef and now has to rely on an ex-busboy to save them
I know what you're saying, "Hey isn't that the plot for Ratatouille?" Well, yes, yes it is. But it's basically the most accurate thing ever. Once upon a time, Dear was on top of the world. His precipitous stumble into obscurity can be likened to a celebrated chef becoming a frycook at McDonald's. Yet, somehow, he's back. It hasn't looked pretty and it hasn't exactly been convincing, but he's in the Ro8 again. We might find out there's a midget templar hiding in his Samsung jacket, but I'm pretty sure there aren't any rules against that.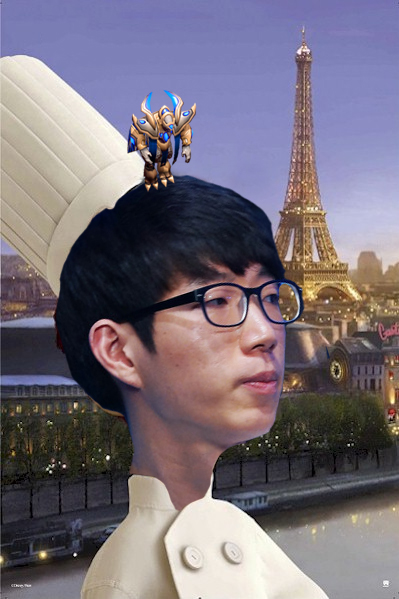 This would totally make sense.
Classic - A famous Chinese food truck that only sells fish jaw hotpot
What is it with people and food trucks? A truck is the least delicious mode of transportation (the speedboat is obviously the most delicious), and yet the phenomenon has exploded. There are even some food trucks with apps that announce where they'll be, with a crazed fanbase chasing them around the city. That's basically Classic right there. Nobody really understands why he's so good—aside from being really smart at times—and he has this tendency to disappear for long periods only to reappear in a dark alley parked beside a dumpster. Oh and he only sells fish jaw hotpot, because people never get tired of 1-item trucks and chin jokes.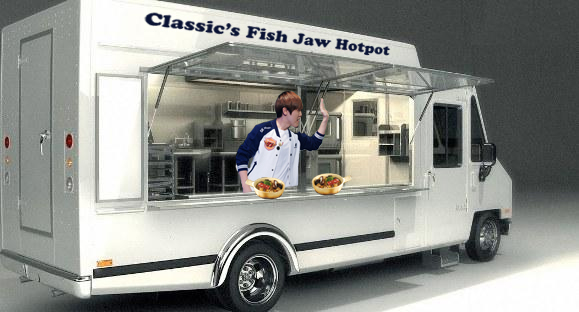 This actually looks kinda believable.
ByuL - A revolving Sushi restaurant
There is almost no way to survive a revolving sushi restaurant without ending up overstuffed. You tell yourself, "oh I'm only eating 6 plates", but the actually number is likely going to be twice that, at least. You never know what the next plate is going to be, and you'll be damned if you let something good or new pass you by. That's ByuL in a nutshell: he's one of the more novel early and mid game zergs, but surviving his long game is close to impossible. The guy just keeps going and going and going, even when his merry-go-round of builds doesn't always pan out.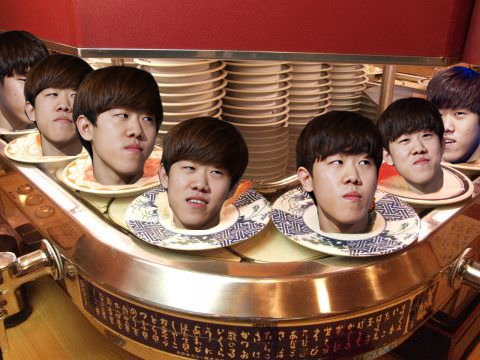 More ByuLs than you know what to do with.
GuMiho - An Okonomiyaki restaurant
As the saying goes, "Throw anything into your okonomiyaki and it's probably going to work." (disclaimer: no one actually says this) This Japanese dish literally means "whatever you want", and that's basically what happens every single time. GuMiho's "whatever I want omelette" often takes the form of mech, but you never quite know what the ingredients are going to be. Sometimes, you get 90% tanks and 10% vikings. Sometimes you get zero tanks, just thors and hellbats. There are even times you get a muttley half mech half bio composition. Things never look very pretty either, and even "boring, boring" mech turns into a messy recipe with the Towel Terran.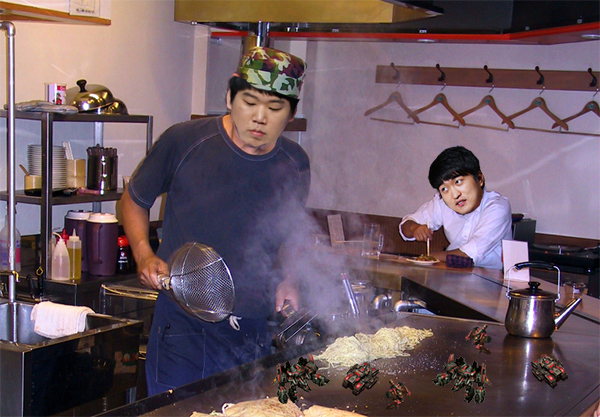 Flash visits GuMiyaki to learn the secrets of mech
Credits:
Writers: munch, TheOneAboveU, lichter.
Editors: lichter.
Graphics: shiroiusagi, lichter.
Photo:
Shayla.
Stats: Aligulac