Photo Credit: ESL
Startale
Life
이승현
The Tower

by Zealously

Three years ago, two unique ZeNEX Zergs stood apart from their peers. The more celebrated of the two, Line (later Suhosin), was a conductor of madness. Players had not yet had time to fully map out the game, and Line revelled in the chaos and the unpredictability by utilizing builds and unit combinations drastically different from those of his peers. Playing against Line meant facing the unknown – it was difficult to prepare for, harder to grasp and even harder to properly play against what Line was doing at the time. Often, the sheer insanity of Line's play backfired, leaving gaping holes in his play that saw him eliminated before he could place highly in the GSL or before his insane plans could come into fruition.
Winrate
53% vs. Terran
56% vs. Protoss
73% vs. Zerg
Earnings
$235,381 USD all-time
Liquidpedia Link
"It's very regrettable. I lost to San. He's so good at all-ining. "His less famous and much younger teammate ZeNEX_Life also epitomized deviation from the norm, but did so in a more "orderly" and sensible fashion. There was a distinct method to Life's madness that wasn't quite there in Line's, the beginning of a pattern that would eventually reshape competitive Zerg play. Although the two didn't seem to share any close personal bond, the close similarities between how the two played that likely stemmed from practice together on ZeNEX. It's impossible to say whether Line acted as Life's mentor but there are certainly aspects that, even three years later, are reminiscent of Line's legacy as the craziest player in the GSL.

Life showed potential early in 2011 by beating the soon-to-be GSL champion jjakji in the finals of the sixth ESV Korean Weekly, taking him out in a tense series that went all 7 games. However, Life had trouble maintaining consistency. He faltered, stumbled and picked himself up only to do it all again, learning a few things each time and slowly but steadily climbing to the top of the Zerg hierarchy. Popularizing a number of new builds in ZvT and ZvZ, Life began to make a name for himself. In ZvT he made use of builds like 2base muta, punishing Terrans for adhering to the recently greedier standard and the 10pool openings in ZvT that would later become his trademark. In ZvZ, his broad repertoire of builds (ranging from different upgrade timings to roaches or pure speedling play) made him one of the most feared Zergs in the online scene. He reached the top of the Korean ladder some time in early to mid-2012, becoming a regular fixture on most player streams and catching the attention of many fans just in time for his real breakthrough.
L'enfant Terrible
"Because it's impossible for others to emulate my style, I wouldn't call it a paradigm shift."
Life would not draw real international attention to himself until he was allowed to show his face to the world in the GSTL. An effortless all-kill of Team Liquid set off a chain reaction that quickly led to his conquest of the GSL in the first "real" Royal Road championship the tournament had ever seen. At this point, after the merging of ZeNEX and StarTale, the madness Life had inherited from the now-overshadowed Suhosin had coalesced into something that was palpable, instinctual and championship-winning. But not only was the style he played strong, it was also a style no other Zerg player could successfully incorporate into their own play.

"I can't lose. Confidence alone has won me games so far. That's why I know I will win."
The details of his ensuing dominance are well-known. Excluding an awkward dual loss to Soulkey's meticulous preparation in Season 5, Life became the player, a favorite to win each tournament he entered. More often than not, he delivered on those expectations. He possessed a kind of confidence no other player could match, an immunity to pressure that allowed him to approach each game as though he was by far the superior player, as if losses were out of the question. And even when losses came, he shrugged them off as if they were nothing but flukes and proceeded to rebound and win.


Life lifts his fifth trophy in six months after defeating a rising Flash at MLG Dallas
But nothing lasts forever, and Life's eventual fall – shortly after his win hard-fought win at 2013 MLG Dallas – crushed the image he had created of himself as a player apart from his peers, both in terms of style and in terms of skill. He remained a stylistic and innovative player - setting the 2base muta trend in ZvZ that was only broken after Blizzard stepped in with the spore crawler buff - but others now rose up to challenge him. Players like Roro, Soulkey and Innovation would all face him in the coming months, and he would lose each time while they went on to win championships. By the summer of 2013, Life's reputation had been irrevocably tarnished by a certain Swede. Suddenly, things crumbled around the Startale prodigy. He retained his singular love for zergling play and offbeat aggression, but no longer had what it took to force his way through unfavorable engagements and the disadvantages he had previously wiggled out of with grace. The aggression and the all-over-the-place style of play that Life is all about was there, it simply wasn't as refined or as efficient as it had been. He fell from the top, and his results dropped with him.

A cursory glance at Life's results since the summer of 2013 might tell you that something changed soon thereafter, that he rediscovered what he had lost. After the six-month championship drought that followed MLG Dallas, Life conquered IEM New York to once again become a champion. His victory would tell many that he had returned to form. And while it is true that Life has regained some of what made him king in late 2012, it is not the whole story. "L'enfant Terrible" and the "6-pool Master" still describe a fraction of what Life is, but they no longer represent the whole.

Pinpointing exactly what defines Life is today is difficult. He is a champion, a stylistic outsider, a kid with an ego too big for his own good, a competitor who always wants to win now, a Triple crown winner, a patchwork of different ideas that only sometimes work in cohesion, someone washed up, a player appearing past his hour. He has looked like all of these, sometimes all at once. He is the player who for months completely lacked confidence in his play because it didn't feel right, but he is also the player who told me "Fighting? No, easy!" as he walked on stage to face Taeja in Jönköping.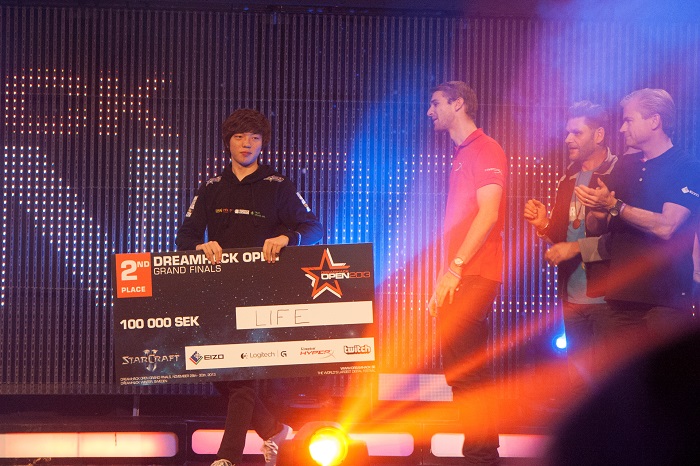 Life hides his disappointment after losing the finals to Taeja.
Life is an erratic player by nature, and to me that is what has come to define him. Containing Life in a few words or attempting to describe his career concisely without looking past important points is impossible. At the heart of things, both Life's style and his career are chaotic. No other player is so characterized by disruption or so insistent on maintaining aggression beyond reason, no other player so defined by his irregular ups and downs. Few players swing as violently between championship-caliber wins and losses against inferior opponents, and only Life seems to have such clear issues with finding his own identity within the game. When he is on, Life knows exactly what he needs to do to win and executes. When he isn't, he fumbles with strange decisions and trips over his own feet in his attempts to make perplexing unit compositions work. Too often, it looks like an idiot attempting to fit the square into the triangle, when it may in fact just as well be a genius working with tools that cannot match the brilliance of his mind.
But brilliant or not the fact remains that Life, through more than three years of competitive Starcraft, has something no one else has: a mastery of a unique, chaotic style of Zerg that seems to work on some base, instinctual level. He directs zerglings as though they are extensions of his will, finds cracks in defenses that look flawless and creates chaos and disruption almost as if they were goals in and of themselves. He is a meticulous conductor of a style that is chaotic by nature, in many ways an improvement upon the aspects that first set Line apart in 2010. When one plays against Life today, one faces not only the builds and the units but the knowledge that something might be coming that you simply will not know how to deal with. Life is not like other players, who play toward a singular goal with a build that they execute to a tee. His play is fluid, abstract and, for the lack of a better word, different. Four 10 pools in a row are just as likely as four greedy triple hatch builds, and it is rarely possible to discern the reasoning behind his decisions, perhaps because there is no reasoning beyond what Life instinctually feels is the right move.
Life is not the strongest player at Blizzcon. Two years ago, he would have been. Back then, he was an unbeatable monster of tender age upsetting his elders by dethroning Mvp and crushing the established elite. Now, he himself is part of the established elite, a player at risk of being overthrown by a new generation of hungry fortune seekers and prodigies looking to expand their list of achievements. But despite belonging to that group, he still stands apart. Life's rise to power came through an explosive transformation of the Zerg race into something that fit his style, a reliance on disruption and chaos rather than safety and order. No other player has an identity as unique as Life's, and no other attending player can claim to possess quite the same flair as the Ling King.
In a field of sixteen of the world's most accomplished players, Life is one of the few who has been on top, fallen from that peak and once again made the climb. Life isn't what he used to be, but he still has the essence of what made him great.