Thanks SilverskY!



The Bacchus OSL 2009's conclusion is now less than a week away, and I've returned from my vacation (thanks for filling in, Plexa!) to cover its final stages. Here is the skinny on both of its semifinal matches — the one that was easily worthy of an OSL Final, and the one that was barely worthy of mention in this article. It shouldn't be hard to figure out which is which (hint: one's LR thread is 10 pages, and the other's is 111.


---
Semifinal B: Clash of Titans


The Bacchus 2009 OSL semifinal B's winner would both be the favorite in its Finals and climb on top of today's most intense TvZ rivalry. Heading into this match Jaedong already had an unforgettable Bo5 win over Fantasy (his gritty comeback in the Batoo OSL Finals, of course) under his belt, but it was undoubtedly Oov's prodigy who had most of the momentum. He got the best of JD in both of their most recent encounters, at PL Grand Finals just 7 days before this match. These Proleague sets are must-see games, and a necessary part of any responsible fan's preparation for this titanic semifinal.

Video Recap



http://www.youtube.com/watch?v=Ekz9K1WpUTQ



Recommended Viewing



2set:
Jaedong
vs.
fantasy

on

Outsider+ Show Spoiler [VOD] +


This game has everything we've come to expect from these two giants: nail-bitingly close defenses and blindingly swift offensives, precise micro, healthy use of high-tech units, and clever drop play. It doesn't quite stack up to their Proleague game on this same map just a week earlier (what can?) but is well worth watching. If you've got the time, check out the rest of the series too — sets 3 and 4 are dramatic.

Also: Outsider kicks ass. Although slightly imbalanced against Terrans, it has produced a remarkable portion of the recent months' best games. TvZ on Outsider is rarely boring — the map's structure guarantees a satisfying combination of drops (at peripheral expansions) and conventional TvZ micro (in the open middle). I hope Outsider is retained for next OSL season...and how about finally axing Return of the King, possibly the longest-running easily-forgettable map in OSL history?

Match Notes

As is almost always true in best-of-five series which are even after two sets, the third game in this match proved by far its most pivotal. To "reciprocate" Fantasy's traumatizing 2-rax rushes in Pusan a week earlier, Jaedong decided before this match that he would 4-pool in its third game. When Fantasy held JD's first 6 lings, the rush looked like a horrible mistake.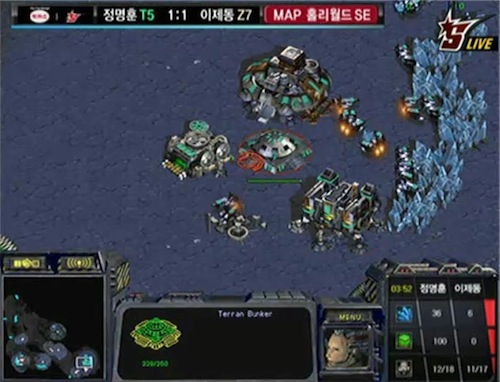 Looks impenetrable


With 2 marines, a well-protected bunker, a factory building, and a virtually unharmed economy, Fantasy was in a very comfortable lead — JD was severely understating when he said "I felt that I was at a disadvantage". Any Zerg would have suicided his remaining lings into the bunker and left the game, or even just typed out immediately upon realizing the situation.

JD is not any Zerg. He took half of his Zerglings to the rear of Fantasy's base, and then charged in to surround the bunker and win the game. Likely out of shock, Fantasy completely failed to react to Jaedong's move (just a few SCVs in the way of those lings would have saved the bunker and his base). This was the match's defining moment for two reasons.

First, it obviously unsettled Fantasy. He dragged out the 3set by lifting his CC and barracks to his natural, lost his composure in his booth after the game (FakeSteve put it best), and, for the first time during the match, stole away from the camera with Coach Oov.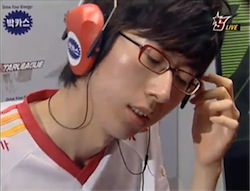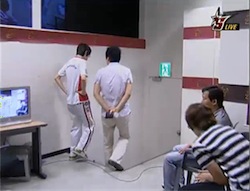 Fantasy is visibly affected by losing to JD's 4-pool


Second, it gave Jaedong enough breathing room for a calculated risk in the 4set on Return of the King. JD considered the probability that Fantasy would wall in (decently high) and the probability that Fantasy would be in a starting position at which some units produced at the wall spawn outside it (2/3, considering JD occupied one of two bases on RotK at which all units will spawn inside the wall) and opened with a 9-pool. The game played out so well for JD that it's easy to peg its result as inevitable after his build order choice. However keep in mind that, had Fantasy spawned at 7:00 or simcitied his main rather than building a poor wall, JD would have been seriously behind. Jaedong's 2-1 lead is what gave him the confidence to bear this risk and thereby score a relatively painless series-clinching win.

This match's lessons are old ones: JD always performs in big matches, and cheese is the ultimate weapon in BoX series. In the hands of competent players, rushes and "strategic plays" have proven ruthlessly effective in countless contemporary Starleague matches, regardless of the cheesed player's skill. Jaedong > Fantasy (Bacchus OSL 2009) now joins July > Best (EVER OSL), Leta > Flash (Lost Saga MSL), Luxury > Leta (Lost Saga MSL), and Bisu > Fantasy (Avalon MSL) as a recent, pivotal Starleague series decided by cheese.


---
Semifinal A: Yarnc Gets Hyphy on Type-b
Video Recap
http://www.youtube.com/watch?v=9xSRLi5m5iA
Recommended Viewing
1set:
YellOw[ArnC]
vs.
type-b

on

Holy World SE+ Show Spoiler [VOD] +


This series was so garbage that I feel guilty for labeling any of its games "recommended viewing". But if you're absolutely hell-bent on getting a taste for the match in VOD form, watch its 1set. This game features one instance of nice micro (more than can be said for any other set), and is fairly representative of the match as a whole.


Match Notes

Type-b's Cinderella Bacchus 2009 OSL run has come to a cataclysmic halt.

Inbetween terrified glances towards Yarnc's side of the stage and with a helpless look that even an in-booth meeting with three Hite coaches couldn't wipe away, Type-b made several critical mistakes that perfectly illustrated the gap between S-class (JD, Calm, Effort, Yarnc) and A-class ZvZ. Attacking up Yarnc's ramp (suiciding lings) cost Type-b the 2set, and his pathetic response to Yarnc's 9-pool cost him the 3set. The match's final moments were appropriately awful for Type-b. Looking for a swift end to his misery, he attempted an all-in sunken rush; somehow Yarnc's defensive sunk was down before Type-b's offensive one. There's not much else to say about this series simply because it was over so fast: from the moment he was horribly outmicroed in the 1set, Type-b put on his best "deer in the headlights" impression and threw himself in front of Yarnc, whose OSL title hopes have been accelerating steadily since group stages. Splat.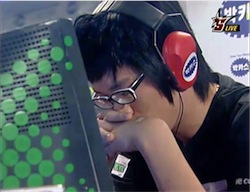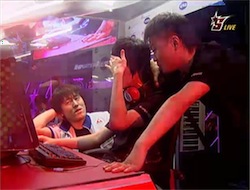 Zeus: "dude, you're sucking"


After the match, Yarnc tried his best not to smile and his teammates tried their bests not to congratulate him for stomping a player who was so clearly his inferior. It was awkward.

Initially I thought having all four of its Ro8 qualifiers on one side of the bracket was an awful situation for Hite. Now I'm not so sure, because it guaranteed the SPARKYZ a slot in the OSL Finals — an honor they have not claimed since Casy faced Chojja in 2006's 1st ShinHan Bank OSL, and one they were unlikely to achieve if Jaedong and Fantasy landed on opposite sides of the bracket. Yarnc is under immense pressure to perform in the Finals, and not only because he will face Jaedong's ZvZ. A bad loss would render Hite's involvement in the Bacchus OSL 2009 totally inconsequential, and cement the general consensus that the OSL Finals were already played in semifinal B.


---


One More Thing:

Leta implies that Type-b absorbed his skills...Leta must be awful at ZvZ.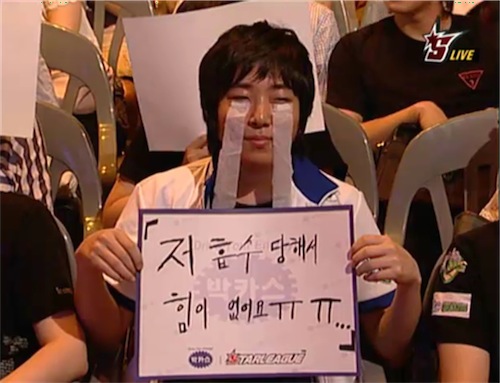 Leta (trans. konadora): "I got absorbed so I'm weak now TT TT"
---
Be on the lookout for a sweet Finals preview in the coming days. And safe travels to all of you Blizzcon attendees!

Peace,
JWD