Fantasy: Looking Back

Shinhan 08/09 - Round 2 In Review



The second round of Proleague is officially over, and with it, the first Fantasy Proleague season. As far as my own fantasy season is concerned, I did worse than I really care to mention (cough, 162nd..cough). But at least I can take comfort that the Fantasy Proleague itself was a huge success, even if my team was not. The next Fantasy season is just under way if you were somehow still unaware, but first I'd like to take hindsight's perspective on the round we just finished….


---



Exceeding Expectations



At the beginning of the season it would have been difficult or impossible to predict all of the players who would perform above the rest of in their own cost brackets. But it was certain there would be some who would shine above the rest while other would putter out from their first round performances, and the teams that could pick these players apart best at the beginning of this Fantasy season would surely rise to the top of the standings.

First of all… Holy Crap
Leta and
Mind!!!! I mean, Leta, I didn't think a player would reach sixty points, or even the high fifties, and he hit sixty-three! He outscored every other player by fifteen points, which is more than a majority of the players scored all round. Ten teams managed to choose this beast at the beginning of the season and their pick definitely paid off! Leta was almost indisputably the best choice of player for this season. Both his total point output, and his points per cost were astonishing.

Which leads us to the other candidate: Mind. Leta might have been a monster, but Mind was quite monstrous as well… and he only cost four points! Despite this crazy bargain, there were still only fifteen teams that chose Mind. Mind's cost to output ratio exceeded that of all other players at 12 to 1 (with a few exceptions of zero and one-point players, but they have skewed ratios due to their low value anyway). The expected ratio of any player to be worth picking would be a 5 to 1 ratio. Mind was the only player who more than doubled his effectiveness in that category.

Trailing by a small margin behind these two front-runners for best pick is
Bisu. Bisu was much more popular among the teams; in fact, he was the most popular pick with 89 teams choosing him. He looks to be riding his third MSL Championship high as both he and SKT have shot up in the rankings. SKT, though one point behind Lecaf by final ranking, was arguably the best team pick as they only cost three points to be purchased to Leacf's five. SKT at three points turned out a better ration than any other three-point pick. SKT tied Lecaf for best overall record due to a fall by Lecaf in their final match. Had Lecaf done any better, they would have held best record all to themselves, but as fate would have it, they must share that title with SKT for round two.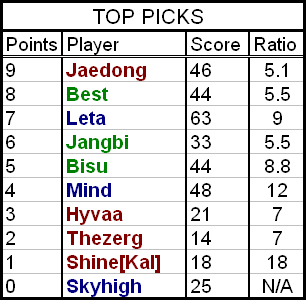 Above are some other successful picks of note.
Thezerg, despite the moaning and groaning of his owners, turned out to be the most successful two-cost player and actually exceeded his two point expectations as the season came to a close.
Shine[kaL], who nobody picked, turned it on late in the season to rack up a 3-0 record for himself and topped the one-point player standings above other favorites, like
Anytime. There weren't any players that cost anywhere up to three points that managed to outscore freebies
sKyHigh and
Young. Look for these two up-and-coming players in future seasons to help lead their teams into battle.


---



Words From the Wise



Working as a team can be beneficial in almost any game. Evolving strategies, practicing and planning can often be helpful when having others to bounce ideas off of and practice with. It will help everyone involved get better. The same can be true for Fantasy Proleague, a small team of members working together to develop and speculate upon a core combination of players for their teams. If their secrets escape, then the competition becomes aware of the strategy and can adapt or use it themselves; but kept safe, they could all find themselves near the top of the standings if they were correct and strategized well…

Hot_Bid and IntoTheWow went along a similar line of thought during the team creation stage of Fantasy Proleague, keeping most of their own process under wraps until team registration closed. They propelled themselves cleanly into the top ten, and their advice helped at least a couple others make it into the top twenty. I stopped to ask each of them for a little insight to their team creation process.



Teaming Up
by Hot_Bid



I'd like to thank IntoTheWow, as we worked on our teams together. Our player picks for Round 2 were
sKyHigh,
Young, and
EffOrt, and all three ended up exceeding their prices by quite a bit. Hopefully we can both make Top 10 in Round 3. I'm very happy I finished in the Top 10, though Lecaf's last minute collapse cost me the #2 spot. I'm very happy a staff member won it, and that staff in general did so well. I'm not sure if I helped intrigue by giving him advice to pick SkyHigh and Young or whether he helped me with his magical luck by choosing some of the same players as me (haha). But seriously, the guy has a deal with the fantasy devil or something, everything turns out his way. This round, we have a five member "clan" of staff fantasy, and we will either all succeed or all fail together. Watch out!



Insider Info
by IntoTheWow



Though there is a lot of luck involved in Fantasy Proleague there is a lot of information laying around in Teamliquid to help us build a team with good chances of making it to the top.

When I first heard about FPL I quickly made a team with my favorite players like I did for OSL or MSL. Clearly this didn't work like that and as ProLeague has more rules than individual leagues I thought I would take advantage of that.

That is how I started discussing my teams with Hot_Bid, pachi, intrigue, semioldguy, and LosingID8. And most of us got very good spots, so I'm guessing it worked or we are really lucky.

Building a team for Round 2 was a lot easier than for Round 3 in my opinion. Here's why:

First, there is the race rule. This rule forced each team to send at least one player from each race in the first 4 matches. This helped a lot to narrow the picks. For example we thought
Light was not a very good pick, since he shared his race and team with
Sea and
RuBy (but mainly just Sea).

This was also the reason that made us not pick
Bisu (except for intrigue) because we thought he would share a lot of play time with
BeSt (who was playing a lot better than Bisu back then). As you can probably see, I regretted this decision later.

Other information we had at hand before submitting our teams was the line ups for the first week.

That's how, for example, I think
Stork could be an interesting pick for Round 3. He's playing ACE in week one (from line ups released before deadline), so he has chances of going 3-0 or 4-0 which would make him win a good 8-11 points making him basically a 7 point pick worth 6 from the start.

Line up info was way more important in R2, as it gave more info than in R3 and wins were less important in the scoring system. A cheap pick who belonged to a strong team and got sent would score points even if he lost. If he won, well that's even better. To check low cost players TLPD came in handy.

The pivotal point of our teams was the cheap picks I think. Anyone can pick expensive players. Even if you don't get the best expensive pick, you will still get a good amount of points from them, unless he decided to go 0-5 (like
Jaedong who kept us a little worried for the first weeks). Still a good Point/Cost ratio. It would be 5 / 6 or 7, but nothing crazy.

But with cheap picks you could pick players for no cost and get a good amount of points from them, which freed up more points for our expensive picks. Checking roster changes (which come out before the start of each round) we could check who was playing bad in a team to get removed from the team and avoid picking someone who would not appear, and see who the coaches saw as ready, and who would probably get a shoot to prove themselves.

With
Memory and
DarkElf out
Only
sKyHigh and
Iris remained as strong Terrans in CJ, with sKyHigh costing zero points.
AzAng got added too, but sKyHigh proved himself back in the MSL online qualifiers and looked promising.

With
Young we followed a similar logic,
BackHo underperforming meant there Protoss spot on Lecaf was vacant. Young proved us right and scored 21 points at zero cost. Young also belongs to Lecaf, so he would also get extra points from team wins.

With that pick and
Jaedong set in stone (Only good Zerg on the team + best Zerg in the world + lots of acing possibilities). We just played with the points we had left to complete our teams, that's why Hot_Bid and our team look so similar.

Round 3 will be a lot harder, not only more than four times the amount of people from Round 2 registered, there are no zero point picks, which means we need to make more cheap picks within the same team (the hardest part). No race rule, little line up info, streaks and wins being important makes it all harder as we need players capable of playing versus the best of each team. There have been less roster changes too, which didn't help at all. In this round I think expensive picks will have more weight in getting us to the top.


Summary: SonuvBob sucks and I beat him for almost 100 points. I don't think there's anything else to be said.


---
Fantasy Proleague in the Books
Leta finished as the top scorer of the season, as most of us were able to figure out a few weeks ago. No one even came close to catching him.
Mind has a solid second place almost all season and
Jaedong finally started running after a slow start to finish in third. There is a fairly even race distribution among the top ten players as well. Will the ten players that toped the standing this round be able to hold their own and stay on top during the next round which features the All-Kill format?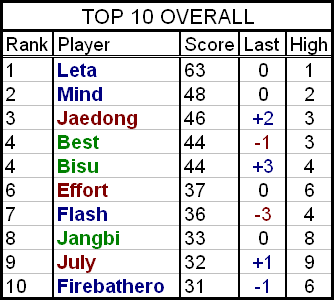 No one had any real hopes of catching intrigue going into the final few weeks of Fantasy Proleague. But the race for second place came down to a photo finish. In fact, second place came down to the very last game of the season,
Young versus
Child. Hot_Bid needed Lecaf to do anything other than 0-3 their last match to get second place. But Woongjin's sweep brought Lecaf's record into a tie with SKT T1's allowing doubleupgradeobbies!'s to grab an extra four points on a day none of his players were playing, putting him a point ahead of both Hot_Bid and TonyL2. Three of Team Liquid's staff finished in the top five and your glorious red's and blue's will be looking to invade the top spots next season as well.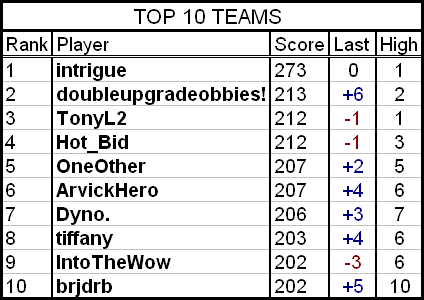 ---



Winner's Statement



I sat down with intrigue and asked him what he planned to do now that he has won Fantasy Proleague. After he informed me that he was going to Disneyland, he told me to pass on this very important message to you all:



intrigue wrote:
Friends:

Winning by an impossibly large margin is not what is important today. Throughout this competition, I have been constantly humbled by the lessons I learned. Only now do I understand what Muhammad Ali meant when he said: "A rooster crows only when it sees the light. Put him in the dark and he'll never crow. I have seen the light and I'm crowing." No matter who we are or where we come from, we can make a difference. that is why we have to take conservation seriously - reduce your gas emissions, buy hybrid cars, and recycle; every little part this sweet earth is not only for us, but for all future generations to live on - we are stewards of this planet so celestial yet frail, brilliant and majestic, rapturous and ultimately moving. You kids are too easy.

Sincerely,
intrigue
January 14th, 2009
Washington, DC



Congratulations intrigue! You surely are destined to go on from this and accomplish many great things in our world!


---



Trade Watch



With the season over, many players might be wondering if they couldn't have better utilized trades to improve their team. Or maybe they just want to take some comfort in not having gone for that trade that turned out to be disastrous. Every week had more trades that ended up in the negative than they had which ended up positive, ensuring a certain amount of risk involved in any transaction. Thirty-nine total trades ended up being worthwhile, while sixty-nine ended up being bad decisions. There were also eight trades that would break even by the end of the round.

I've selected from the 116 possible trade options this round a few of the very best and very worst options to look back upon.

The Bad

5.
free >>>
BackHo (Week 5)
BackHo became horribly injured and only picked up points from a couple of Lecaf wins after this point. Free decided to finally start winning by the end of the season. This trade would have lost an owner 11 potential points late in the Fantasy season. It comes in ranked as the fifth worst trade.

4.
free >>>
s2 (Week 2)
Free started off a little suspect and s2 surprised us all by being an SKT Zerg that actually won a couple games. s2 would end up puttering out, while Free would eventually turn on the heat. Free outscored s2 twenty-one points to four, placing this trade at number four.

3.
free >>>
Pusan or
Jaehoon or
Anytime (Week 4)
It seems to be a theme that trading away Free was bad news for owners as he just got progressively more potent as the round went on. Of these three options, Anytime was the least worst of the three. Anytime scored three points after this trade, while Pusan and Jaehoon only scored one measly point (that they didn't even earn for themselves). Free scored 18 points, so there is really no comparison when choosing to put this as the third worst trade.

2.
Leta >>>
fantasy (Week 1)
Making this trade resulted in giving up the most successful player of the round for a slightly above average one. With the remaining six weeks, Fantasy would score about a third of what Leta managed to score. Be fortunate if you didn't act on this trade, because it was the second largest blunder you could have made.

1.
Jaedong >>>
YellOw[ArnC] (Week 1)
Yarnc started off super hot… while Jaedong not. But then Yarnc did almost nothing while Jaedong went crazy. Jaedong scored 33 points more than Yarnc did in the remaining weeks (Jaedong 45, Yarnc 12). Jaedong almost managed to outscore Yarnc by four times, and would have if he didn't lose his last game of the season. Such a failure of a trade earns it's spot as the worst ranked trade of the season.

The Good

5.
Flash >>>
Stork (Week 5)
Flash only scored one more point after week five. Though Stork scored only six points, it was still a 600% increase in points earned. Combined with the fact of this being ballsy trade, it comes in ranked at number five.

4. KTF >>> Woongjin (Week 2)
KTF managed to go down in total points in the five weeks to follow this trade, if we were just looking at the last five weeks, KTF actually performed worse than ACE in terms of fantasy points. Woongjin managed to go in the positive direction by ten points, netting this trade a 12 point gain for any who would have made it, putting it at number four.

3.
Pusan >>>
Light (Week 3)
Both players were at equal points at the time of trade and week three was the week with lots of inter-team trading to see which players would be the ones to carry their teams more. Light ended up carrying MBC much better than Pusan did, netting the trader here an additional 11 points as the third best trade of the season.

2.
Really >>>
Bisu (Week 2)
Bisu just never cooled down. Really scored another 17 points after this trade, which is nothing to scoff at, but Bisu put that to shame with 34 points before the season came to a close. He doubled Really's output with a seventeen point difference and brings this trade to a second place rank.

1.
fantasy >>>
Leta (Week 1)
Anyone who didn't take this trade should be kicking themselves now. Of course no one could have predicted Leta's awesome power this season, anyone making this trade managed to net themselves 36 extra points. That's more points than most players would score by themselves. intrigue would have won without hopping on this trade, but the trade would skyrocket him out of reach of any other team. This is hands-down the best trade of the season.


---



Closing Thoughts



This first season of Fantasy Proleague was well received and going into the second season its popularity has increased by leaps and bounds. The Fantasy Proleague has far surpassed participation in the Fantasy games for the individual leagues, where there is little hope in a late rise in the standings. What started as a small project for myself to be a game that a few friends and I could play turned into something much bigger. Hopefully those of you who participated enjoyed playing and I'm sure it got some of you to pay a little more attention to Proleague and some of the lesser known, but still solid, players throughout the season. I look forward to beating you all (and more) in Round 3 (except for intrigue, who is sure to win again)!

I'd like to thank all 208 of the participants in this first league (we've more than quadrupled that number in the next!) and an extra big thanks to Hot_Bid who took on a great deal of responsibility of his own will in helping to run the league and going beyond what I would have been able to do by myself in making it a better experience for everyone.


---



Natural Expansion



Daily Fantasy Rankings – HUGE props to Hot_Bid for keeping this running and up to date on a daily basis! With blog entries and all sort of cool stats, this was a real gem to this Fantasy season.

Daily Fantasy Rankings: Round 3 - Hot_Bid already has this round's thread up and running and intrigue is atop the standings once again!

-semioldguy