Drones, drones, drones. They've been a welcome distraction in
an otherwise sombre week
. We start this update, of course, with
Jaedong vs Flying on Outlier
, and The Tyrant's inadvertent drone block which led to an impromptu hydralisk convention that violated fire codes and several other city laws and statutes.
However, with the fire department called in and the crowd dispersed, Jaedong set about winning the game and the series for Team 8, putting them at 2 - 2 so far in R2. They thus move up +1 spot to number 5, just shy of a playoff spot if standings were to be taken from this round alone. Sadly, they're still at the bottom of the barrel when it comes to overall standings. We're rooting for them all the same though, and you should be too!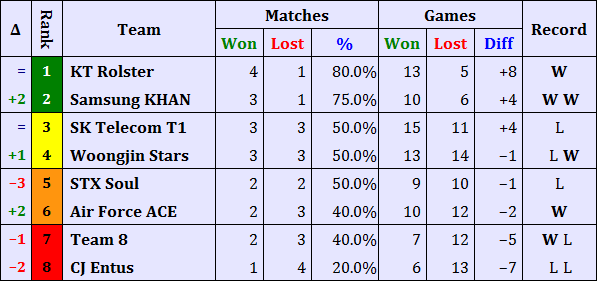 Wut.
We've already established that this was a weird round. The thing is, it keeps getting weirder. Samsung KHAN
stand in the spotlight
this week. They for one have not only replaced CJ in 2nd place for this round, but have shifted into 2nd overall as well, with a 7 - 4 to CJ's 6 - 6. In fact, with only one round to go for the S1 finals and no one sitting easy except KT Rolster, you can rest assured that the other three playoff spots will be hotly contested. In fact, everyone except T8 is in one game of each other, and as progaming fans, we couldn't have asked for more. Bring on the Broodwar!
While you wait for this week's games to begin, be sure to read our
recaps
and
previews
and of course, check out our brand new feature - the
Top 5 Games of the Week
.
-- riptide
Recaps, Round 2 Week 4

By: Kiante



Coming off a good win at the end of week two and then having a long break for the Chinese New Year it was important that Team 8 got a victory to try and continue their momentum. Fortunately for the hopes of the team they were able to succeed taking down Woongjin Stars in an exciting set of 5 matches to get the week off to a flying start. Team 8 started strong putting Woongjin on the back foot with Jaehoon and Baby taking convincing wins over Hon_Sin and Zero respectively. Light and Soulkey brought the scores back even with two equally convincing wins over Killer and Sea.

Having saved Jaedong, Team 8 must have felt confident going into the fifth and final match of the day with him being matched against the less known protoss, Flying. In what will likely go down as one of the silliest blunders in Broodwar history, Jaedong managed to block off the ramp to his main for about 8 minutes of game time, nearly costing him the game. Luckily he found the blockage just in time to pull himself back and take the victory Team 8 so sorely needed.



When the two teams at the top of the table meet fireworks aren't so much hoped for, but expected, and neither CJ nor KT disappointed. Mind was the first victor for KT taking a win over a Horang2 who looked a bit out of his depth. He attempted several reaver drops that simply didn't turn out while getting his carrier tech up and running. Despite a good engagement crushing all of Mind's tanks, he soon made a mistake that cost him several carriers by floating his fleet over the top of Mind's goliath mass. After losing a significant portion of his fleet there was little he could do and Mind had no trouble finishing the game out. Snow then leveled the scores for CJ taking an easy victory over Stats by simply sniping Stats' shuttle before a major engagement and easily overrunning the weakened army.

Action came out next to try and give KT the upper hand again, and despite failing quite abysmally with some attempted ling aggression he managed to scrap his way to hive tech and eventually reign triumphant over the hapless rookie, Rush. Finally the marquee matchup of Flash, the ultimate weapon against his OSL nemesis Effort, the phoenix occurred. While Effort was relatively unsuccessful with some unconventional burrow tactics, he managed to stave off Flash's initial push and seem to be in a fairly good position to take the match, but Flash proved to be far too good, somehow managing to out expand Effort while continuing to apply pressure and eventually claim the match and the Series for his team.




The fate of the much maligned STX team that looked to be moving up as of week two of the second round seems to have come to a halt. Following their understandable loss to the top of the table KT Rolster in week 3 they also managed to fall to the boys in blue, Air Force Ace. Ace came out strong with Iris taking a convincing victory over the ever so inconsistent Bogus, utilising an early rush and following up with some effective Dropship play. Orion came out second and stomped Classic in a particularly one sided game. Orion delayed his hive and used brute force of lurker/ling to utterly destroy Classic's attempted 2 base timing attack on a map that gives you a third base for free, a decision that doesn't make a lot of sense in hindsight.

STX hit back with Last easily taking down Kal, who attempted to live up to his nickname(the red shuttle) with cute speed shuttle play that backfired for the most part, costing him more than he gained in harassment value. Mini took out Piano in a hilarious single proxy gate game that included multiple manner pylons and in base shield batteries. Unfortunately for STX Great was sent out against Modesty to decide the outcome of the series, and Modesty was unable to come through for his team, losing to Great's well executed zergling attacks and finally dying outright to the inevitable mutalisks.



SKT against Khan is one of the most exciting matchups to watch for me personally. The coming together of 4 of the 6 dragons who once ruled over the Broodwar scene creates such fierce rivalries and often exciting games to match and this time was no exception. Best came out first against Turn and in a surprising move attempted to proxy. Turn was prepared however and scouted the pylon before a gateway could be built. Best scrapped his plan and simply dropped a nexus instead and luckily got away with it. Turn, however, had greedy plans of his own, throwing down two command centers after his first factory knowing that Best's observers would be late, and after establishing his economy, he cut SCV's, built a ton of factories and there was little best could do to stop the tide of terran mech from eventually rolling him over. Bisu came out to try and even the score and took an easy victory over Grape with a well microed 4 gate defeating Grapes attempted 2 gate reaver build.

The Fantasy vs Stork rivalry then reared its head and produced an exciting match, with Fantasy succeeding with his initial 3 base push but then almost losing his grip on the game with Stork scrapping excellently but was unable to bring about a victory. Alone was then sent out against Jangbi and attempted a bizarre cheese build designed to take out a forge FE build by mining out the back minerals on Outlier. Unluckily for Alone, Jangbi, in the habit of going for a 2 gate build in PvZ of late, simply made some zealots and was easily able to fend off the cheese and the lurker follow-up with ease, levelling the scores. The final match was anti-climactic compared to the rest of the series, featuring a PvP between Sun and Brave with Brave taking a risk and skipping observers and being able to hit a timing when Sun's reaver was just not out and taking the victory for his team, 3-2.



After falling earlier in the week to a determined Team 8, Woongjin were on a mission to restore their rightful place in the upper echelons of the SPL rankings table. They started slow, with Zero being taken out by a predictable yet excellently executed 2 port wraith from the master himself, Leta. This was where the good times ended for CJ, with Soulkey using lurker drops and good observer sniping to take out Movie. Hon_sin followed up with a win over Where, utilising a hidden factory to net himself several drone kills in the early game, and despite Where managing to stay in the game far longer than it seemed possible with excellent defence on minimal units he was eventually overrun. Finally, in what seemed like a favourable matchup for CJ, the slumping TvT sniper Skyhigh was matched against Light. Unfortunately for Skyhigh, his 1 fac 1 port build was completely dominated by Light to take the series 3-1 for Stars.



While Team 8 managed to grab a much needed win earlier in the week their performance against an in-form Khan lineup was less than stellar, being routed 3-0 and barely managing to put up a fight. Jaehoon was the first to fall, attempting to hide an expansion against Stork who scouted and killed it with a single DT and followed up with a third expansion of his own, easily decimating Jaehoon's army with superior production and economy. Killer fell next to Brave, attempting to do mass hydra/lurker drops in the midgame, which were easily cleaned up by excellent storms and solid defense. Finally Baby was defeated by his ex-teammate, Roro, dying to a quick 2 hatch lurker build despite getting off a 14cc completely unharassed. It was a poor performance from Team 8, whose game needs serious improvement if it hopes to earn a higher spot than their namesake eighth on the table.

Top 5 Games of the Week


The good, the cheesy and the ugly.
By 2pacalypse-
5

BaBy vs ZerO on Chain Reaction






BaBy is going for the pimpest plays awards in this unorthodox game where he exploits the layout of the map to its fullest potential. We saw him giving new definition to the bunker rush by making a barracks outside of ZerO's main base and then floating it over the destructible rocks so marines can go behind Zero's natural expansion. We've already seen plenty of shenanigans on Chain Reaction due to the back entrance to natural expansion, but BaBy showed us something new. He followed his successful bunker rush with a switch to mech-style play, all the while doing cutesy stuff with vultures and barracks. You gotta see that!
4




After already having 2 losses vs Zerg this season (both vs Effort though), JangBi needed to prove that he can play PvZ as well. And boy, he chose just the perfect strategy to do it – 2-gate vs 9-pool. Much like Chain Reaction, Outlier also has a back entrance, made even more deadly because it leads directly to the main base. We saw Alone trying to take an advantage of that and the furious micro of zealots vs lings that ensued. Maybe I'm biased because I'm huge fan of one-basing vs Zerg, but this game was very entertaining to me. It's fun when Zerg is forced to play low-econ game and he actually has to take care of his units instead of just throwing them at you. Dirty Zergs.
3




One thing I learned from watching the rivalry between Stork and Fantasy develop over the years is that it's absolutely impossible to predict who will win. This time it was no different. The game itself was pretty standard up until the Terran's first push. At that point Protoss had six bases and Terran had three. I'm not exactly how sure how it happened, but the Protoss lost two of his bases and the Terran just kept on pushing. The game was pretty fast paced after that, as we saw Stork denying Fantasy from expanding while trying to defend his remaining bases. Overall, a very entertaining and action-packed game, exactly something you'd expect from these two players.
2

Flash vs EffOrt on Sniper Ridge






I know that having Flash in the title is spoiler itself, but that shouldn't stop you from watching this game. EffOrt came the closest to beating Flash in this season and by that I mean he wasn't close at all. It's amazing how a player can look so invincible, and this is a prime example of that. I'm pretty sure that in this game EffOrt would have won over any other Terran that isn't Flash. EffOrt tried his damn hardest to to stay alive and pulled out some clutch defenses, but it just wasn't enough. If you're a fan of TvZ matchup (and who isn't), then you're gonna love this game (maybe not if you're watching it from Zerg's perspective).
1




This game doesn't need any description at all, as I'm positive you already saw plenty of image macros illustrating its highlights. Let's just say this game is going into the history books of Brood War and if you haven't already seen it, watch it now!
Jaedong vs Flying: Outlier


A battle report.
By: Hyde
The score is tied 2-2, Jaedong is sent out to finish off the series against Flying in what would prove to be a frustrating yet hilarious game.
The match begins with Jaedong in red at eight o'clock, Flying spawns gold at four o'clock.
Jaedong opens with an overpool, his overlord headed towards the centre. Flying scouts after his pylon, his probe, unwittingly passing below an overlord, gives away his spawn position. A forge and cannon are warped in after the spawning pool has been scouted. Both players take their naturals roughly at the same time. Jaedong sends out another drone to take his third at the twelve o'clock natural while morphing his lair. Flying continues with a core, followed by a stargate and citadel.
With the lair finished, Jaedong starts a spire while he tests Flying's defences at his natural with 12 lings. A templar archive is added for Flying, while Jaedong moves from three-hatch up to five. Flying sends out four un-upgraded zealots out to test the waters. Jaedong takes this opportunity to mount a small attack at Flying's natural, taking down a cannon and several mining probes.
In the meantime, Flying's zealots are arriving at Jaedong's natural, they find two sunkens morphing and attack before they can finish. Zerglings rush in, one sunken falls, and drones are pulled to aid the zerglings.
Flying sends the zealots into the main where they meet run into staunch opposition. Dark templar are dispatched, but are unable to inflict any damage as Jaedong has positioned both sunkens and overlords at each of his entrances.
Jaedong takes his fourth at 12 o'clock while adding a hydra den. Four dark templar slip through the third and into the mineral lines, out of reach of the sunkens, killing a handful of workers and zerglings, disrupting mining.
Jaedong sends a group of lings to neutralise the threat, but one cloaked assassin manages to survive and continues to obstruct his workers.
Flying starts building up his corsair count while adding more gateways. Both forge and core are spinning as he makes an archon to join his zealot force.
Eleven minutes into the game, speedlots and an archon are ordered to move out, they head to Jaedong's natural, which is heavily defended with sunkens and lings, no attack order is issued by the Protoss commander. At this point, Flying moves to secure a third for himself, however, Jaedong discovers the attempt and forces Flying to cancel his nexus by sending a strike force of zerglings.
Zealots and an archon are battling zerglings as they move about the map, controlling much of the center. Flying attempts to take a third for the second time, while Jaedong takes his second and third gas. As he sends out his +1 carapace mutas, they enter Protoss airspace and are met with a +1 corsair squadron. Many of the scourge die to splash damage, with only a few making contact. With much of the corsair squadron still intact, the mutas flee the scene, dealing only inconsequential damage. The mutas move onto Flying's warping 3rd, but make yet another hasty retreat at the sight of corsairs.
With his third nearly up, Flying mounts an attack on Jaedong's fourth. A shuttle ferries two loads of units into the edge of Jaedong's 4th, slipping by his blockade at the third. With the majority of units preparing to attack Jaedong's 4th, Flying's warping third is left vulnerable. Jaedong capitalises on the lack of defence and forces another cancellation, delaying Flying's third yet again.
Incursion via Shuttle
Mutas spot the drop and Flying attacks the fourth immediately with the units he has elevatored in so far. Zealots charge into the ling and sunken defence, more units are dropped in to reinforce the incursion. +1 zealots tear up the sunkens/lings, a well placed storm takes out several drones. Jaedong sends a flurry of lings to neutralise the threat.
Flying needs a third desperately, a probe strays towards two o'clock where it sets about establishing a new base.
You shall not pass!
Fifteen minutes into the game, three drones are parked at Jaedong's main ramp, for reasons unknown, a mis-rallied perhaps. It is an error that will make this game infamous in ProLeague history.
Jaedong, with his hive finished, gets a defiler mound. He starts mining out the mineral block at his 12 o'clock expo to open up an attack path to Flying's third.
Flying shuttles four dark templar into Jaedong's fourth, the spore colony falls quickly to the assassins' blades, leaving the lurker and sunkens in the dark. Drones are massacred as they attempt to flee. Speed upgraded overlords rush towards the fourth, where they encounter the sair fleet and are sacrificed to provide vision for the sunkens and lurker. They survive just long enough for the sunkens to take out the last of the dark templars.
Two minutes have passed since the drone blockade at the ramp. A short FPV reveals Jaedong only looking over his hatcheries and mineral line. Flying, with a small supply lead, starts his fourth. A superb storm drop at Jaedong's third nets many drone kills. Four minutes have now passed and Jaedong still hasn't realised the situation at his main ramp, now holding back two control groups of units.
Flying mounts an offensive at Jaedong's natural, plague hits before the Protoss forces engage. Jaedong sets up a small lurker field and throws dark swarm over it, but Flying invades nonetheless with his zealots/archons. High templar cast storms but Jaedong is able to hold the attack. A nydus canal nearby sends further reinforcements.
Flying diverts his forces towards 12 o'clock, using the path Jaedong opened earlier. +2 zealots storm into the 4th to find lurkers and zerglings, a hasty retreat is ordered.
A little over five minutes have passed, and the number of units trapped inside the main continues to grow, three control groups' worth at this point.
Flying begins adding more cannons to his expos and acquires reaver tech. Jaedong takes a fifth base as his fourth is being continuously assaulted. At this point it has been close to seven minutes since the mis-rally, and he has unintentionally handicapped himself by 50 supply, despite sending a drone half a screen away from the zerg traffic jam to mine out a mineral block…
The game continues with Jaedong performing a lurker drop at Flying's fourth, several probes are killed before the lurkers are destroyed by storms and cannon fire. Another short FPV preview reveals Jaedong is too occupied with saving his fifth base to notice the pile up at his main, as he scrambles to gather enough units to fight off the growing archon force. Unable to muster a large enough force, Jaedong loses his fifth.
Another blitz takes place at Jaedong's natural, zealots and archons charge in with high templar support, lurker lines are decimated, but without reinforcements to back up the attack, Jaedong holds it off with newly spawned units.
It takes Jaedong eight minutes to realise he has five control groups locked up inside his main. I can only imagine thousands of people yelling 'Yes! Finally!' at their computer screens.
thanks to GTR for the gif
Unable to break the natural, Flying explores other options and drops two reavers at the natural mineral line, racking up some nice worker kills.
A surge of red covers the minimap as Jaedong mobilises his newly discovered legion. Flying now finds himself suddenly under attack by large numbers on two different fronts. Swarm is thrown up as archons/zealots engage into lings/hydras. Storms and scarabs decimate most of Jaedong's army and Flying holds off the onslaught.
Flying continues to storm drop while patrolling the center, killing anything and everything his forces encounter. He orders another attack on Jaedong's fourth, but Jaedong spots the incoming assault and responds swiftly, bringing in a swarm to fend off the attack.
While supplies are fairly even, Jaedong continues to acquire new expos. Flying prepares another attack, gathering a dangerous mix of zealots/archons/reavers at the center of the map.
Jaedong uses this opportunity to attack Flying's third, which is only protected by cannons, with lings/lurkers under dark swarm. With his third in the process of being razed, Flying attacks. A bloody battle takes place with archons and reavers tearing through Zerg units and taking out the hatchery.
With his third gone, and only one mining base left, Flying scrambles to get another expo up asap. 30 minutes have passed and JD has taken another expo at six o'clock.
Flying decides to keep his main army where his new expo is, and instead uses a shuttle to harass Jaedong. A storm drop at Jaedong's fifth kills all but two drones. Flying continues the storm drops but his shuttle is destroyed by scourge, leaving a fifteen kill templar to die at the hands of a drone.
The final assault
Flying's army wanders a little too far from his new expo and Jaedong uses this chance to attack, splitting his forces, one to attack Flying's army directly and the other to level the expo. Dark swarm is cast over the cannons, lurkers and lings rush in, high templar cast defensive storms, taking out several zerg units. Flying's army arrives at the expo, but Jaedong's attack isn't over yet, more Zerg reinforcements arrive and enter into battle. Flying's army is chipped away, his high templar without energy and he has nothing but archons to fight lings/lurkers under swarm. Cracklings dismantle all of his probes before tearing down the nexus.
With his new expo gone, one mining base with little resources left, and no real army. Flying attempts one last storm drop, killing twelve clumped drones, before he types out and exits the game.
Jaedong, relieved that the arduous and unnecessarily long game is over, exits the booth with a slightly embarrassed look.
Team Spotlight: Samsung Khan


Unassuming Victory
By: Carnivorous Sheep
In the TeamLiquid forum of public opinion, three perennial favorites dominate the Proleague discussion: SKT, KT, and CJ. With their charismatic aces in front of them and their legacies behind them, these three teams tend to be the focus.
And yet, a quiet and almost unassuming team has crept up on us. No surprise to those who meticulously track (or delegate to the Proleague app) victories and defeats, but perhaps a surprise to those of us guided by public fervor and hype; Samsung Khan is emerging as the team to beat. Khan sits in second place behind KT, with one less match played. Though behind KT in game differential score, Samsung is firmly ahead of both SKT and CJ.
What is the secret behind Samsung's success? After all, Samsung has been associated in the past few years not with victory or dominance, but with consistent inconsistency. Managing "upsets" against the "top three" teams, but also falling to teams like Ace in 3-0 fashion has become a trademark of January's boys.
In many observable and quantifiable metrics, Samsung seems positively childish in its capabilities. They have no rallying aces – no Flash equivalent (though to be fair, they're hardly alone on this one), and their two one-time aces Stork and Jangbi have records that are, if we're honest, quite modest. Jangbi, in particular, serves as defending OSL champion, yet boasts barely over a 50% winrate in Proleague so far. They have no fabled "deep line-up" – the concept of a Khan Zerg is as laughable as a SKT Zerg at this point. The departure of Great at the beginning of this season left a gap that transfers Roro and Shine cannot possibly hope to fill, as evidenced by their sparse line-up appearances and average records.
There are no secrets here; there is no magical element possessed by Khan that eludes the other seven teams in the league – for Khan, what you see is exactly what you get. What have we been seeing?
I make here a possibly controversial statement. Khan, like no other team, plays to win.
"But that's absurd!" you exclaim, "All teams play to win!" Obviously, that's true, but Khan does it in a way that none of the other "top" teams do.
Put yourself in the position of a coach and the strategy for a team like KT is pretty straightforward; let Flash win his game. Then try to arrange favorable matchups so that the majority of your non-ace players win. For KT, this has served them extraordinarily well, because their ace is the closest thing you're going to get to a sure win in professional Broodwar. For SKT and CJ, each of which has a host of players not quite on Flash's level (but who are pretty dependable), the strategy is pretty similar. Rely on your stronger players to win the majority of their games and pick up the other points wherever you can.
These are perfectly valid strategies, and a great use of your resources. It doesn't work for Khan, however, for the simple reason that teams vary in ability. Jangbi and Stork can be compared to Best and Bisu, and then we still have Fantasy to account for. Flash is practically worth two players on his own, and KT still has Stats and a host of other players to fall back on. CJ is similar too, with a balanced and dependable line-up across all three races Khan has, in comparison, a much weaker line-up.
We're stepping beyond the realm of observation and evidence and into speculation, but I firmly believe that Khan doesn't rely on sniping or cannon fodder or other "line-up" gimmicks. In fact, Khan is one of the most predictable teams – Jangbi and Stork will come out wherever they want as solid players who are much more likely to win than lose, with Stork having a stronger emphasis on the twilight maps and Jangbi more likely to vary. Electric Circuit? Brave or Grape. Ground Zero? Jangbi and Turn. Sniper Ridge? Roro, with some variety. Compared to many other teams, Khan is far less concerned about getting sniped, whether by player or match-up (when 2/3 of your core line-up are the same race, there's really no point).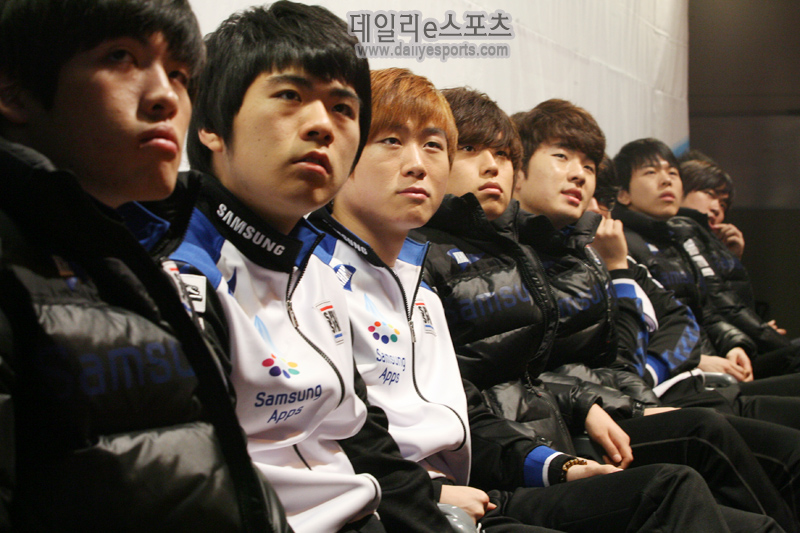 Conversely, for Khan's opponents, there are no Flashes or Bisus to snipe with cannon fodder or special cheeses. Brave, Roro, and Turn, while solid players in their own right, are hardly worrisome enough for most opponents to have special preparation readied for them. Brave, Roro, and Turn themselves, however, are going into the game with the knowledge that every single win does matter for a team that doesn't have a dependable stream of wins to fall back on, not even from Stork and Jangbi who are by no means infallible.
How, then, does this unspectacular line-up manage to secure so many wins? Again, it is difficult to give a definitive answer short of reading the players' minds, but (purely speculatively) I argue that Khan players have a stronger mindset. For Khan, every point matters, something that CJ and SKT are not giving as much focus as they should be. Many of the "lesser" teams, in my opinion, feel this much more pressingly than the top teams. Khan is blessed to have a stronger overall line-up at the moment than Stars or Soul or Ace, but, more importantly, they are playing according to their full potential. The end result is that, every single time a player is sent out, it is on a map that he devoted a concentrated effort on, with the intent to best whoever they face. An excellent example is
Brave vs. Jaehoon on Chain Reaction
.
Brave didn't choose to save a deliciously abusive rush for a more "worthy" opponent, but instead used a build that we would've expected to been prepared for a Bisu or a Flash on Jaehoon. I emphasize that this is not a reflection merely of preparation and brilliant cheesing, but rather of the general attitude that, for Khan, who they're facing is irrelevant. Turn, a promising rookie for sure but still not considered to be on the same level as Best and Hydra, managed nonetheless to take out both of them in extended skirmishes with no gimmicks.
When a rookie for KT or SKT or CJ is sent out, it is usually in a "safe" position against a weaker/easier opponent, an obvious opportunity to acclimate your young talents to the stage. When a third tier player like a SKT Zerg is sent out and is met with an enemy ace, it is always with trepidation and the understanding that, "I am the sacrificial lamb."
A favorite pastime in Khan LR threads for TLers is poking fun at the "questionable" line-up decision. What I argue here is that they aren't some misguided attempt to give new players experience to turn them into solid, dependable A-class sources of points CJ style, but rather because January knows that for her team to succeed, every single player must be able to win, and she is giving them the opportunity to realize this ideal.
So far, it seems to be working.
Previews, Round 2 Week 5

By: mustaju
Current Proleague Prediction Challenge Progress:
Matches
Predicted
Actual
Gain/Loss
Current
-2
Team 8 v Woongjin Stars
3 - 2
3 - 2
+3
CJ Entus v KT Rolster
1 - 3
1 - 3
+3
Air Force ACE v STX Soul
1 - 3
3 - 2
-2
Samsung KHAN v SK Telecom T1
1 - 3
3 - 2
-2
CJ Entus v Woongjin Stars
3 - 0
1 - 3
-2
Samsung KHAN v Team 8
3 - 1
3 - 0
+1
Final
-1
+ Show Spoiler [The Rules] +
If I predict the winner and the result correctly, 3 points
If I predict the winner correctly, and the result is off by 1, 1 point
If I predict the winner correctly and the result is off by 2, 0 points
If I predict the winner wrong, and the result is off by 1, -1 points
If I predict the winner wrong and the result is off by more than one, -2 points.
Quo vadis
, CJ? From a near untouchable power, CJ has fallen to questionable form. From the outside, we see attempts to amend the situation with massive shifts in the line-up, with Skyhigh seeing a lot more play and Where being fielded over Hydra. Thus far, it's been to no avail; the decline of CJ has been as steady as its rise once was. A win might improve the situation considerably, and in STX it faces a largely inexperienced opponent just as down on its luck.
Why do I call STX inexperienced? A lot of Proleague watchers treat it as the team it was in 2009-2010 or even earlier. The harsh truth is, I don't think we'll see the iconic STX line-up of Calm, hero and Shuttle playing together in one game again. STX has probably the least experienced main line-up of any team at the moment, relying heavily on rookies like Trap, mini, Dear and Last, with varying degrees of success. Bogus and Modesty are in-betweeners, not quite the "old" STX, yet also not part of the (admittedly, somewhat arbitrarily classified) rookie group.
This comes with both weaknesses and strengths. The biggest strength is the passion newcomers exhibit and the fact that most players will not be familiar with their favored playstyles. The weakness manifests itself in their greater nervousness, predictability and unfamiliarity with certain playstyles. Thus far, STX's gamble has largely paid off, as the wins started coming at the latter end of the season, when we started seeing more of rookies instead of Calm, Hyvaa and Shuttle.
+ Show Spoiler +
Writers Note: It breaks my heart to type this.
But enough chatter, who has the upper hand? I favor STX a bit, albeit by a small margin. Concerns about Last being unproven in TvP and Bogus being weak in TvT are largely overblown, and they still look like some of the fiercest players in Proleague. If they don't play TvZ, I think they'll win, even against Skyhigh, Leta or Snow/Horang2.
While closing the series out against an opponent of CJ's calibre will be difficult, STX has been getting a lot of favorable matchups, and CJ hasn't been doing as well in the matchups they had been hoping for. On the other hand, the STX Terran force is likely to be played in the latter sets, so with a little luck CJ could decide the match early. While a blowout from either side is unlikely, either team can still win convincingly.
My prediction:
CJ Entus 2-3
STX SouL
I might have been horribly wrong about KHAN. I was certain SKT would annihilate them. What happened was a comeback that was somehow both conventional and unconventional. Our meat-eating sheep has his own theory about KHAN, but I'd say they benefit from a greater versatility than any other team (with the possible exception of KT) at the moment. Four-Protoss line-ups are nothing out of the ordinary for KHAN, and they crush their opposition under PvZ midgame pushes, PvT veteranship and PvP… and just when you think you've got them figured out, they'll send out their Terran rookies and Zerg converts, to keep you on your toes.
Woongjin has had a much more mixed week. I don't even know how this round manages to shuffle the teams around so much. Stars was dispatched by Team 8 with
strategic plays
enough cheese to compete with a small dairy, yet managed to display considerable force against CJ.
I've said it before and I'll say it again – despite the recent "resurgence" of Hon_sin, I still see Woongjin Stars as a three-pillar temple, and with a shaky ZerO it'll be very hard for them to compete with the top dogs. Unfortunately for Stars, KHAN is still a top dog, and a top dog relying on Woongjin's biggest weakness. Light vs. Protoss is not something Woongjin fans want to see and, considering the recent dominance of Protoss against Zerg, I really wouldn't Liquibet Stars this game.
My prediction:
Samsung KHAN
3-1 Woongjin Stars
Sunday, February 5th


SK Telecom T1 vs. Team 8
I think SKT fans are as confused as I am about their recent lack of success. Despite a disappointing 7-6 record overall, a +7 win-loss ratio suggests that victory has always been very close, yet still so far away. Fantasy is easily the second strongest player after Flash, Bisu racks up wins, BeSt has finally defeated his Paewang PvZ self... and yet the building victory cheers are silenced by Turn or Hon_sin.
I wish I could say at least something similar about Team 8. The talent still shines through every so often, but for every amazing micro stunt, for every great snipe, for every stunning display of macro, there is a missed timing, a failure of unit management, or a complete unawareness of what the opponent might be doing… and they still suck against Protoss.
If Team 8 had trouble playing KHAN, they should expect no less from SKT. I don't care if SKT has been underperforming lately, Team 8 will struggle, and likely lose.
My prediction:
SK Telecom
T1 3-1 Team 8
Can anyone at the moment stop KT? As much as the Boys in Uniform would like to get back into the middle of the pack, they'll have to slay a giant to do it, and armed with far fewer slings and stones than they'd prefer.
Despite a few moments of weakness, Stats is still a monster in his own right, and I wouldn't count out Crazy Hydra and Wooki to close out the match before Flash even gets to play. We haven't seen FBH in a while, Kal fluctuates between pretty good and depressing, and I wouldn't count on Canata to be particularly successful against KT either. Also, knowing ACE, we might see an M18M, Orion and Great line-up, which I've called into question on previous occasions.
Another fairly easy prediction:
My prediction:
Air Force ACE 1-3
KT Rolster
Tuesday, February 7th


Samsung KHAN vs. STX SouL
This is the only match I've discussed with anyone in advance; we've both predicted an STX upset, emphasising the fact that STX has been pretty good against Protoss, KHAN's mainstay. We may be underestimating KHAN's twin cannons here, who made a name for themselves with their PvT, but the STX Terrans should prove to be difficult challenges for KHAN.
That said, Roro and Shine could easily foil STX's plans here, and the same goes for Turn and Reality. I'd account Last's loss to Action more to a lack of preparation for Zerg opponents than an overall weakness in TvZ, but I still see him losing to RorO if the two should meet. I'm also interested to see if STX will dare send out Hyvaa, Calm or Shuttle to try and snipe a Protoss player, because Trap has underwhelmed on that front, but speculation is of little value if I have no idea about their current form.
My prediction:
Samsung KHAN 2-3
STX SouL
Wednesday,February8th


Air Force ACE vs. CJ Entus
My mind blanks a little here so I'll trust my gut. The problem with these two teams is that they have unpredictable line-ups, varying forms, and since both teams will be affected by matches from the same week. CJ withholds some of its strongest players, and so does ACE. CJ does it less often though, and doesn't send out Great, so I'll go with CJ.
My prediction:
Air Force ACE 1-3
CJ Entus
Game of the Week:
STX vs. KHAN. While some consider KHAN the clear favorite, the possibility of Bogus vs. Jangbi should be a good enough excuse to draw your attention. Bogus Vulture agrees.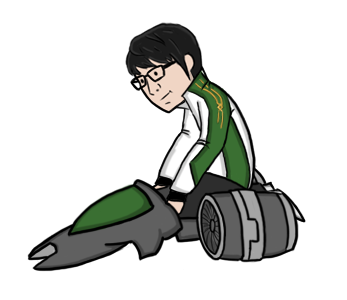 Art by moopie
Art by fishuu
This Proleague update was brought to you by Team Liquid's SPL 2011-12 R2 coverage team - riptide, HawaiianPig, Kiante, mustaju, SirJolt and 2pacalypse-, with guest writers Carnivorous Sheep and Hyde. Special thanks to Simplistik for the standings tables and Kiett (sleeping drones) and moopie for the art. See you all next week!