HP here. Okay. So uh, yeah we messed up. I know. You guys have been all,
"Where's the Proleague writeup?"
and we've been all,
*not here*
I know. I know. It's bad. But chill for a damned second and just hear me out.
So, a buddy of mine had this sick idea, right? He told us that because we weren't in sync with the actual Proleague schedule, we could skip a week and then we'd be alright. Or something. I don't really remember how it made sense. But just... like... the idea was that we'd take a week off and everything would be alright. We'd be in line with how they actually do stuff and stuff. Whatever. Look. We were misinformed.
So we took a week off...
...and then it all went to hell.
New years. TeamLiquid Writers Offices. Everyone's having a damned blast because riptide decided to make mustaju take a shot for every prediction he's gotten wrong since the end of his
Paul the Octopus
days. I don't remember much else, but when we woke up there was an elephant in the room. And I don't mean the metaphorical kind. You know, the kind that represents the fact that Brood War players are inherently superior to SC2 players? Nah. This one was alive and eating peanuts out of Kiante's beard. Turns out Kiante wanted TL to have a
real
mascot. Not some
cartoon floozy
. We would have kept the damned thing if we could have just found an ESPORTS headband to fit it. Turns out they don't make them that big.
So, anyway, we're busy shaking off the hangover and I check the calendar. It's January 6th. We missed
an entire week
. Holy hell do we have a lot of Proleague to recap.
I grab riptide and start yelling,
"WAKE THE @#!#$ UP MAN! WE NEED TO SAVE BROOD WAR!"
He groans, unsticks his face from the floor, looks at me and deadpans,
"Aye. I see in your eyes the same fear that would take the heart of me. A day may come when the courage of men fails, when we forsake our friends and break all bonds of fellowship, but it is not this day. An hour of woes and shattered shields, when the age of men comes crashing down! But it is not this day! This day we fight! By all that you hold dear on this good Earth, I bid you stand, Men of Broodwar!"
For riptide, not exactly his most coherent moment, I know. Give him a break.
So there we were. Missing an entire week of our lives.
We sat there thinking: Well, we could find out
what the hell happened over the last week
... you know, maybe try to figure out what exactly that "buddy of mine" really meant, or figure out what to do with this elephant...
Or
we could bring you guys sweet sweet Proleague news.
We're going with that one.
W-- We got this. Trust me.
Just... Just give us a second.
Round 1
From the desk of Riptide
Just a few months ago, the naysayers were talking about Broodwar dying. Now, we're in the first week of another round, and a mad, mad round at that.
Via the indomitable Simplistik.
Reigning champions KT Rolster began the season with a hat trick of losses, but then recovered sufficiently to end up #2 at the end of the round, just behind a rampaging CJ. Yes, you heard that right. A rampaging CJ. With Effort at the helm and Movie backing him up, the age old outfit is looking in fine form at 5 - 2 and 18 - 11 in terms of matches and games respectively, they are certainly the team to beat in R2. As discussed, KT Rolster sit at #2 with a 4 - 3 record in terms of matches, narrowly beating out SKT T1 and KHAN, both of whom who have the same score. KT's per game record however is 17 - 13 and this puts them ahead of T1 at 16 - 13 and KHAN at 14 - 14.
Enough with the numbers, though. Let's get real. Heading into the penultimate round of of the first Term of the 2011-2012 season, CJ, KT, SKT and KHAN are clearly leading the pack. Sure, points wise they are only a little ahead of ACE, Stars, STX and T8. Given both past performance and current form however, I maintain that these standings aren't going to change a lot this season. In fact, as it stands, I'd say the playoff four are all but set.
Then again, this is Professional Starcraft, and as we all know,
plz don't gg till it's gg
. In particular, there is a wildcard here, a wildcard that has severely underperformed. Team 8, led by a slumping (5-2!) Jaedong. Baby has been batting on, but much to Coach Ju Hoon's dismay, the team itself did not do as expected in R1. In fact, in their last R1 game, T8 lost to STX, with Sea, Baby and Jaehoon all dropping games, and that, fellow Broodwar fans, is sad.
As I
said at the very beginning
, I want Team 8 to succeed. And now, you should too. This season has been good so far this season. CJ has emerged as a force in Proleague after many a season, and KT and SKT have some competition. KHAN too is giving everyone a run for their money. But we need
more
of the above.
We don't need four fat cats sitting pretty at the top of the pack.
We need violence, and not just pushing and shoving, some light roughhousing among old friends.
We don't need a bar brawl.
We need a war.
And for that to happen, we need more teams than there are playoff spots.
We need Team 8 because they have the talent to take the top four down. They may not have a sponsor, they may not have fancy uniforms or fan clubs, but they have Jaedong, Baby and Sea, a truly terrifying lineup if the stars align. Jaedong is Jaedong, Baby is showing fine form and Sea, it must be said, though always strong in Proleague, has been cheesed mercilessly so far.
Also friends, as you already know, Team 8 has a Star-Aligner, a man who forged superstars like Lim Yo Hwan and Choi Yun Sung with his bare hands, who stared into the depths of space and pulled two bonjwas from the vast blackness around him.
He
can do it. He hasn't yet, and if you're a little skeptical by now, you are welcome to it. But I maintain that if anyone can make this team great, if anyone can wash over the disappointments of 2011 and give us an outfit to not just follow and root for, but
fear
, it is Ju Hoon. He has done it before, and as a Broodwar fan, my wish for 2012 is that he will do it again.
Here's to a 2012 of good games, great plays and the twin thrills of beautiful victories and crushing defeats.
Here's to a 2012 of 8 teams, 5 top contenders and zero mercy.
Here's to a 2012 of war.
Recaps
Round 1 Week 5
CJ Entus
3 > 1
Woongjin Stars
Movie
<
Sniper Ridge
>
Light
Leta
<
Electric Circuit
>
ZerO
Snow
<
Jade
>
sin
Hydra
<
Outlier
>
Soulkey
< Chain Reaction >
Just how well the CJ coach manages to pick his lineups is a genuinely curious thing, and this series was no exception. Light's TvP has been the centre point of his inability to become a top line player, and CJ has managed to exploit it with Movie easily overrunning him despite Light getting an early advantage with a 2-factory push. Zero managed to put up a fight for his team, defeating Leta in a solid macro game, but Snow and Hydra were too much for hon_sin and Soulkey to handle, giving CJ the victory without even needing to use Horang2, showing just how deep their lineup is at the moment.
KT Rolster
3 > 1
STX SouL
Mind
<
Ground Zero
>
Last
Crazy-Hydra
<
Chain Reaction
>
Calm
Flash
<
Electric Circuit
>
Modesty
Stats
<
Sniper Ridge
>
Bogus
< Outlier >
With KT starting their resurgence in fine form after their traditional start-of-round 1 slump it was no surprise that they overran a hapless STX lineup. Despite STX managing a little success in week 3 and 4 to attempt to pull themselves off the bottom of the table, their star players once again failed to deliver. The only player who managed to win his game was a surprisingly capable Last, defeating Mind quite handily on Ground Zero. The highlight of the set however was the Stats vs Bogus match, which is featured in a battle report for those who missed it, with Bogus almost managing to comeback from a huge disadvantage, but not enough to take the game for his team.
SK Telecom T1
3 > 1
CJ Entus
Fantasy
<
Electric Circuit
>
Movie
Bisu
<
Outlier
>
EffOrt
s2
<
Chain Reaction
>
Leta
BeSt
<
Jade
>
Horang2
< Ground Zero >
Woongjin Stars
1 < 3
Air Force ACE
sHy
<
Jade
>
ggaemo
Light
<
Sniper Ridge
>
PianO
Soulkey
<
Ground Zero
>
firebathero
ZerO
<
Electric Circuit
>
Kal
< Electric Circuit >
It's a funny world we live in; just last season Ace winning a game was an upset, regardless who their opposition was. This season Ace is suddenly legitimate and they showed it with a dominant performance of Woongjin. The real highlights of this set were both Soulkey and Zero getting taken down by FirebatHero and Kal respectively. FBH has been cementing his place as the star player in Ace for a while now and really showed his class in his game against Soulkey, never looking like he would lose. Kal took this as a challenge and summarily dispatched Zero to follow up his win over Stork and make himself a clear threat going into round 2 now that his basic training is done.
Samsung KHAN
0 < 3
KT Rolster
RorO
<
Electric Circuit
>
Action
JangBi
<
Outlier
>
Wooki
Stork
<
Chain Reaction
>
Crazy-Hydra
< Jade >
< Ground Zero >
I honestly have no explanation for what happened here. Khan has been looking like such a force in proleague that it makes literally zero sense that they would get 3-0'd by KT's second string players. It feels like so long since KT went 0-3 at the start of the round (with KT winning without Flash or Stats to carry them while Khan's ace players got destroyed). While PvP and ZvZ are easy matchups to drop just due to the fragile nature of the mirror matches, I can't think of an excuse for Stork. Losing to a hydra bust from Crazy Hydra in a deciding match is completely unacceptable for a player of his calibre and hopefully Khan can learn from this loss to avoid such stupidity in the future.
STX SouL
3 > 2
Team 8
Dear
<
Electric Circuit
>
Sea
Modesty
<
Outlier
>
Jaedong
Last
<
Chain Reaction
>
BaBy
hyvaa
<
Jade
>
Jaehoon
Bogus
<
Ground Zero
>
Killer
It's really unfortunate that the team without an official sponsor is the one struggling the most at this point in the season. Team 8 just cant seem to catch a break, this time going down to STX and cementing their spot on the bottom of the Proleague ladder. All credit to STX however, showing great nerve to save their star player, Bogus, for the final set, while Team 8 was forced to send a second string player in the form of Killer. This move paid off for STX, with Bogus outclassing Killer in the match and giving his team the victory.
Round 2 Week 1
---
CJ Entus
0 < 3
SK Telecom T1
Hydra
<
Chain Reaction
>
BeSt
sKyHigh
<
Jade
>
Fantasy
Snow
<
Outlier
>
Bisu
< Ground Zero >
< Sniper Ridge >
After SKT's dominating performance over CJ in week 5 of round 1 it should come as no surprise that this result was even more pronounced now that Round 2 has started. SKT came out guns blazing, sending a trio of Best, Fantasy and Bisu. The CJ players, despite hitting two favourable matchups, were unable to compete. The real highlight of this series was the continuation of Best's incredible form in the PvZ matchup, which had looked pretty horrendous last season. With Best joining Bisu on the PvZ throne the Zerg heavy teams in the competition must be running scared if they have to face SKT.
Air Force ACE
2 < 3
Woongjin Stars
firebathero
<
Ground Zero
>
ZerO
Kal
<
Chain Reaction
>
sHy
great
<
Electric Circuit
>
Light
PianO
<
Sniper Ridge
>
Soulkey
ggaemo
<
Outlier
>
free
Having faltered a little at the end of Round 1, Stars finally showed that they have a bit of a backbone, coming back from a 0-2 deficit to bring down an in-form Ace lineup. Ace used their two performing players at the outset, with FireBatHero and Kal destroying the Stars opposition, but then proved unable to finish the job, with Light and Soulkey once again being consistent while Free won yet another ad hoc ace match.
KT Rolster
1 < 3
SK Telecom T1
Flash
<
Electric Circuit
>
soO
Action
<
Outlier
>
Hyuk
Wooki
<
Chain Reaction
>
Bisu
HoeJJa
<
Jade
>
BeSt
< Ground Zero >
Despite KT managing to pull their form out of the gutter in the latter weeks of Round 1 they were no match for an SKT lineup looking to make an impression on Round 2. The KT second string players were unable to do anything, with KT managing a "KT Flash" style result whereby Flash won his game easily only to see the rest of the KT players unable to back him up. While it could be argued that KT held back Stats in an attempt to win the set in a game 5 situation, SKT was also holding Fantasy for just that possibility, both Coaches showing that the new format could still lead to exciting deciding matches even with the scrapping of the ace match format.
Team 8
1 < 3
Air Force ACE
Jaehoon
<
Jade
>
ggaemo
Sea
<
Sniper Ridge
>
Kal
Jaedong
<
Ground Zero
>
Canata
BaBy
<
Chain Reaction
>
great
< Electric Circuit >
Once again Team 8 continued their disappointing run going down to a strong Ace team. What made this result even more shocking was Canata besting Jaedong in a long TvZ. Jaedong's TvZ has been at astronomically good levels for a long time now, so losing to Canata was to put it diplomatically, unexpected. The big disappointment here from Team 8's perspective was Baby. He fell surprisingly easily to Great's 2-hatch-lurker build and his performance probably cost his team the series more than any other loss that Team 8 sustained.
Samsung KHAN
1 < 3
CJ Entus
Reality
<
Jade
>
Horang2
JangBi
<
Sniper Ridge
>
EffOrt
TurN
<
Ground Zero
>
Hydra
Stork
<
Chain Reaction
>
Movie
< Electric Circuit >
Khan was looking so strong up until the end of Round 1 so it is extremely disappointing to see Stork and Jangbi seem so suddenly lost. That said, the CJ players really pulled themselves together after being steamrolled by SKT two weeks in a row, with Horang2 pulling out a strong victory against Reality in an impressive PvT performance, and Movie and Effort dealing with the Protoss dragons with relative ease. Khan really needs to go back to the drawing board before next week to try and avoid heading into the slump that seems to be beginning for them.
STX SouL
3 > 2
Woongjin Stars
Dear
<
Electric Circuit
>
Light
hyvaa
<
Outlier
>
ZerO
Calm
<
Chain Reaction
>
Soulkey
Bogus
<
Jade
>
free
Last
<
Ground Zero
>
sHy
In what almost looked like a direct repeat of their game against Team 8, STX managed to claim another victory 3 wins to 2 with Last, Dear and Bogus taking the victories for their team. While Light was once again forced into his weakest matchup, Zero and Soulkey showed some of their ZvZ prowess to take out the STX Zergs, but, unfortunately for Stars, their Protoss players were no match for the somewhat solid Terrans in the STX lineup.
Bogus vs. Stats
Sniper Ridge
+ Show Spoiler +
Stats started at the bottom left corner to face Bogus, against whom he had a 0-4 record. Even lady luck seemed to be on Bogus's side this game, as he spawned at the bottom right corner. When Protoss starts counterclockwise from the Terran on Sniper Ridge, Terran can easily pressure the Protoss, securing a 3rd base at the same time. Knowing this, Stats decided to pressure early by making a zealot before dragoons.
Because Bogus did not see the zealot, he decided to push out the dragoons using marines and his first tank. Stats took this opportunity to kill all the marines and tanks while only losing his zealot. With the crucial first tank dead, Bogus lost all map control, and had no idea what Stats was doing. Bogus then decided to go for a mid game 3 factory push while taking a third at 6 o'clock to maximize the positional advantage. However, Stats attacked with a handful of dragoons and an observer at the perfect time, killing two more tanks and ending any hope of a 3 factory push. Without a sufficient number of tanks, dragoons would simply crush the push.
Bogus tried anyway, moving out with a few tanks and vultures. With a good zealot drop, Stats killed even more tanks and looked like he would end the game right there. Bogus barely defended his natural, sacrificing most of his SCVs there. Stats secured his third and got to arbiter tech while the Terran still sat at three factories two tanks.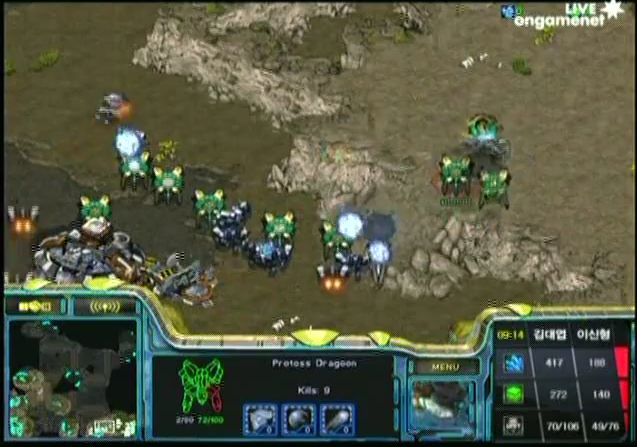 Expecting GG any moment..
Bogus knew the only hope he had left was to sit in his base and get a large army to go for one final push. He decided to risk taking 6 o'clock with the few units he had left. He then built turrets and set up mines to try and defend the incoming attack. Even though he was left 45 supply behind, the SCVs arrived at the perfect time to barely defend the 6 o'clock base.
Just when it seemed as though Bogus had set the basis for an impossible comeback, Stats recalled into Bogus's main, killing the two armories. This delayed Bogus's push that bit more, and Stats took another base at 11 o'clock. Stats, knowing now that he was far ahead, decided to end the game by shoving his army to 6 o'clock. Despite the fact that Stats had the superior army, a perfectly placed supply depot allowed Bogus's army to come out on top. Bogus, finally able to catch his breath, sent vultures to harass Stats, killing a large number of probes at 11 o'clock.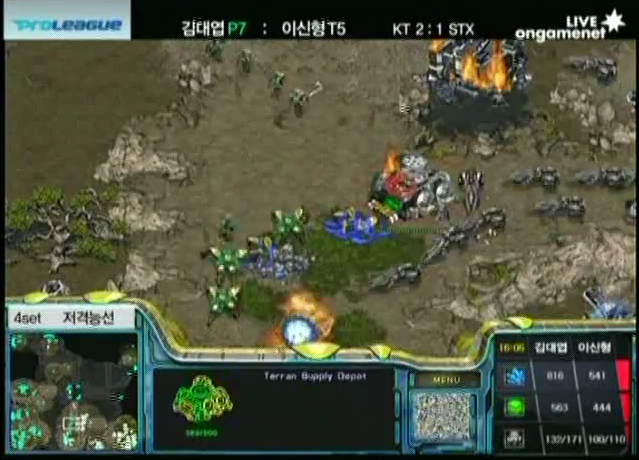 Hero supply depot!
Stats, seeing that simply sending army after army was not working, decided to mix in high templars and take the 12 o'clock expansion. Bogus's vulture sniped the first three templars, buying himself some time. 20 minutes into the game, Bogus finally had an army to match Stats's army. Bogus, out of resources except for his 6 o'clock, moved out towards Stats's natural, sniping templars along the way. Stats decided to kill the 6 o'clock to stop Bogus from mining, but his units ended up getting trapped and he lost everything without killing the command center.
Bogus, now ahead in supply for the first time, used his army advantage to kill Stats's natural and 9 o'clock base. Still ahead in expansions, Stats remained calm and built up another army in his main and 11 o'clock expansion. Bogus decided to use his map control to his advantage by taking the center expansion while moving up towards 11 o'clock. Bogus killed both 11 o'clock natural and 12 o'clock with his remaining army. While this happened, Stats used his army from his main to kill 6 o'clock and attacked the center expansion.
Now that they each had one expansion left, Bogus retreated to secure his center expansion. Stats retook the 9 o'clock base and used all his stocked resources to create another army. Bogus was rebuilding his 6 o'clock expansion when Stats recalled his main base. Bogus sent all of his vultures to defend the recall, but the recall was only a bait; Stats took this time to attack the center expansion which only had tanks left. Zealots dropped from shuttles decimated Bogus's tank count, returning the game to Stats's favor.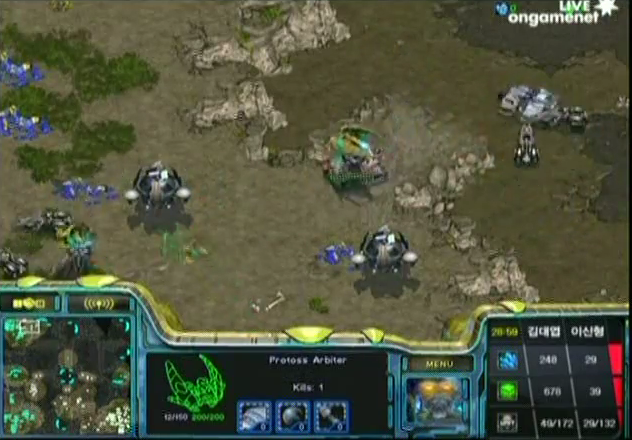 49 vs 29 supply, 30 minutes into the game
Bogus sent out a few vultures and killed a few probes and templars, but a good recall to Bogus's 6 o'clock finished off Bogus's last mining expansion. No longer mining, Bogus pushed out with whatever army he had left. Bogus seemed to have the bigger army and pushed up towards Stat's final expansion. With the army counts now at 49 to 29 in Stats's favour, Stats's four templars stormed to kill the remaining army, forcing Bogus to concede.
Bogus, though he had lost, leaves a remarkable impression, having almost won an impossible game.
Zero vs. Firebathero
Ground Zero
+ Show Spoiler +
Zero spawns as the teal hatchery in the southwest against firebathero's orange Terran in the northeast. Zero opens 12 hatch into 3 hatch muta while FBH plays a one rax fast expand, following it up with a quick ebay and academy before his second barracks.
The game unfolds to Zero's advantage, with FBH's first few marines narrowly missing a free overlord kill before getting surrounded and torn to pieces just outside their own natural along with a medic and firebat. Three zerglings make their way up into FBH's main, causing some minor mayhem and granting Zero momentum and map control. Zero plants his third at the northwest main before mutas are out and without having to waste minerals on sunkens.
Firebathero gears up for a push on Zero's third with a sizeable medic/marine force. Zero delays his progress as much as he can manage by picking at FBH's army with his muta stack. Firebathero arrives at Zero's third to find two lurker eggs blocking the ramp. Just before the lurkers hatch, Zero attacks from all sides with mutas, lings, and an already finished lurker up the ramp, crushing Firebathero's force.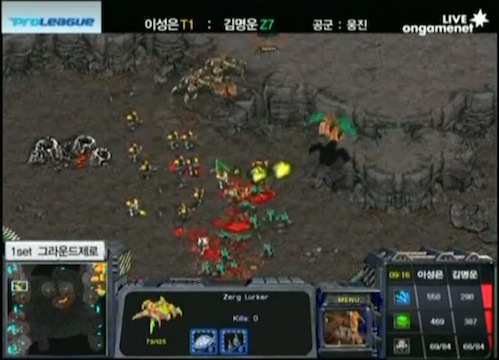 FBH has a group of unsupported marines halfway to Zero's natural by the time his first force is cleaned up. Not surprisingly, this second attack is just as easily repelled, but this time FBH manages to retreat with the better part of his force intact, showing some nice anti-muta micro along the way.
Now getting a little careless, Zero follows the retreating marines with five lurkers. FBH's marines regroup with reinforcements and turn around, catching the unsupported lurkers still advancing. The mutas are just a little too late to draw fire, and Zero loses three of his lurkers for almost nothing against a good arc by FBH.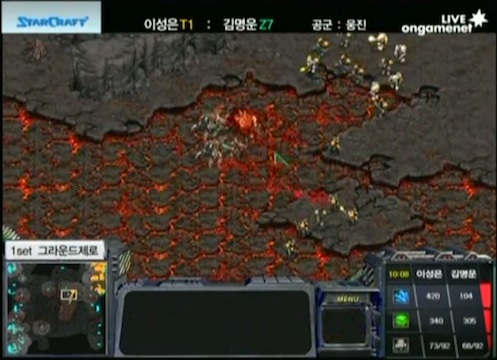 Firebathero pushes out again, this time with tanks and vessels to support his pre-defiler push. Staying on four barracks, he flies a command center out the 1 o'clock and starts a couple more factories, preparing for a bio->mech transition. Zero defends the timing attack rather aggressively with a large lurker force. Zero gets hit with a painful irradiate on his mutas and suffers a few lurker losses as FBH once again reaches the ramp to his third. Defilers are out in plenty of time and Zero traps FBH's army in the northwest natural with dark swarmed lurkers and wastes all of the terran troops there.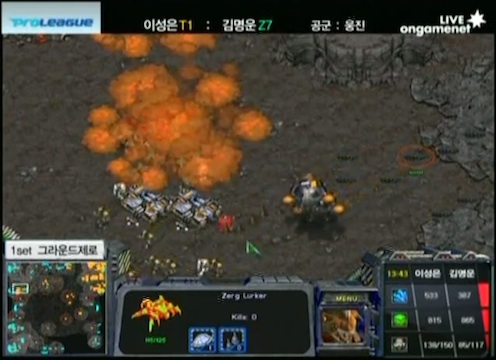 Firebathero is in a much nicer position by the end of the attack; his bio->mech switch is well under way and Terran is going up to three bases against a three base Zerg. The cracks in Zero's play that have led him to struggle this season are also beginning to show. Never is this more apparent than when his subpar multitasking costs him a great opportunity to attack FBH's undefended third with mutas while defending with dark swarm at his third.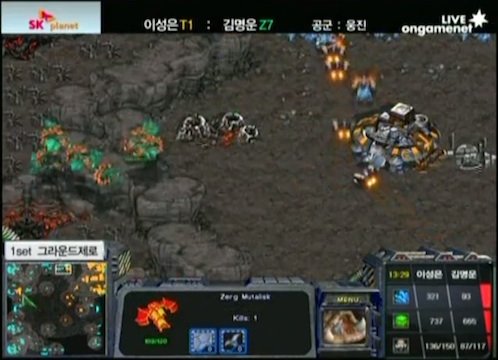 Instead he doesn't send them in until afterwards and, though he forces a lift, is chased out pretty quickly.
FBH flies a command center to the 3 o'clock while Zero takes the northwest natural and the 7 o'clock simultaneously. FBH stays aggressive on all fronts, planting mines all over the map and attacking Zero's new 7 o'clock with vultures and a new MnM vessel force.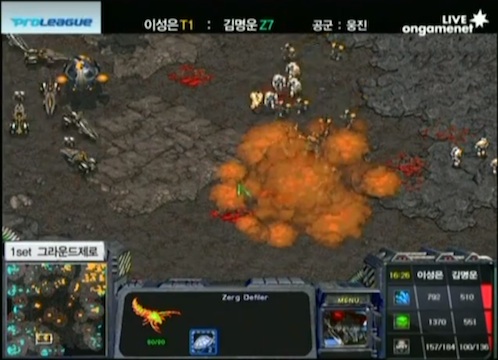 At a steadily widening supply disadvantage, Zero's troops are spread too thin and FBH manages to get a group of MnM into the 7 o'clock, killing all the drones there and keeping Zero down to four bases against four.
Zero starts switching to a more hydra-heavy composition while FBH, having built a huge vulture force, finally starts building up a tank goliath army at home. FBH throws away a fair number of vultures at the southeast main, losing them to a pair of lurkers stationed there before clearing them out and starting his fifth base.
The vulture death toll keeps climbing and the supply gap narrows slightly, but Zero is still in a very rough spot. He dark-swarm-lurker-drops the 1 o'clock, forcing a lift, but manages to get few SCV kills with his poor micro. Firebathero cleans up, securing yet another expansion at the southeast natural.
Zero tries another drop at the southeast main, only to find himself spotted by a couple well-placed goliaths and cleaned up. Firebathero meanwhile sends a tank force to the doorstep of Zero's northwest natural across the map. Darkswarmed lurkers, accompanied by a large wave of cracklings, overwhelm the poorly supported tanks and Zero takes a much-needed victory.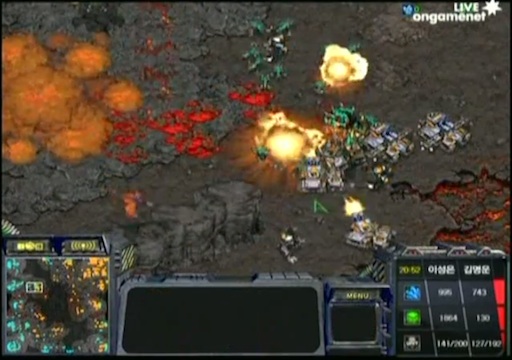 Ultras finally pop for Zero and he starts cleansing his side of the map of FBH's presence. Using ultralisk drops he clears the few tanks defending FBH's southeast main and nat. Firebathero sends a few tanks and vultures to defend while setting up a new offensive position outside of Zero's northwest natural.
Firebathero is once again repelled from Zero's doorstep, and Zero's attack on the southeast main and natural also fails to do severe damage, with his ultras alone simply unable provide the damage output to do more before reinforcements show up.
Zero pushes back to Firebathero's northeast natural, simultaneously lurker dropping the high ground ledge above his southeast natural. He then launches another attack on FBH's southeast base. Again, ost of the damage is inflicted on the defenses rather than the bases themselves, as the ultra heavy force rips up the tanks and ultra ling reinforcements destroy a group of poorly supported reinforcing tanks.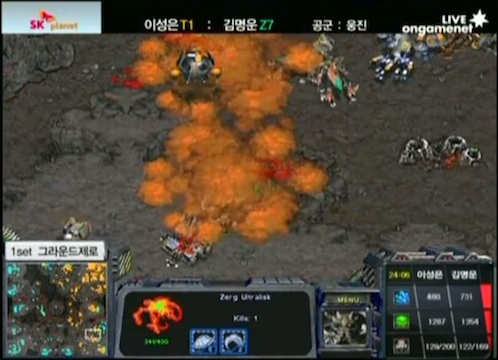 Firebathero eventually secures these two bases with tanks, but the damage is done, and suddenly Zero has a window of opportunity to overcome his economic disadvantage. The Woongjin Zerg exploits a newly created opening at the three o'clock to force a lift and kill a respectable number of SCVs. Once this is done he again directs all of his aggression at the southeast main and natural. Zerglings break through and shut down both bases while a battle rages outside the natural.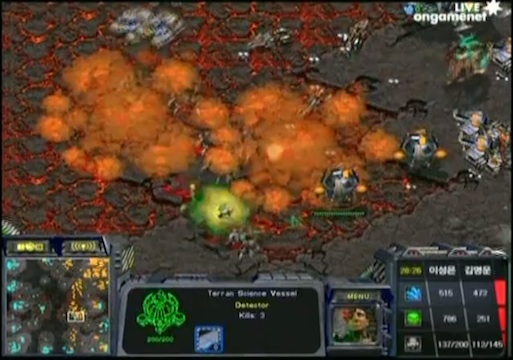 Firebathero eventually overpowers Zero's effective but thin offense and lands his command centers. Zero's situation is becoming desperate; the collapsing Woongjin zerg swings his forces around the north side of the map and puts everything into an offensive on FBH's production facilities in his main.
Most of firebathero's forces are drawn to the south, and Zero easily pushes into Zero's natural and up his ramp. He overcomes the initial defenses there, but FBH flies in with vessels to irradiate everything in sight. By the time troops from the south make it back to defend, there is little left to defend against.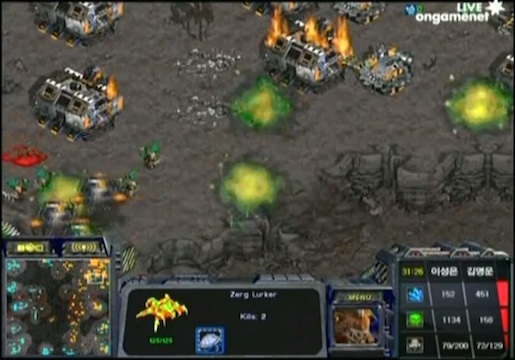 In the meantime, FBH sends vultures to the 9 o'clock and 7 o'clock where he devastates Zero's already weak drone count. Zero is out of options and his position on the map quickly disintegrates. FBH wipes out the 7 o'clock and after some brief and futile struggle, Zero GG's.
Matches
Predicted
Actual
Gain/Loss
Current
9
CJ Entus v Woongjin Stars
3 - 1
3 - 1
+3
KT Rolster v STX SouL
3 - 2
3 - 1
+1
CJ Entus v SK Telecom 1
3 - 2
1 - 3
-2
Air Force ACE v Woongjin Stars
1 - 3
3 - 1
-2
KT Rolster v Samsung KHAN
2 - 3
3 - 0
-2
STX SouL v Team 8
1 - 3
3 - 2
-2
Final
5
Matches
Predicted
Actual
Gain/Loss
Current
5
SK Telecom 1 v CJ Entus
3 - 2
3 - 0
0
Airforce ACE v Woongjin Stars
2 - 3
2 - 3
+3
KT Rolster v SK Telecom 1
3 - 2
1 - 3
-2
Air Force ACE v Team 8
2 - 3
3 - 1
-2
CJ Entus v Samsung KHAN
3 - 2
3 - 1
+1
STX SouL v Woongjin Stars
2 - 3
3 - 2
-1
Final
4
+ Show Spoiler [The Rules] +
If I predict the winner and the result correctly, 3 points
If I predict the winner correctly, and the result is off by 1, 1 point
If I predict the winner correctly and the result is off by 2, 0 points
If I predict the winner wrong, and the result is off by 1, -1 points
If I predict the winner wrong and the result is off by more than one, -2 points.
Tuesday, January 10th
KT Rolster vs Team 8
Since time immemorial, the lowest ranking team beating the reigning champion would take nothing short of a miracle. For Team 8, all that is needed is for 3 players to play like they did 8 months ago, and the team would be well set to win a Proleague title. Alas, Team 8 has been a disappointment thus far, and while Flash vs. Jaedong is always promising, the recent losses of Team 8 point towards more than just a few snipes gone wrong; Team 8's losses reflect the team's mental form as well. Jaedong looked completely helpless against Canata of all people, and Sea was nothing short of demolished by Kal. Last round I was hyping this match a lot, but if KT can perform decently, a 3-1 for them should be easy to achieve.
My prediction:
KT Rolster
3-1 Team 8
Wednesday, January 11th
Woongjin Stars vs SK Telecom T1
I must admit, I'd be more excited about this match if SKT had been performing badly. With FBB and even Hyuk in great form and Sun returning shortly, the Protoss line should carry SKT to victory, but Stars can afford to hope! If the lineups show ZerO vs. Bisu, Neo.G_Soulkey vs. Fantasy, Light vs.n.die.soO, SKT should go down. If Shy or Free can snipe either Bisu or Best in PvP (still unconvinced about their PvT form), Stars could well bring it to a 3-2, but otherwise SKT should cement their lead.
My prediction:
SK Telecom T1
3-1 Woongjin Stars
Saturday, January 14th
Samsung KHAN vs Air Force ACE
Can KHAN be expected to break their losing streak against ACE? After ACE disposed of Team 8, I am no longer sure. Against the Protoss heavy lineup of KHAN, ACE can send out Firebathero, Kal and M18M, and maybe even Canata, if he actually is in the kind of form that his fans have been hoping for for years. Unfortunately, Great (who has played every match), Ggaemo, and PianO, some of their main lineup, plain suck against Protoss. That said, even if you get past KHAN's formidable Protoss lineup, you still have to deal with RorO and Reality, who should cause problems aplenty if the snipes turn out wrong. Still, I can easily see this upset happening, if only because I'm certain that January's boys are discouraged, whereas ACE has only been gathering steam.
My prediction:
Air Force ACE
3-2 Samsung KHAN (Upset!)
Last christmas was ruined for many an SKT fan when STX came out of nowhere and defeated fan favorites Fantasy, Best and Bisu, in an event that was described as a miracle by some and as "the worst christmas ever" by others. Just 3 weeks later, SKT has their chance for revenge. After defeating CJ Entus, rival KT Rolster, and reclaiming the top spot of the rankings, SKT looks as if it is again
the
team to beat in Proleague.
Fantasy looks stellar in all matchups, Best rolls over every player with masses and masses of units and Bisu, despite a disappointing record, still manages to invoke fear into all but the most fearless of players. The one weakness of Bisu I saw, predictability, was also smashed when he cannon rushed Wooki to cement the SKT triumph over KT. What's more, SKT also sports an impressive record over STX over the last two years, and that was when STX still had key players like Kal and Calm (both in good form) on their team. Is the victory over STX all but certain? Perhaps not.
While STX fans are hipsters, liking Bogus and Last before it was cool (I know I did), even the mainstream Proleague viewers have discovered how well they are playing lately, and SKT should not view them as pushovers. Overconfidence proved Fantasy's undoing last game, and Bogus is one of the few Terrans who has a legitimate shot against all of FBB. While Calm's games have been disappointing as a whole, most of them were mirrors, and he has a lot of time to prepare something for this match, whereas SKT will be forced to train for Woongjin first. Dear is looking better and better, so he might have a shot as well.
Of course, all of that might be just wishful thinking - SK Telecom is definitely the safer Liquibet.
My Prediction:
SK Telecom T1
3-2 STX SouL
Sunday, January 15th
KT Rolster vs Woongjin Stars
Seeing as how KT prefers sending their Zergs instead of Mind and Wooki, this should be a ZvZ fest, and while Flash and Stats against any of Woongjin's big three (OK, maybe not Stats vs. Light) should produce great games, I'm a little afraid that instead we'll see Flash vs. Free and Action vs. ZerO. While the match itself promises greatness (Which Zerg other than Soulkey and ZerO could you possibly imagine beating Flash?) it could also easily be a horrible waste of time. Still, I love me some Zero and Soulkey vs. T, so just because of that, this should be the Game of the Week. As for the result...
My prediction:
KT Rolster 2-3
Woongjin Stars
(UPSET!)
If this were round one, I could just write "CJ 3-0" and be done with it. Fortunately, this isn't round one, and CJ has shown some weakness where before there had been none. Hydra in particular looks disappointing, and Horang2 was considerably sloppier than his team expected in his games against SKT. Team 8 is also performing poorly, but now they should have a better chance than last round. On the other hand, this is coming from the same person who thinks that they are still going to lose 3-1, so take it with a grain of salt.
My prediction:
CJ Entus
3-1 Team 8.

Game of the week
: KT Rolster vs. Woongjin Stars. Flash vs. any of the Woongjin big 3 should be a great thing to watch. Unfortunately, this week isn't exactly packed with exciting matches. Be prepared for a few boring games in between.
This Proleague update was brought to you by Team Liquid's SPL 2011-12 R2 coverage team - riptide, HawaiianPig, Kiante, mustaju and SirJolt, with guest writers Contagion and l10f. Special thanks to Simplistik for the standings tables. See you all next week... Hopefully