Table of Contents
Brought to you by:
Elly the ESPORTS Elephant


Results and Standings on Liquipedia
Preview Podcast with Takesen
Starting the New Year with More of the Old:
Korea vs the World
Sometimes, I wish the professional Starcraft II scene worked more like American television. Because if that were the case, HomeStoryCup would have been renewed for twelve more seasons (I'd buy the DVD box set!), franchised into eighteen different languages (
¡Copa de la Casa, en vivo!
), and we wouldn't have to wait six goddamn months for the next season (oh wait, that happens on American TV, too!). Though we admit we could be living in a much better universe where HSC occurred three times a year, we still welcome back HomeStoryCup for its long awaited fourth installment.
For the unfortunate souls who missed HSC3 last year, you guys are in for a treat. The tournament isn't hosted at a convention center – instead it takes place at TakeSen's apartment in Germany. The tournament seeks to emulate the casual, laid-back atmosphere of LAN parties between a circle of friends, except it throws in $15,000 of prize money to up the competitiveness.
Players play poker, cook barbecue, and chug beers between games. Also, they're free to cast the games on stream any time they want by slipping into the commentator booth: a couch for three in front of a TV screen. Also, there's a bar downstairs (from days before barcraft was called barcraft), where the fans can watch, and the players can descend a flight of stairs down to if they need a round of cheers. One could call it the ultimate ESPORTS reality show, taking place inside a pretty kickass tournament as well.
Check out some clips
from the previous HSC3, you'll see what I'm talking about.
So sit back, and enjoy the first live event of the year. Even though ESPORTS didn't get to celebrate on December 31st, consider this the overdue party.
---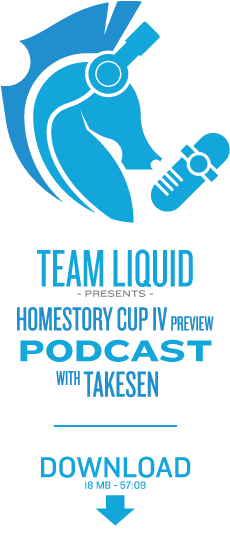 Text interviews are cool. With so much time to formulate answers and replies, you often end up with a very well-thought out, intelligent conversation. At the same time, you miss out on the nuances of real conversation. You miss out on instant reactions and the emotions in people's voices, and spontaneous answers that haven't been mulled over for five minutes. Also, text interviews are a bit inefficient. You can get maybe two to three times more answers out of an interviewee by talking to them live than you can via text.

After getting some good interviews out of the Blizzard Cup participants via Skype (transcribed here and here), we decided we should try it again. So here we are, presenting you with our shot at something new: a podcast. We found an interesting guy, tried to ask him some interesting questions, and here's what we ended up with.
HomeStory Cup is the brainchild of one Dennis 'TakeSen' Gehlen, who found the time between being a professional Starcraft II caster and managing the pro-team ALTERNATE's SC2 division to host his own tournament. TakeSen was kind enough to take the time out to talk to us for almost an hour. We talked about serious topics such as the importance of player promotion by tournaments, teams, and media, to silly things like who managed to drink the most at HomeStoryCup III. It's on the long side for an interview, and it's not exactly traditional, but we hope you find it interesting!
Recorded on December 30th, 2011
---
---
Writer: Waxangel.
Graphics: alteredclone and shiroiusagi.
Editor: Waxangel.
Podcast audio technician: R1CH.

Special thanks: Hawaiianpig, Hot_Bid and Smix.