Everything is Imbalanced:
Koreans, Terran, Korean terrans, et al.
By: tree.hugger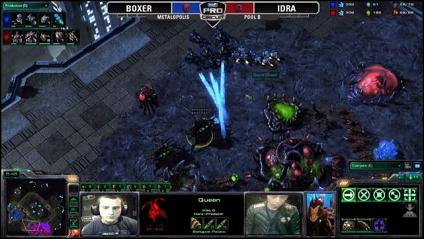 The premise of this article in one picture.
By most accounts, MLG Anaheim was a great event. Countless interviews, reactions, and reflections attest to this fact. But for those of you who happened to be Korean Terran players, it seems this tournament was extra special. The top four finishers were all Korean Terrans. Five of the top six were Korean Terrans (only one of the best Korean Zergs broke the pattern). The remainder of the elite eight? Two foreign Protoss players, one being trained in Korea and the other headed there.
Predictable as it was distressing, this beatdown somehow managed to hurt more than most.
There are important, wrenching, soul searching questions to be asked after MLG Anaheim. Why did this happen? Are the Koreans that much better than everyone else? Is Terran that much better than everything else? WTF blue flame hellions? And what on earth do we as a community need to do to avoid embarrassment on this scale again?
Jävla Terran imba!
A good deal of the Terran dominance shown last weekend had to do simply with the fact that five out of nine Koreans played Terran. But tempting as it may be to argue that this disparity in participation completely accounted for the disparity in the final standings, that argument covers only half of the picture. The Terran dominance at MLG mirrors the success of Terrans in Korea, as many people have noted
and QQ'd about.
Alongside the recently announced invitations of Bomber and MVP to MLG Raleigh, it forces some interesting questions: What exciting new Protoss and Zerg players are there to invite anyway? Was the choice of invites biased towards Terran simply because Terran is better?
Before MLG, much of the focus was on the nasty 1-1-1 TvP all-in attack which continues to be difficult to stop. Terran are seeing tremendous success with this strategy, most noticeable lately in the GSL Up/Down matches. Like many "OP" builds, it's too easy for a player without a plan or a clue to just defer to this build and have a fairly good chance of winning (similar to the way Protoss players dealt with Zerg's roach-ling all-ins earlier this year, I'm convinced the answer lies mostly in better micro, positioning and tactics from the protoss). MLG demonstrated on a large scale that Terrans have similar weapons in TvZ and (somewhat ironically) in TvT.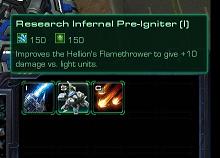 Click this.
Blue flame hellion builds have been around for a while, but the major conceptual difference of the new school BFH builds is actually pretty simple: build even more of them. It doesn't really make sense from an efficiency perspective, as blue flame hellions do not become exponentially more effective as they grow in number the way that marines or sentries do.
Instead, the theoretical basis for blue flame hellions is pretty similar to
the rationale behind MMA's aggressive drop play
against Zerg. If just two blue flame hellions of ten make it to the mineral line, they can pay back the cost of the entire strategy. In SC2, there is simply no cheaper harassment unit than BFH's. As Zergs have become more adept at deflecting harassment from two, four, and six hellions, Terrans have simply upped the ante and made more hellions, and found more creative ways to ship them into Zerg mineral lines.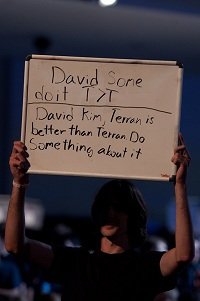 It's interesting that this trend has continued into TvT. It makes quite a bit of sense, of course, as Terran is usually in a hurry to tech, and thus is relying on marines to provide early game defense. Against hellions, that's far from adequate. But the popularity of BFH vs BFH battles in Anaheim brings back memories of the very best of BW TvT's, which often began with intense mass vulture battle. This was because in TvT the margin of error is was somewhat larger than any other match-up, and a later tank switch did not necessarily mean an auto loss. The case is similar in SC2, and thus the extended utilization of mass hellions past the point where counter units are out in numbers is a testament to growth among Terrans. More confident in their micro and game management, Korean Terrans are willing to take more risks in the early game to achieve a decisive economic advantage. Though much derided by the SC2 viewing populace, hellion TvT's are a sign of progress and growth in Terran players.
All of this brings us back to predictability. BFH's are a trend, not a one-time gimmick. They're predictable, deadly, but nowhere near un-counterable. In the later stages of Anaheim, DRG came out virtually unscathed against hellions (though he would lose to other things), while MVP especially showed how to capitalize on successful BFH defenses.
Frankly, there's really no excuse for how flat footed NA Zergs seemed to be against this kind of play. Unlike oGs's DT openings (used by HuK and MC at DreamHack and HSC) or LosirA's early roach ling play, blue flame hellions are tremendously old hat in Korean
and
European competition.
Sc2 strategies have an interesting history of being developed in Europe, perfected in Korea, and used on unsuspecting Americans. Anyone who has watched a European Zerg stream in the last two months has seen this style of play. Anyone who regularly watches GSL has seen similar variations of the "BFH harassment at any cost strategy". The consequences of not defending properly (SlayerS_Min, constantly) are bad. The consequences of not defending at all are MLG Anaheim.
Koreans imba!
The most obvious lesson that Anaheim taught us is the value of Korean training. We've heard this lecture before, but never before have we been taken to school so patently obviously and brutally. At Columbus, the Korean top three represented some of Korea's absolute best players. It's never been a secret that their best are better than our best. At Dreamhack, the Koreans dominated in similar fashion, but the ultimate triumph of a foreign born player masked the extent of Korean server dominance. Even at NASL - as mid-level Koreans swamped the qualifiers and PuMa and MC put on a show in the final - Sen and DarkForce offered a sliver of hope that maybe foreigners were catching up.
There's no argument now. The Korean invites easily dealt with their groups as expected, but the success of GanZi and Rain coming out of the open bracket was the killing blow to the myth of foreign capability. Excellent players, certainly, but far from the cream of the crop in Korea. And yet they demolished the best the foreign scene had to offer. Here are the totals. Koreans lost only five series to foreigners, all of them PvPs. No Korean Terran dropped a series to a foreign player during the tournament. The total number of Korean vs Foreigner series won by the Korean at MLG was... (are you sitting down?)...
fifty five
. The combined set record for Koreans against Foreigners in the Championship Pools and Bracket alone was
sixty two wins against twelve losses.
This has been called a wake-up call. But we've hit the snooze button many times before.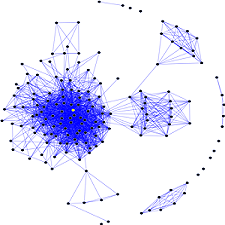 Here's why we suck.
The story of Korean dominance isn't just about practice time or team houses. That's a part of it, certainly. but it's also something explained more fully by social science. One of the most important reasons Koreans dominate is because the Korean network is located in a tremendously small area spatially and socially. Koreans don't just practice in close proximity to their teammates, they practice in close proximity to every other progamer in the GSL galaxy. Players in the Korean scene do not travel far for their tournaments. Their teams do not need to spend significant sums of money on travel, and can instead improve the practice environment of the teamhouses. The players encounter each other regularly. Many know each other from BW or from prior teams and clans. The Korean scene operates within the same time-zone. The pro teams operate on similar schedules. This is all a huge advantage. The Korean scene is the densest network in the entire gaming world, and perhaps one of the most focused in all of sports. That tight ball of yarn will beat the foreign scene's loose spiderweb every single time.
Dense networks breed innovation and hard work. The foreign scene is separated geographically, culturally, and socially in ways that directly inhibit our ability to compete. Not to mention the split between EU and AM servers, which promotes improvement about as well as the iron curtain. The results were disastrous at MLG. The American server looked like a backwater against the combination of blunt European ingenuity and smooth Korean refinement. The term foreigner or non-Korean is becoming antiquated nearly as fast as the Blizzard map pool. Though this was a tournament held in North America, the top three players who practiced primarily on the AM server placed 12th, 14th, and 18th. If it weren't for the Koreans, MLG would be free money for the Europeans.
Austerlitz, not Waterloo
Apologies in advance for the history.
At first I thought that MLG Anaheim might be our Waterloo, in which a much chastened foreign coalition would finally come together to end the the mighty Korean empire. However, it turned out I was looking too far forward. MLG Anaheim is better cast as Austerlitz, the decisive French victory often cited as Napoleon's greatest tactical victory, where the coalition forces of Europe were defeated and embarrassed by a vastly superior French army. As unbeatable as Napoleon seemed at the time, his reign was not long in the larger scope of history. His opponents learned, while he himself became overconfident. After shame, there was a recovery, and after recovery there was eventually victory. This must be the non-Korean path.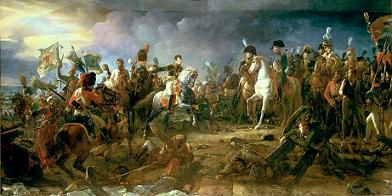 It would have been great if Stephano had played.
For the foreign scene, some steps are clearer than others. I'm deeply hesitant to criticize the recent development of several foreigner houses. There's no reason that this should
hurt
the play of these players. But there's equally good reason to be skeptical of how much a difference it'll make. The road to competing with Korea means learning from them. There is simply no 'western way' as some hoped with SC2's release. SC2 is not such an easy game that eight hour practice is the same as four hour practice. Furthermore, the answer includes more engagement, not less. That Koreans have discovered that our weekly cups and appetite for streaming is only a good thing. AM in particular needs much more in the way of weekly low-money cups. Tournaments must continue to aggressively recruit Koreans to come overseas. All of this will stem the bleeding. If the foreign scene takes its monthly medicine against Korean players, the gap that widened during the first half of 2011 might be stabilized.
Catching up is another story. It's been unlikely since the beginning that the depth of the Korean scene could be matched by the foreign scene. I admit, I have less ideas in how exactly to outperform a tried and true ten-year old system for ESPORTS dominance. I'm better as a critic than an adjunct ESPORTS professor. And of course, cost prohibitions are understandable. But there are some clear steps that can be taken.
I cannot imagine a way for foreigners to compete with Koreans that does not involve spending more money, or changing some of the big structural issues present in the foreign scene. A stronger network has to be built between foreign players and teams, through shared houses, clan leagues, and regular group practice. Blizzard needs to help out and remove the barriers between the EU, AM, KR, and CN servers. And we need to co-opt parts of the Korean system as well. The initiative of FXO in establishing a global network that includes Korea was very admirable in this regard. The cost of GSTL participation is extremely high, but the benefits of an extended Korean stay may be greater. GSTL should be a consideration for other teams as well for the sake of trying to remain competitive.
These coming months will be crucial. Another MLG is coming fast. And some of the brightest stars in the foreign scene have accepted the Korean challenge. Their success might be the most critical step in foreign development since FXO acquired fOu and Team Liquid established its partnership with oGs. Parity is slipping ever further from our grasp as the SC2 scene grows further and further imbalanced.
---
Winners and Losers of MLG
By: confusedcrib
Winners and Losers
Though there is only champion in any tournament, there can always be a multitude of winners and losers. Cliché as it may be, this writer has decided in his infinite wisdom to lay it all out for you.
Photos courtesy of the amazing GhostClaw, video by AskJoshy
Winners
IMMvp
Slumping? Overrated? To be fair, that
may
have been his condition two months ago - not that we had any good way to check. But when it comes to winning tournaments, all that matters is the present.
MVP proved at Anaheim that he is as good as he ever was and maybe even better. His man-handling of widely acclaimed #1 ZvT player DRG raised eyebrows even in Korea, while his Terran vs Terrans-who-are-not-Bomber was just as amazing. The way MLG Anaheim tierings worked out was like this: Foreigner tier - Korean tier -
IMMvp tier
(hopefully there will be an even loftier 'IMNestea tier' in the future).
Hopefully this tournament will be the impetus MVP needs to get his GSL butt in gear and start bringing the same kind of domination to Korea.
Liquid'Tyler
By now the "You'll know when I'm practicing as hard as I should because I'll start winning" story is old news (or however that quote went). I don't know how much practice Tyler had over the past few weeks, but he sure did a lot of winning at Anaheim. Tyler made it out of the winners' open bracket into pool play, besting most notably Quantic Gaming's iNka, and FXOChoya
fOu
.
Unfortunately, Tyler was then seeded into not only the hardest championship group, but the one with nearly his entire team in it. It was a disappointing end to such a good start, as Tyler went 0-5 in his group. But his open bracket recovery was a bright sign for ESPORTS and Nony fans alike.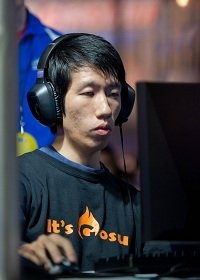 Wannabecool (wbc)
I remember sitting at home, looking at the brackets, and watching this relative unknown's rise through the tournament. I couldn't believe it when I saw that he even made it a few rounds into the championship bracket.
Apparently, from what I gather from various sources (replays faster please), this unknown cannon rushed every (or almost every) game. Do I hold that against him? No way! You're playing in tournaments to win, and if you can get yourself closer to that goal with some devious tactics, more power to you wbc! If anyone knows more about him, please contribute to his
liquidpedia page
like any true nerd baller would.
White-Ra
In my mind the second biggest winner of this tournament was our Ukrainian hero White-Ra. As one of SC2's most popular players, the fans in North American just couldn't get enough of him. Despite only coming in twenty fourth place, he still delivered some great performances for his fans by making it into the championship bracket and taking down some well-known opponents. Anyone who gets this much love from the fans can only be called a winner.
SLush,
SjoW, and
Ret
All three of these players always seem to go under the radar at MLG events as championship contenders. It's not that people don't know that they're excellent players, it's just that they get no hype whatsoever. Of course, they respond by blowing people away with their high level, creative performances. Whether it's watching Ret's queens at zero energy twenty minutes into the game, Sjow's safe and solid play, or Slush's late game multi-pronged zerg attacks, these players never fail to put up a good game. Placing right behind Naniwa, Idra, and Huk, these players really do deserve your attention at the next MLG, as their games never disappoint.
Losers
HuK,
NaNiwa, and Foreign Hope
Let me start by saying that obviously both of these players are winners by some standards, as they are the best of the foreigners and always bring their top performances to MLG events. With that being said, these two players failed a sacred ideal they were charged with representing at Anaheim: foreigner hope.
As the championship bracket played out, it became clear that Naniwa and Huk were the last two chances foreigners had to best the Koreans. Huk and Naniwa reached a crossroads between inspiring hope or instilling everlasting (twenty-something days) despair into the hearts of foreign fans.
Unfortunately, Huk and Naniwa didn't just lose, they were swiftly 2-0'd by their Korean opponents MMA and Ganzi. Huk and Naniwa aren't losers because they didn't play well; they're "losers" because our hopes died with them.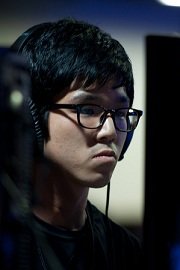 DongRaeGu
Maybe DongRaeGu isn't as good as we all want him to be. Sure, he dominated his pool play and then only lost by one game to both MVP and MMA (the first and second place winners), but he didn't
totally dominate
the tournament in the way that some of us foreigners had predicted.
We've all watched his GSTL play where he's looked nigh unstoppable, but the top tier Koreans at MLG showed us why he struggled for so long to make it into GSL. It's unfortunate, but DRG's fifth place finish has definitely dampened the hype.
Team FXO
It's not that FXO did that poorly. They showed some pretty good gameplay, but the results just weren't what people expected considering their training in Korea.
In the winner's open bracket, every FXO player was eliminated from the tournament by a Koraen. After that, they were eliminated by solid, if less heralded players such as Tod and Demuslim. Tgun actually made it into the championship bracket, only to be eliminated by wannabecool. Considering that Qxc beat the winner of this whole tournament in the GSTL, I think it's safe to say we expected more.
Evil Geniuses
For a team that has a massive fan base and prides itself as being the best of the best, this was a disappointing performance. Aside from Idra, the two top placing EG players were Machine and iNcontroL who only won
six games
(that's
games
not matches) between both of them. LzGamer, Axslav, and Strifecro also only managed to make a small splashes on the tournament. Demuslim was the only EG member to escape Anaheim with an improved reputation (though the universe seems to be conspiring to cause him physical harm), with an additional month of practice granting him that big comeback he was aiming for at Columbus. That being said, perhaps their new
training house
will help them perform better next time.
Team Liquid
Two words: Team. Kill.
The Winneriest Winner That Ever Won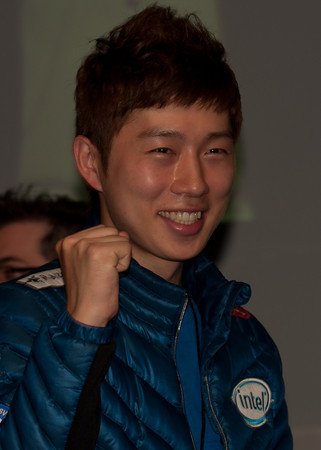 Boxer! (and team SlayerS)
Prior to this event,
googling Boxer+washed+up
led to a stream of forums and news posts saying that Boxer was out of form and far past his prime. This weekend, people's hearts (except WaxAngel's stone cold void) were reignited by the ESPORTS flame that is Boxer. Before being called the weakest Korean at the event, Boxer proved himself more than worthy of his fans' approval, brining innovative builds and his infamous tactical play.
Just as awesome as Boxer's performance was his team Slayers'. Despite SlayerS_Alicia running into a brick wall made of
ToD
, SlayerS dominated the tournament and took three of the top four spots while evangelizing to the West with their holy blue flames.This video says more about Boxer's victory at MLG than anything I could say:
http://www.youtube.com/watch?v=nkuGrI3JJ4U
Boxer Hwaiting!
---
Feature Game: Boxer vs. Rain
By: shindigs
Championship Upper Bracket: Game One, Metalopolis
Boxer and Rain brought us one of the most memorable TvT's in SC2 to date. Though some view TvT as a slow and boring match-up to spectate, it is hard not to get excited over mass explosions, nuclear missiles, hunter seekers, and grandiose engagements combined in a symphony of glorious destruction.
Boxer spawned as red Terran at the 12 o' clock position, and Rain spawned at 6 o' clock as blue Terran. Following the dominant trend of the MLG weekend, both players opened up with a very quick refinery that allowed for a fast factory and immediately moved up to blue flame research. While both players continued to mirror each other by getting matching starports, Boxer landed the first blow by slipping a hellion raiding party into Rain's base and slaughtering ten of Rain's SCV's. Not to be outdone, Rain countered with hellions of his own, but through a drop instead. Rain also managed to kill a substantial amount of workers, evening the game up again.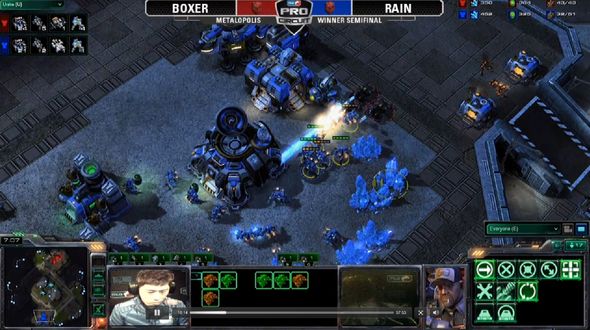 LINE EM' UP
Boxer continued the pressure, making effective use of several hellions at the front of Rain's main to keep him feeling the heat. With a substantially earlier reactor on his starport, Boxer's air force began to exert its dominance in the skies as he continued to wrestle map control away from Rain. Unfazed by Boxer's overall map control, Rain calmly look his third base with his superior tank force.
Boxer then blew his lead and grip on map control with an inadvisable assault on Rain's newly established third base, as defending tanks blew up hellions and ground-mode vikings alike. As a small consolation, Boxer finished expanding to this third during the engagement.
There was a follow-up slew of aggression and pressure from both players, but with neither player able to gain a significant advantage, the game began to transition into a typical TvT tank cold war as both players marked their territory with treacherous tank lines.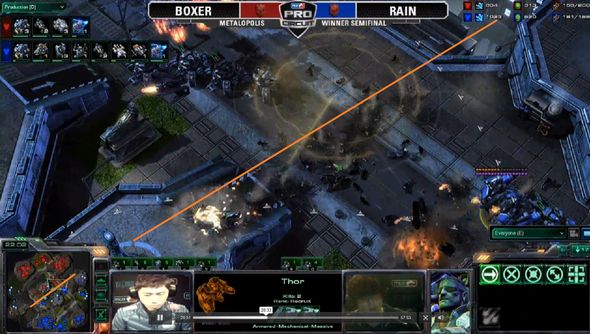 "The line must be drawn HERE!"
Rain began mixing Thors into his mech composition while taking his fourth expansion at the other natural expansion. On the hand, Boxer chose to take his fourth base at his gold expansion, planning to use it as a staging point for offensives. However, Rain proved to be too entrenched and the game plunged further into stalemate.
With the center of the map impassable by land, both players began switching to starport tech. Rain drew his sword first with battlecruisers, while Boxer responded with mass reactor-starports for vikings. With a massive battle looming in the future - but no frontal engagements possible until then - both players tried to gain advantages through other methods.
Boxer began the production of mass orbital command centers while sacrificing his SCVs to free up population; Rain surprised the audience and began to research hunter seeker missiles for his numerous Ravens.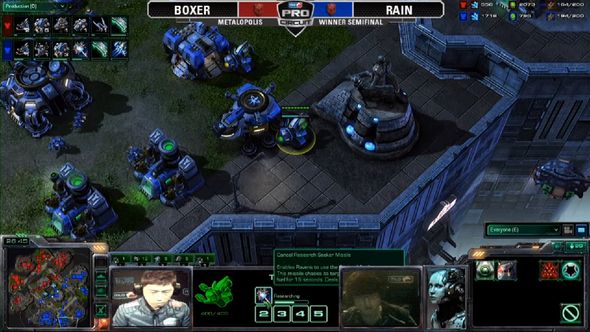 You could say the crowd EXPLODED with excitement when they saw this.
Rain also took the initiative to soften up Boxer's tank lines by landing his own offensive mules on top of Boxer's tanks.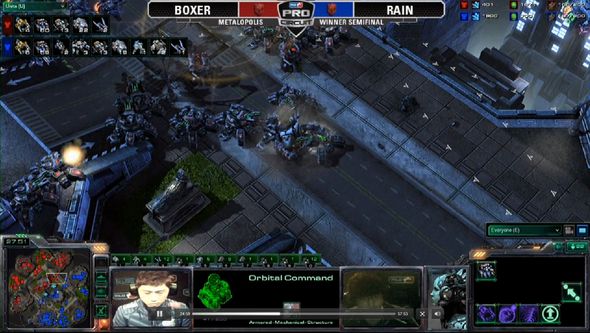 You know a game is getting ridiculous when mules start "doing damage"
The first major engagement almost occurred when Boxer's took some Yamato potshots at Rain's gold base. The two forces were close to having a drawn out engagement, but Boxer was forced to immediately flee upon seeing five hunter seeker missiles flying towards his vikings.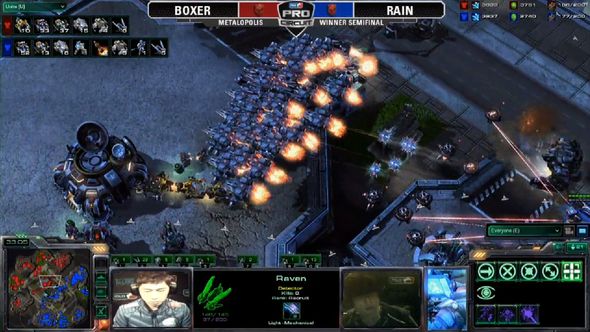 Really hope the TvT trends witch to mass raven, viking, thor.
Shortly after, Rain noticed that Boxer's slow discarding of tanks in favor of aerial units might allow him to make some progress on the ground. Using a combination of nukes, tanks, and mules, Rain began to make forward progress across the bottom left lane of the map.
In a move that would influence the outcome of the game, Boxer decided to ignore this push by land, as he already had more than enough money in the bank to need any further mining from the bases at 9 o'clock.
Rain continued his slow encroachement into Boxer's territory using cheap and supply-free missile turrets to keep any battlecruisers from easilty thwarting him. With Boxer beginning to cycle Thors into his army, the minimap begins to display a slight advantage for Rain as Boxer became slowly cornered.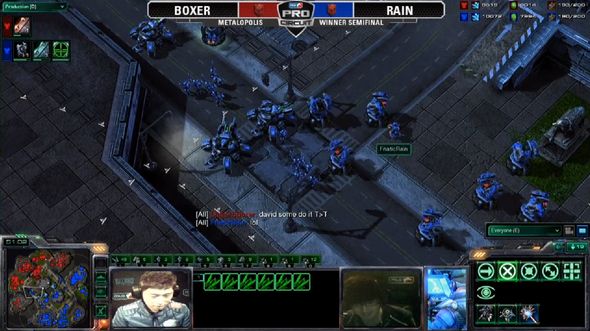 Wat
As Rain slowly took the over the 9 o' clock area, Boxer's widely spread production facilities began to come under pressure. Seeing that Boxer was unwilling to commit to a major battle, Rain slowly began to tighten his enclosure. Boxer was forced to lift his buildings into the rearguard, putting himself in a very cramped position. Rain continued to use nukes to chip away at the edge of Boxer's territory, though he would not do any significant damage.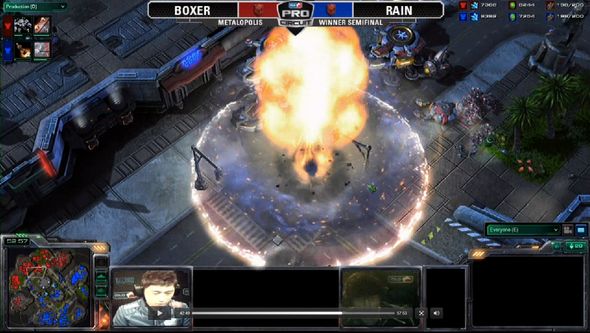 Might be in bit of trouble when nukes are regularly landing on your base.
Backed into a corner, Boxer finally decided to commit to a battle and find out who would win the game. As the screen erupted with missiles, lasers, and explosions, Rain successfully landed a critical volley of hunter seeker missiles on Boxer's mass of battlecruisers and obliterated almost all of them. With the battle clearly lost, Boxer attempted to flee with his remaining vikings.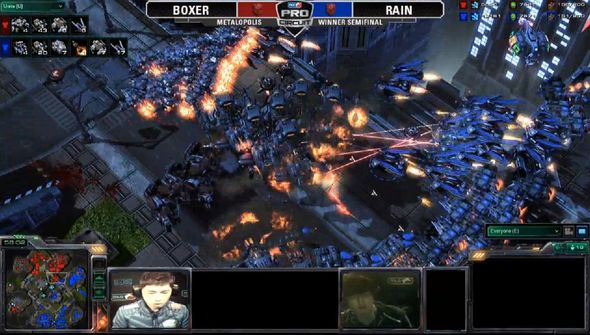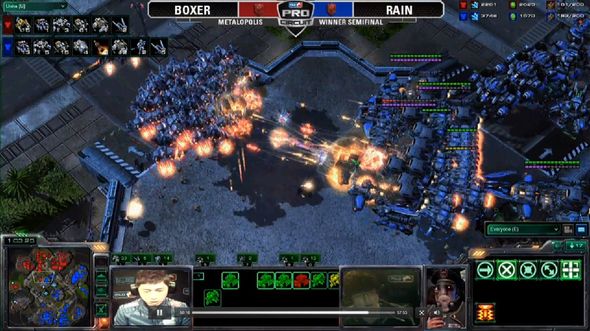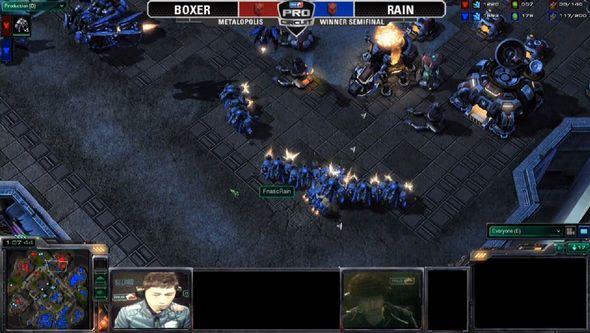 It's so beautiful
There was little left for Boxer to do as he could not fight Rain head on. As Rain moved in to start demolishing Boxer's buildings, Boxer attempted to force a draw by lifting his buildings to the corners and protecting them with vikings. However, he did not have nearly enough vikings left over to make this strategy work, and was forced to GG after his air force was wiped out.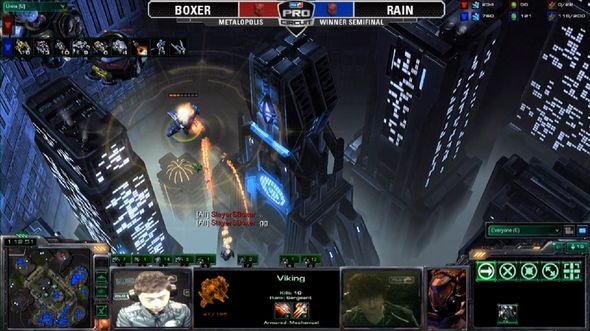 What more can you say?
Rain took game one after one hour and five minutes in game time.
---
The Hard-Knock Life
: Starcraft II Semi-Pros
By: Primadog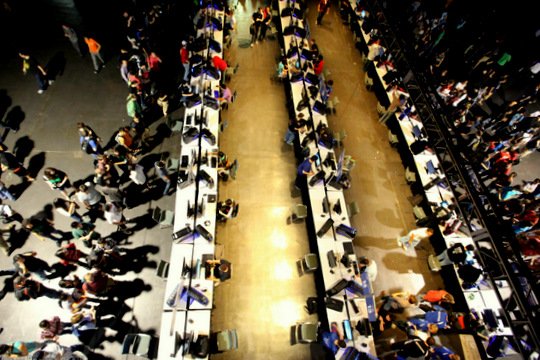 Photo by: xensin
Hundreds of players duked it out at MLG Anaheim this past weekend. There were super-stars aplenty, hailing from all corners of the world. But most of the players went unheralded regardless of the progress they made in the tournament, their games watched only by a passing referee or two. Yet, it's their aspiring competitive hearts that keep this community running. We took the time to get to know a few of them...
eP.Gimix
The Dude. The Legend. The biggest name in ESPORTS this weekend. Gimix, aka "The Most Mannered Player in ESPORTS", has been for most of his career a rather unassuming player on a rather unassuming team. A chance meeting with
White-Ra in the Open Bracket, however, changed all that...
+ Show Spoiler [Interview transcript] +
Can you please introduce yourself?
I am ePGimix, Stephen Biesel.
You and your team are a bit unknown to the community, can you talk about you and your team's accomplishments before this MLG?
Eternal Plague
eP
placed 2nd in ESGL Season 2 and recently defeated
VPGamers
in the SGL Playoffs. Our current lineup consists of
Gimix
,
Fingo
, ButteryLlama, Valkyrie, JakeBake, Haustka, and ArtOfTerran; five of which are GrandMasters; two, Gimix and Valkyrie, peaked in the Top 25.
My personal accomplishments
(according to my manager, Mike):
2nd Place Versus Gaming LAN
1st Place University of Utah LAN
2nd Place University of Utah LAN
2nd Place ESL Go4SC2 Cup #61
2nd Place ESL Go4SC2 Cup #57
2nd Place ESL Go4SC2 Cup #53
2nd Place US CraftCup #29
4th Place - BYOC Riverton Tournament LAN
What was going through your head when you saw that you would probably face
White-Ra in round 2?
I was first excited, but also a little sad. I didn't feel very confident. After all, he's White-Ra! I don't want to get knocked out so early.
Are you a White-Ra fan?
I wasn't until I met the guy. I mean, I knew of him, but I didn't follow him closely since I am Terran, but I am now.
What were you thinking, when White-Ra didn't show up for your upper bracket match?
It was a bizzarre experience when White-Ra finally came in. I was kind of disappointed, but also a little relieved. It was very bittersweet, I didn't get eliminated, but on the other hand, I didn't get to play White-Ra.
After White-Ra's match, you went on to defeat
EG.StrifeCro 2-1, establishing that you are not just lucky but a rather skilled player. Care to talk about those games?
For the first game on Xel'Naga Cavern, I did a 2-factory 1-base rush and managed to destroy his natural. After that, I just expanded myself. When he tried to take a third at the Gold, I pushed and after that it was pretty much over.
In the second game, I tried to use the same build, but StrifeCro was ready for it. He beat my army back, but it was still fairly even. Eventually, he managed a very beautiful Roach/Baneling to Mutalisk transition. I was prepared but still fell behind, and it ended in a slow loss.
Game 3 on Shattered Temple, I pushed in the only timing window I have, because he was about to get Broodlords. I pushed just before he teched to hive, his infestors vs my Marine/Tank/Hellion. I pushed and siege between the natural and Gold and it was over.
Sound like they're all straight up games.
Yes. I didn't cheese him out or anything.
After you got knocked down to the Lower Bracket by
ThisIsJimmy. You managed to land on White-Ra's side of the lower bracket again. What were you thinking?
When I saw the bracket I just thought, oh I get to play White-Ra again! I looked at the players and I knew I would face White-Ra. When it comes to it, I was excited to meet him again.
It was a best of 7?
Yes, an extended series with me starting 2-0, so I gave him back two games to make it a regular best of 3 to make it even.
What did you do in those two games?
I just moved my SCVs over to his base and typed "GG."
After the match, did you get a chance to chat with White-Ra?
He was very busy so we didn't get to chat very long, but he came over and we shook hands. He told me that we should practice together sometimes.
So you got yourself a Protoss practice partner?
I guess so!
When did you find out about the Day9 shoutout and that you're on front page of Reddit.com (not just r/StarCraft)?
I kinda left.
I couldn't handle the attention, so I went back to the hotel. When I came back my manager, Mike, told me that I am the top story on reddit.
I didn't really comprehend what that means then. It was definitely the coolest experience ever. Mostly because the Day9 shoutout. That's all I ever needed or wanted.
Did you expect such a large reaction? How have you dealt with the sudden fame? Are you the more withdrawn type?
I didn't expect it at all. I am definitely more of the withdrawn type. The fame is great, since I am an unknown player, even though I often beat strong opponents. On the other hand, I want to be the best. Not just famous, but the best.
How did you feel about having a larger TL fan club than DJ Wheat?
It was undeserved. DJWheat busted his ass and worked hard for the community. I just happened to play against White-Ra.
Do you have any last shoutouts?
Shoutout to my team and community Eternal Plague. I stream at
http://www.twitch.tv/pit__
and you can follow Clan eP's twitter at
http://www.twitter.com/epclan
.
---
Sterling
Race: Terran

Team: Free agent

LAN experience: MLG Dallas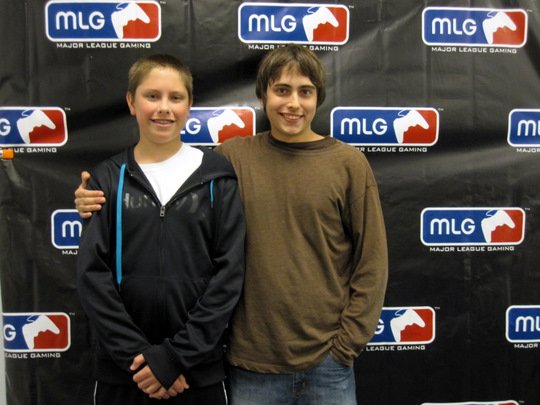 A recently TL featured streamer, Sterling "Sterling" Kolde is an emerging American Terran player who is currently in transition to becoming a professional player. Pictured with his brother, Satchel Kolde, on the left.
+ Show Spoiler [Interview transcript] +



Can you please introduce yourself?

My first name is Sterling, and it's also my gaming ID. I am a Terran player from Seattle, Washington. I love StarCraft, I stream on TeamLiquid. I was recently featured on there so you guys may know me from there. I play a lot of StarCraft and love to coach and just talk about the game.

I am really happy to answer some of your questions!

Satchel Hi, I am Sterling's brother, Satchel. I started spectating since StarCraft 1, when Sterling started picking it up competitively. In the last WCG event for StarCraft 1, he made it to the last qualifier and he was deep in the tournament.

It was a 12 hour qualifier. I sat there and watched every game, and I was way more stressed out about it then he was! It was really exciting to watch the games. During the last game, I was the one shaking and he wasn't.

Sterling Ya, man! You were there the whole time for me for the the qualifier. You may be a bit modest here, but this is my support. This is my family; this is my support. When I lose, I come into his room, and I'm upset with him, in his room. When I win, he's right there besides me. He encourages me, every day, to stream and to play; to help me get my own name out there. He helps me manage different things, like my Youtube channel, which I'm just starting out right now. He is the one that started my stream and figured all the X-Split stuff out. Personally, I am really bad with technology.

He is my brother, my manager, my friend... you know, my encouragement. He does a lot for me as a player, for my career, as a brother. It is very important to have support, as an aspiring semi-pro player.


What brought you to StarCraft 2?

I played StarCraft 1 for a couple of years. I first picked up that game early middle school, that's why I got interested in StarCraft 2. I just loved StarCraft 1, so it's a natural progression for me.

I started playing StarCraft 2 in October, after the last major StarCraft I event. Ever since then, I've really enjoyed playing. It is a very different game, but also a lot of fun.


How was your MLG experience so far?

God, it's been awesome! What a huge turn-around from Dallas!

Everything is great. The production is terrific and the games are great! Everything, like meeting people, absolutely phenomenal. I've shaken hand with Sean Plott, y'know, he's actually a person who walks and talks. I shaken hands with Jinro. Met these people who are just my heroes, personally, it's just so cool!

The MLG guys, the production, watching the main stage, is just great. They've got interviews between games, they do so much to keep the whole event captivating, from Friday until Sunday. It's a long event, two-and-half, three days is a long time to keep thousands of people entertained, and they're doing a great job!


Did you fund this trip out of your own pocket? You traveled all the way from Seattle, so it must had cost a lot of money.

That's an interesting question. We did. Satchel, my brother, paid out of his own pocket. Well, our parents supported him.

I came here partially out of my own pocket, but my viewers on my stream have been making donations to support me. They have been tagging donations, saying "this is to help you out on your way to MLG." It's $20 here, $50 here, so more than half my expenses have been paid for by my viewers.

I gotta say, huge thank you to the people that supported me and brought me down here!


What's your perspective on difference in live vs online play?

Coming down here, I expected it to be basically the same, playing at a live event. I was expecting the same feeling as I get when I play online. Just very relaxed, very calm, collected. I know my strategies and I know what I'm doing, but it's totally different. Sitting down across from your opponent, who's trying to advance in the tournament, trying to kill you. He's thinking about my play style and trying to take advantage of my weaknesses, so it's a whole different ballgame compared to playing online, like when I played on the Korean server, playing against someone across the ocean. He doesn't know me and just trying to practice, so it's a totally different atmosphere.

It's made me second guess a lot of my style and my strategies. I like to play aggressively online, because I can take advantage of soft players who are just practicing and playing mediocore strategies. Here at this live event, of the games I lost, people have came out with cookie-cutter builds that takes advantage of my strategies.

I have been changing my own style so I can play as safe as possible with minimal risks. To get through a huge field like MLG, that's really important.


Your stream was recently featured on TeamLiquid. Would you care to talk a little about your streaming experience?

I would love to! I actually started streaming about a month ago, and it's been really fun. It makes playing so much more fun when I have people to interact with, and I get to talk StarCraft with people. I just love doing it.

I started with just a couple viewers, and that was really exciting for me. When I hit 10 viewers, I was thrilled! I was a try-hard streamer - I was talking as much as I could, and commentating as much as I could, and I got good feedback. For a couple weeks, I never had more than 25 viewers.

Then it kind of pick up, I got featured on TeamLiquid. Now when I logged in, I get two, three hundred viewers, and it makes it so much more fun to play. More than anything else, now that I have a stream and a viewer base, it gives me a motivation to actually login and play and practice a lot more.


Can you talk about your playing style?

Terran as a race is beautiful, I love Terran.

I honesty can't see myself playing any other race. Just because, I can do what I need to do as a gamer. If I need to play safe, I can play safe. If I need to play aggressively, I can play aggressive. The units I have to work with - the Reaper, the Hellion, frankly even the Marine - have so much flexibility. They can do so many different things. With the same set of units, say Marine-Marauder-Medivac, I can play defensively and form a nice concave around a expansion, and just bolster my economy. Or I can play aggressively and do multiple drops in different areas to spread my opponent apart, and do different attacks.

Terran allows me to do the different things that I want to do, without having to all-in or overcommit, compared to when you tech to Dark Shrine or Warp Prism.


Have you enjoyed your MLG experience?

Oh yeah, it has been great! I met a bunch of really cool people. It is a great venue and it's been a blast. I gotta say, if you considered coming to a live event, if you're on the fence, go for it! There's so much fun to be had.

My brother is down here, and he's not even playing. He just came down, as a spectator to watch, and he's been having a great time too, I think.

Satchel Yeah! It's been phenomenal.


Will you do this again?

Oh yes, absolutely! I think the prize pool is a bit small, but I don't think anyone comes here for the money. It may cost $600-700 to come down here, and the winner only gets $5000, but it's about the experience. I am supporting the game I love and an event that is very well run.

I highly recommend that people come down to MLG.


Thank you for the interview.

Thank you very much!


---
GoSuSTX (formerly ONEShield)
With a new team, and a new ID, the former ONE.Shield made his first attempt to brave the gauntlet that is the MLG Open Bracket.
+ Show Spoiler [Interview transcript] +
Hi, this is Katzby, right here in front of me is GoSuSTX, also known as ONEShield. Can you introduce yourself to TeamLiquid?
I am Caleb "STX" Richard. I play on the team It's Gosu and have been playing since the Beta.
Can you give us your RTS background?
I played StarCraft and WarCraft 3. I actually played WarCraft 3 first for two years, but switched to Brood War when I heard that StarCraft 2 will be coming out, and played it for three-four months until the Beta.
What motivated you to switch to Starcraft 2?
I thought it will be better than StarCraft I, and definitely better than WarCraft. I am pretty happy with the way StarCraft 2 turns out.
Let's talk about your results here at the MLG. Your first two games, I guess you can say, are against fairly easy opponents. Can you talk about those games?
I played both Protoss, and TvP is my best matchup, but sometimes I still manage to lose them. The first two are both mid-masters, so it was pretty easy.
After them I played
wbc
. He prepared a build just for me (wbc is a teammate at It's Gosu). He did a 3-Gate expand, but hid the expansion, so I thought it was an all-in. Eventually he took a third, but I thought it was his second, so I just sat. He had three base against my two, so ya...
That sucks! After wbc drops you to the lower bracket, you played against
RevShadow. How did that go?
He all-ined the first game. I scouted 2-gas and knew something was up, so instead of 3-rax and 2-gas, I went 4-rax, a safer build. It was a pretty easy win even though I essentially blind-countered him. The second, third game were a complete blur. I don't remember what happened.
How was your experience here at MLG?
Yeah it was pretty good, but there had been a lot of standing between matches, sometimes for several hours, because there are not enough chairs. It can be a couple hours or a couple minutes until your next match, but overall it had been pretty good.
I heard some of the games started at 1:30 AM last night?
I was here until 3 AM last night, because I was up to the [upper bracket] fourth round. Once I lose though, I can go home, but it all depends on how well I do. Then you have to wake up at 10 again.
Are you satisfied with how well you did?
I definitely could have done better, but I also need to practice more.
This is your first MLG right?
Yep. First time competing. I visited one once just to watch, StarCraft 2 wasn't out then.
Will you be attending future MLGs?
Yes! My team It's GoSu will send me to more MLGs in the future.
Thank you for your time. Do you have any shoutouts?
Shout-out to Steel Series and my team, It's GoSu.
MLG Photo-gallery
By: zemotion
We would like to give specials thanks to zemotion for sharing her professional photography with TeamLiquid. Jinn is a member of Infinity Seven and photographer of Studio Zemotion. Her work can be found at www.zhangjingna.com and www.facebook.com/zemotion , or www.twitter.com/zemotion .