Banner by disciple.
---
Table of Contents
Quick Results
Battle Reports
By nbaker and conTAgi0n
It's time for the abusive husband speech.
"I'm sorry honey, I didn't mean to hurt you not release a news post for two weeks, but I promise to make it up to you by buying roses or something having a wicked pre-finals piece. Don't leave me now!"
That pretty much sums up my shame. I really want to keep putting off posting something, but the final is coming up (and what a final it will be), so it's time to stop delaying the inevitable.
But that doesn't mean you shouldn't read this post. While there may be nothing other than battle reports, they still are darn good battle reports, covering both the quarterfinals and the recent ZerO-Jaedong series. Read on, prepare for the match tonight, and get ready for an amazing final--no matter who advances.
Quick Results
+ Show Spoiler +
Results and Standings for the Quarterfinals
Group A:
Jaedong
3-1 ►
Advances to Semifinals
Grape
1-3
Eliminated
[VOD]
Jaedong
<
La Mancha
>
Grape
[VOD]
Jaedong
<
Monte Cristo
>
Grape
[VOD]
Jaedong
<
Dante's Peak SE
>
Grape
[VOD]
Jaedong
<
Circuit Breaker
>
Grape
[VOD]
Jaedong < La Mancha >
Grape
Group B:
ZerO
3-2 ►
Advances to Semifinals
Calm
2-3
Eliminated
[VOD]
Calm
<
Circuit Breaker
>
ZerO
[VOD]
Calm
<
La Mancha
>
ZerO
[VOD]
Calm
<
Monte Cristo
>
ZerO
[VOD]
Calm
<
Dante's Peak SE
>
ZerO
[VOD]
Calm
<
Circuit Breaker
>
ZerOGroup C:
Hydra
3-1 ►
Advances to Semifinals
Mind
1-3
Eliminated
[VOD]
Mind
<
Circuit Breaker
>
Hydra
[VOD]
Mind
<
La Mancha
>
Hydra
[VOD]
Mind
<
Dante's Peak SE
>
Hydra
[VOD]
Mind
<
Monte Cristo
>
Hydra
[VOD]
Mind < Circuit Breaker >
Hydra
Group D:
Flash
3-1 ►
Advances to Semifinals
Leta
1-3
Eliminated
[VOD]
Leta
<
Circuit Breaker
>
Flash
[VOD]
Leta
<
La Mancha
>
Flash
[VOD]
Leta
<
Dante's Peak SE
>
Flash
[VOD]
Leta
<
Monte Cristo
>
Flash
[VOD]
Leta < Circuit Breaker >
Flash
---
Results and Standings for the SemifinalsMatch A:
(5/26 18:00 KST)
ZerO
3-1 ►
Advances to Finals
Jaedong
1-3
Eliminated
[VOD]
Jaedong
<
Dante's Peak SE
>
ZerO
[VOD]
Jaedong
<
Circuit Breaker
>
ZerO
[VOD]
Jaedong
<
La Mancha
>
ZerO
[VOD]
Jaedong
<
Monte Cristo
>
ZerO
[VOD]
Jaedong < Dante's Peak SE >
ZerO
Of course, those of you who read these pieces probably already know to check the
R&S thread
for full ABCMart MSL results. This is mostly to satisfy my OCD!
---
And now, to the main attraction: battle reports galore! With Day[9] sightings, 4 AM-induced captions, and even more ZvZ! What more could you ask for?
+ Show Spoiler +
Not JvF, that's for sure now.
Battle Reports
By nbaker and conTAgi0n

Quarterfinals Match A Set 2:
Jaedong < Monte Cristo >
Grape
+ Show Spoiler +
By conTAgi0n
Grape draws the upper left spawn location against Jaedong in the bottom right on Monte Cristo. Jaedong opts for the standard overpool expand opening and places his third at the 3 o'clock location before his natural. Grape also opens completely normally, responding to Jaedong's overpool into mostly drones by placing a forge, nexus, cannon, and gateway in that order.
Jaedong goes 3 hatch spire into 6 hatch with a fast fourth in the bottom left, aiming for a strong economic lead in the mid game. If he can hold it, taking his fourth at the slightly unintuitive bottom left location holds the advantage of making it harder for Grape to split the map and turtle on four bases. Additionally, when it comes time for Grape's midgame push, the bottom left's distance from JD's other bases will actually make it more difficult for Grape to attack JD's fourth.
By far the most interesting thing to happen next is nothing related to the game itself but rather a very special white guy sighting in the audience: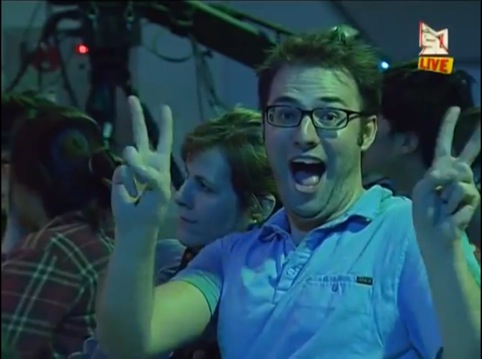 This game brought to you by the number J.
Grape puts down a templar archives after his stargate and makes a dt to pressure Jaedong with. Jaedong scouts the archives with scourge just before the dt starts heading for his natural. That does not leave him a lot of cushion room, but JD should still have enough time to react properly.
Jaedong however does not seem to be on his A-game today. Even after seeing with an overlord the dark templar's exact position as it passes through the 9 o'clock, his sunken is late and his lings are not quite in place to block the dt as it runs by his natural choke.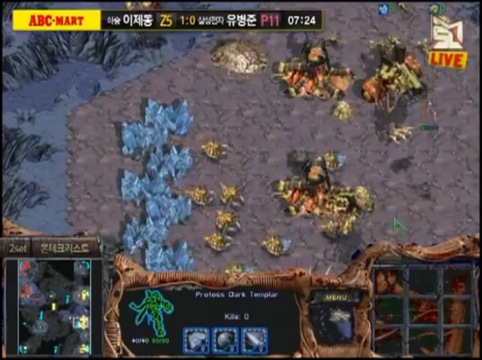 This could have been prevented.
With Jaedong's zergling force tied up chasing the dt now in his main, Grape hits the 3 o'clock with five zealots and another dt. Grape quickly overwhelms the undefended sunken colony and kills several drones pulled for defense.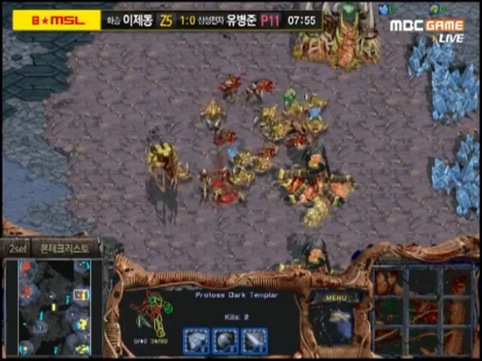 Had he pulled his drones to his natural instead, his third probably would have fallen.
Grape comes back shortly after with his corsairs and another group of zealots just as plus one attack finishes and tears through Jaedong's twenty or so zerglings with their freshly souped up psi blades while the replacement sunken is still morphing. Jaedong's first mutalisks start hatching as the zealots go to town on his third. Grape's waiting corsairs quickly dominate them as they hatch and Jaedong leaves the game.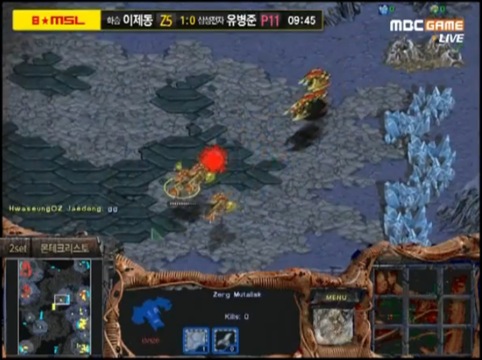 A special thanks to Harem for sharing with me this post on his thoughts regarding the game.
conTAgi0n's note: It really wasn't worth a battle report after all, I guess I'm just a sucker for Day[9] cameos.

Quarterfinals Match B Set 4:
Calm < Circuit Breaker >
ZerO
+ Show Spoiler +
By nbaker
Zero spawns as the brown zerg at 11 o'clock and Calm spawns as the teal zerg at 7 o'clock. Both players send their overlords towards the closest natural, which leads to Calm having slightly earlier information than Zero due to the nature of Dante's Peak. Both players 12 pool and take their natural expo after extractor. Calm reaches Zero's main with his overlord and Zero is forced to build 6 lings as soon as his pool finishes, not knowing what build he's playing against. Calm capitalizes on his positional advantage by teching to lair after two zerglings, expediting his spire tech with virtually no risk. This tech advantage is further compounded by the fact that Zero got ling speed before lair in case he was playing against 9 pool gas. Zero moves out with his zerglings to scout Calm and put on a bit of pressure, but is met by 6 lings and is forced to back off after a little dancing for position. Both players pause for breath, teching up to spire and producing drones and zerglings. Zero guesses that he has made more zerglings than Calm, so he moves down to attack Calm's natural, hoping to snipe the hatchery and either win straight out or by producing mutalisks more rapidly than his opponent, but Calm is prepared, making a nice concave and defending comfortably.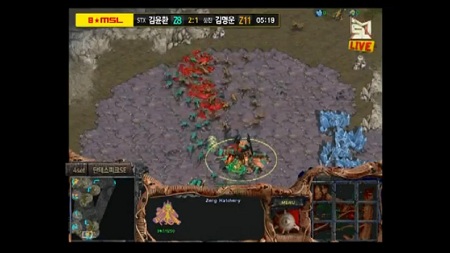 Zero feels he needs to put on pressure because his mutas are later than Calm's, but he
almost loses the game with this attack. If he had lost all his lings, Calm could have
sent his first mutas to kill off a couple drones before Zero's scourge popped.
Meanwhile, his first two mutalisks finish ahead of Zero's and move out to do some damage. Zero wisely retreats from the battle with zerglings to spare and uses them to delay Calm's muta harassment by forcing the mutas to try to chase down his lings. As Zero's spire finishes and he starts to produce mutalisks and scourge, he attacks at Calm's natural with zerglings once more. If Calm's mutalisks are on Zero's side of the map, they will counter and Zero will be able to defend with his freshly made air force and possibly deal damage with his lings in the meantime. However, Calm held his mutas back, and with their aid his defense holds, although Zero does manage to sneak a ling into Calm's main and get a drone count, confirming that Calm is on a comparable economy.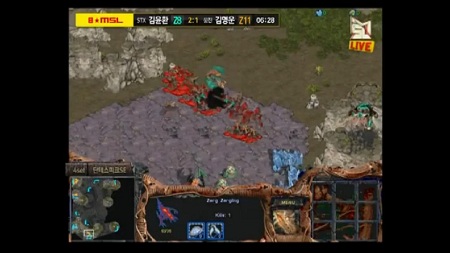 Calm wisely keeps his mutas on his side of the map. If he had gone for harassment
here, he would have probably lost a bunch of drones or even his hatchery.
Knowing that Zero has no zerglings, Calm tries to run into Zero's base and snipe some drones with lings, but Zero forces them off with his mutalisks. Both players build up their air forces until Calm feels ready to attack. Zero micros brilliantly against the cloud of scourge Calm sends at him and uses his own scourge as a blocker for Calm's mutas, who would ideally be taking shots at Zero's mutalisks as they dance away from the scourge. Calm cleverly runs lings into Zero's main while the mutas are occupied, but Zero manages to finish off the scourge and kill them off before sustaining too much damage.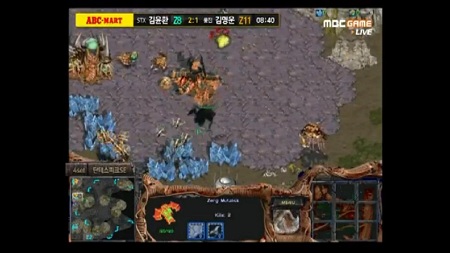 Zero's great micro keeps him alive.
Doubting in his air force now that Zero has a large scourge advantage, Calm picks off the gas drones at Zero's natural with his mutas and backs off. Zero chases after him, but loses a lot of scourge to Calm's mutalisk micro and although he is up a mutalisk or two, Calm's reinforcing scourge make the battle almost a complete trade, with Zero left with two damaged mutalisks and Calm left with a pair of scourge. Calm once more goes for the drone snipe with zerglings, but Zero's own lings hatch just in time and with some fancy drone stacking micro, he is able to defend even though his mutas are out of commission.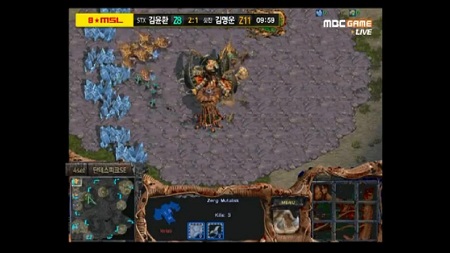 Perfectly timed zerglings.
Calm goes back to rebuilding his air force, but Zero continues to make zerglings and attacks Calm's natural, following up with mutas of his own to pin Calm's airforce in his base. The ploy works. Calm's defense is delayed enough critically damage the natural hatchery, so when the mutas arrive to defend, Zero simply runs them into the main, pinning Calm back once more while his reinforcing lings finish the job at Calm's natural.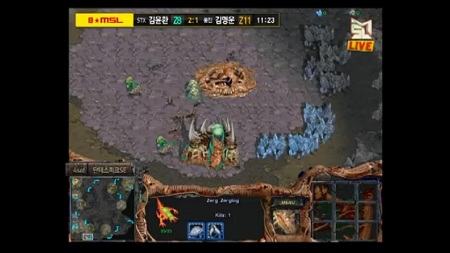 Zero does a great job a splitting Calm's attention and defense,
and gets a hatchery out of it.
Calm attacks Zero with mutas and scourge plus zerglings. Zero chooses to delay the mutas with his scourge while he cleans up the lings. This saves him from economic damage, but means that when the air battle comes, he will not have scourge support. Consequently, Calm is up about six scourge when he attacks into Zero's main with mutalisks. With everything on the line, Zero micros almost perfectly, picking off all of Calm's scourge without getting hit and then going to work on the mutalisks.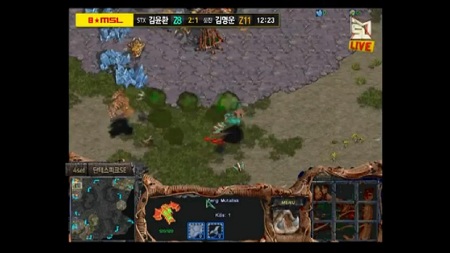 Once more, cool mutalisk micro saves Zero's economy.
When it comes to mutas vs. mutas, Calm's cloud seems a bit weaker and he retreats. Zero decides not to give chase, knowing that his hatchery advantage will convert to an even bigger lead if he plays passively. Calm sends four scourge and four lings at Zero, knowing that the scourge will buy time to kill drones given Zero's small mutalisk count. But Zero once more shows great micro against scourge and kills them off with only three mutalisks, meanwhile sending a few zerglings of his own to put on some counter pressure on Calm. Calm re-expands to his natural, having accumulated excess minerals on only three larvae and one gas. Both players macro and Zero eventually decides that now is his window to attack, with enough time to compound an advantage from being up a gas and hatchery for a while but not enough time for Calm to catch up. Calm micros very well in the battle, killing off all of Zero's scourge, and even driving the mutas back, but Zero just waits until his reinforcements catch up and cleans up the remainder of Calm's air force, ending the game.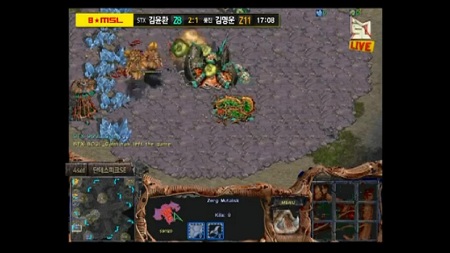 Zero earns a hard fought win.

Quarterfinals Match C Set 4:
Mind < Monte Cristo >
Hydra
+ Show Spoiler +
By nbaker
In the fourth set of Mind vs. Hydra on Monte Cristo, Hydra spawns at the 5 o'clock position and Mind spawns at the 11 o'clock position. Hydra decides to go for a 9 pool, which is the perfect decision for several reasons. First, the two most common builds seen so far on Monte Cristo have been 14 cc and a proxy barrack, both of which are handled well by an early pool. Second, Hydra beat Mind straight up in two consecutive sets, so Mind is more likely to be tempted into doing some kind of early game strategic play to get an advantage.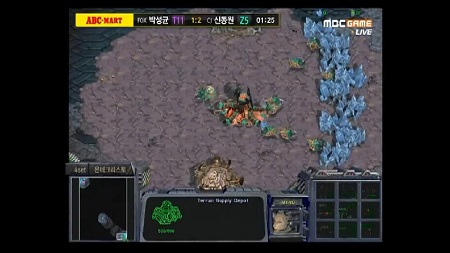 Hydra throws in some clever cheese to his series play.
But in reality, Mind plays standard and opens up with a rax expand, scouting Hydra in time to wall off the choke between his main and natural and hold off the initial zerglings comfortably. Hydra micros nicely, killing off two SCVs and delaying the second barracks, retreating with his lings as the marine count goes up before the rax finishes and following up his early pool with an expansion and fast lair.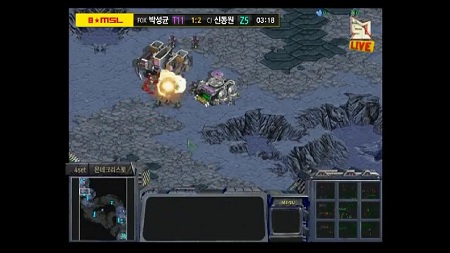 This game could have gone very differently if Hydra had let the second rax finish. Mind
would have gone for a timing attack with marines before the mutas finished and it would
have worked if Hydra had been playing on the defensive.
Having sent his lings straight to Mind, Hydra never killed off the terran's scouting SCV, allowing Mind to see his opponent's transition and respond by cancelling his second barracks and planting a quick command center, then re-starting his second barracks at the natural ramp. Mind is anticipating that Hydra will want to drone up while keeping his zerglings out to maintain map control and threaten a back stab should he move out, but Hydra chooses to delay his economy in order to produce a lot more zerglings.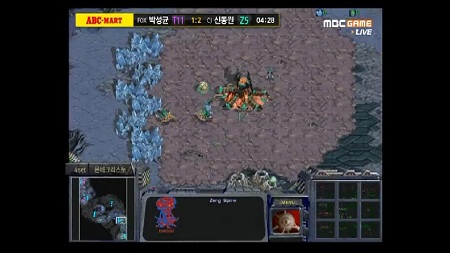 Note the stream of white going up the map. You don't need to make mutas as
quickly if you make sure there are no marines or turrets to defend against them.
Hydra's choice is more than just aggressive—it has a miniscule window of time to deal damage before it's a complete waste of larvae. Stim, firebats, medics and bunkers are all perfectly capable of holding a ramp against a huge number of lings on Monte Cristo, and Mind's bunker is indeed just seconds away from finishing as Hydra attacks up the ramp, killing the unsupported marines with five to spare.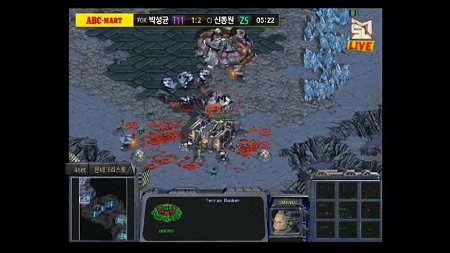 Hydra hits his timing window perfectly, before the academy units get out and
before the bunker finishes.
Critically, Hydra does not get greedy with his zerglings and risk losing them all to a good worker drill, but keeps them alive to keep the marine count down and snipe off turrets. He knows that if he can keep Mind's defense in shambles, his incoming mutalisks will be able to take the win uncontested. Sure enough, as the first batch of mutas enter Mind's natural, he has two turrets and one marine in the way of defense, all of which quickly go down. With no way of defending against air and no hope of managing any sort of counter, Mind leaves the game.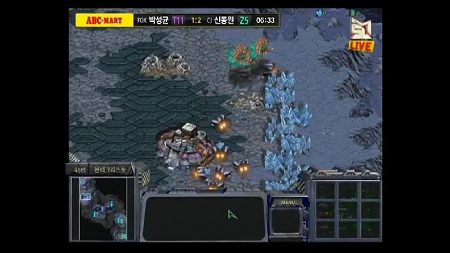 Mind knows how close he was to entering the mid game with a huge advantage and
can't suppress a bitter smile as he leaves the game.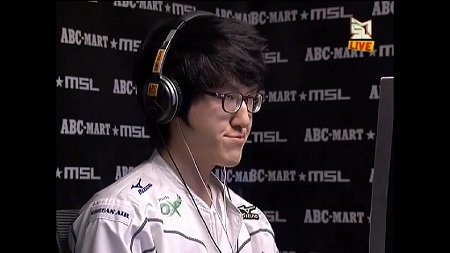 Quarterfinals Match D Set 2:
Flash < La Mancha >
Leta
+ Show Spoiler +
By conTAgi0n
Flash and Leta play their second match on La Mancha. Flash' gets the yellow cc starting in the bottom right while Leta spawns as red in the bottom left.
Flash sends his fifth SCV to the north of the map to proxy a barracks just beneath the ridge connected to the northernmost arm of the swastika for a fast rush distance to either of the northern mains.
Leta, however, is in the bottom left position and also goes barracks before depot. He places his barracks more conservatively at the top of the open space outside his natural. Gearing up for fast tech rather than early aggression, Leta builds just one marine from his early barracks and adds a fast refinery.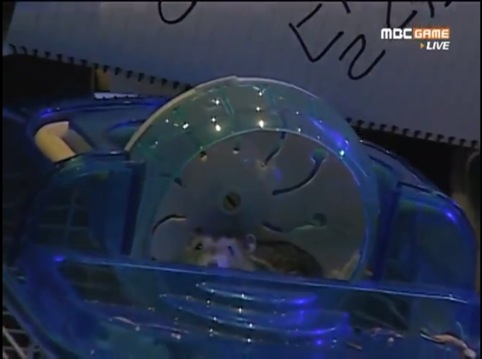 Is that cheese I smell?
The next two scouting SCVs bump into each other on the way to each other's bases and Flash sends his first two marines and an SCV down to Leta's base. When they come within sight range of Leta's barracks, he pulls his marine back to his main and immediately starts a second at his barracks.
When Flash reaches Leta's natural he starts a bunker in the natural rather and camps Leta's barracks with his third marine until the second marine pops. Flash's marine wins the ensuing dual and heads for Leta's natural.
Flash pushes up the ramp with three marines and two SCVs and, going for a quick finish, starts a bunker in Leta's main. Leta defends successfully with an SCV drill against the marines, losing one SCV in exchange for an SCV and marine.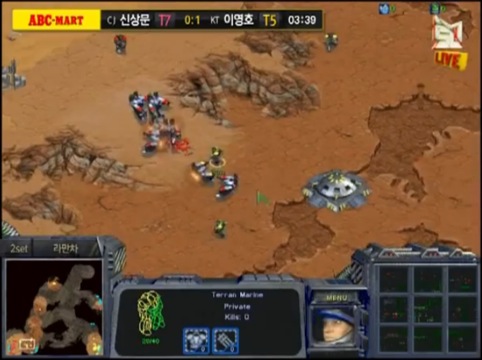 And stay out!
Flash is forced to cancel the bunker and falls back to his first one in the natural. Meanwhile Flash's incoming marines have forced Leta to lift his barracks and float it towards the tar lake north of the 12 o'clock. Flash follows up by starting his natural.
Leta, however, is already taking advantage of his fast tech. Using an SCV still out on the map, he proxies a starport at the bottom of the 3 o'clock expo just north of Flash's base.
The starport finishes before Flash's factory is done. The first wraith arrives at Flash's natural and goes straight for the SCV constructing the cc. Flash pulls his two marines chasing down Leta's floating barracks from the map and chases the wraith out before it can net a second SCV kill.
A moment later however Leta's second wraith finishes and with some micro he picks off both marines and a third when it arrives, thus eliminating all the anti air Flash has at his main.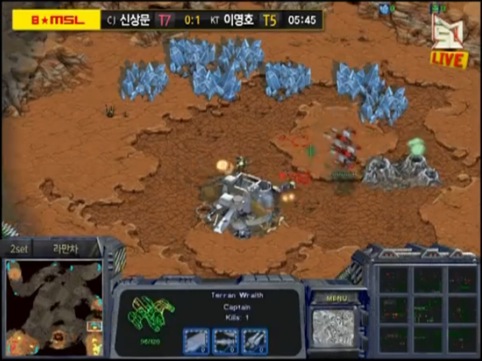 The prince of wraiths is at it again.
While his wraiths dance around Flash's natural, Leta's first two tanks start wailing on the bunker in his natural, while Flash's two SCVs stationed there go to work repairing.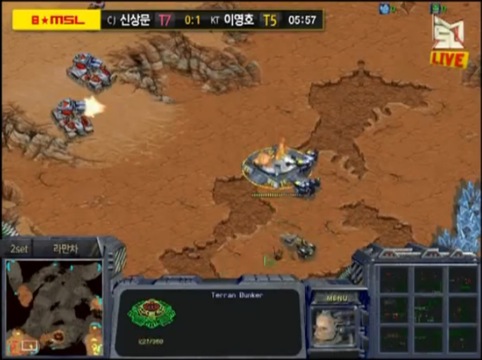 It's like TvP, but with tanks, and in their natural. Okay nevermind.
With three tanks Leta finally breaks the bunker and his two wraiths, now with nine kills between them, fly home.
Flash at this point has his natural up and running while Leta is still floating out his natural cc. The wraith attack has substantially whittled down Flash's military, though, and reduced his tank count by forcing goliaths. After clearing the mines from his natural and landing his cc, Leta pushes out with five tanks and three vultures. Taking the path through the 6 o'clock to Flash's base, Leta clears a couple mines set up to delay him with a smart scan and pushes up, where Flash has just a couple of marines and a goliath to support his two sieged tanks.
With good micro and superior forces, Leta blows through Flash's defenders with ease, losing just two vultures in exchange for everything but the goliath.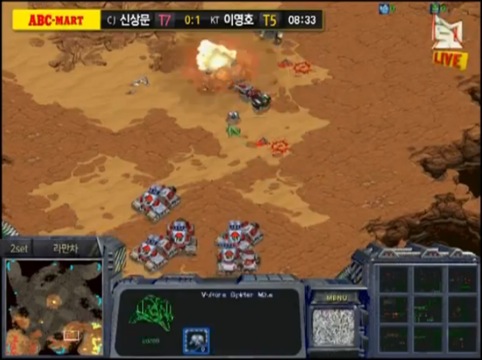 Uh oh...
Desperately falling back to his natural, Flash loses one of his two goliaths there and pulls SCVs to keep his last tank alive as long as possible against Leta's five.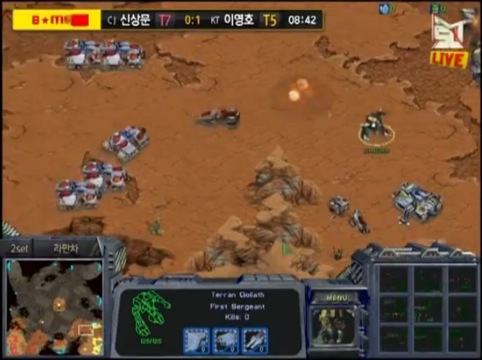 Is this going to be a short TvT?
The game ending attack never comes though. Leta backs off and holds a contain while his golden opportunity passes. Flash gets up to four tanks and sieges up in his natural choke. He's still contained, but he's stabilized his position and has an economy roughly equal to Leta's.
By this time Leta has flown his starport all the way across the map back to his base and put down a control tower. He builds a dropship once the control tower finishes and pulls off a relatively successful vulture drop while Flash's forces are drawn to his front, netting five to six SCV kills with three vultures before Flash cleans up.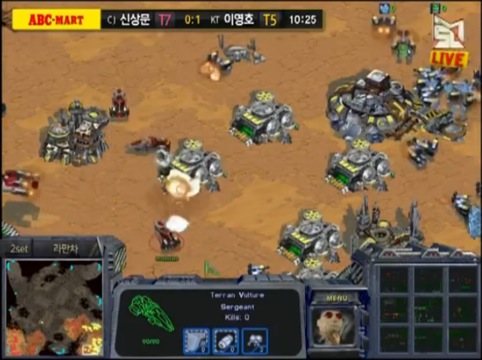 Flash under pressure on all fronts.
As Leta resumes his wraith production and researches cloak, Flash slips a group of vultures out of his base and around the contain. After laying mines at key locations, Flash busts open the contain with minimal losses, using his vultures on the map to flank from the south and draw fire while his tanks move into position.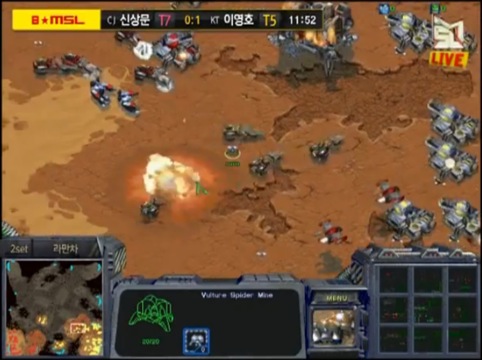 Taking back the home turf.
Leta drops another four vultures behind Flash's main mineral line and is again moderately successful, getting another six or so SCVs. In exchange, Flash slips a couple vultures through Leta's natural into his main for some scouting info.
At the conclusion of his second drop Leta's third command center is finished and starts floating out to the 9 o'clock from his main. Flash slays some of Leta's transferring SCVs with vultures before some of Leta's own vultures clean up. As Leta's cc lands, Flash starts building his third on location at the 3 o'clock.
Long tank lines from both players start to split the map, with Leta controlling the southernmost high ground ridge, Flash controlling the northernmost ridge, and both players establishing a position across from their opponent's ridge. Both Flash and Leta expand to the northern naturals on their side of the map.
Leta sends four tanks and a pack of vultures down to the 6 o'clock where he clears Flash's mines and sieges up in shelling range of the open space outside Flash's natural. Flash gathers a force of nine tanks before moving to reassert his control over the position.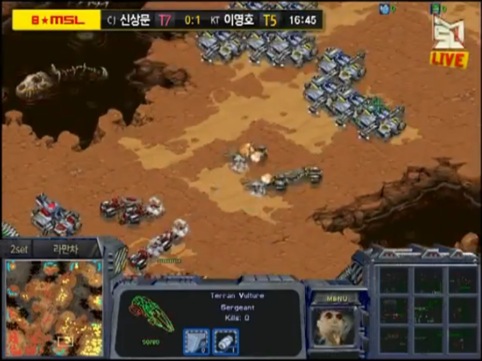 Lots of tanks...
Leta falls back and Flash sieges up in the 6 o'clock choke where he clumps his tanks too tightly. This, along with Flash bringing just three vultures, allows Leta to sweep the superior attacking force with mines and his remaining three sieged tanks. Leta's growing wraith fleet swoops in to pick off the last tank in the attack.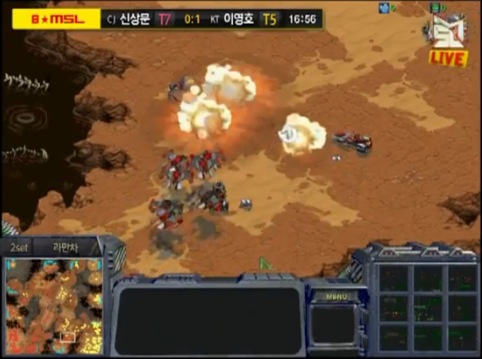 ...gone in a flash.
Leta cloaks his wraiths in the 6 o'clock and flies north to pick off a tank while further encroaching upon the position with his own tanks. From here the wraiths take out a handful of SCVs at the 3 o'clock and fly north to kill an SCV just about to finish a brand new yellow command center at the upper right main. The wraith fleet escapes through the upper right natural as the goliaths start to close in on them. Four of eight wraiths go down over the course of the whole air strike.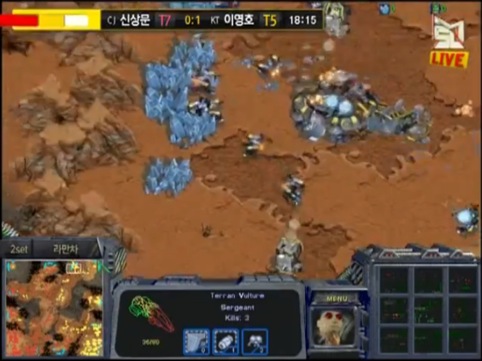 Escaping by the skin of their teeth.
Leta adds two more starports and takes the upper left main while Flash is adding two factories to match Leta's seven. Flash pulls off a very successful vulture raid on Leta's upper left natural expo, racking up more than a dozen SCV kills and forcing the rest to evacuate. Leta's finally defends with his own vultures after being tied up slightly by a yellow vulture at the 6 o'clock.
Leta moves to take control of the 12 o'clock by first laying mines and then setting up three siege tanks. Flash tries to disrupt with a few vultures but is unsuccessful. Flash instead has his sights set elsewhere and finally rolls through the 6 o'clock with an overwhelming number of tanks and a few vultures to draw fire.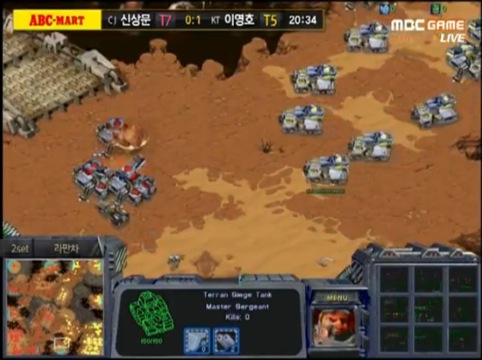 Things go better for Flash this time.
Leta responds by trying to bust Flash's tank line on the northernmost high ground ridge. It looks for a moment as though Flash might lose control of the position, with Leta's cloaked wraiths helping eat through most of the tank line there. Before Leta can clear the last two tanks however, Flash arrives with a large wave of reinforcements to demolish the advance and begin encroaching upon Leta's original position.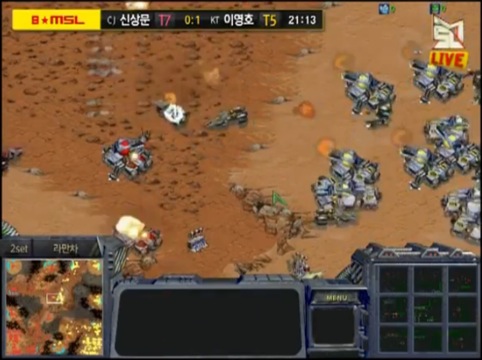 Flash pushes back.
As Leta gets more and more heavily invested in wraiths, his tank lines start looking thinner than Flash's on every front. He has pulled all but one tank from his southern ridge stronghold to hold off Flash's slow advance from the northern ridge.
Scanning ahead and finding it virtually undefended, Flash advances with another group of tanks and vultures and easily captures the southern high ground ridge. Leta eliminates some of the tanks with wraiths but is forced to back off completely when four goliaths arrive.
Leta kills another handful of SCVs at Flash's expo in the upper right main and temporarily stops mining there with a couple vultures. By now the last two expansions on the map, the 12 o'clock and 6 o'clock, are up and running for Leta and Flash respectively.
His position on the map crumbling fast, Leta's southern tank is now backed up against the tar lake adjacent to his 9 o'clock. Flash pushes off the southern ridge and overwhelms Leta there as well with mines and higher tank count.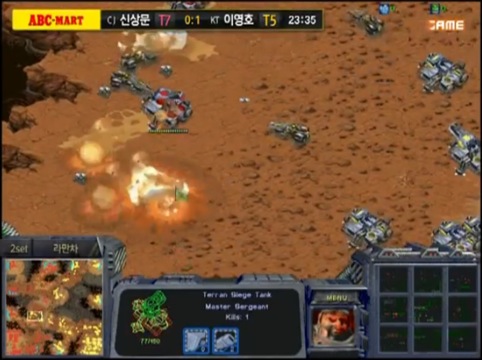 Leta with his back against the wall.
Leta catches the attack force supported by just three straggling goliaths with his wraiths. The goliaths quickly fall and Flash is forced to unsiege and retreat back to the high ground, losing four tanks in the process. This buys Leta just enough time to reestablish enough of a tank line to prevent Flash from advancing much further again with his reinforcements.
Leta pulls tanks from his northern front down to the western high ground ridge to help contain Flash's territorial expansion. Consequently his northern front is too sparsely defended and Flash jumps his tanks forward. Leta has no way to contest Flash's progress as he leapfrogs his tanks further forward with a healthy contingent of goliaths in tow.
Flash now controls the wide entrance to Leta's 12 o'clock and steamrolls Leta's three defending tanks. With a few too many goliaths backing up Flash's tanks, Leta's wraiths fly around ineffectually as his command center falls.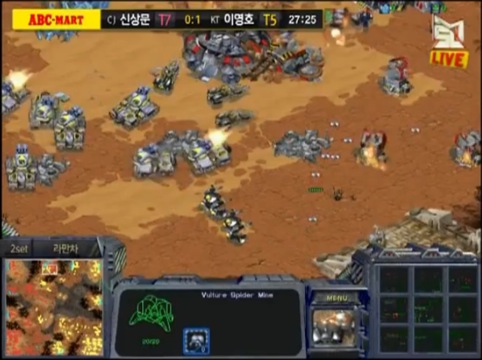 Parity in expansions is broken.
Flash starts building a command center at the 12 o'clock. Three starports in the upper right main that Flash started during his assault on the 12 o'clock are now finished and lying idle. With the pressure mounting to act quickly, Leta stages his ever-growing wraith fleet in the upper left main as he prepares for a major air assault.
Leta finally moves out with his mass wraiths, first focusing down four isolated goliaths defending Flash's northern front. As Flash tries to catch up with his goliath force, Leta sweeps across the northern edge of the map to hit all three of Flash's expansions there. He forces a cancel on the nearly finished 12 o'clock cc, focuses down the command center at the upper right nat, and then destroys two defending missile turrets and several SCVs in the upper right main, before leaving the way he came as Flash's goliaths start charging up the ramp.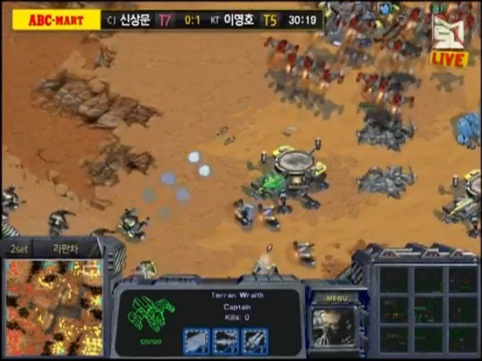 Leta could have burned down this command center too had he target fired it straight away.
Leta stops at the 12 o'clock to engage a group of about eight goliaths separated from the rest in the dash to the upper right main. After clearing out most of them, not without substantial losses, Leta flies back down to Flash's undefended tank line to wipe out about six tanks before retreating as the goliaths come back.
Leta dealt Flash considerable damage, but not enough to upset Flash's control over a majority of the remaining mining expansions. Over the course of the next ten minutes, Flash slowly starves Leta out as Leta tries in vain to put enough of a dent in Flash's ground army to break his position.
Sacrificing some SCVs that have nowhere to mine from for supply, Leta first tries engaging with the goliaths on the southern ridge directly but can't quite compete with their numbers there.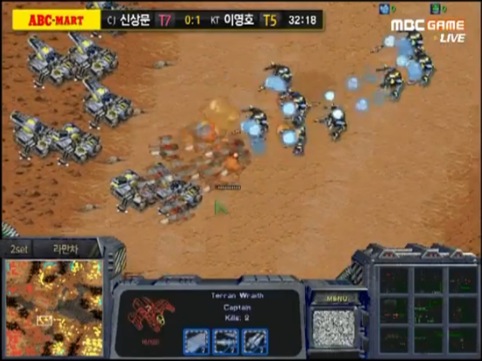 A bad fight for wraiths.
Next Leta swings north with his wraiths to kill three tanks for a wraith before the goliaths stationed near by force him back. Flash has now finished command centers at both the upper right natural and the 12 o'clock and is still pumping tank goliath while his starports gather dust.
Leta next tries attacking directly into Flash's goliaths near the 12 o'clock.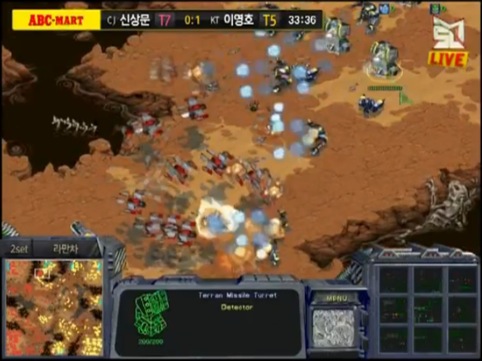 Another bad fight for wraiths.
In a costly exchange, he kills enough of the goliaths to give his wraiths access to Flash's tank line, allowing him to advance his own tanks slightly.
Growing more and more reckless with his wraiths, Leta strikes at the 12 o'clock again with his wraiths and after suffering more heavy losses clears enough of the defense to try pushing in with his tanks. Flash's reinforcements reach the 12 o'clock first though to hold Leta at bay.
Leta's next move is to push through the southern part of the center of the map with wraith tank, from where Flash has by now pulled most of his defenses. Flash blocks Leta's advance with troops from both the north and the south of the map. Leta is forced to trade units again, but has succeeded in pulling a large part of Flash's army out of position.
Leta abandons his new position on the southern half of the center of the map to capture the recently vacated northern high ground ridge without a fight. As Flash has finally swung into full motion with his own wraith switch, Leta is at long last able to make some positional progress against Flash's shrinking ground force.
Leta's situation, however, is dire as he now sits on just one mining base to Flash's three. Flash starts to get frisky with his own wraith force but is not yet willing to engage with Leta's. Finally possessing a superior tank count, Leta sacrifices some more SCVs against Flash's 12 o'clock and breaks through with his own tanks.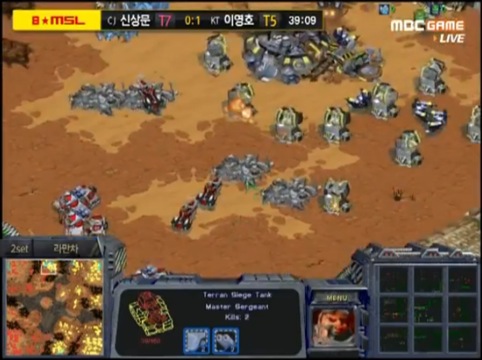 Leta's last hope.
The climactic battle of the game happens over the destroyed 12 o'clock expo when Flash brings in his wraiths to fire on Leta's tanks and Leta brings his own wraiths to defend. When the dust clears, Flash still has several wraiths left over and Leta GG's.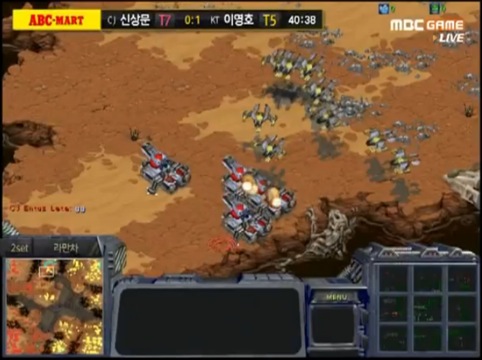 Live by the wraith, die by the wraith.
Flash almost always had just enough goliaths in just the right places to make Leta's wraith investment a handicap for most of the game. With his game sense and decision making, he was able abuse this handicap at every turn by punishing the weaknesses that showed themselves in Leta's position and skillfully turning them into a game winning advantage. He could have transitioned into wraiths a little sooner, but he didn't need to either.
Outplayed though he was, Leta did show a relatively solid late game TvT. One wonders what might have happened if Leta didn't start investing in wraiths so early and put more resources into competing directly for position with Flash. There's no mistaking though that Leta looked his best in the micro-intensive early game. Had he gone for the kill when he had Flash on the ropes before the ten minute mark, that might have been all he needed.

Semifinal A Set 1:
Jaedong < Dante's Peak SE >
ZerO
+ Show Spoiler +
By nbaker
In game 1, Zero starts at 1 o'clock on Dante's Peak SE and Jaedong starts at 11. Jaedong has the initial advantage of correct overlord scouting due to the position of the naturals, but Zero goes for 9 pool extractor while Jaedong opens up with a 12 hatchery build. Jaedong's overlord crosses Zero's lings as they move down from the ramp, giving Zero Jaedong's location and Jaedong Zero's build. Scouted at near positions, Jaedong knows that his hatchery will die if he leaves it, so he cancels and starts a creep colony immediately in his main. Zero heads up the ramp and attacks the morphing sunken colony, forcing Jaedong to stack his drones to defend. Zero immediately switches to attacking drones, killing three off before Jaedong's defense gets up.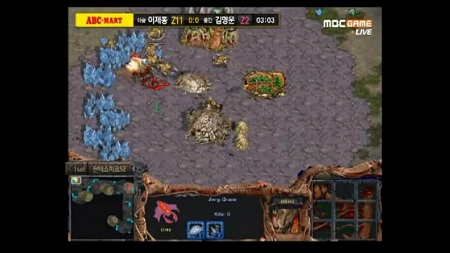 Although Jaedong did have to cancel his natural, he is not really behind at this point.
His tech is a bit late, but he has more drones than Zero and a sunken.
Unable to fight against 6 zerglings and a sunken, Zero backs off to Jaedong's natural. Both players use their first 100 gas to research lair instead of speed. Zero's decision to do could have been planned ahead or it could have been a response to Jaedong's overlord scout at the beginning of the game. Zero knows he can beat a 12 hatch without speed if Jaedong doesn't cancel and against any other build he will have trouble winning with zerglings, so faster mutas a preferable. Jaedong is in full defensive mode, knowing that he cannot attack with zerglings, so he has to be as close to Zero's lair timing as possible. Zero feels that he has map control, but is still a bit behind in drones after his zergling attack, so he builds a few drones, dancing his zerglings around outside of Jaedong's base to keep his opponent from attacking him while he builds up his economy, bringing the players to an even drone count, with Zero having the faster technology. Zero places another hatchery in his main while Jaedong chooses to expand to his natural with his second hatch. Jaedong knows that Zero's spire is a bit faster than his and they have even drones and hatch timing, so if he wants to catch up in the air, he will need a gas advantage. Zero gets his first big edge in the game as he finds Jaedong's overlord in the middle of the map and kills it off with his mutalisks. This is always annoying, but when Jaedong is already supply blocked (notice that he killed off a zergling to build another muta) at the point in the game where both players are building up their air forces, this is a huge blow to the Tyrant.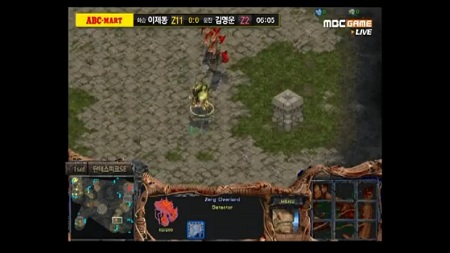 Zero would have been up maybe 1 mutalisk due to his faster spire timing if he had not supply
blocked Jaedong here. His big muta advantage after this point is mainly due to the overlord snipe.
Zero produces a few more mutas and then decides to attack Jaedong, engaging in an air battle at his natural expo. Zero's mutalisk micro falters a bit, allowing Jaedong to land a few scourge that could have been avoided, but Zero has more mutalisks, so he can afford to not be 100% cost effective.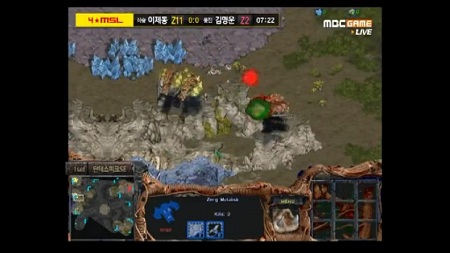 Zero should have been able to micro against the scourge without losses, but he slips
a little and loses a couple mutas for free.
Meanwhile, Jaedong's catch-up decision to hatch at his natural costs him, as he now has two points to defend. While the muta battle plays out at the expo, Zero runs a few zerglings into Jaedong's main and gets a few drones.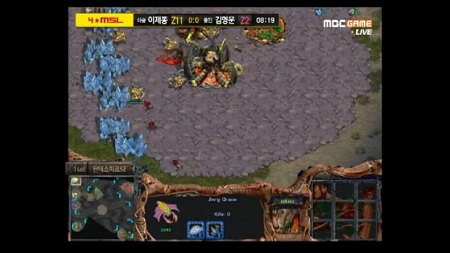 Jaedong has two gas which means he produces scourge while Zero produces zerglings. Zero's muta advantage means he can still fight Jaedong's air force, so the zerglings can do free damage.
Zero's muta advantage starts to get bigger as Jaedong, behind on minerals, is forced to go mostly scourge. Zero cleans up his micro and takes the scourge down with minimal hits. Zero continues to exploit Jaedong's bigger area of defense, now moving his mutas into Jaedong's main while sending zerglings to the natural, which has the benefit of being both closer and undefended by a sunken colony.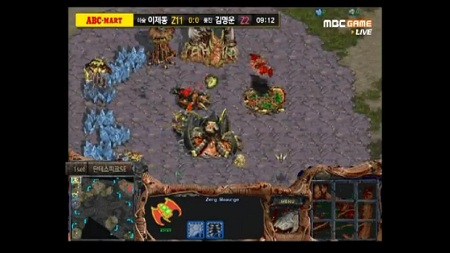 Jaedong's mutas are in the natural, killing off Zero's lings.
Jaedong defends courageously, but Zero picks off the natural and wins the battle in the air by microing down Jaedong's scourge. Zero's lings take out the sunken while his mutas hunt down the remnants of Jaedong's air force and Jaedong is forced to gg.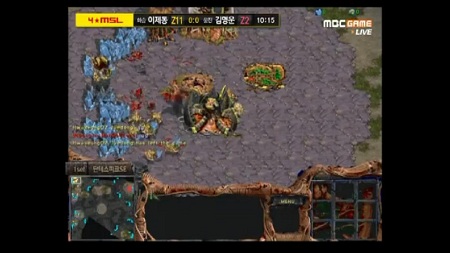 Semifinal A Set 2:
Jaedong < Circuit Breaker >
ZerO
+ Show Spoiler +
By nbaker
Game two on Circuit Breaker starts with Zero at top left and Jaedong at top right. Both players scout downwards towards the closest natural, meaning that neither player will be sure if their opponent is horizontal or across from them until fairly late. Zero once more pools on 9 and follows up with an extractor and Jaedong once more goes 12 hatch. When Zero's zerglings finish, he sends all of them to top right rather than splitting them between bottom right and top right because on Circuit Breaker rush distances are quite long, so he probably won't be able to do much damage in cross positions anyways and he certainly needs all his lings to put on pressure. Luck favors Zero and his lings find Jaedong's natural hatchery immediately and start chipping it down. Unlike last game, Jaedong was completely blind to the 9 pool until the lings were in his natural, so he had no option to cancel and build a sunken. Instead, he pulls drones down to delay the zerglings' attacks until he can start producing his own zerglings off of two hatcheries. Zero makes the questionable choice of pulling off his zerglings and attacking Jaedong's drones up the ramp, thinking he will cripple Jaedong's economy, rendering the larva advantage useless. But Jaedong micros like a pro and loses only one drone before pulling back and starting his zerglings.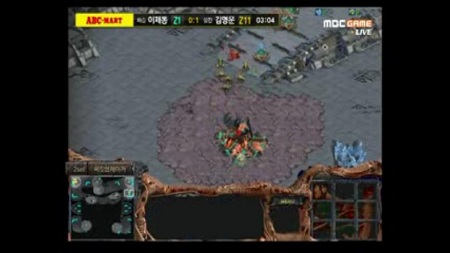 Jaedong gets Zero to pull his zerglings off of the hatchery at the price of only one drone
and a little mining time.
Here, Zero decides that he doesn't have time to kill off the hatchery before Jaedong catches up in zerglings, so he gives chase, planning to abuse his ling speed to do damage to drones even though Jaedong has as many zerglings as him, while letting his reinforcing zerglings work on the natural expo. Ultimately, Jaedong's nice usage of drones in combination with his zerglings to drill and glitch up Zero's units' AI lets him defend with minimal losses and Zero is forced to retreat and accept an economic disadvantage.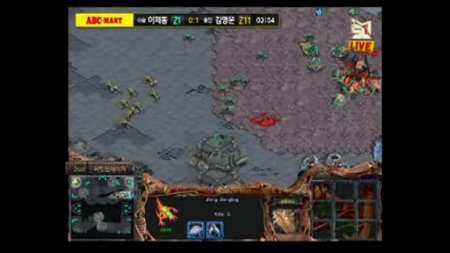 After running his fast lings around Jaedong's base for a bit, Zero decides to leave.
Zero gambles on Jaedong not going all in with zerglings, cutting a sunken colony and starting his spire immediately. He even drones up a bit, allowing him to make a second hatchery in his main while he makes forms his lings in a concave to hold his ramp. Jaedong does indeed choose the more passive option, not wanting to throw his lead away on an unnecessary risk. He techs to lair and drones up, knowing that he will need extra workers to spore up and defend against Zero's mutalisks until he can get his own out. Jaedong's delayed air allows Zero fairly robust knowledge of what his opponent is up to, so as he gets his first 5-6 mutalisks out, he gears up for a brilliant timing attack. Zero is on the same number of hatcheries as Jaedong, but is only on one base. The extra base is not that important for minerals, so Zero knows that he can make at least as many units as Jaedong can minus the few extra larvae Jaedong has from having an earlier hatchery, which Zero knows Jaedong used mostly for drones. Taking into account that Jaedong had to build an evo chamber and creep colonies at his main and natural, Zero figures he has at least an equal number of zerglings plus the mutalisks. Zero attacks into Jaedong's natural, using his mutalisks in combination with zerglings to take out Jaedong's ling count, then let his lings kill off the spore colony. Jaedong micros really well by stopping his drones to glitch the lings, but Zero's ling advantage is too large and Jaedong is forced to transfer to his main.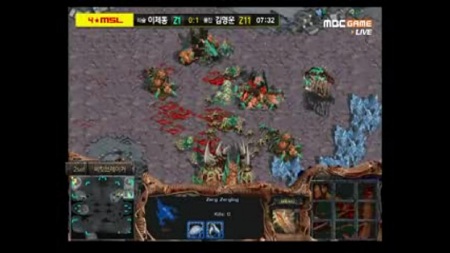 Zero makes a great break into Jaedong's natural, but has to pull his mutalisks out to
reduce spore damage.
Zero backs his mutalisks off to avoid continuing taking damage on them, and Jaedong's mutalisks finish and he manages to clean up Zero's zerglings before losing too many drones.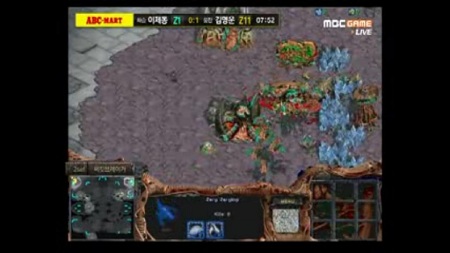 Jaedong's micro at his natural bought him enough time to get his mutalisks out
and kill off Zero's zerglings before losing too many drones.
At this point, Jaedong still has enough drones to produce mutas and is up a gas with static defense, so he starts building up his muta force. Zero hopes to catch Jaedong off guard by running zerglings in, but Jaedong simply picks them off with his mutas. Zero tries to go in to Jaedong's main and pick off a few drones, but Jaedong chases him down with his superior air force and kills Zero's whole army off, forcing him to leave the game.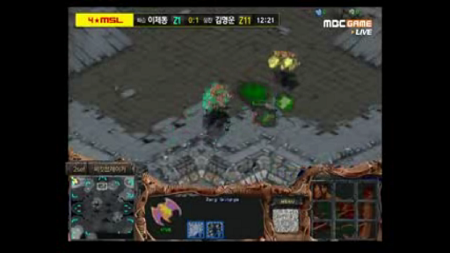 Zero cannot keep up in air when he's down an extractor.

Semifinal A Set 3:
Jaedong < La Mancha >
ZerO
+ Show Spoiler +
by nbaker
In Game 3, Jaedong spawns at top right and Zero at bottom left on La Mancha. Both players go 12 hatch, followed by a pool and an extractor, and spend their first 100 gas on a lair. Zero delays his spire a few seconds to get a few more lings, which he keeps hidden in his main while his first lings hold the natural choke and prevent Jaedong from scouting him, while Jaedong goes straight into spire tech once his lair is finished. As Jaedong's speed finishes, he pulls most of his lings back, but takes one and uses it to run by Zero's defenses, managing to get up the ramp into Zero's main, but is killed off before he can see Zero's zerglings.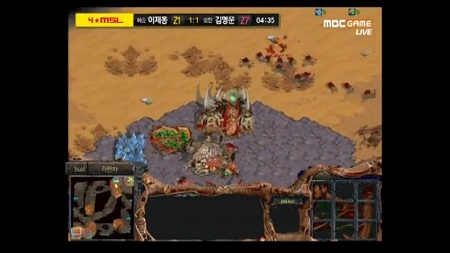 Jaedong may have seen the spire timing, which would be a bit later than his, but it looks like
he was just out of range of that too and even so he wouldn't know if Zero produced drones
or zerglings, which would require opposite responses if he were to react to the information.
Fortunately for Jaedong, he has his overlords positioned correctly to see Zero's zerglings as they move to attack and La Mancha is big enough to start and finish a sunken vs. zerglings in cross positions.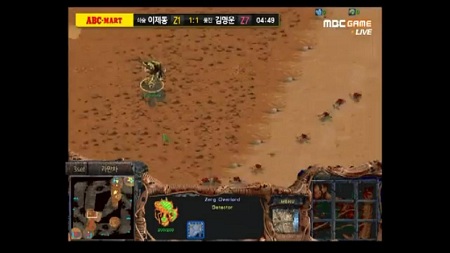 Jaedong's map awareness and overlord positioning afford him plenty of time for defense.
Zero attacks just before the sunken finishes and kills off most of Jaedong's zerglings, but Jaedong pulls his drones and puts them in hold position, forcing Zero to go through narrow spaces which Jaedong controls with his few remaining lings.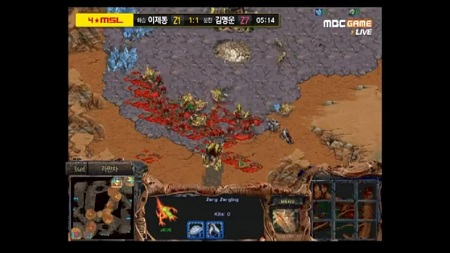 The drones are not pulled to do damage, but to prevent Zero from putting his zerglings where
he wants them, which greatly slows down the damage that Jaedong is taking.
As the sunken finishes, Zero feigns a retreat and attacks again, but Jaedong is prepared, using an evo chamber to block his sunken and another creep to narrow the choke between his hatchery and the main ramp. Zero tries to stay in long enough to force the buildings to finish, but he is losing lings too quickly and is forced to back out and Jaedong is able to cancel both buildings and return drones to mining.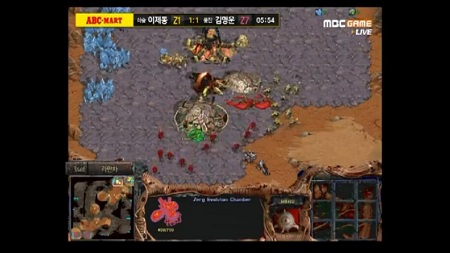 Jaedong has a nice sim city, but he would be behind if he had to keep these buildings. Unfortunately for Zero, he does not have enough firepower to maintain his attack that long.
After all Zero's aggression and Jaedong's defense, Jaedong is up two drones, but is a bit low on minerals because he had to build and cancel buildings, so he uses his first larva after his spire finishes to make scourge and sends them straight to Zero's natural. Zero does not yet have 3 mutalisks to one shot scourge with and cannot react quickly enough to retreat so he loses a muta right off the bat.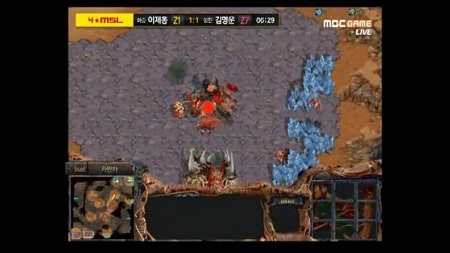 Jaedong makes up for his slight mineral deficiency by trading very cost effectively
early into the race for air dominance.
Jaedong goes for a run by into Zero's main, but Zero is able to defend without losing any drones. Jaedong moves a bunch of zerglings down to the left side of the map and sends one of those zerglings to Zero's natural to see where Zero's mutalisks are. If they are roaming, Jaedong will send the rest of his zerglings in to pillage the mineral line and if they are there, he needn't do anything with his zerglings. Jaedong's ling is killed off by Zero's mutas, so he chooses not to attack, happy to macro up in peace with his drone advantage.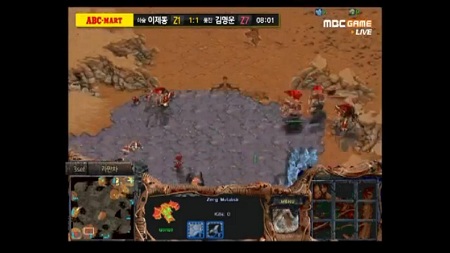 If you look at the minimap, you can see Jaedong pulling his zerglings out. He gave
himself an opportunity to do a lot of damage while risking practically nothing.
Zero checks the location where Jaedong was hiding his lings, but Jaedong has already retreated them. The two players' air forces meet and they each kill off a few scourge (Zero a few more than Jaedong), but neither player is willing to commit to an attack yet and each falls back towards his side of the map. Jaedong tries again to back stab with zerglings, but Zero has his own lings in position and his mutas arrive just in time, so nothing comes off the attack. Finally, Jaedong feels ready to take the offensive and sends his mutas to Zero's natural, thinking he has enough to stay ahead even with Zero's defender's advantage. Zero micros down Jaedong's first wave of scourge and Jaedong makes a mistake, moving his mutas in the direction of Zero's scourge and getting hit by a bunch of them immediately.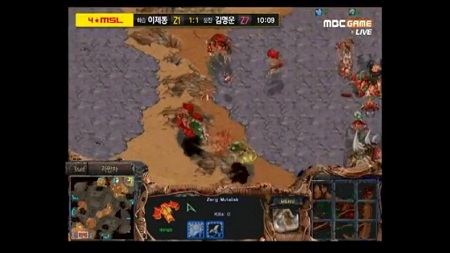 Very bad micro…
Jaedong is forced to retreat and Zero gives chase with his mutas while sending his scourge on an intercept course, catching more mutalisks and leaving Jaedong with only one from his original force.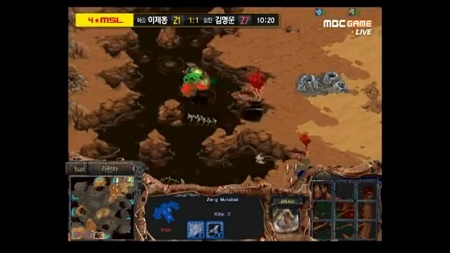 Zero's air control lets him completely punish Jaedong for his split second error.
Jaedong tries to slow Zero's flight across the map with scourge, but he cannot buy enough time and when Zero arrives at his base, he only has three mutas and a bunch of scourge. Zero micros the scourge down and cleans up the mutas, leaving Jaedong with nothing to do but gg.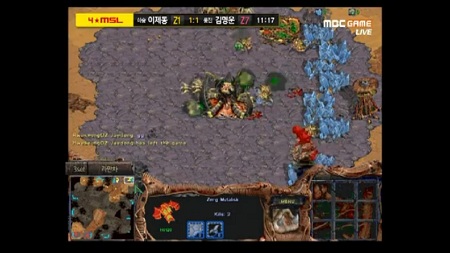 Semifinal A Set 4:
Jaedong < Monte Cristo >
ZerO
+ Show Spoiler +
By nbaker
Game 4 is played on Monte Cristo. Jaedong spawns at the top left and Zero spawns at the bottom right. Jaedong stubbornly continues to 12 hatch, while Zero chooses to once go 9 pool, this time without a gas. Zero sends his first 6 zerglings straight to Jaedong's natural, where they start to chip it down. Jaedong pulls drones just like in game 2, but this time Zero does not meet them halfway, choosing to continue attacking the hatchery until Jaedong's drones are right on top of him, then picking a few off.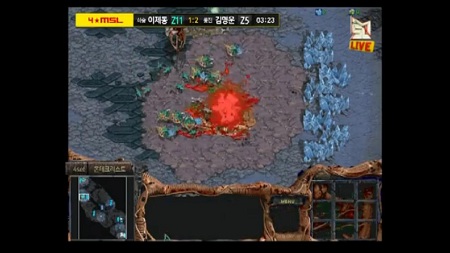 Zero makes the great choice to focus on the hatchery rather than drones. Killing the hatchery is a guaranteed win and Jaedong had been making magic with his drones all series.
Rather than try to fight Jaedong's drones head on, Zero runs his zerglings around the hatchery and continues to attack it, managing to take it down just as Jaedong's zerglings come out. Jaedong knows he is in trouble and wastes no time, sending all his zerglings straight to Zero's base in hopes of doing enough damage to keep him in the game. However, Zero's gasless 9 pool build is perfect for this situation. Jaedong's small zerglings advantage is quickly nullified by the fresh hatchery that pops for Zero, allowing him to defend Jaedong's attack comfortably, without even using the sunken colony he built just to be safe.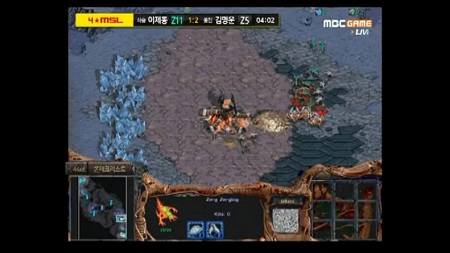 The extra larvae from the hatchery let Zero get enough zerglings out to easily defend
Jaedong's counter attack.
Both players start their spires at the same time, but Zero is a little ahead on drones and up a hatchery and a future gas. Jaedong spots Zero moving out with zerglings and is forced to make a sunken colony in his main. Zero spots the sunken and chooses to hang back, while Jaedong decides to try to kill off the zerglings forces to secure his natural. The two players basically trade lings, but Zero has reinforcements en route and Jaedong's expansionary drone is killed off before it can get the hatchery down.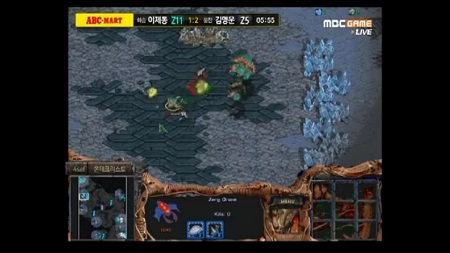 Insult to injury.
Jaedong kills off the zerglings with his mutalisks and expands. Zero gets up a sizable number of mutas and scourge and hunts Jaedong's air force down. Zero lands a bunch of scourge on Jaedong's mutas and takes the whole flock down.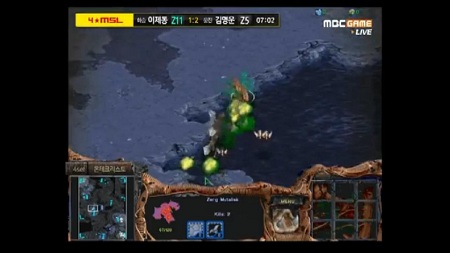 On top of being massively behind in numbers, Jaedong micros his mutas sloppily
and gets hit by a lot of scourge.
Zero moves his mutas into Jaedong's main, micros down the stray scourge and starts carving down Jaedong's mineral line. Jaedong stays in for a second out of frustration, but there is nothing to do but leave.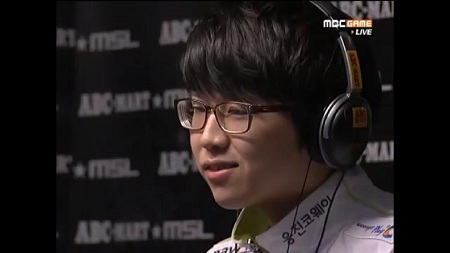 Zero knows he's going to the finals.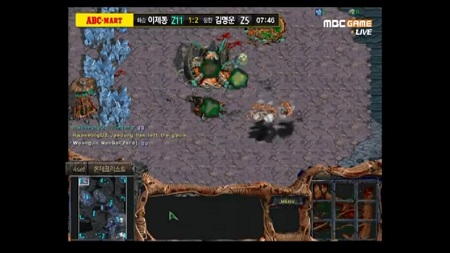 GG.
---
Oh, and just a closing remark from nbaker as to why this final will be amazing. I know it's not JvF (and honestly, I'm still slightly miffed that there now isn't the chance for this final to
guarantee
a golden badge), but when you evaluate it from a different angle...
No matter who wins the semis [between Flash and Hydra] there should be a good deal of hype. If Flash wins Zero will be taking on one of the hardest brackets in memory in hopes of winning gold and Flash will have a shot at becoming the most successful progamer ever. Throw in the fact that these guys have some of the most awesome games of the past year and a half and only the saltiest Jaedong fanboys won't be excited. If Hydra wins, he's got a shot at bringing glory back to CJ zergs, winning back to back MSLs just like Savior did and Zero, who has always struggled at ZvZ, will have to play the three best ZvZers of a generation to finally win a final. I don't know, these are just random thoughts, but I think there are tons of good story lines for this final.
---
Another extremely delayed post from the MSL coverage team of flamewheel, ]343[. nbaker, and conTAgi0n. But fret not: since we're all out of school now, the pre-finals coverage piece shall (hopefully!) not be late at all. Unfortunately, conTAgi0n won't be with us for the remainder of this tournament, since he is currently touring Mongolia to make a documentary. Hopefully he has a safe and enjoyable trip, and when he returns look forward to him covering OSL. As always, disciple is the man--look forward to some graphics for the finals now.